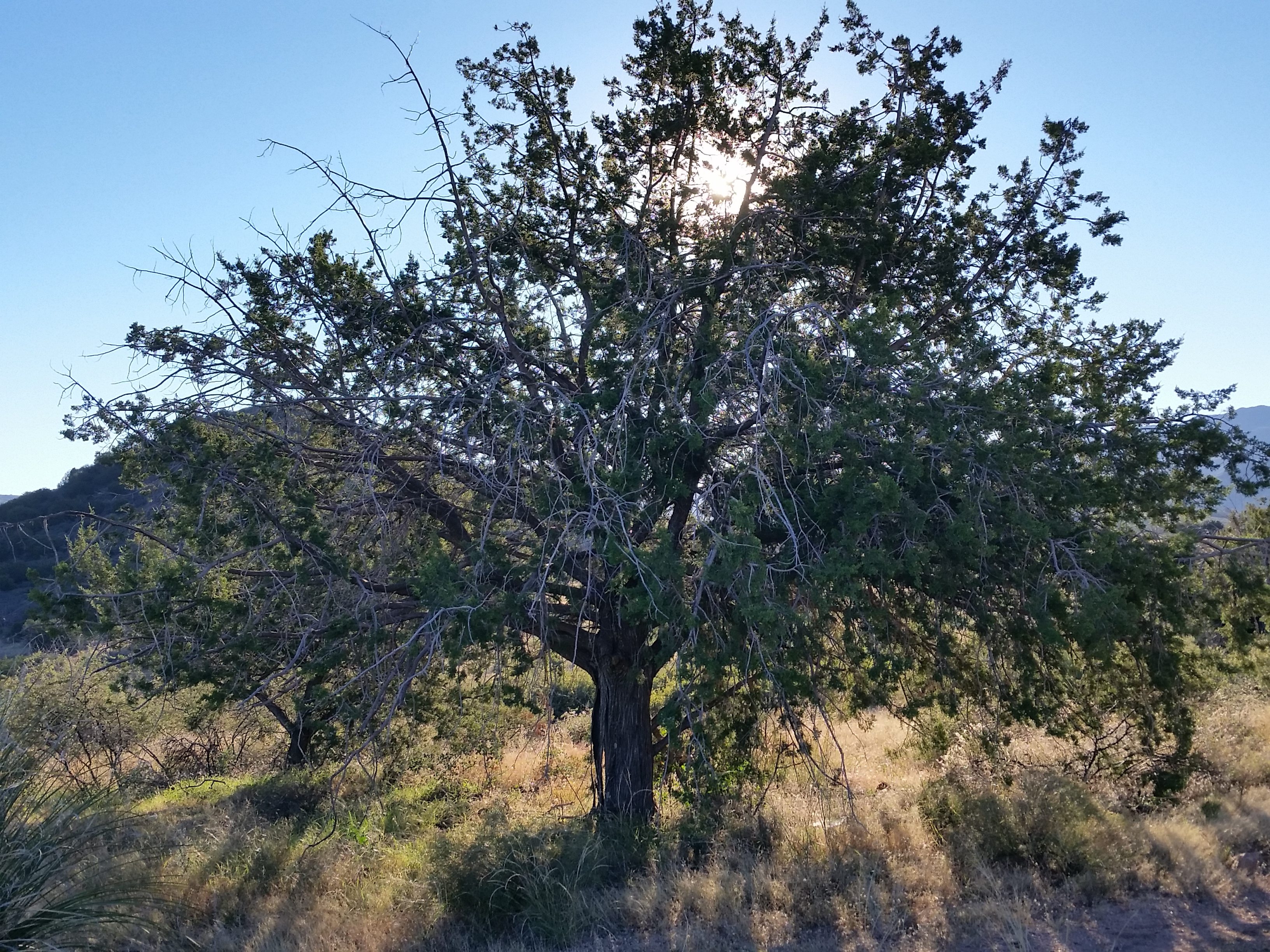 The AZT (Arizona Trail – 800 miles) spanning from Mexico to Utah across the great state of Arizona was added to my list of wish hikes as soon as I found out about it. Unfortunately I don't have the vacation or off time to be able to through hike it straight for 60 days, so instead I have been section hiking it when I can. I had the opportunity to knock out the 22nd section this weekend and I jumped at the chance!
I dumped my truck right off of Bee line highway 87 Saturday morning and set out on the trail. After navigating a wash that goes under the highway I popped out in rolling hills and wide open views. There are a few cattle gates to navigate, just be sure to leave them as you found them, be it opened or closed. The trek starts flat to begin with on a few 4X4 roads, the pushes you into some canyon washes that are hardly ever traveled. A small creek was running through the wash to my surprise. I pushed through the canyon around a few switchers where I was once again greeted with huge wide open views. There are some power lines here, what seems to be the last sign of civilization looking forward, turning back there are a few small farm houses in sight.
Pushing further on, the trail gets back to single track hopping up on creek banks and back into washes until once again your greeted with huge wide open views and a trail that meanders along through it all. I found myself skirting the lower portion of Saddle Mountain when I came across Kim and Norm, 2 hikers from Phoenix who were turned around and looking for Squaw flats. I was happy to have the company and invited them to join me until we passed their junction. We pushed on as a trio talking about experience in the "hiking business" and how long they have both been at it.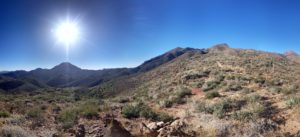 As the trail skirted further we came across Ranger Mark Suban and his trail maintenance crew of about 8 old and young. I had never seen a crew out working before and was delighted to stop for a second and chat with them and thank them for their service to the AZT. Those guys keep the trail going and it's always on a volunteer basis!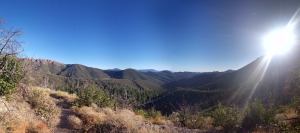 Leaving the maintenance crew behind we trekked on until we found the switch back drop off into a patch of pines where the 3 amigos would split ways. We stopped for a quick lunch and chatted about our jobs and hikes we wish we could do. Soon I packed up and pushed the last 4 miles out to Peeley trail head where I would camp for the night. Those 4 miles were definitely not as forgiving as an easy trail skirt around the base of Saddle Mountain! Drop offs, washes, a section I affectionately call the 'tunnel of love' with manzanita and holly bushes surrounding a water channel. Big grind elevation gains with astonishing views and quite a bit of bushwhacking and trail finding through tricky washes finally brought me to the intersection of AZT#22 and #23.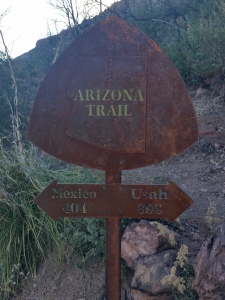 The Peeley trailhead was just a 0.5 mile push ahead. It was only 4pm by the time I reached it and I was ready to just set up camp, make a Beef Stew Mountain house, and kick back for a bit finally cracking a book I purchased a month ago. What a good first day, as temps began to drop I crawled into my tent and read by headlamp for a few hours until I finally crashed. The next day would mean my return journey back to the truck with another section of the AZT in my pocket. (Post Continued on Day 2/2)
Hike information: http://hikearizona.com/decoder.php?ZTN=2436
HIKE STATS:
Weather: Hi 60s, Low in the upper 40s, Sunny
Water: 8.5 liters
Food: 2 Nature Valley Peanut butter granola bar, 2 Clif Bars, 1 Clif Builder bar, 1 Meal replacement protein bar, 2 Nature Valley Protien bars, 1 bag of beef jerky (3oz), 1/2 sandwich ziplock of trail mix, 1 avocado, 1 via Starbucks instant coffee, 1 Quaker Real Medleys, 1 Mountain House Beef Stew meal
Time: 8 hours day 1, 7 hours day 2
Distance:16.5 Miles one way
GEAR:
58 liter Exos Osprey backpack
Big Anges UL2 tent
Flash REI sleeping pad
Cosmic Down Kelty Sleeping Bag (rated to 20 deg F)
Jet Boil – Sol
Black Diamond trekking poles
No water filter – I carried all my water in (8.5 liters – I should have brought 10) to train for a hike coming up where I would be carrying a lot of excess weight. Advise: Bring a filter! There are creeks and opportunities to use it.