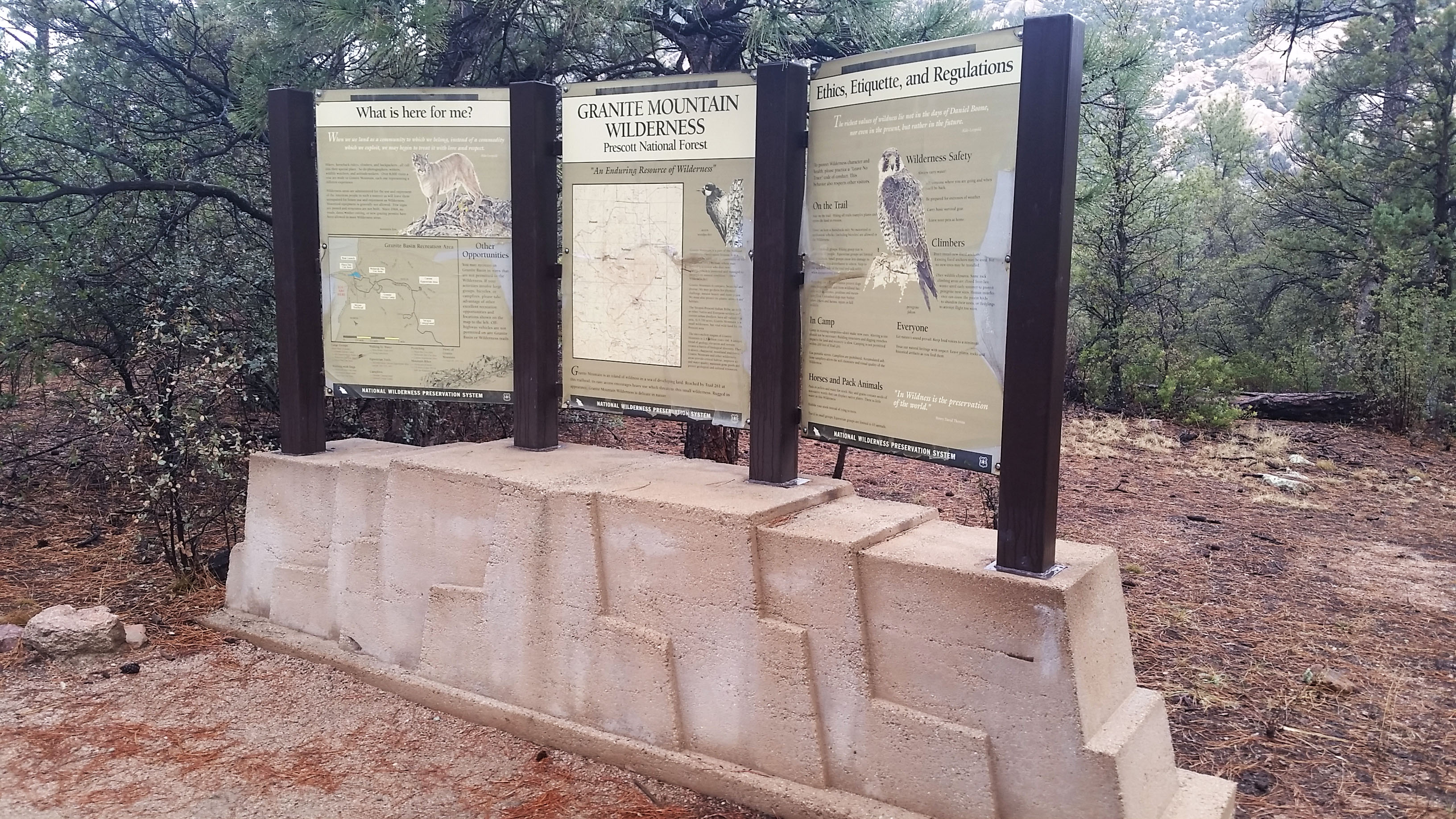 I pulled up to the trailhead expecting my friends to be there, only to discover no one in sight. I looked down at my phone . . . no signal… "Welp this could be fun" I thought.  I was at the Metate trailhead of Granite Mountain, ready to take on a trek to a multi-pitch traditional (trad) route on one of the mountain's slab granite faces. I took another circle around the park to check the other trailheads, just in case they had parked elsewhere, but no luck. It was a 10 minute drive out to catch a signal, but I figured they would have to show up sometime so I got on my mountain bike and tooled around on the road until their Toyota came bounding into sight. I was all smiles, excited to start the day!
Craig, Eva, and Kari piled out of a 4Runner, bags in hand that were filled to the brim with harnesses, climbing shoes, helmets, a few ropes, quick draws, and of course Kari's trad rack. We had a late start just around 11am, and as we let out Craig commented "as many times as I've gone trad climbing, I have never made it back to the trailhead before dark."  Well, it wouldn't be my first night hike, and I could think of a lot worst places to be.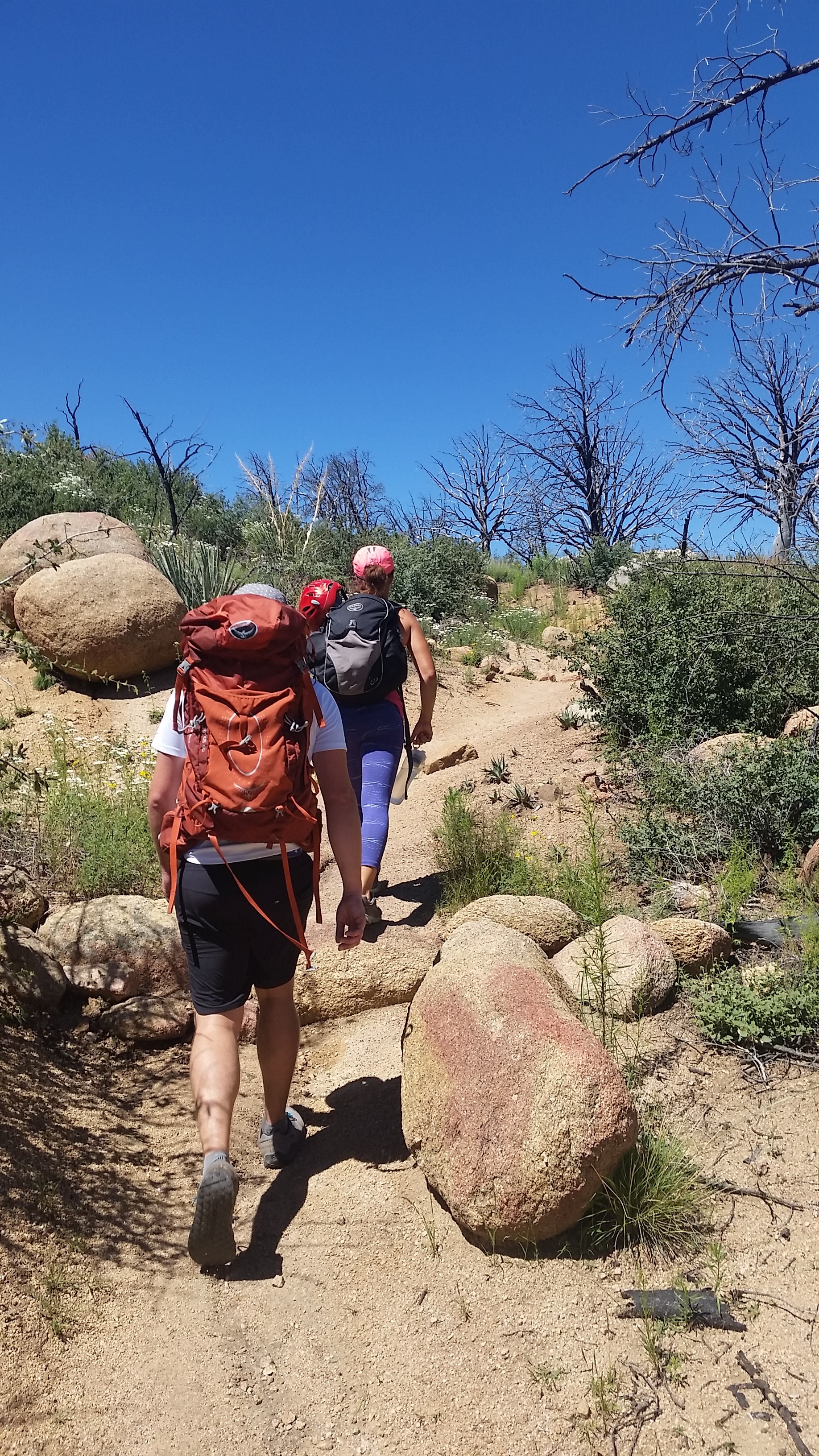 We headed out with Eva claiming lead and the trail taking off in a north westerly direction. At first the trail dropped down into a canopy covered canyon, lush with green, and weaved in and out on the canyon floor. After a quick jaunt the canopy began to fade as we entered a large open burn area. This time of year the brush and flower were celebrating the break of summer and covering the ground beneath the blackened and burned remains of the old trees. We finally reached Blair Pass, and beautiful views of the valley beyond and the rock face overhead where we intended to climb were in plain view.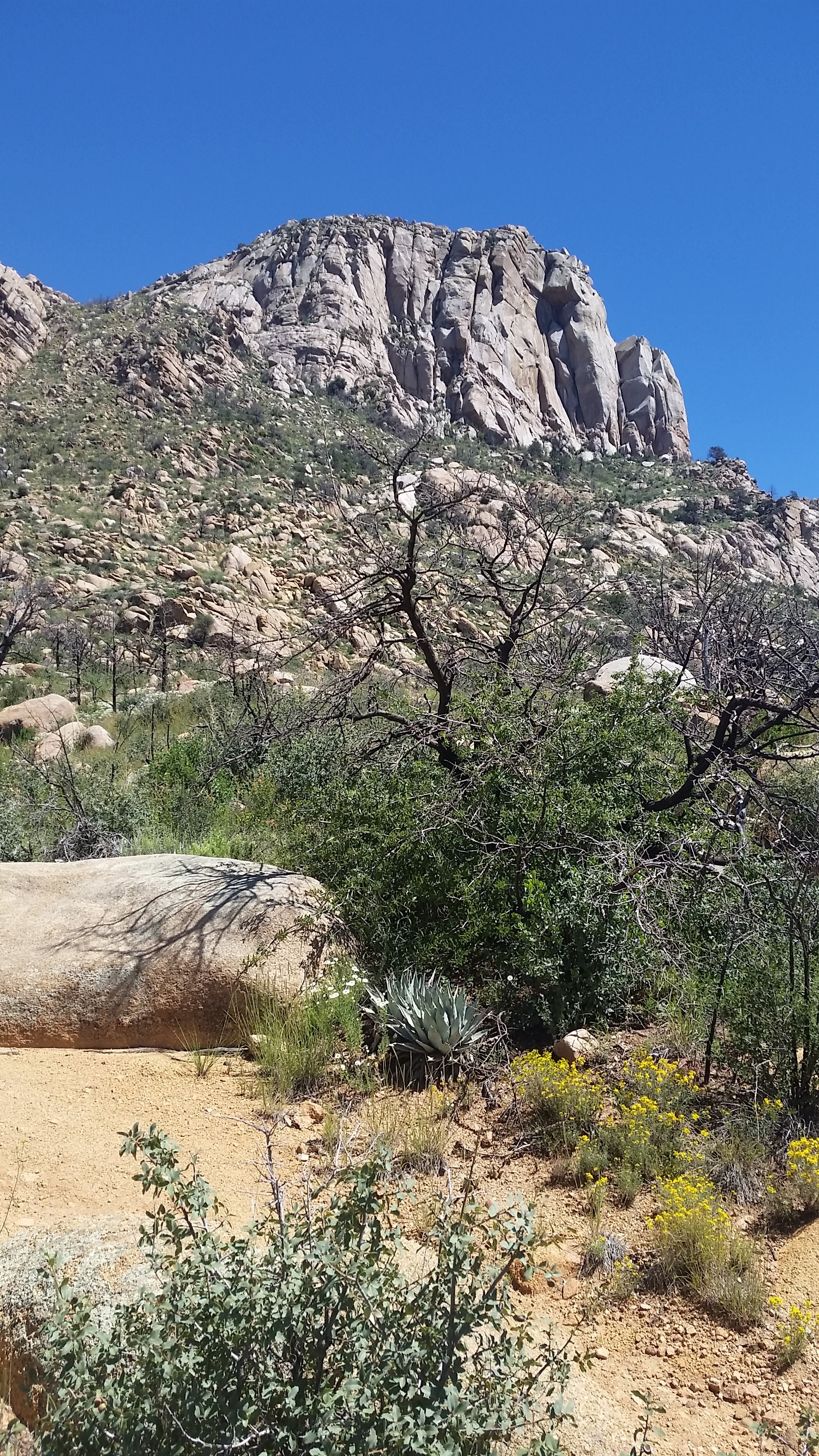 We headed north from there, taking on the switchbacks of the trail and finally finding our first bit of gain. At the third switchback heading up the mountain our guide book instructed us to take the "climbers trail" east to the base of the Swamp Slabs where we would begin our climb. Let's just say there wasn't much of a "route" here. Accustomed to bushwhacking, we prepped and pushed forward, up the side of the mountain through brush, bush, cactus, and rocks until finally (with some sweat and scratches) made it to the base of the slab.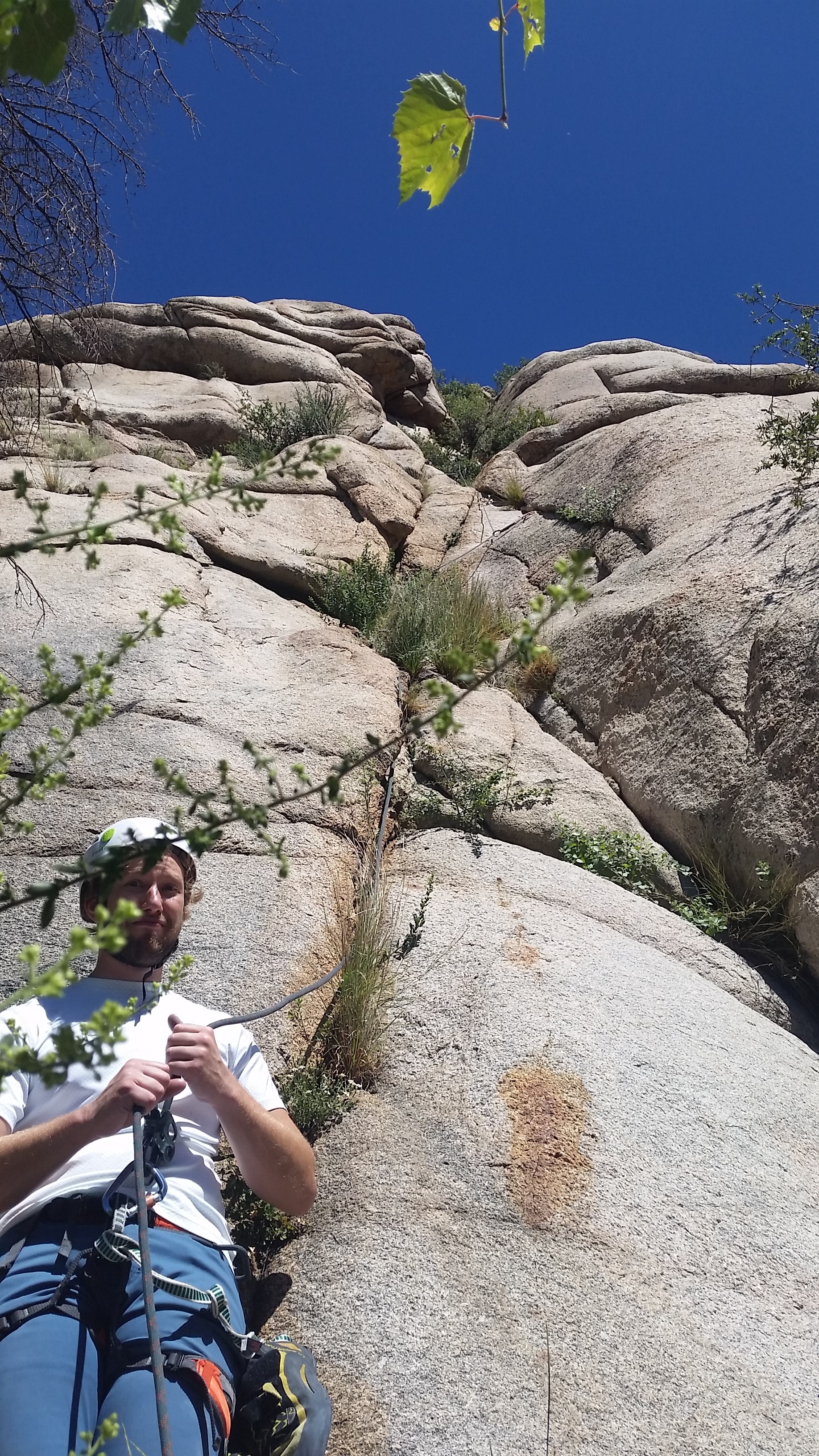 Kari has been climbing trad for years and would lead. I could tell by a smirk on his face as he looked at the wall in front of us that he was ready to get started. Dislocation Direct was a 4 pitch 5.6 route (according to the book). We decided to go up the first pitch of Dislocation Buttress (5.4) and then skirt a ledge to start the climb just to warm up. We were told that many of the ratings here were sandbagged and not to be fooled by a low rating.
At first Kari led while I followed, leaving all the tread gear in place. Then immediately after I began climbing, Craig would begin climbing and take lead on a rope tied to himself while Eva belayed from below. The first pitch was deceptively long and tougher than a 5.4 (in my opinion…but what do I know). Once getting off the ground and onto the face my hands were sweaty from searching for holds. I stuffed my feet into cracks when I could to cling to the rock like a lizard. Halfway up the pitch Kari's trad was 3 feet to the right, far from the crack I was climbing.  I re-positioned my feet, one in a crack and the other on the face, and stood. My right foot began to slip so I backed off. I took a second look to figure out what the heck he did and finally found a solution that worked, moving past the obstacle. Before long, after climbing through a few bushes and finally up and over an awkward headstone to a face, I reached the exposed ledge where Kari was waiting as my belay.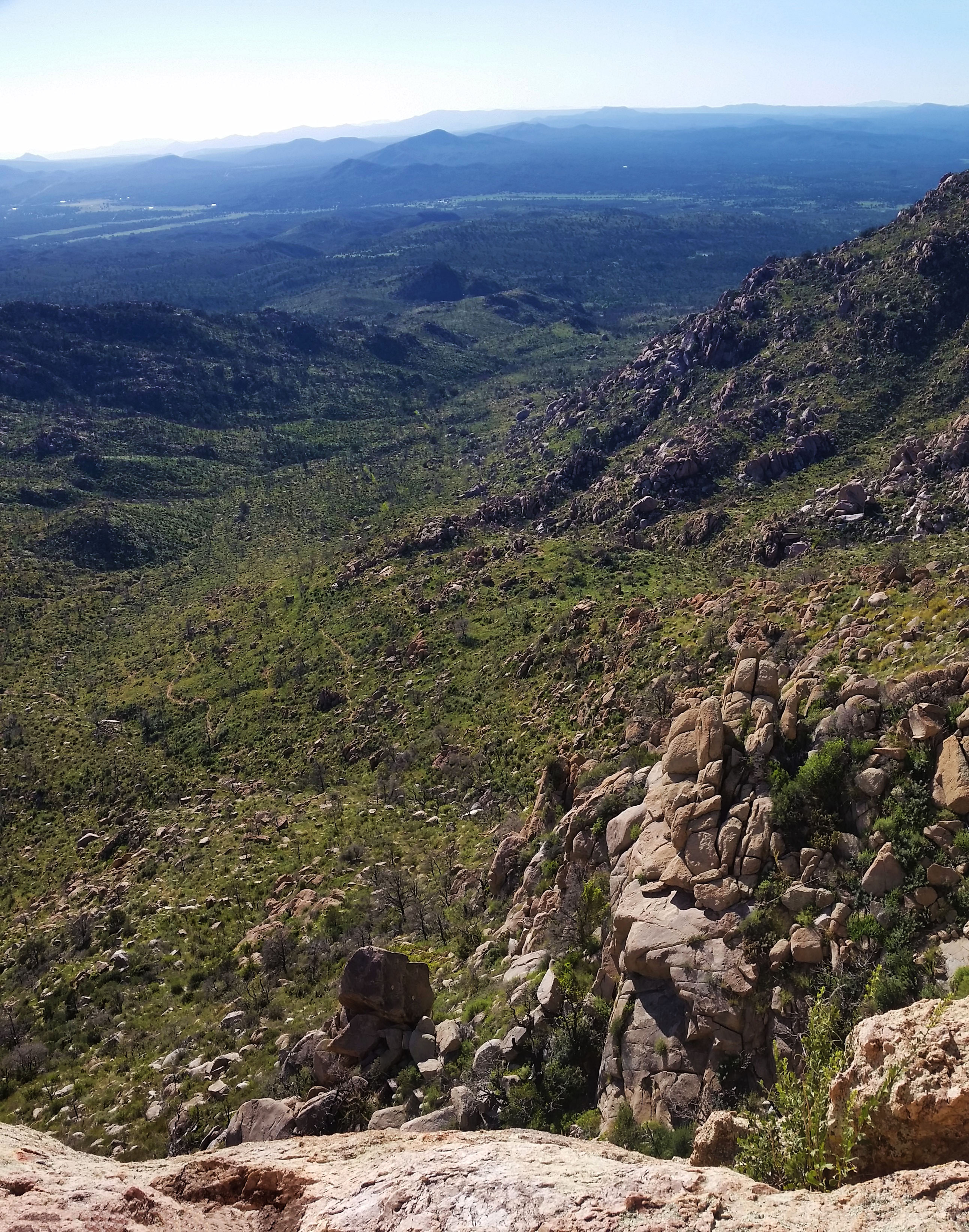 Happy to see him, I clipped into the anchor he had created and took a nice rest while we waited for the others to join us. Soon Craig popped up right behind me, but after a few minutes he noticed Eva wasn't climbing anymore and could have only been 15 feet off the ground. The cliffs had many ledges and crevices, restricting the line of sight to the climbers below from the belay station. We waited another minute, no movement . . . Worried something was wrong, Kari came off the anchor and went to the top of the pitch to repel down.  It turned out a piece of gear had walked its way into a crack so far that Eva couldn't retrieve it by hand and, not wanting to leave it behind, she was working to remove it. With a special tool, Kari removed the lodged gear and minutes later we were all at the anchor safe and sound.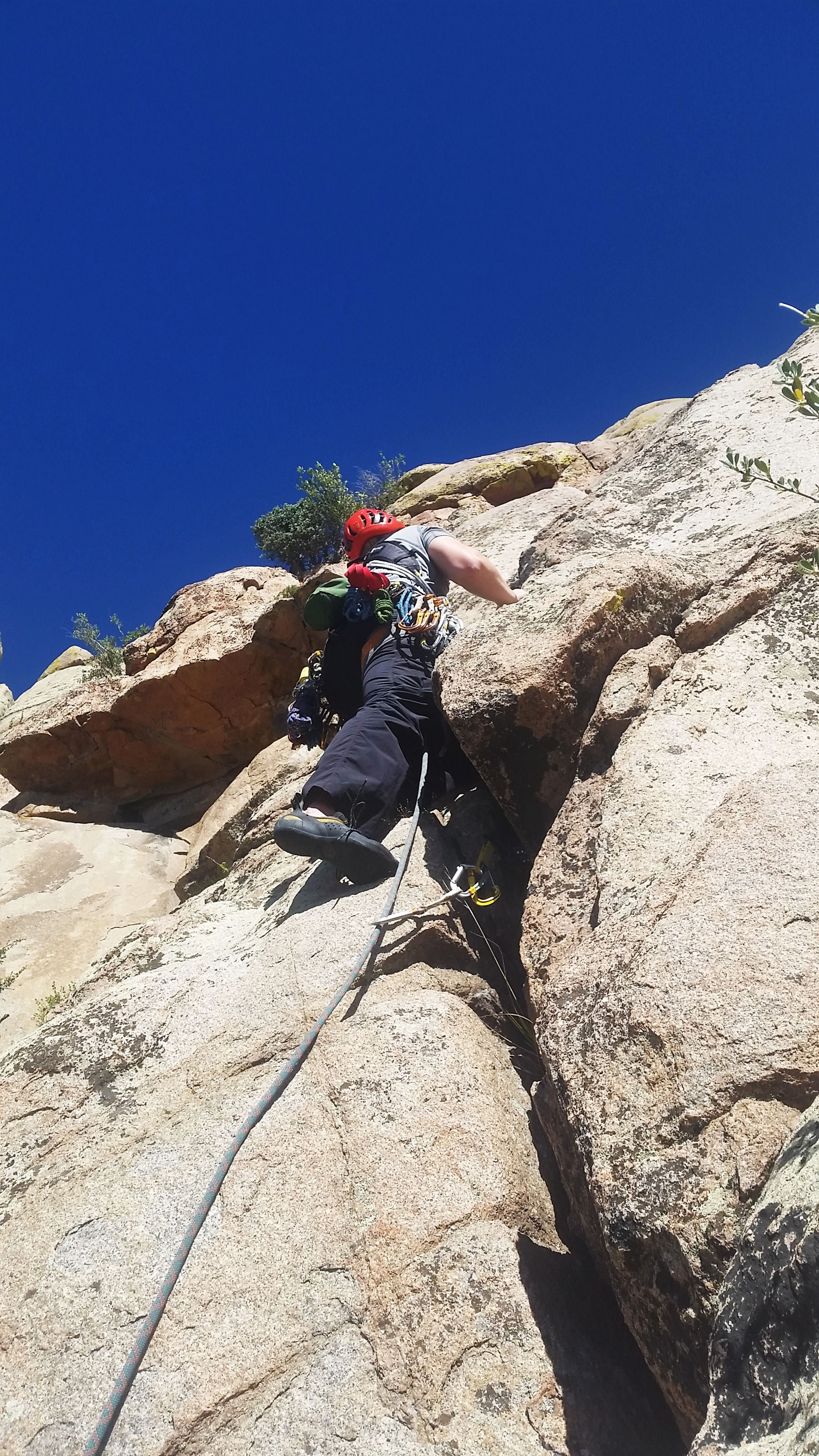 Due to the difficulty I volunteered to climb last, swapping out with Eva as I felt confident I could get anything loose if it were to get stuck again (I wanted to get some experience cleaning gear to see the placement). We climbed on, Kari leading and soon disappearing into the rock above. A few minutes later he called down that we were set having reached the next belay point, and Craig and Eva took off as I belayed Craig from below. It's a strange feeling standing on a ledge while everyone else climbs above knowing that you have no other choice but to follow. Waiting, I listened for muffled yells from above that I was set to climb.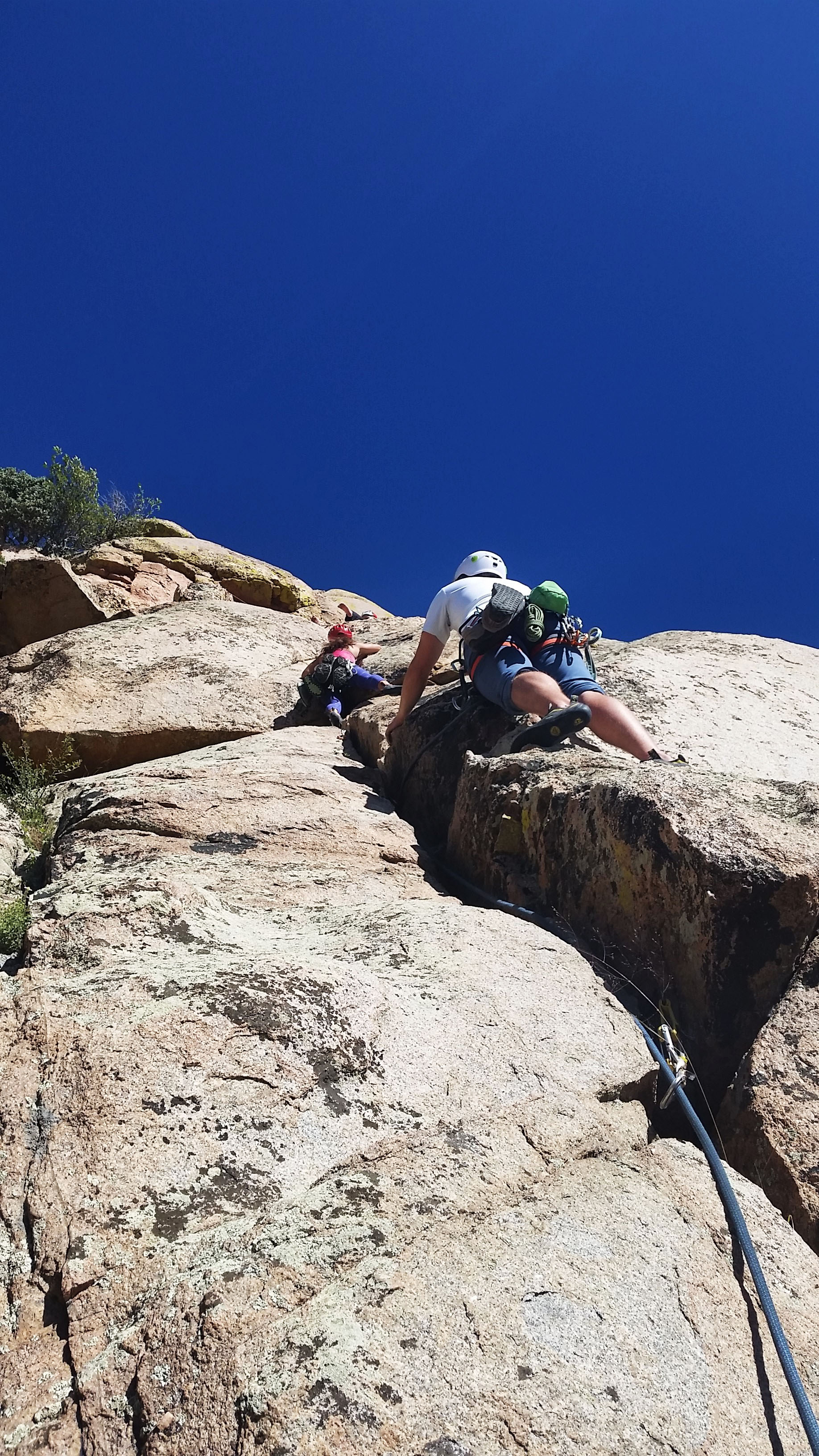 The signal came at last; I threw on my pack and shoes, eager to get back at it. I began to climb and found that each pitch had a crux, a tough spot which took some extra effort to get by. The first pitch's crux was just before the top, and there was a huge fin to the right which would have been a great hand hold.  Kari said to heck with that easiness and went straight up a crack just to the left of the fin. The hand holds were small, the feet were smaller, and it took just the right balance to keep from falling. This was slab climbing, Kari's favorite! I watched Eva and soon Craig pass on up to the belay station. I was could hear a grunt or two from Craig as he passed the crux, never a good sign as he is a much more skilled climber than me.  I was up next, and it was time to shine (or crash and burn, whatever).  I got to the crux quickly and taking great care to maneuver the tight, small holds managed to surpass it and get to the ledge. "Whew!" I exclaimed at I clipped into the anchor.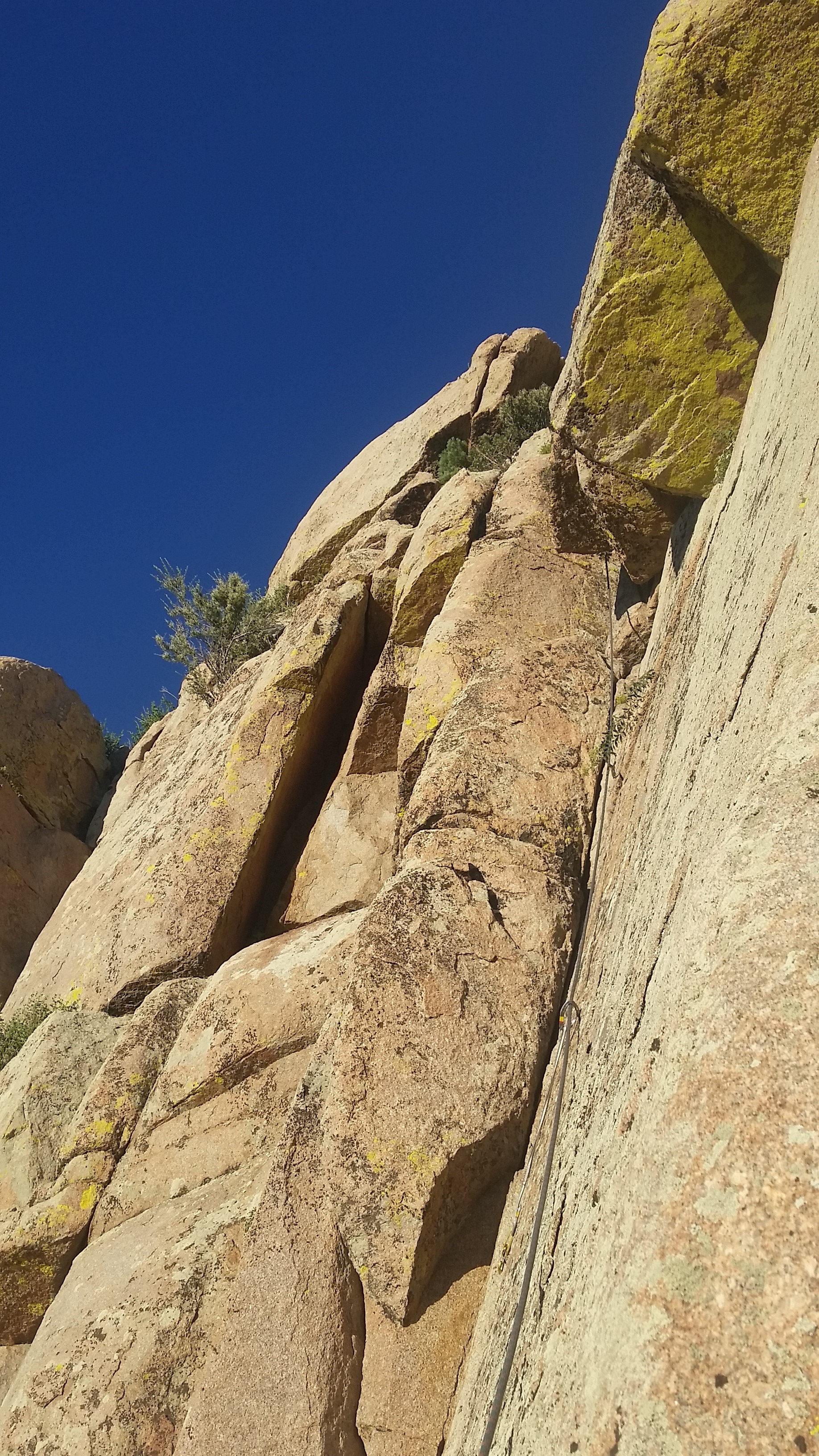 The sun was beaming down on us pretty good this late in the afternoon. We still had 3 more pitches to go and the sun wasn't doing us any favors. This time Kari took on 2 pitches at once to make up for time and disappeared in the rock above. Soon Eva and Craig were gone too and once again it was my go.  The first section was pretty straightforward and had some great holds. Just after clearing it I was staring at what seemed like a blank face, a huge left foot, and a large rock jutting out to create a small crack where Kari had left his gear. I approached and tried to orient my body for the high left . . . my foot began to slip and I backed off, grabbing for the jutting rock to hold me on the face.  I tried again, nothing. And again, no success. I was starting to get frustrated looking at the face. I took a deep breath and approached one last time, hand on the jutting rock, fingers in the crack, right foot on a smear, and I pulled my left leg up from my crouched position for the big felt foot. Booya! Got it, but just barely! The rest of the climb on that pitch went smoothly from there. Climbing slab, cracks, and fins, grabbing trad gear as I went until I finally reached the ledge where everyone else was waiting. "That was spicy!" I exclaimed when I finally anchored in.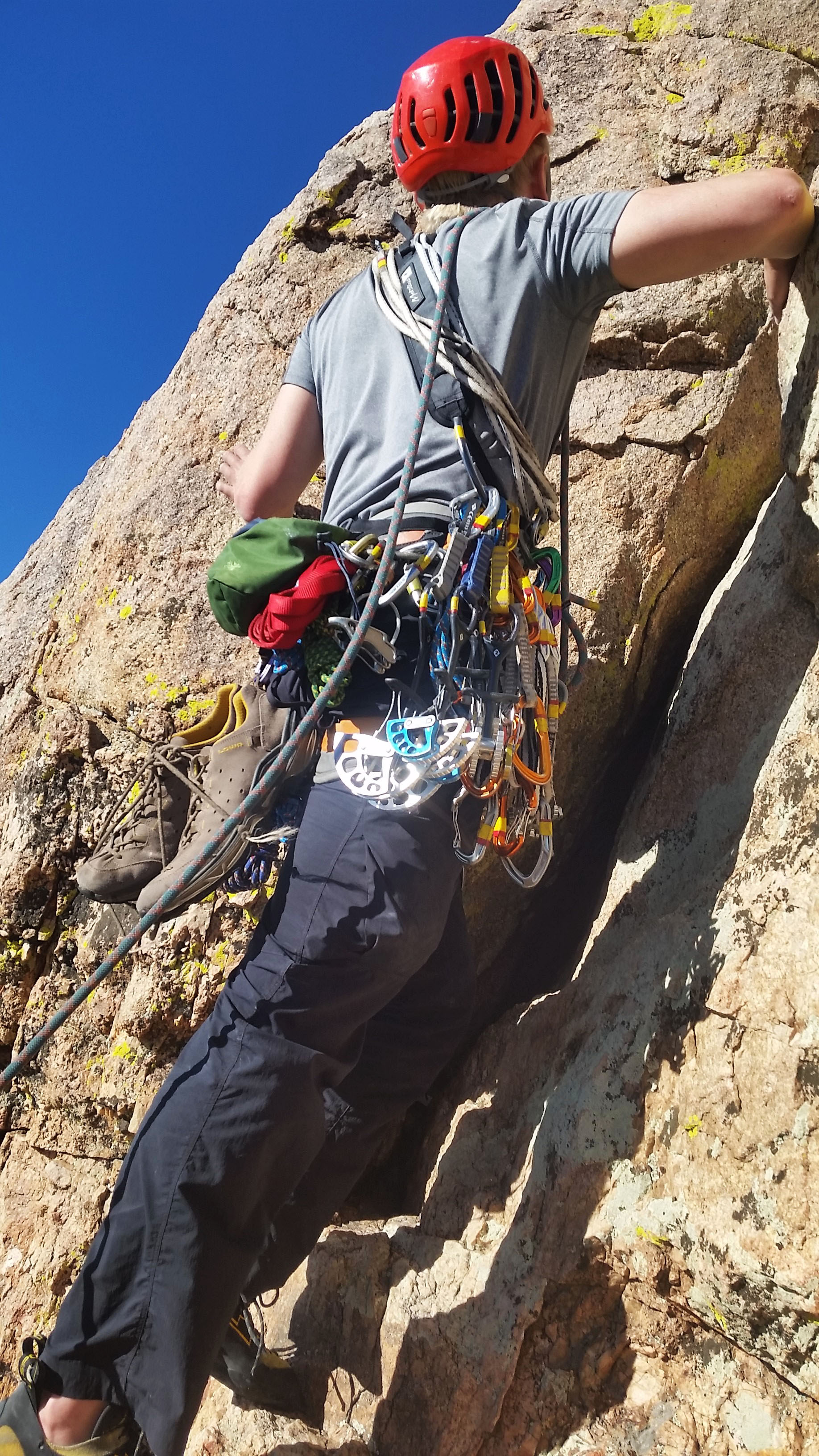 We looked to the west, the sun was setting and we were still on the wall with just one pitch left. Kari, with gear over his shoulder looking like Rambo with ammo belts, headed up the last climb. He once again disappeared in the rocks above. Pushing up, up, up we all soon reached the top of the climb. No chains to repel from here…nothing but you, the rock, and some trad gear. That's pretty cool.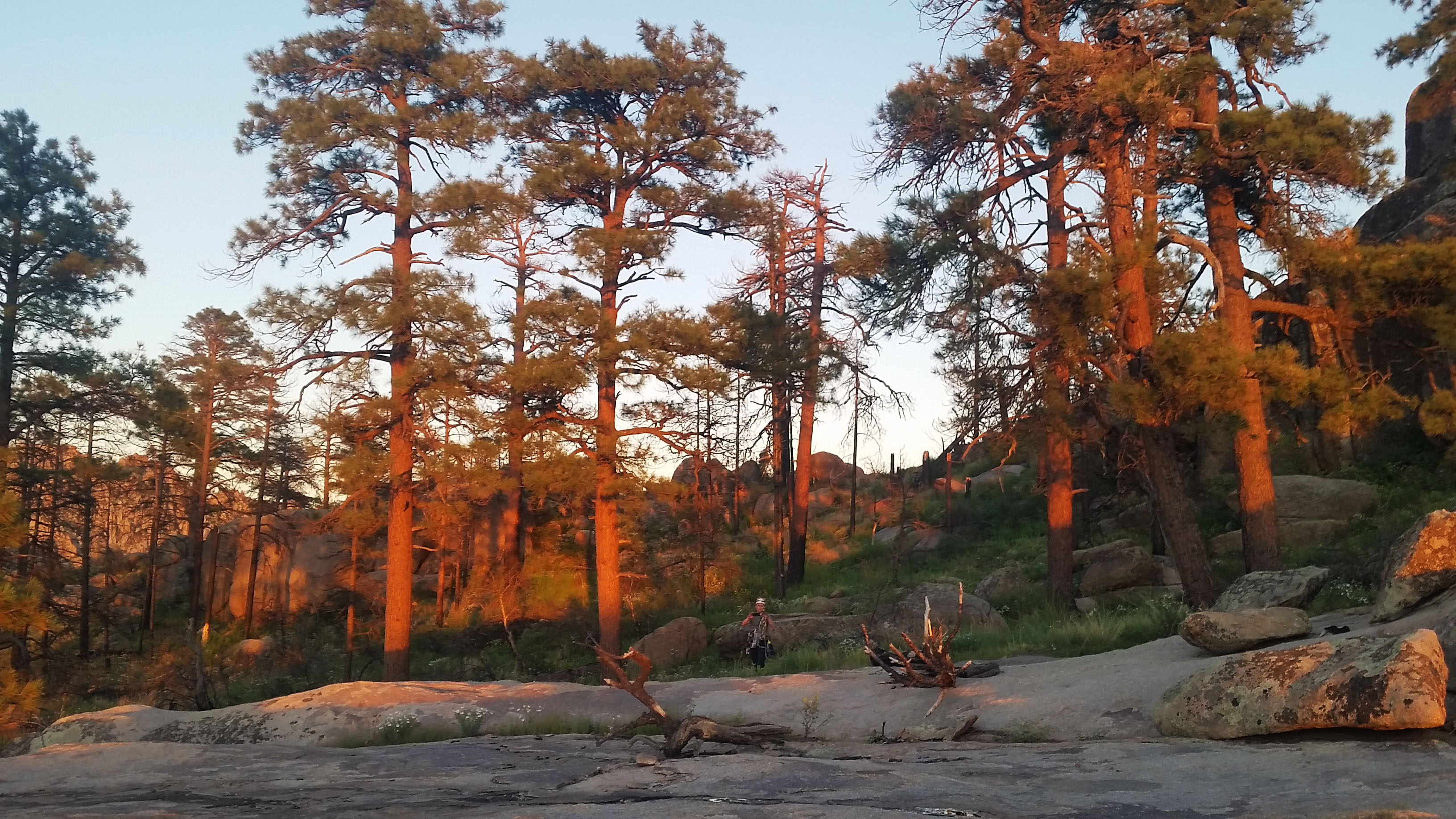 The sunset was absolutely gorgeous. As we topped our climb, the sun was just dipping below the horizon. We all were happy to have finished and walked off the backside down a bushwhack gully back to our gear waiting below. By then it was time for headlamps, and we trekked down the climber "trail" in the dark until finally reaching the main trail again. I won't name names, but there were a few cactus encounters the definitely kept us alive and on our toes. We walked back down the trail by headlamp, all tired and happy to complete another journey. Of course Craig was right, it was long dark before we got back to the car, but aren't those some of the best kinds of trips?!
HIKE INFO:
Approach hike: http://hikearizona.com/decoder.php?ZTN=2114
Swamp Slabs Climb: https://www.mountainproject.com/v/swamp-slabs/105792392
Dislocation Direct: https://www.mountainproject.com/v/dislocation-direct/105974239
HIKE STATS:
Weather: Hi 80s, Low 70s, Sunny
Water: 2.5 liters
Food: 1 Cliff bar, 1 bag trail mix, 1 apple, 2 protien bars, 1 bag of salt and venigar chips.
Time: 9 hours
Distance: 6 miles Round Trip from trailhead
Accumulated Gain: 1,400 feet
Climbing Rating: 5.6 (Sandbagged), first pitch 5.4 (also Sandbagged)
Number of Pitches: 5
GEAR:
Mule Camelback backpack (3 liter bladder)
Black Diamond Helmet
Petzl Corax Climbing Harness
Black Diamond screw carabiner
Phantom DMM screw carabiner
Webbing for personal anchor
Arc'teryx Chalk Bag
SPOT Tracker
CLOTHING:
Cotton T-Shirt
Arc'teryx Hoody
Cotton Handkerchief
Darn Tough Medium Wool Sox
Merrell Mid Moab Hiking Boots
La Sortiva Muira Climbing Shoes