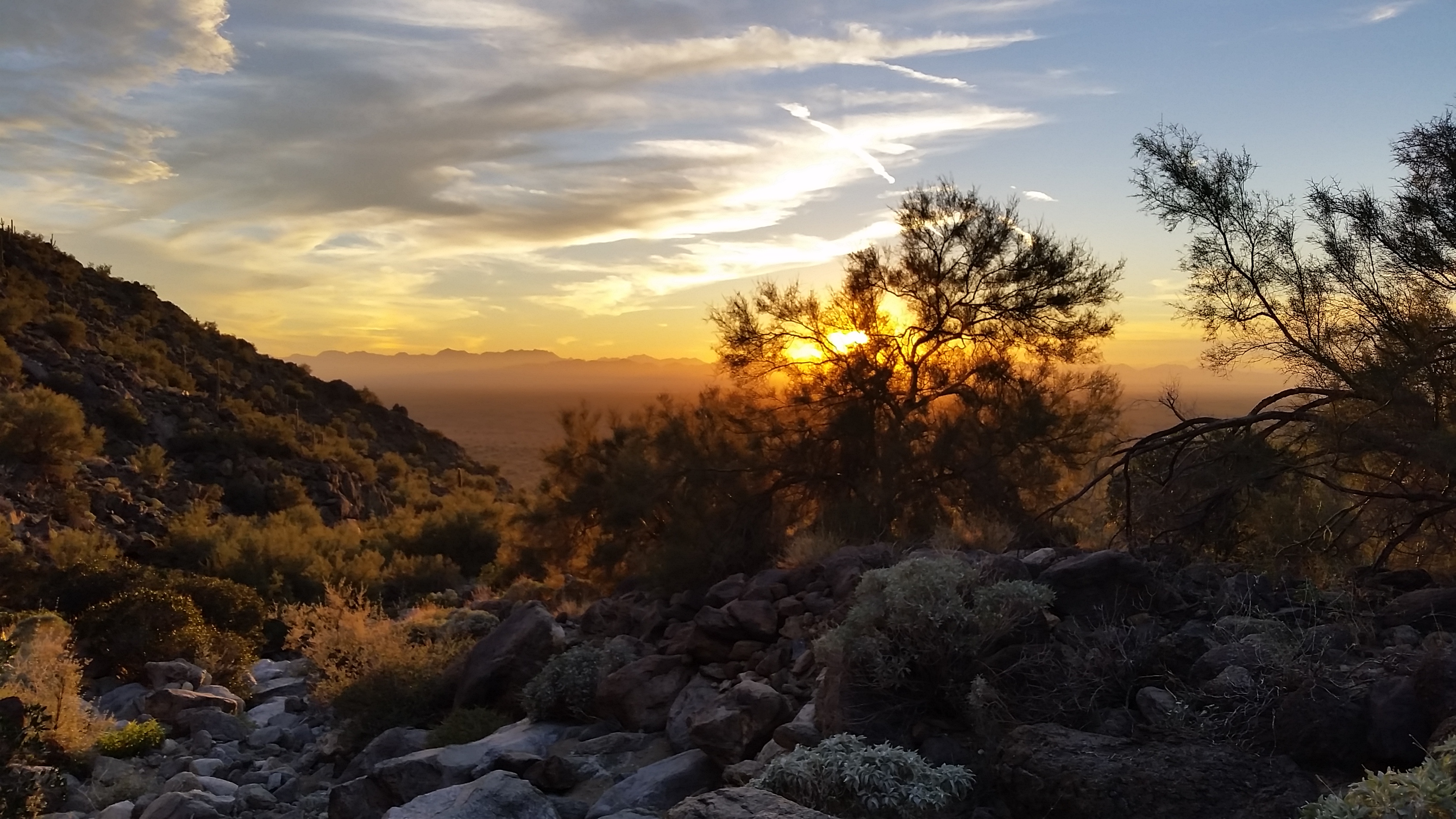 I woke up in my warm sleeping bag to a nice crisp, cool morning at the base of the Estrella Mountains. Crawling out of my tent like some primitive creature and pulling my boots on, I stood up to be faced with some awesome views of a crescent moon hovering the silhouette of the ridgeline I hoped to climb that day. Two friends and I planned to ascend a trail-less wash up to a ridgeline walk to the highest point in the Estrella Mountains nicknamed Hayes Peak. Those of you who don't like bushwhack trails or obtaining special permission from Indian reservations need not apply!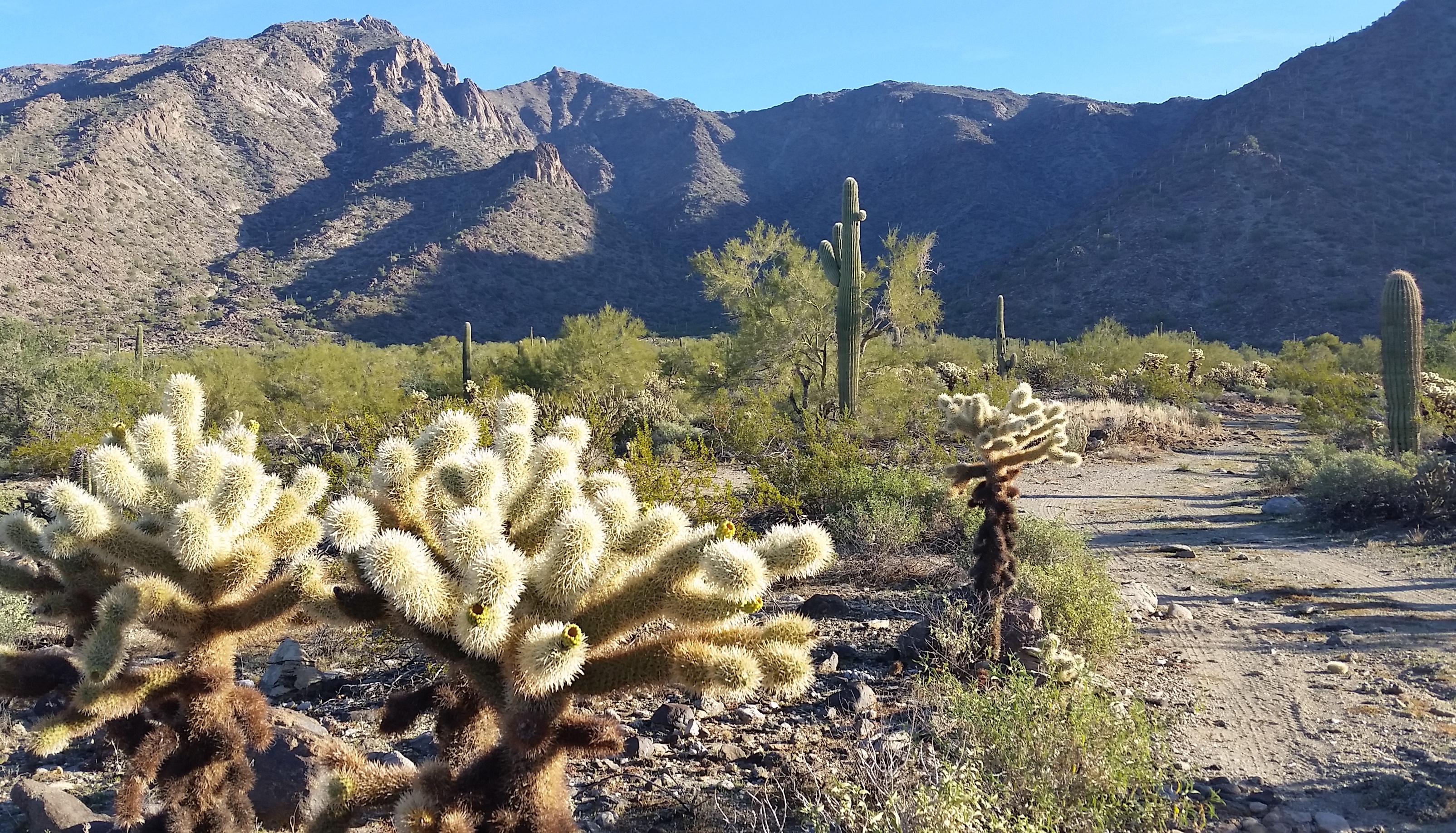 After sunrise we ate breakfast, strapped on our packs, and headed out from our campsite not knowing what the day had in store for us. The road we initially started to walk towards the mountain soon disappeared into a system of washes. We walked about 100 feet east of the old road and dumped into the wash that would eventually take us to the ridge. We hopped, jumped, climbed, and scrambled up, around, and across rocks endlessly, all the while attempting to avoid spiked trees, spiny cacti, and other thick brush attempting to hold us back from reaching our goal. We kept at it, taking a few breaks in the shade of the rocks, passing jokes about how it takes a special kind of person to think that this form of torture was actually enjoyable! Scratched, sweaty, and bruised, we pushed towards the ridge.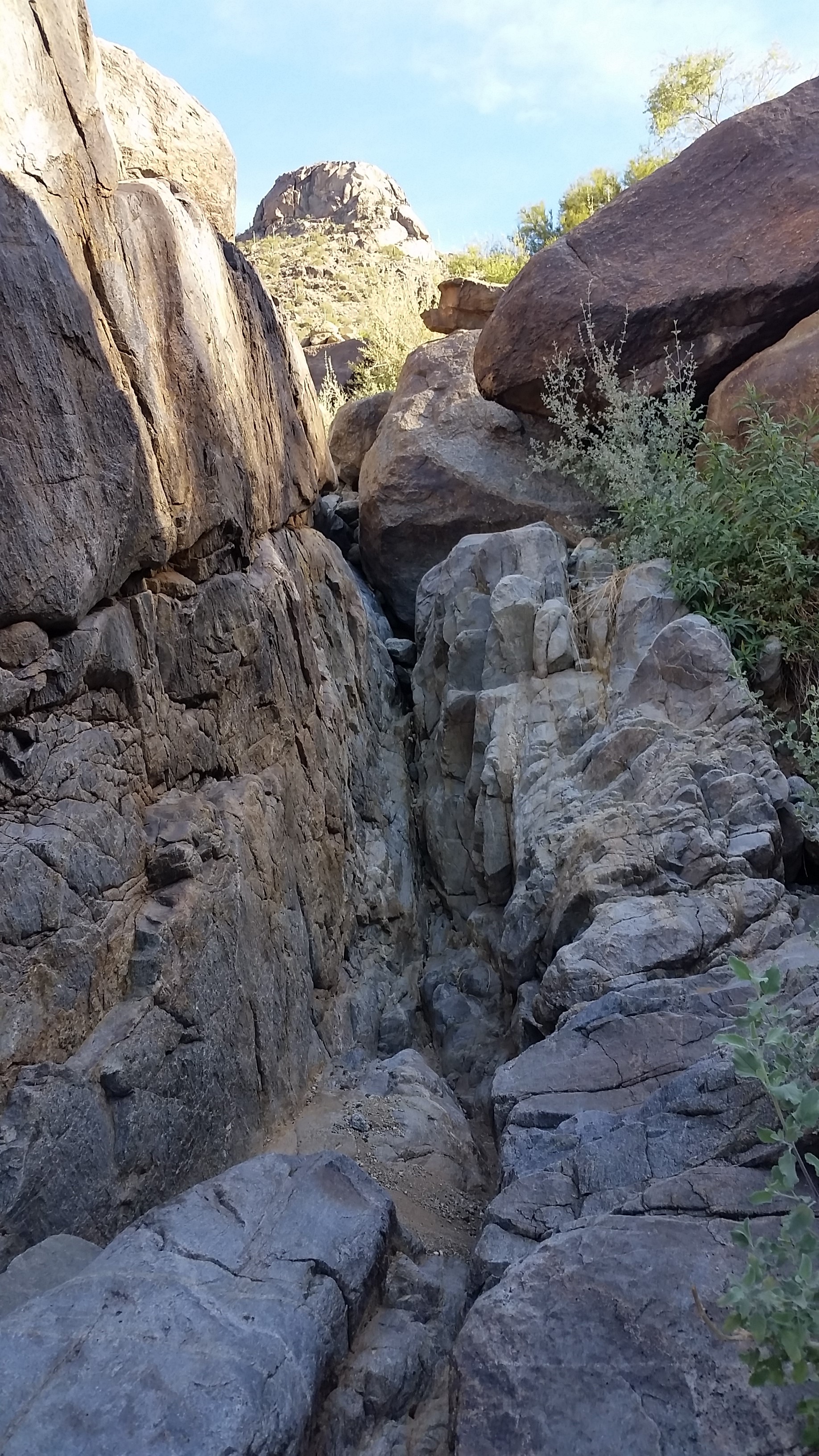 The wash is pretty constant in its gain and bushwackiness (yup that's a technical term). Towards the ridge line, however, we banked west to climb the last couple hundred feet or so, which proved to be less than forgiving. My good friend's fiancé decided to call her limit at this point and turn back (don't get me wrong, way tough chick, did I mention 6 months pregnant?). They headed down, leaving the peak bagging to me. I jetted up to the ridge and pushed hard to cover the last 1.5 miles to the peak. I'll admit this was not an easy feat; tons of grueling inclines, cactus dodging, and beaming sun to make the last push a challenge.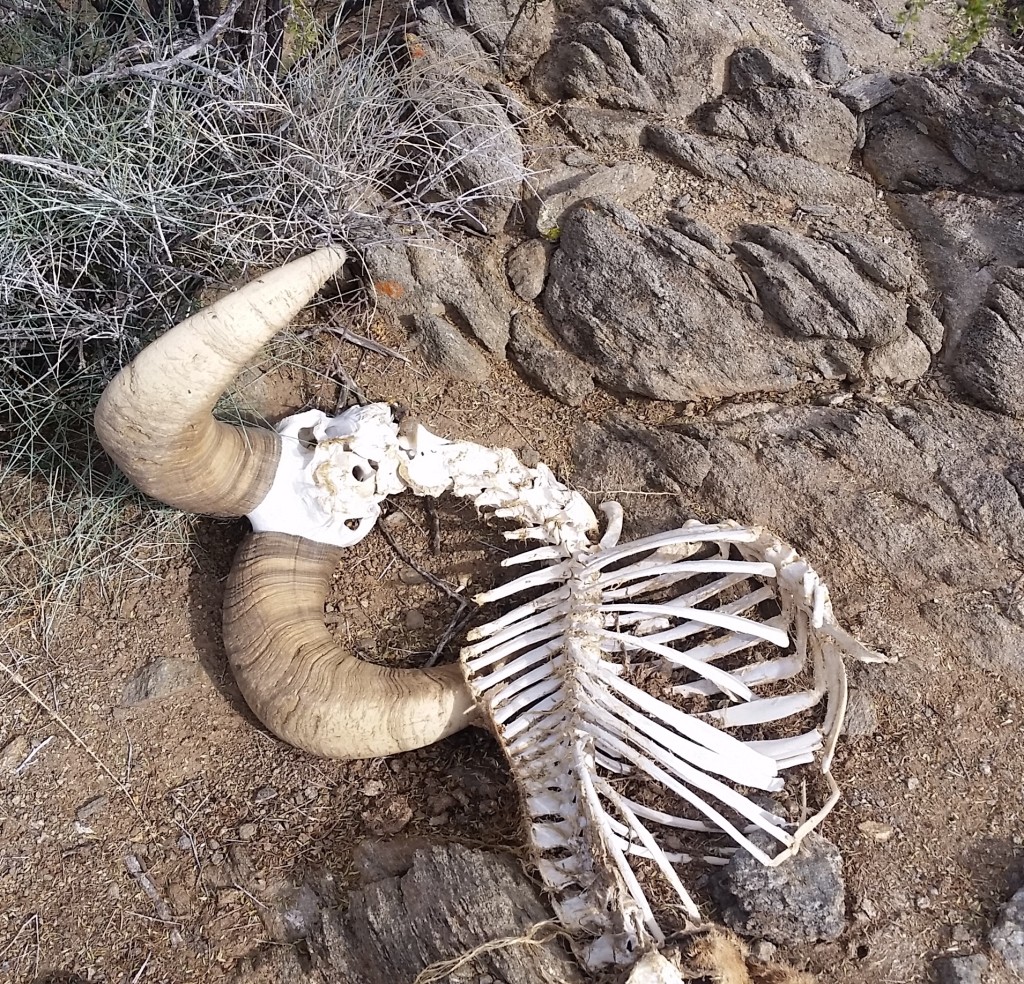 Traversing the ridgeline I came across a big horned sheep. Unfortunately, this guy met an end by what one could only imagine to be one killer life out in the wild. The horns were massive and had almost a full 360 curl; he was definitely a big boy! Even though he wasn't alive, I had evidence that they lived here in the Estrella Mountains. I instantly put my head on a swivel looking for predators in the area as I trekked on. Up, up, up I pushed until finally reaching the peak with a small tower station and multiple sets of solar panels. The view of South Mountain and Phoenix was strange from this point but wonderful to see. With killer views all around, I snapped some quick pics and decided to jet back down to meet my friends. On the way back I eyeballed a beastly peak to the southwest of Hayes (not sure of the name but stands at 4232) that looked as though it may require some rope to reach summit.  If I only had more time…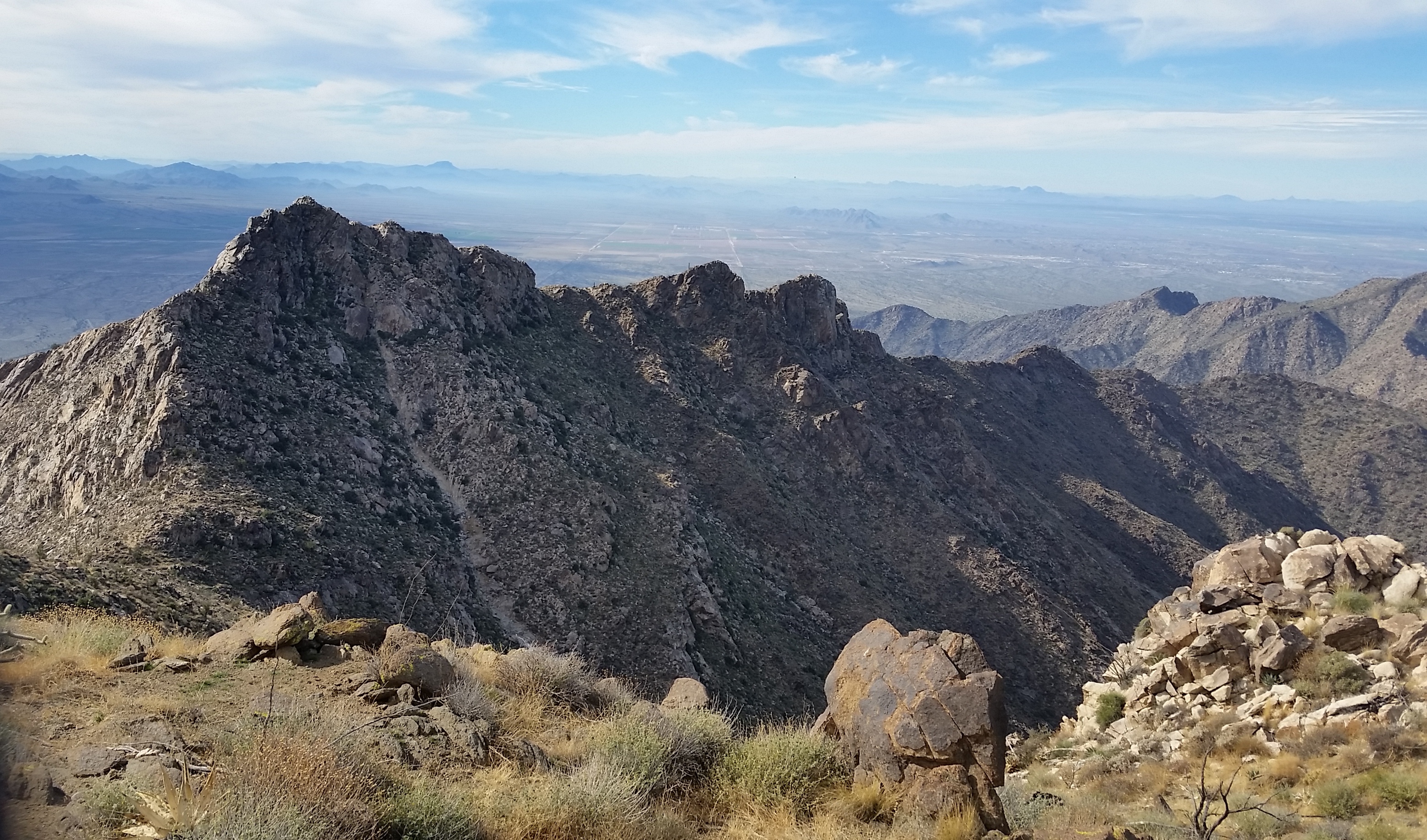 Hauling butt I got to the point where I popped out onto the ridge in just 2 hours. I bombed back down the wash to catch my friends. About 1/3 of the way down, I was surprised to find them so soon! They were taking their time, being very meticulous and calculated about their route (and for good reason). We, the 3 amigos, traversed the rest of the wash back down the same route to the truck with the sun setting in front of us. Another end to a good hike! The only obstacle left was to drive the slow eight miles back to Riggs road and on home. Using a weekend to spend time in the mountains with good friends…nothing can be better!
HIKE INFO: http://peakbagger.com/climber/ascent.aspx?aid=298864
HIKE STATS:
Weather: Hi upper 70s, Low in the lower 50s, Sunny
Water: 2.0 liters
Food: 2 Clif Bars, 1 Clif Builders bar, 1 Nature Valley peanut butter granola Bar
Time: 11 hours (took our time getting down safe)
Distance: approx 6 Miles Round Trip
GEAR:
Mule Camelback backpack (3 liter bladder)
CLOTHING:
Smart wool 195 long sleeve shirt
Cotton Handkerchief
Patagonia Pants
Merrell Mid Moab Hiking Boots
Smart wool medium weight sox and liners
Giro Mountain Biking Gloves