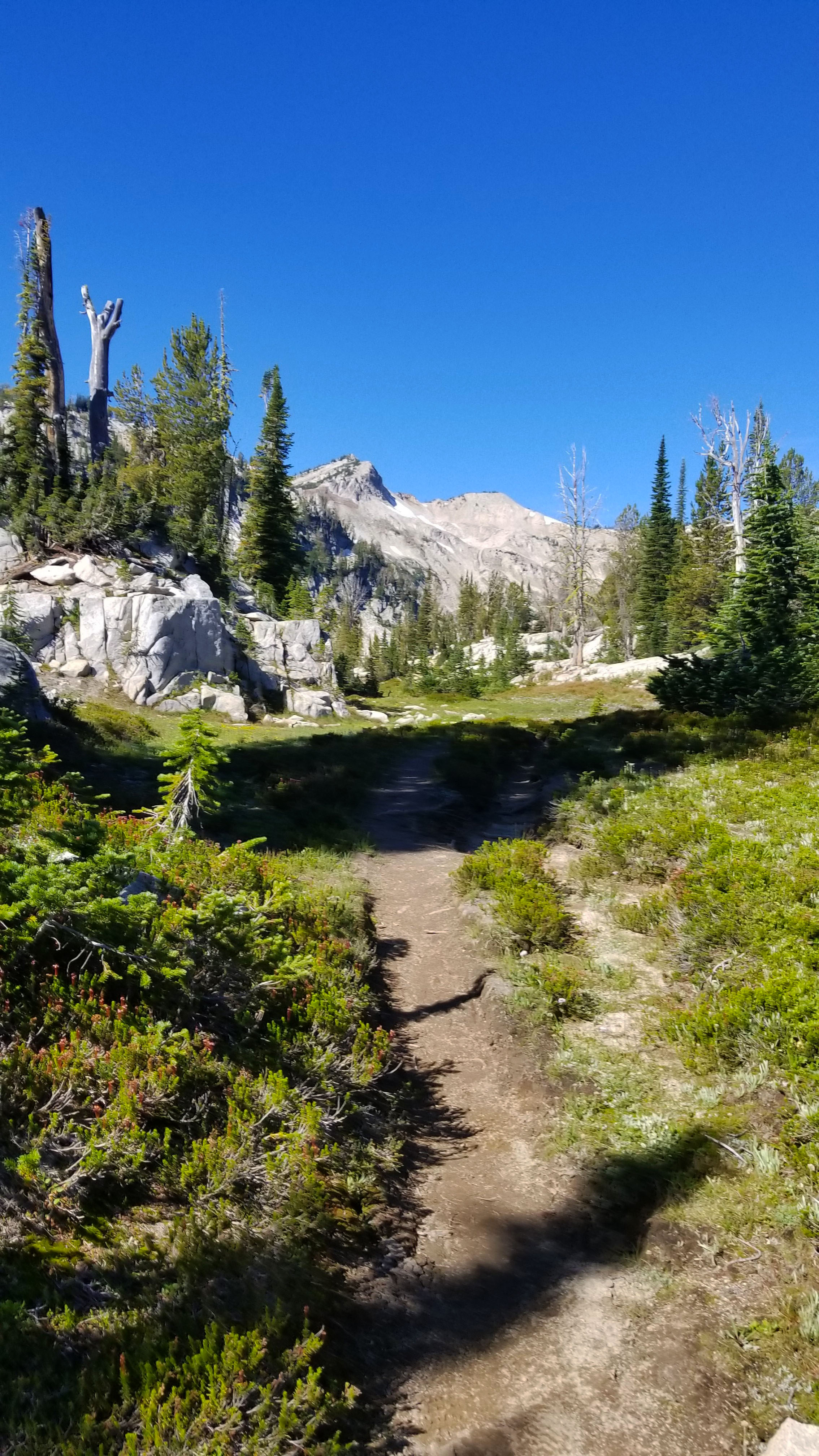 We woke up, and started the morning ritual as usual: coffee, breakfast, packing up. We had a gorgeous view of both Eagle Cap and Moccasin Lake from our camp, and really had a nice time taking it all in as we got ready. Soon after filtering water and packing up, we headed towards the crosscut that would take us to the base of Eagle Cap. We pulled off our backpacks, stashed them, and I grabbed my day pack and filled it with supplies for the quick 4.2 mile round trip haul to the peak.
We started up from the base and all of a sudden the light changed. It was strange, the temperature dropped, and the normally bright day turned to a strange dimmed white light. Almost as if you were looking at artificial white light, it made all the colors of the surroundings mute. I looked at the time and it was right at 10:20. Both Izzie and I had read that the eclipse wasn't going to start until 1pm, and because we hadn't grabbed Eclipse glasses, there was almost no way to confirm. At first we thought maybe it would take an hour for the moon to cross.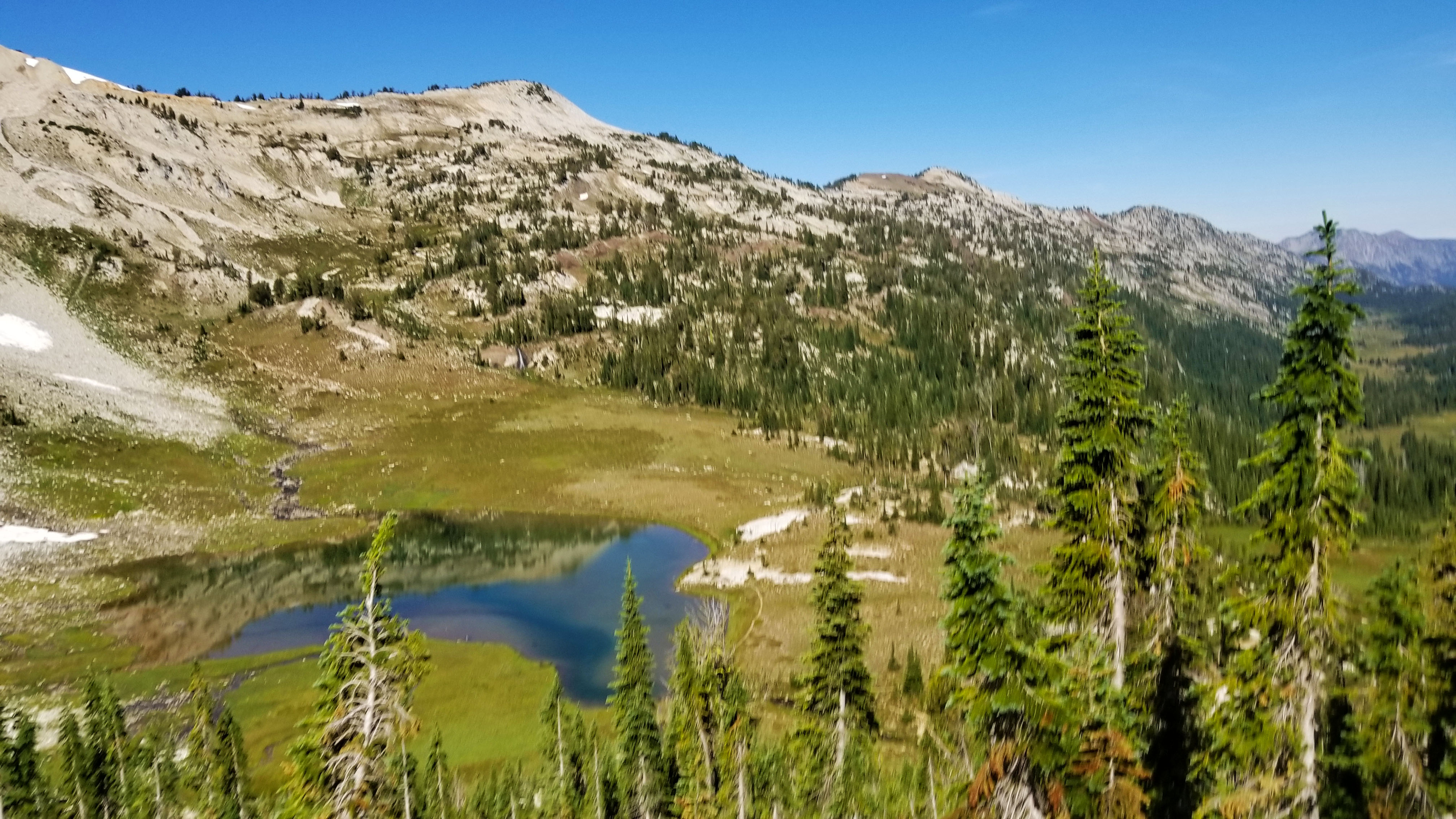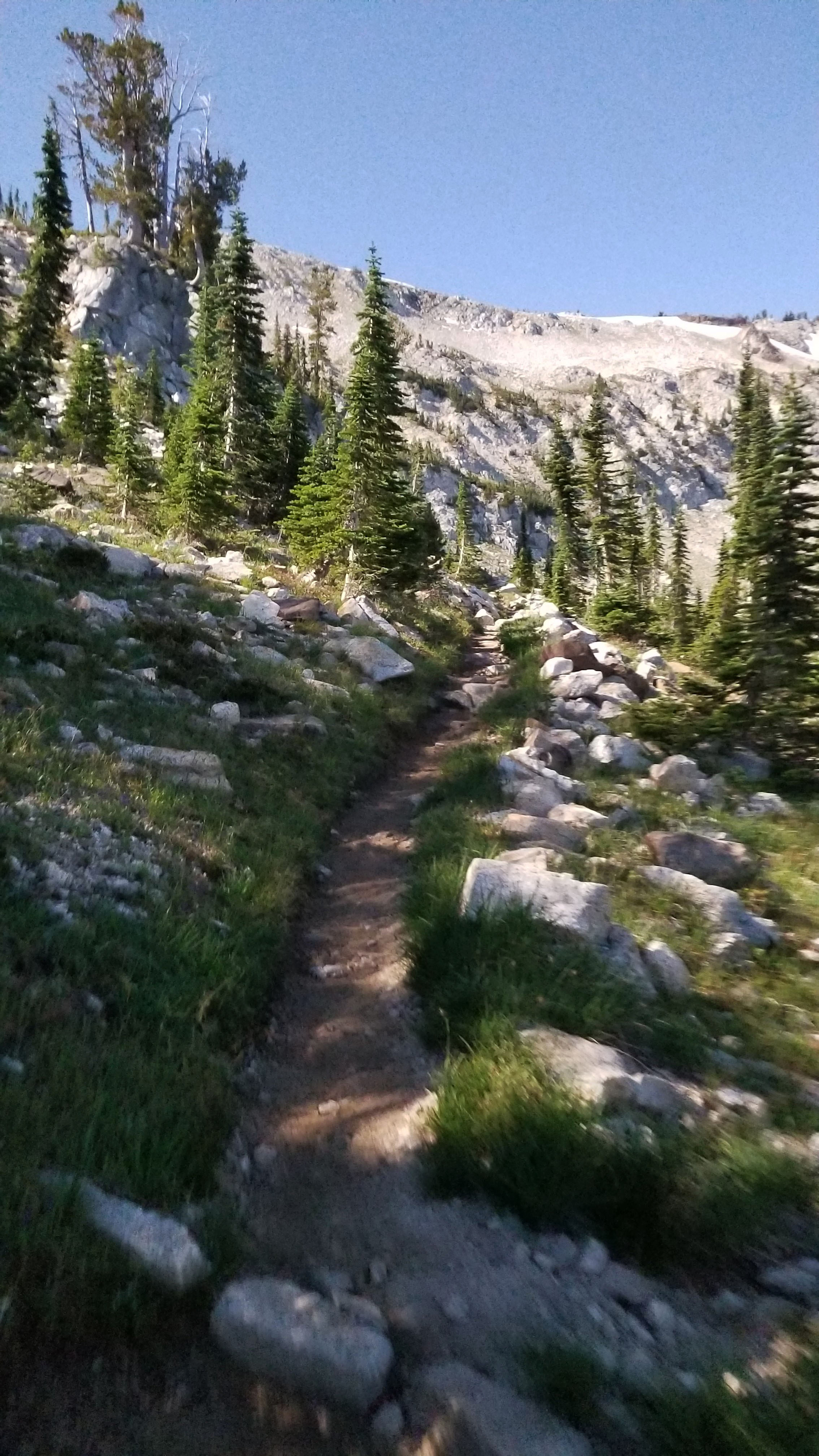 We trekked on up the mountain hoping that this was only the start of the eclipse. We hurried on, headed up switchback after switchback, really keeping up a good pace. We ran into a group of people heading down and we wondered if they were just heading down and didn't care much about the eclipse. We headed on, up and up, until we ran into another group, then a third. I feared we missed it and we stopped to chat with one of the hikers. "Oh you guys just missed it, it was at 10:20 this morning!" They were kind enough to hand us their Eclipse glasses and we looked up to see the moon covering about 70% of the sun. Little did we know, the surge of light that we saw was the closest to totality that we would see. We later realized that the eclipse had been posted in Eastern Time since NASA is based out of Houston Texas, and so our timings were three hours behind! Ooops!

It was alright though, we still experienced it in our own way. And besides, we were here in the middle of the beautiful Wallowas enjoying everything it had to offer. We trekked on towards the peak. Group after group passed us heading down before we finally reached the peak at 9572 feet. The snow-capped peaks in the distance and the glacier lakes at their feet were so awesome to see! We could see Razzberry Mountain from Eagle Cap, the Matterhorn in the distance, and all the way down the valley we had trekked in on, as well as the valley we planned to leave on.


We took it all in, chilled for a snack, and chatted with other hikers before watching the last of the moon disappear from the path of the sun. We gathered our things once again and headed down to grab our packs. Reaching the base of Eagle, we strapped our backpacks back on and debated on which trail to lead out on.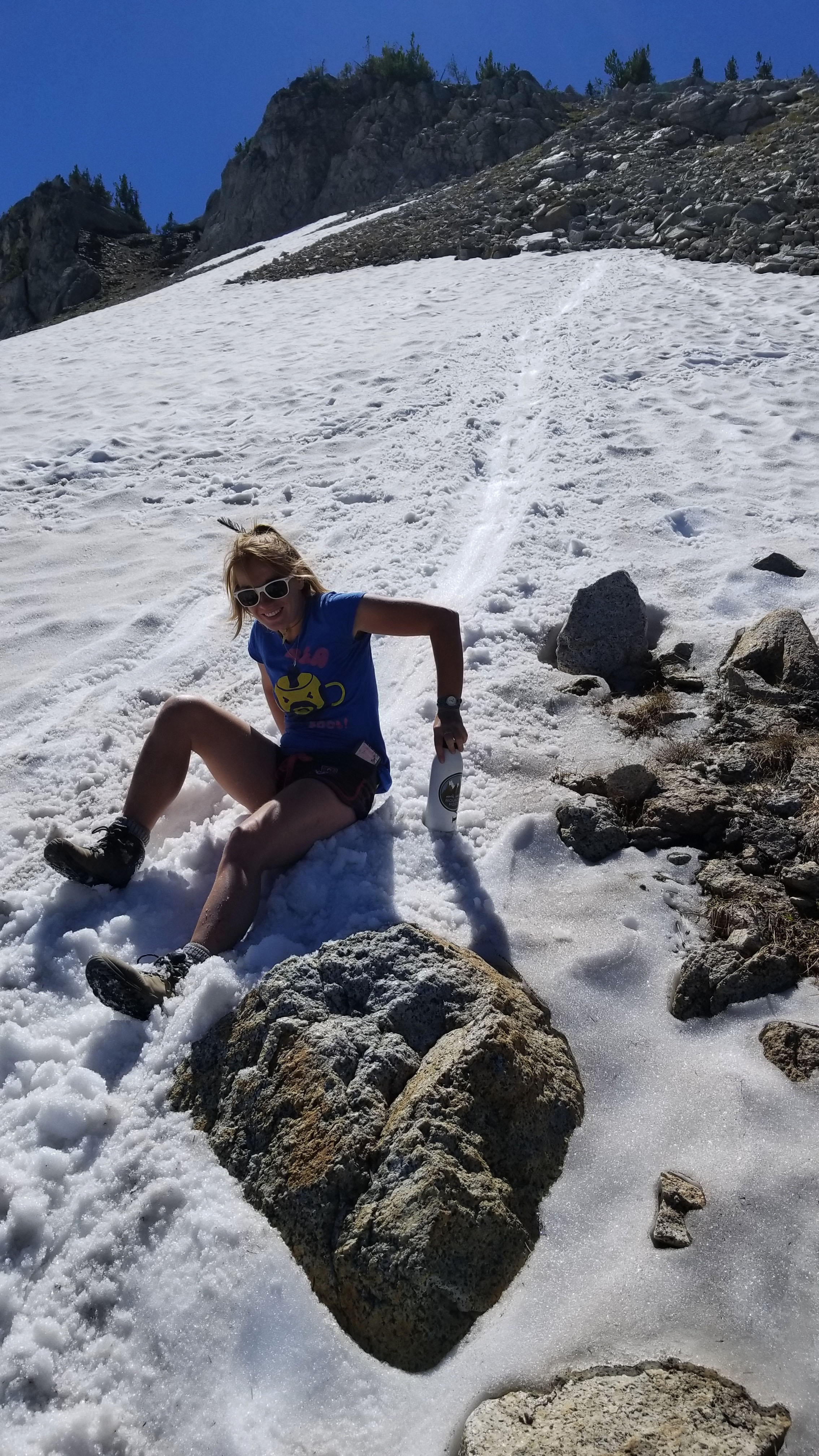 East Fork Lostine Trail 1662 (the trail we came in on) would save us some gain and a few miles, but we would see a whole different part of the valley by going over a pass to Minam Lake Trail 1670. I made the call and we started huffing up the crosscut trail to the pass that would drop us next to Minam Lake. I love me some gain! A few hikers we passed going up the pass saw us coming down from Eagle Cap just before and stopped us to make sure we knew we were silly for deciding to gain another 1000 ft for the pass after already hiking Eagle Cap. I smiled as Izzie and I passed them with full packs, sweating and huffing, but it was all worth it!
We finally dropped into the next valley to the west and after a few miles we reached the edge of Minam Lake. We were both pretty tired and needed a break so it wasn't long before packs were dropped, and we were in the water! Any chance to get a little clean on a backpacking trek is well worth it! The lake was just as cold as Razz but we stayed in this one a bit longer just enjoying the views and paddling around a bit. Afterwards we posted up on a nice big rock and traded food for lunch, stuffing ourselves with the last of the crackers and cheese, chips, apples, and PB&J we had. We only had a few bars to get us out, but that was more than enough to push the 7 miles!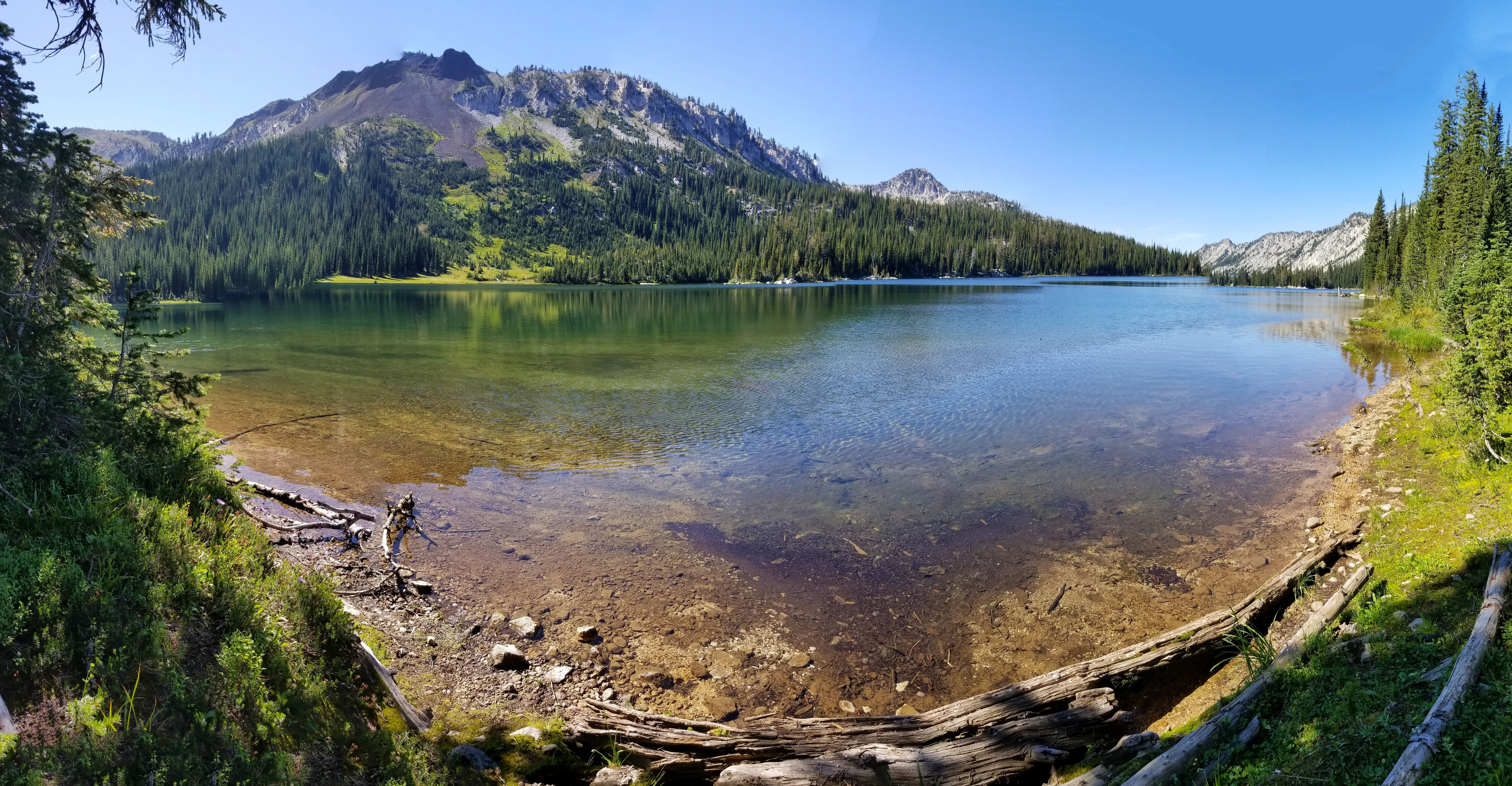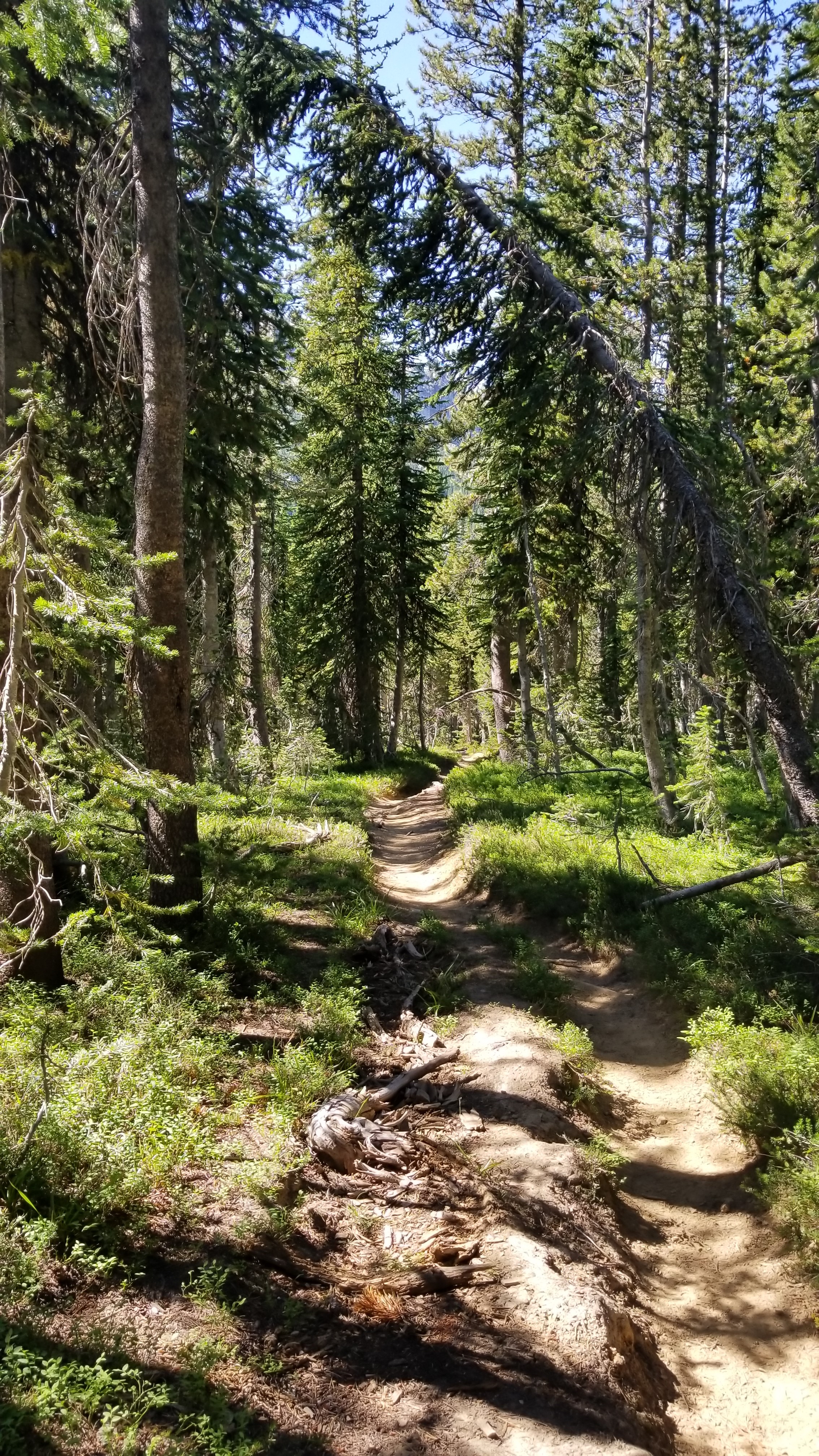 We once again packed up after recharging our batteries lakeside and headed towards the trailhead. We chatted as we trekked about how funny families can be, and the quirky dynamics that make them unique. The trek out was just as beautiful as the rest of the trip. Everything was so green, and we were accompanied by the sounds of the Lostine River most of the way. Once again we watched the sun set as we trekked towards the end of our hike.
After some miles we made it back to the car, dropped our stuff, stretched out the best we could before throwing our packs in and hopping in Old Red headed to town for Mexican food! What a really awesome trek! Three days in the backcountry, awesome peaks, awesome lakes, awesome views, and awesome company! I can't wait to come back and explore more!
HIKE INFO:
HIKE STATS:
Weather: Hi in mid 60s, Low – 40s, Clear
Water: 4 Liters (including breakfast)
Food: Instant Coffee, bagel, Triscutes and hummus, 1 PBJ, Orange, Apple, 2 Clif Builder Bar, 2 protein Bars, 1 Bag of Salt and Vinegar Chips, Gummy Worms.
Time: 11 hours
Distance: 13.7 miles
Accumulated Gain: ~2800 accumulated
GEAR:
58 liter exos osprey backpack
Big Agnes Copper Spur UL2 tent
Big Agnes QCORE SLX sleeping pad
Cosmic Down Kelty Sleeping Bag (rated to 20 deg F)
Jet Boil – Sol
Black Diamond trekking poles
Black Diamond Storm Headlamp
SPOT Gen3 Tracker
Sawyer Squeeze – Water Filter
CLOTHING:
Smartwool – long sleeve 195 shirt
Cotton hankerchief
Arc'teryx ATOM hoody
Threadless hoody
Patagonia Pants
Merrell – Moab Hiking Boots
Darn Tough wool medium weight socks