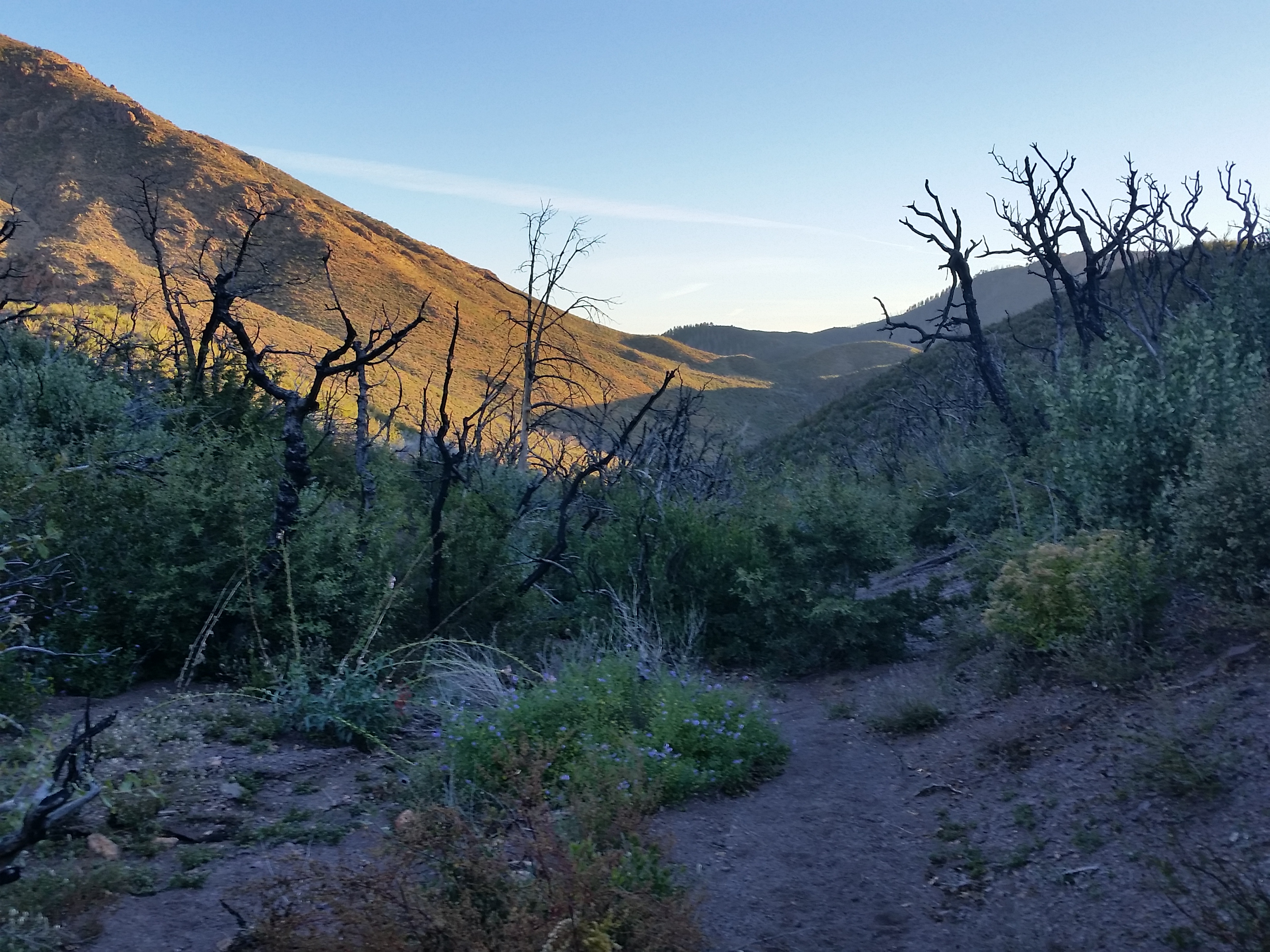 I woke in the middle of the night to a noise outside my tent. My tent was sent up at a trailhead flat downhill from the entry road. Out of the corner of my eye I see a bright light approaching my tent and I immediately became very awake and alert. The light came down the hill and hovered right over my tent. I grabbed my Kabar knife and strapped my headlamp on. Taking a deep breath I grabbed the tent zipper and like lighting pulled the zipper open and came out ready to face whoever was on the other side. To my surprise I was faced with a huge big bright moon . . . I felt pretty silly.
The moon just so happened to rise just over the entry road and the noise I head was the wind pushing on the sides of my tent. I went back to sleep and was woken again by the sound of my alarm going off. Today I had to boogy out of the mountains and get back home for a dose of reality that the work week was quickly approaching. I got up, packed up the sleeping gear, and made breakfast. Soon I was putting the last bit of my camp into my backpack and throwing on some sunscreen for the day to come. It was still dark out but it was time to boogy on!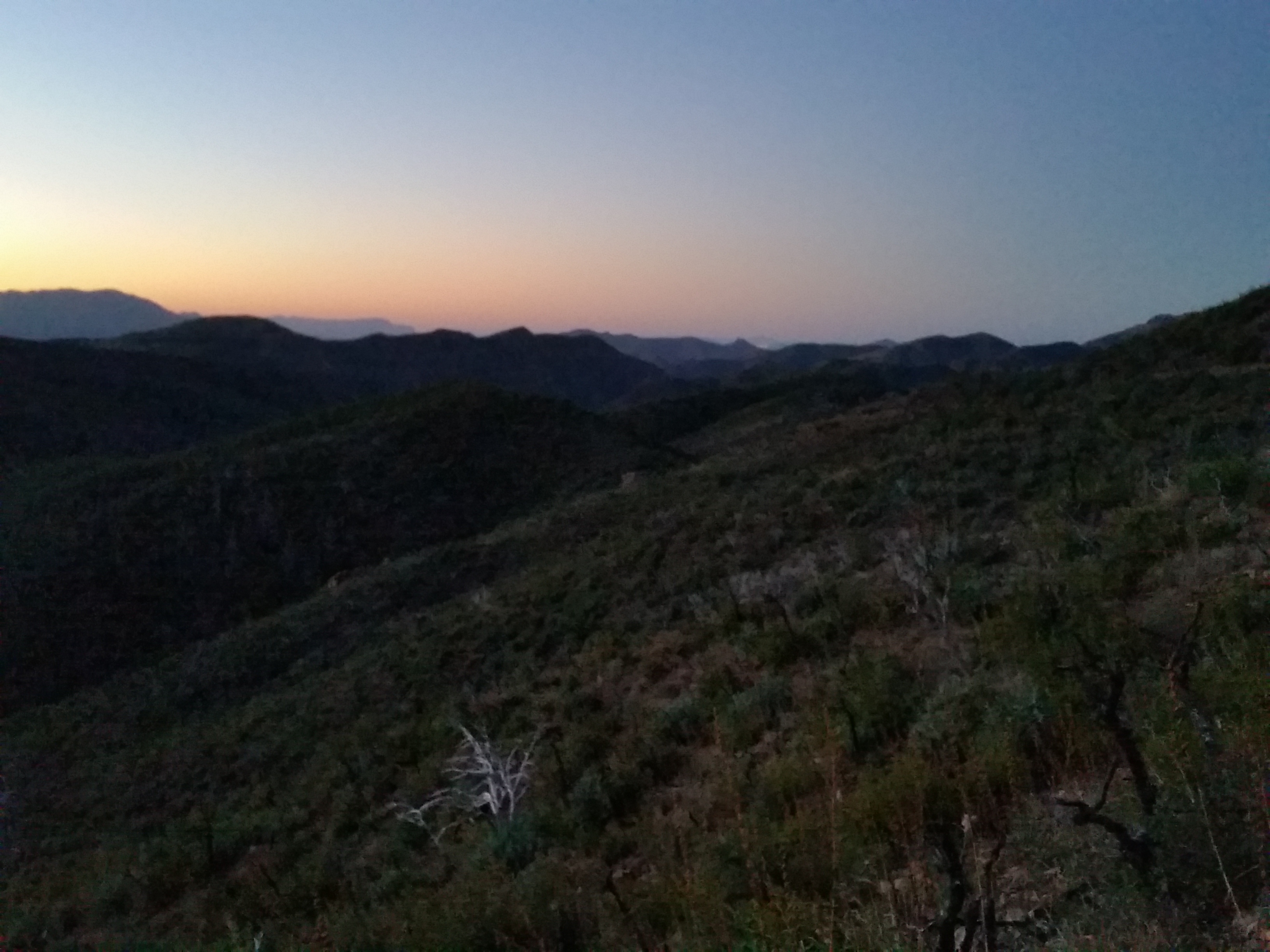 I headed back to my truck the same way I came in, this trek has so many open mind blowing views! I saw not a soul on the trail until about 6 hours into my trek when came across the trail maintenance crew who I had seen the day before. They were taking the afternoon to do a quick day hike before heading back home. I chatted for a few minutes before tackling the last 6 miles of my journey.

Lesson learned here: Go prepared! Of course this is common sense, but everyone makes mistakes . . . let just hope the consequences are minor! On this trek I opted to leave my water filter behind and carry all my water for the 2 day journey (8.5 liters of water). I wanted to simulate a similar pack weight for a trip I have been planning for which would require food for 5 days. Long story short, I underestimated my water. I should have carried 10.5 liters and knew it the morning when I woke and broke camp. I was 4.5 miles out when I sucked down the last drop of water from my osprey 3 liter bladder. I was 1 o'clock and the sun was high, and temps were much warmer than the day before.  My dried mouth and cracking lips for the last stretch of this trip was a reminder that its better to overestimate water consumption. I finished out my trek and got back to the truck where I guzzled a half full warm water bottle I had sitting in the cab of my truck. I was so thankful that I got off trail without getting too dehydrated. After chilling for a minute, I turned the key to my truck, headed for the closest gas station to re-supply on water and gator-aid. Another gorgeous trip completed!
Hike information: http://hikearizona.com/decoder.php?ZTN=2436
HIKE STATS:
Weather: Hi 60s, Low in the upper 40s, Sunny
Water: 8.5 liters
Food: 2 Nature Valley Peanut butter granola bar, 2 Clif Bars, 1 Clif Builder bar, 1 Meal replacement protein bar, 2 Nature Valley Protien bars, 1 bag of beef jerky (3oz), 1 avocado, 1 via starbucks instant coffee, 1 Quaker Real Medleys, 1 Mountain House Beef Stew meal
Time: 8 hours day 1, 7 hours day 2
Distance:16.5 Miles one way
GEAR:
58 liter exos osprey backpack
Big Anges UL2 tent
Flash REI sleeping pad
Cosmic Down Kelty Sleeping Bag (rated to 20 deg F)
Jet Boil – Sol
Black Daimond trekking poles
No water filter – I carried all my water in (8.5 liters – I should have brought 10) to train for a hike coming up where I would be carrying a lot of excess weight. Advise: Bring a filter! There are creeks and opportunities to use it.