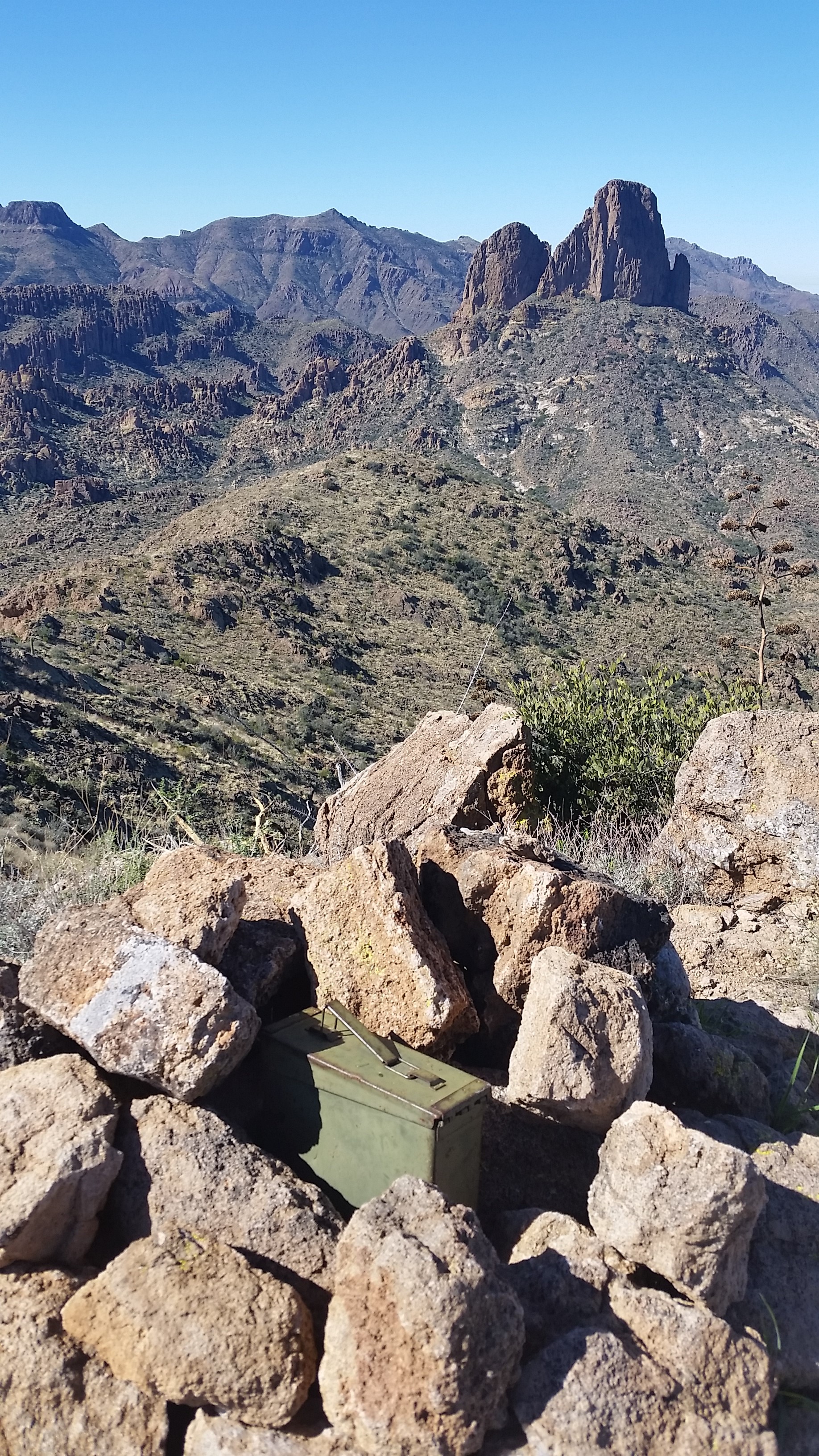 I love being outdoors and exploring new trails and new places. I think it's important to share the experience with those around you, even if it is just telling a trek story, sharing photos, or taking people with you to see it firsthand. For my close friends and family that can't physically be there, I keep them in mind while I'm out there. So in a way they are still with me and are getting credit for miles whether they know it or not. Some people that are the most important to me get a lot of miles. Always share your treks and adventures with the important people around you; they will appreciate the miles you give them.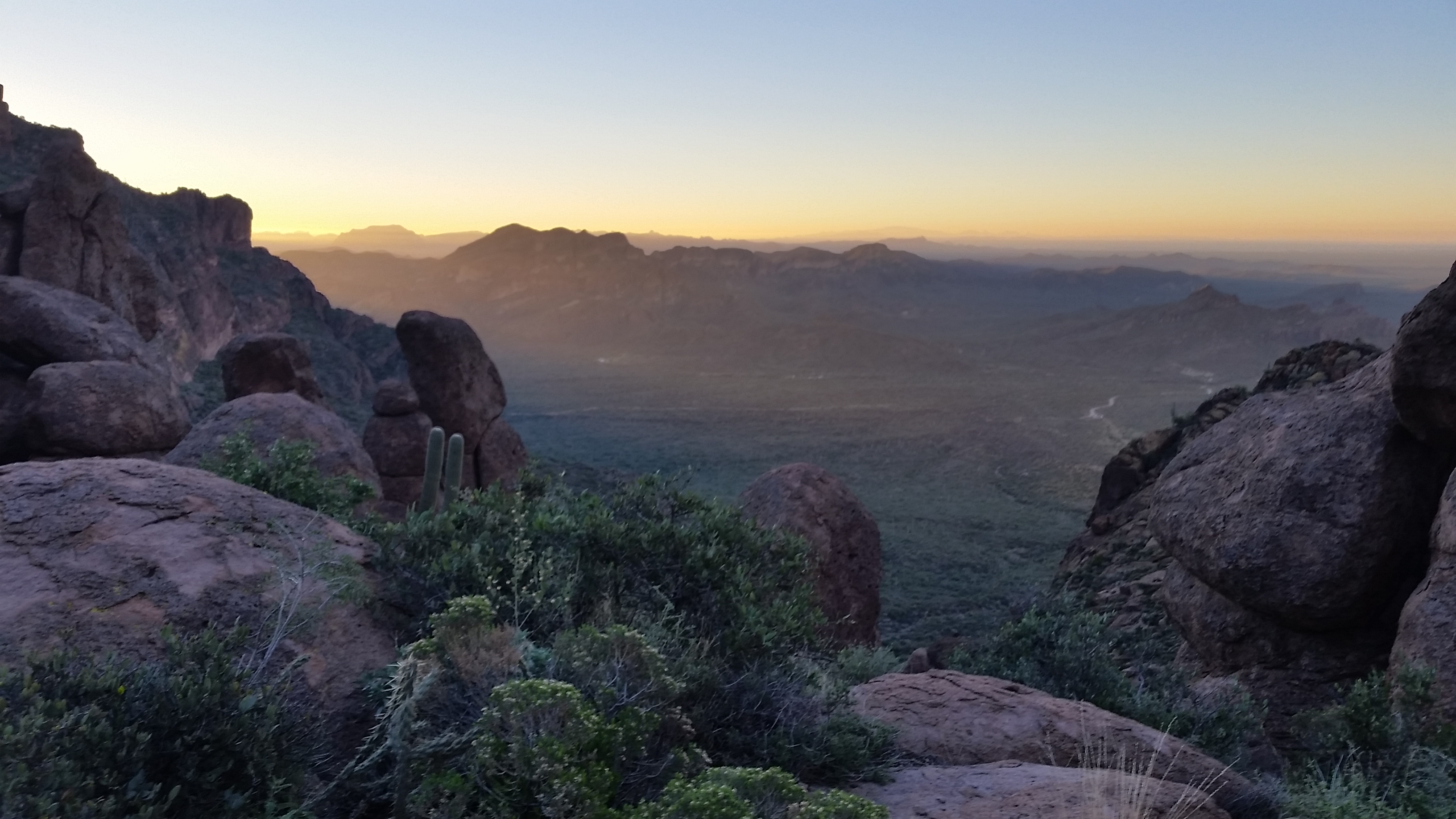 For this particular Superstition Mountain trek, I dreamed it up last minute the night before. I pieced a bunch of GPX tracks together that I found online. The final product was a big 15 mile loop that would touch a few key points in the southwest section of the mountains, including West Boulder Trail, Weavers Needle, Black Spring Mountain, and Miners Needle. A little elevation gain, off trial mountain peaking, and main trail mayhem would round out this big loop trail medley (see Hike Info at the bottom of the post for specific trails, aerial map, and GPX). In the midst of dreaming all this up I was chatting with a fellow trekker Mark, who seemed on the fence for a few of his own treks, so I invited him to just roll with me. To my surprise he was immediately on board!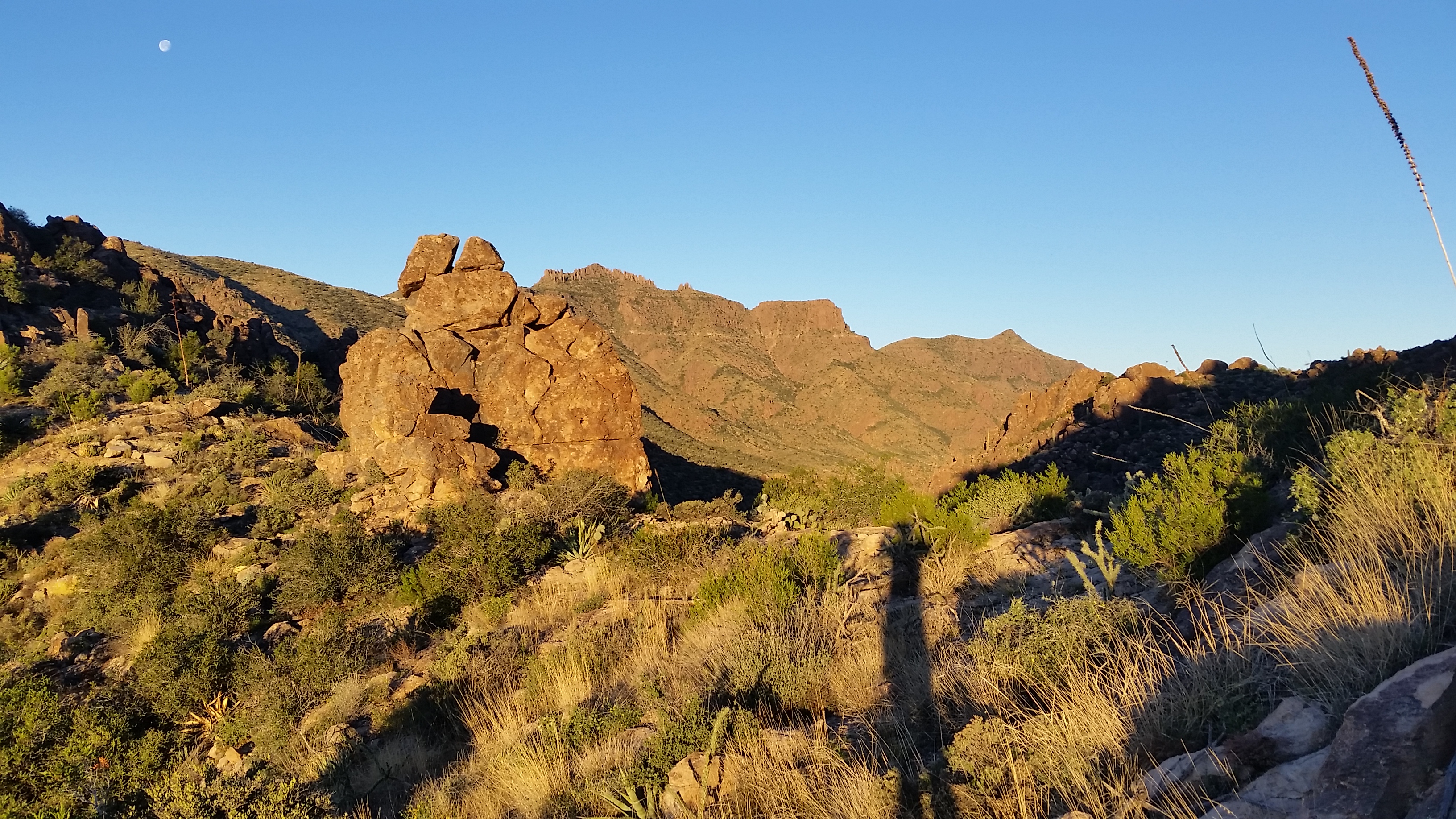 We met at dark thirty at Peralta trailhead just before the sun rose. Head lamps strapped on, packs filled with water, ready to roll. We walked along the road chatting about things going on in each other's lives and how crazy and unexpected life can be. Before long we hit Carney Springs trailhead and the first big incline up West Boulder was on, the chat quickly subsided as we got to work knocking out the grind. Hearts thumping and low on breath we reached the top of the climb and turned to watch the sun rise in the distance illuminating the valley floor below. Something about watching the sun rise from a mountain top just seems right!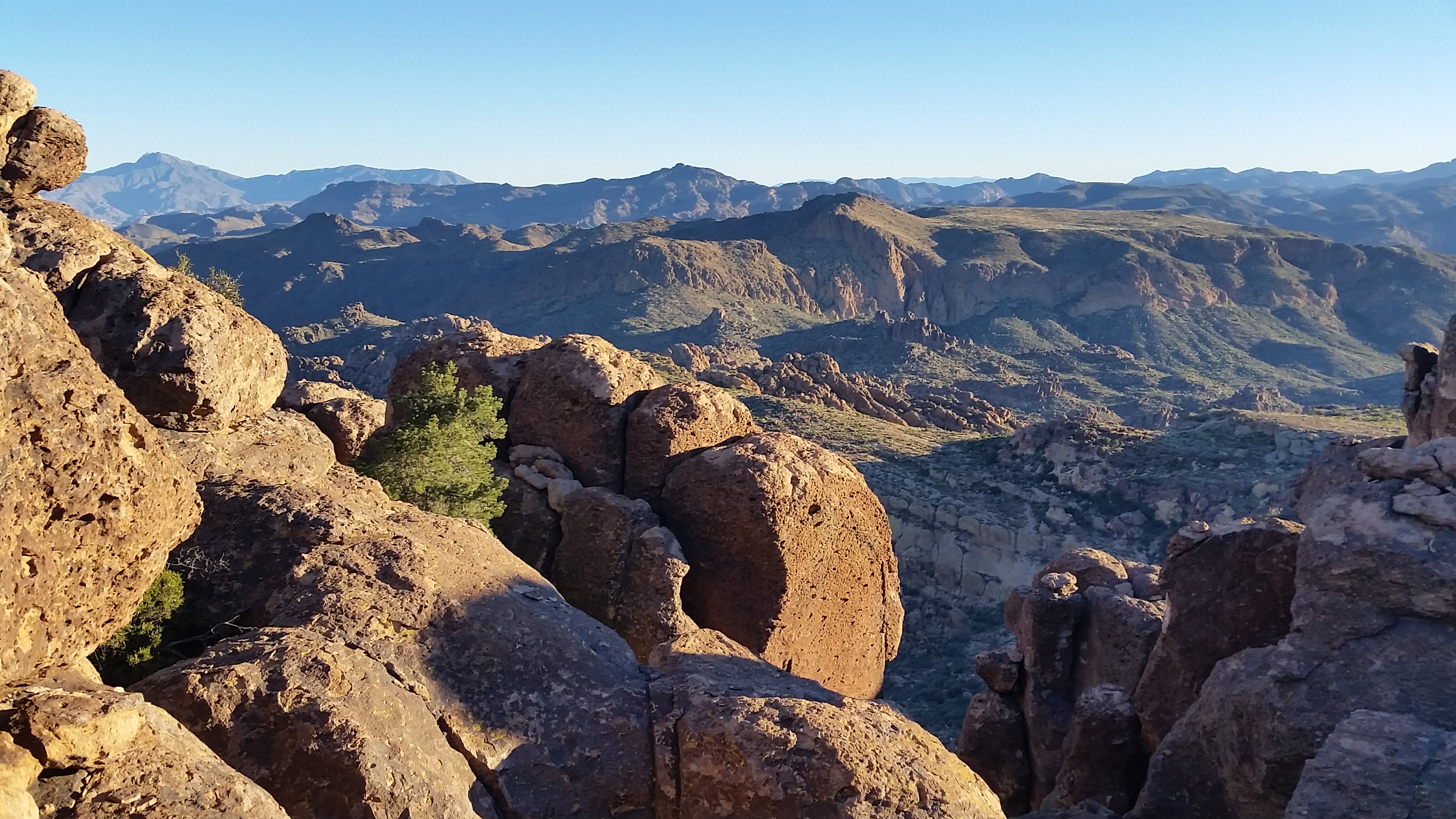 Knowing we had to keep trekking in order to finish the loop by early afternoon we pressed on. Using the GPX I put together and a topo map, we navigated through the boulderhop which is Decate Mesa Trail. Pushing through cacti and boulders we came out at an unexpected area of the "trail". Thank god for GPS tracks! The cairns, although very helpful, seemed to be placed by several people each with their own agendas. Soon after some bushwack and rocky downclimbs we found our way to Fremont Saddle with a beautiful view of Weavers Needle in the distance. A small group of boy scouts was camped at the saddle and we gave them a friendly greeting before trekking on to the base of Weavers Needle.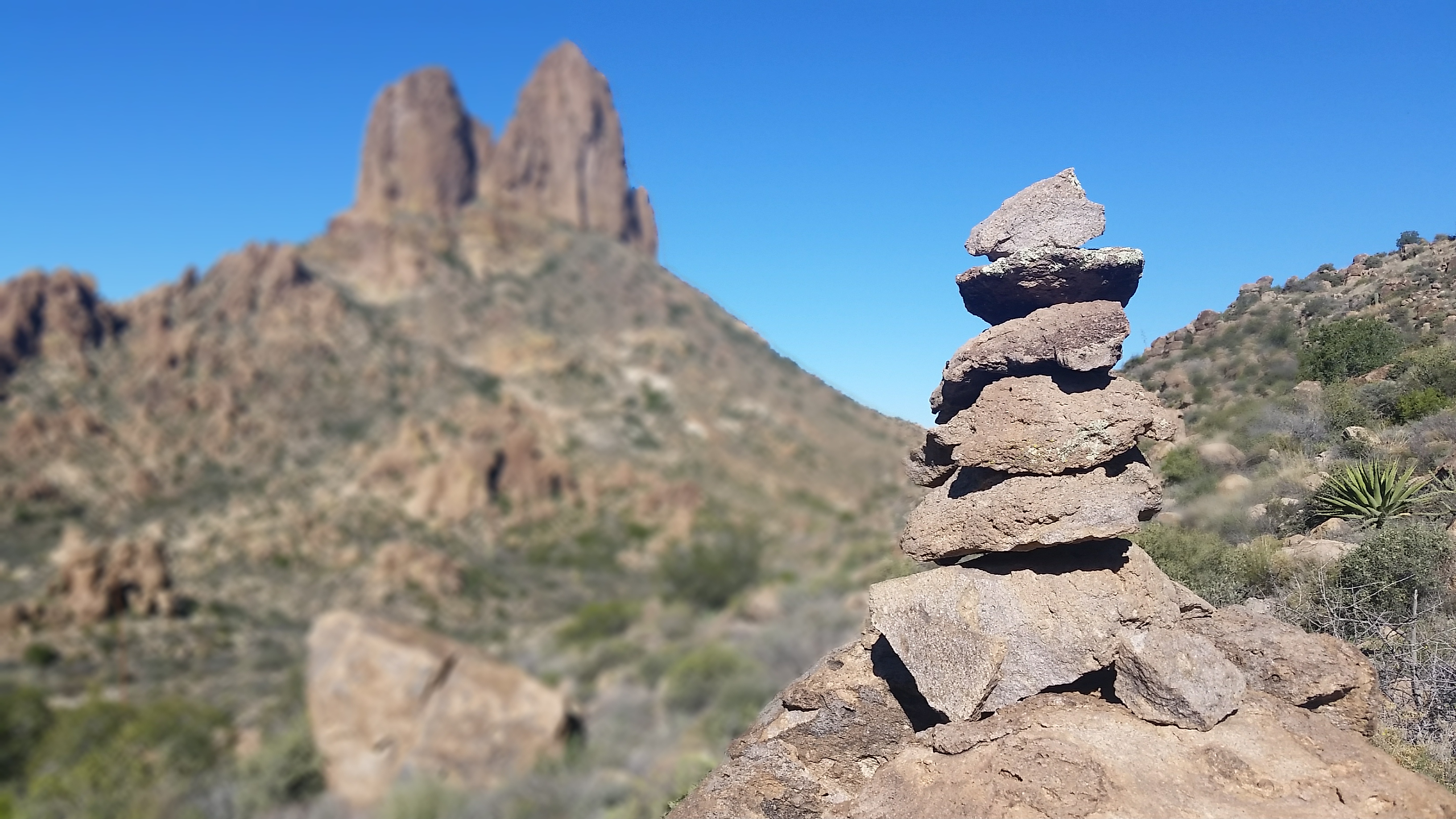 The well groomed trail helped accelerate us towards the huge rock formation and soon we were attempting to bushwack on the crosscut just south of the Needle to Terrapin Trail. We soon found that we had entered the wrong canyon and had to jump across to the next to press on. Once we were back on trail, the cairns and somewhat beaten route became a little clearer. Half way through the pass we ran into another group that looked pretty frazzled and sad. They had started hiking that morning at 4am to attempt to summit weavers and got a little "turned around". We gladly pointed them in the right direction and kept trekking towards our next destination, Black Spring Mountain!

We were soon climbing the spine of the mountain, and a wicked offtrail grind it was! I was chuckling to myself because just minutes before we turned up the killer grind, Mark had mentioned how the climbing was all over with! I didn't have the heart to tell him we had just begun! The climb up the spine was very vert, with only a few cairns spaced about ½ mile apart. Pressing hard up past a few small exposed areas and sharp boulders we reached summit! With gorgeous views all round we took a quick snack break and signed the registry.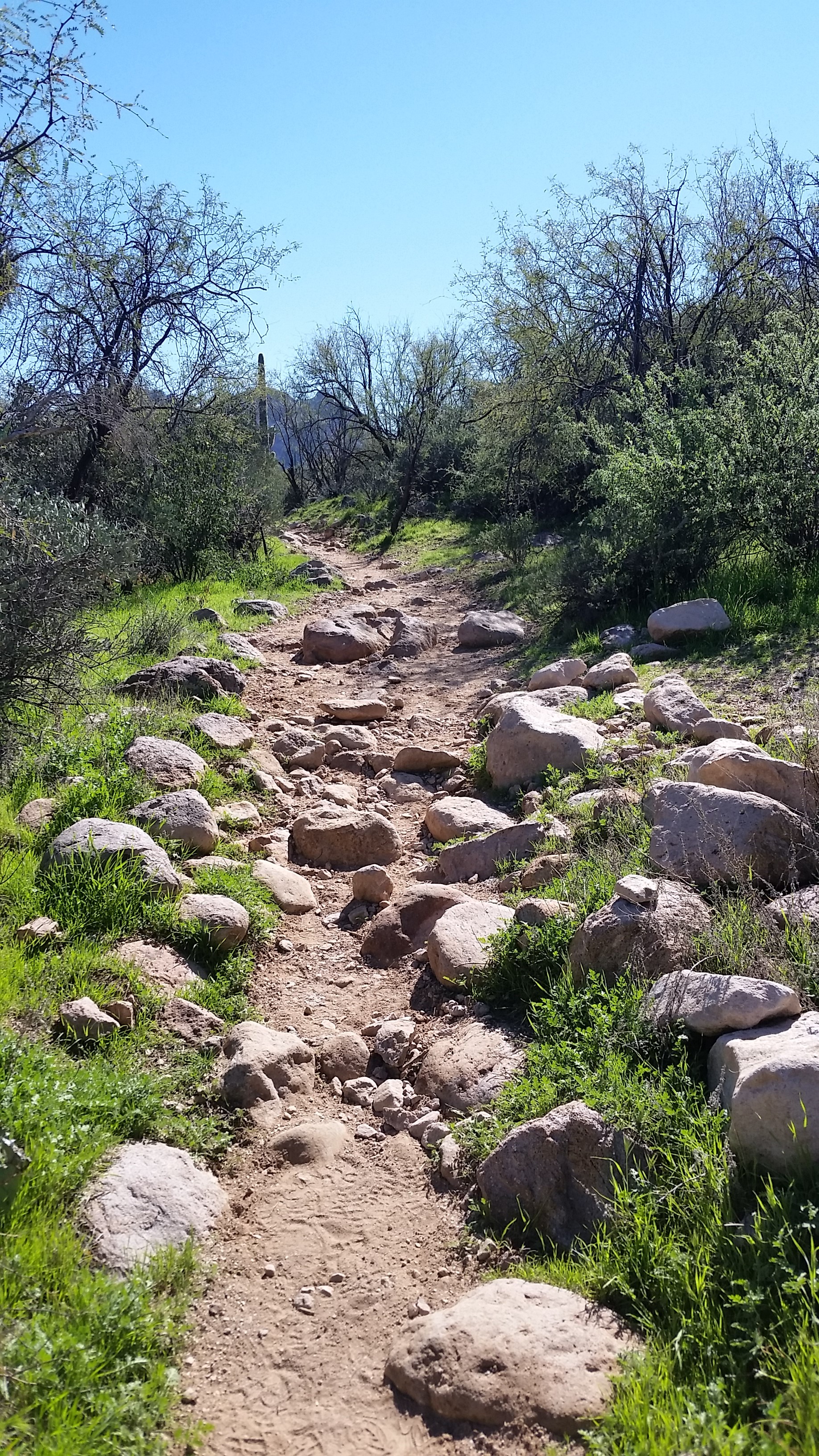 We departed the summit down onto a large mesa (all bushwack) leading to a lightly cairned use trail that descended us quickly to Black Mesa Spring Trail and soon after Dutchman Trail. We took the Dutchman Trail the final 5 maintained, snaking miles back to the parking lot where we left our vehicles that morning. Whenever we weren't bushwacking or pushing up a big grind we were either marveling at the views around us or chatting about life and its complexities. Sometimes I like to trek solo and get some good grounding time with mountain, others times I like rolling with a friend and having a good chat. Whatever you do, make sure you share the journey. Carry the important people with you, however you do it, they will appreciate the miles you give them!
HIKE INFO:

Start at Peralta trailhead, Walk to Carne Springs trailhead, Head up West Boulder trail, to Decate Mesa trail, to Freemont Saddle tying into Peralta Trail, to Weavers Needle Crosscut, to Terrapin Trail, to Bluff Springs Mountain Trail, to Hidden Valley Loop trail, to Dutchmans Trail and finally back to the Peralta trailhead.
HIKE STATS:
Weather: Hi mid 80s, Low in the mid 60s, Sunny
Water: 3.0 liters
Food: 2 Clif Bars, 1 Orange, 1 Clif Builders bar
Time: 7 hours
Distance: approx 15 miles Round Trip
Accumulated Gain: 5,300 feet
GEAR:
Mule Camelback backpack (3 liter bladder)
Trekking Poles
CLOTHING:
Cotton Shirt
Cotton Handkerchief
Basketball shorts
Merrell Mid Moab Hiking Boots
Pearl Izumi Arm Coolers
Smart wool medium weight sox and liners
Giro Mountain Biking Gloves