Day 4: Punchbowl Shelter to Seely Woodward shelter (24 miles)
The fourth day I woke surprised to find my legs free of soreness from the big miles the day before (and of course the unforgettable three ankle twists). Despite the huge dinner I ate the night before, my stomach was complaining it wanted food. "Feed me Seymour!" it seemed to shout. I went through my morning ritual; made warm oatmeal, nice strong coffee, and packed up camp. I had 24 miles to tackle from Punchbowl shelter to Seely Woodworth shelter. One downhill to Lynchburg Reservoir, a huge climb to Cow Camp Gap, and a roller coaster on the ridge passing Cold Mountain stood between me and my goal. Under an hour from cracking my eyes open, I was standing on the trail, head lamp strapped on, ready to start another day in the dark.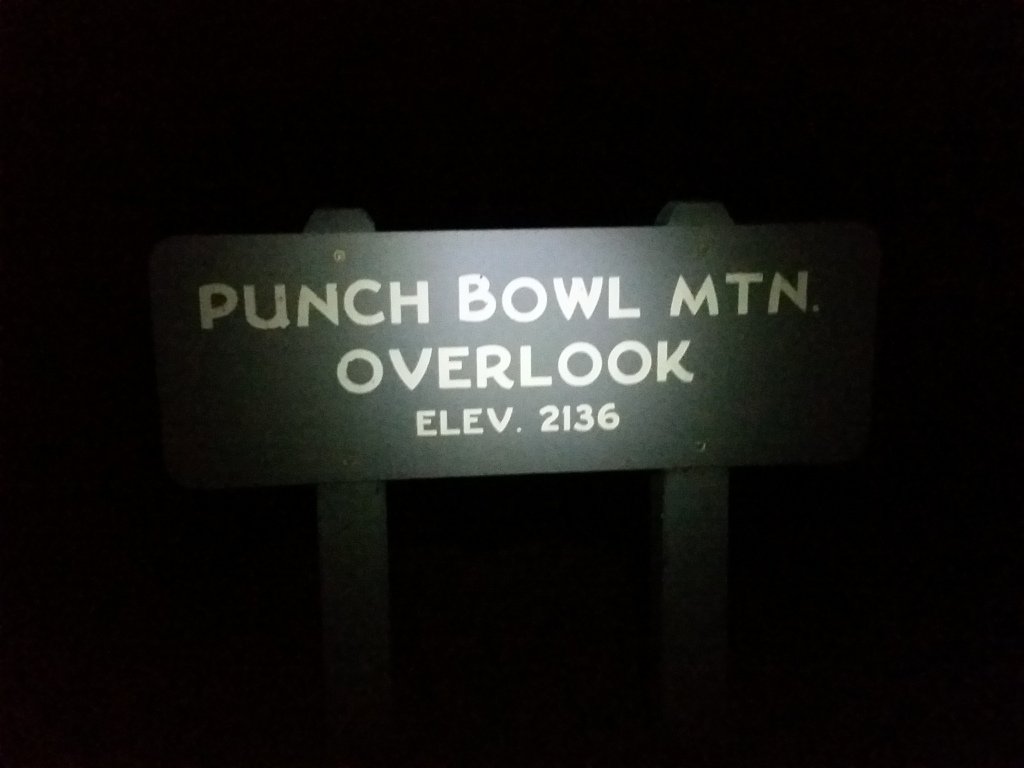 I descended through the dark, down, down, down until I found the wooden suspended bridge that crossed a small section of the Lynchburg Reservoir. Lights from a few houses lakeside beamed through the night. I trekked on, curious if the people knew there were hikers passing through the darkness nearby. That morning was particularly chilly; I had my facemask on fighting the chill back. As I started to ascend the next bit up, the sun rose and with it the wind, which made me question whether I should pull on my mid-layer. Hoping my body would generate enough heat from the climb I pressed on.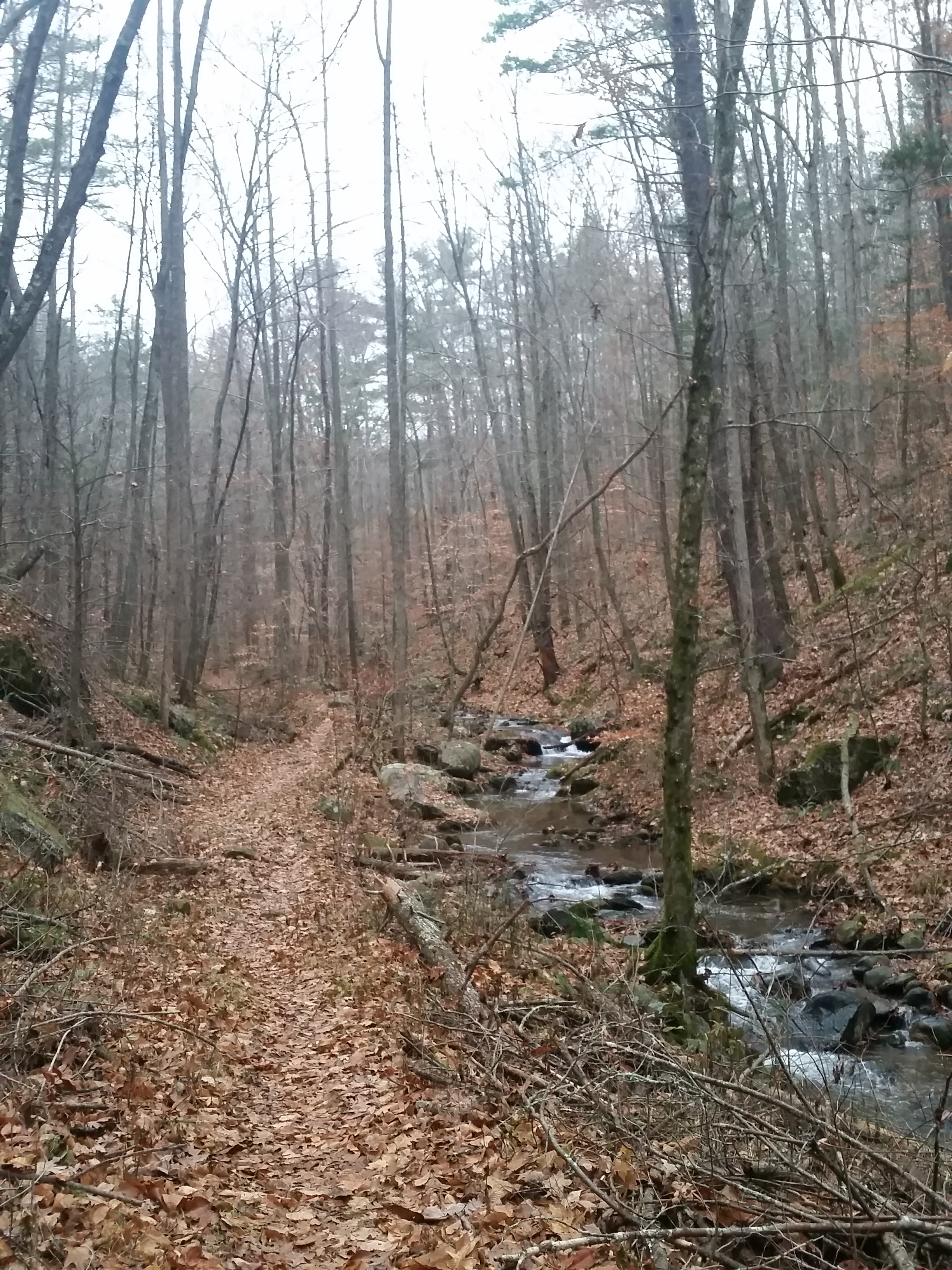 I walked through a small section of trail that had remnants of Brown Mountain Creek Community, which was a freed slave colony established in the early 1900s. You could still see rock walls meant to hold the creek at bay and chimney stacks where a dwelling once stood. This section was very cool to see, the trail ran parallel with the creek until finally crossing just below Brown Creek Mountain shelter. At the bridge crossing I met a south bound through hiker named Crow, a name he alleged "was given to me by the Mountain because every time I stopped, crows would be in flight overhead". He was a funny guy and in a hurry to beat the coming snow that night. He talked about hiking through the night to get to the James River Bridge crossing where he would catch a ride into town to hole up until the snow passed. I wished him good luck and after a short break at the shelter, headed up the big grind to Cow Camp Gap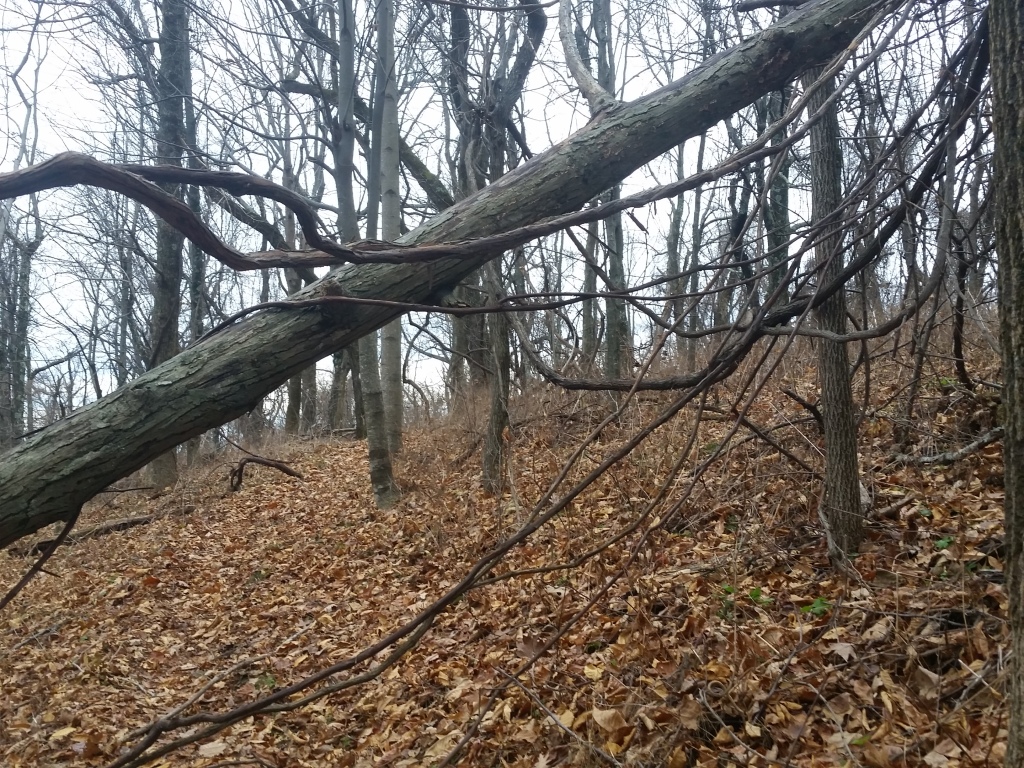 I pushed up the long, windy, cold climb. This was one of those sections where you just have to put your head down and get to work. I didn't miss much, most of the woods through here were twisted, lifeless, and a muddy brown. I finally hit the ridge, drenched in sweat. Without pause I got after the up down section until I finally broke from the woods and into the open fields of Cold Mountain. It was rightfully named! The wind whipped through this open section, but the expansive views were still worth hanging out for a while and snapping some pictures.

I pressed on into the roller coaster section where you would go up a 600 ft climb, then right back down 700 feet, up, down, in canyons, out of canyons. At this point I was pretty tired from the miles, and the last few miles became mundane. A mile or so before my destination, I stopped next to a lush green moss area near a creek to refill my water (and my spirits) for the last push to the shelter.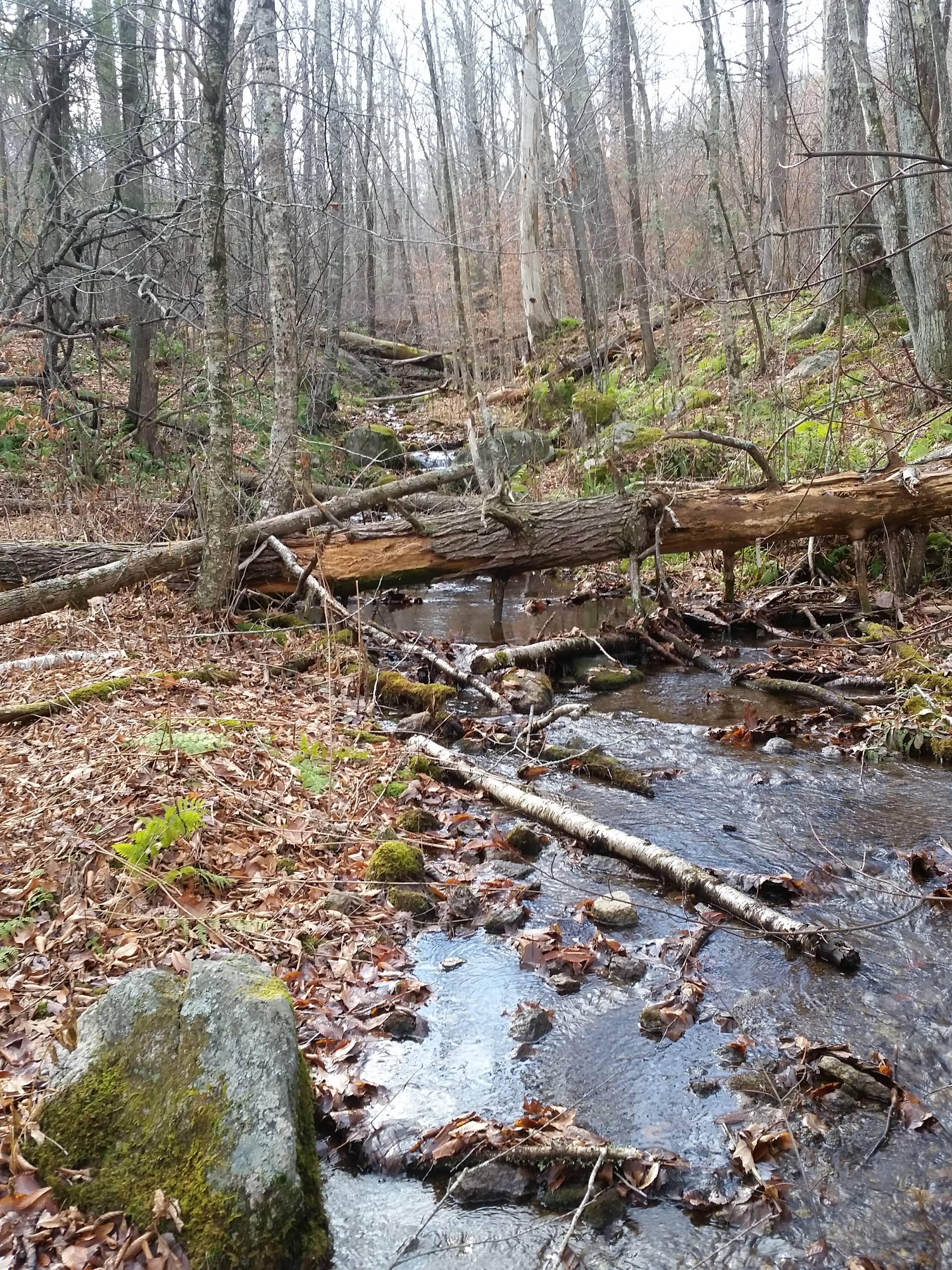 Soon after filtering, I finally reached the shelter and when I dropped my pack, a lot of the fatigue of the day went with it. After setting up my tent, a south bound through hiker with a huge white beard named "Just Jim" pulled up to the shelter. He was given the trail name "Just Jim" by a friend because he wasn't a big talker when he first started on the trail, and his name was Jim (not to be too cutesy). People would say "oh that's Just Jim", and it stuck. He was doing a YoYo (two through hikes in one year where you hike down the AT then back up) for the Disabled Veterans (if you're interested in knowing more check out http://hike4veterans.com/). Everyone is out there for their own reasons, and this guy was out there for a good one! We chatted a bit about the coming snow, gear and food selection, and the trail before crashing out. Another awesome day on the trail!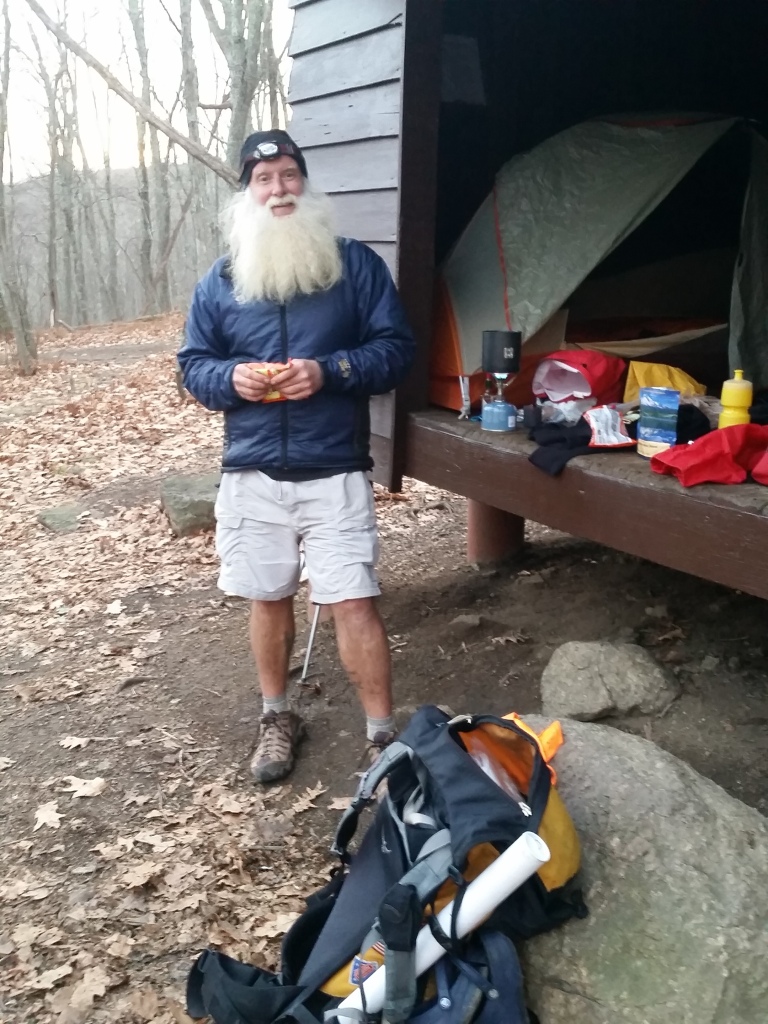 HIKE STATS:
Weather: Hi 50s, Low in the lower 30s, Overcast / Sunny
Water: 5 liters
Food: 2 Nature Valley Peanut butter granola bar, 2 Clif Bars, 1 meal replacement protien bar, 1 bag of beef jerky (3oz), 1 via starbucks instant coffee, 1 Quaker Real Medleys, 1 Mountain House Beef Stew meal, pro bag energy gummys, Pizza Pringles, 4 Oreos
Time: 11 hours day 4
Distance: 24 Miles one way from Punchbowl shelter to Seely Woodward shelter
GEAR:
58 liter exos osprey backpack
Big Anges UL2 tent
Flash REI sleeping pad
Cosmic Down Kelty Sleeping Bag (rated to 20 deg F)
Cocoon Sleeping Bag liner
Jet Boil – Sol
Black Diamond trekking poles
Sawyer squeeze water filter
CLOTHING:
Smart wool 195 long sleeve shirt
Smart wool beanie cap
Serius Ski Facemask
Patagonia Pants
Arc'teryx Mid layer Hoody
Merrell Mid Moab Hiking Boots
Smart wool medium weight sox and liners
Giro Mountain Biking Gloves