Day 3: Thunder Hill to Punchbowl shelter (25 miles)

The third day was all about making miles and trying to stay dry. I planned on pushing 25 miles from Thunder Hill shelter to Punchbowl Shelter. If I failed to hit my mark I would be out of position to finish on time (another day on the trail would mean a need for food I did not have with me) and if I got wet, my down bag would be useless at night and I would have to bail or improvise. It had rained all through the night, and the subsequent fog hung around like a bad date, so I decided to throw on my rain gear and wear trail runners for at least the morning (trail runners are thin, light weight shoes that wont retain a lot of water if they get wet).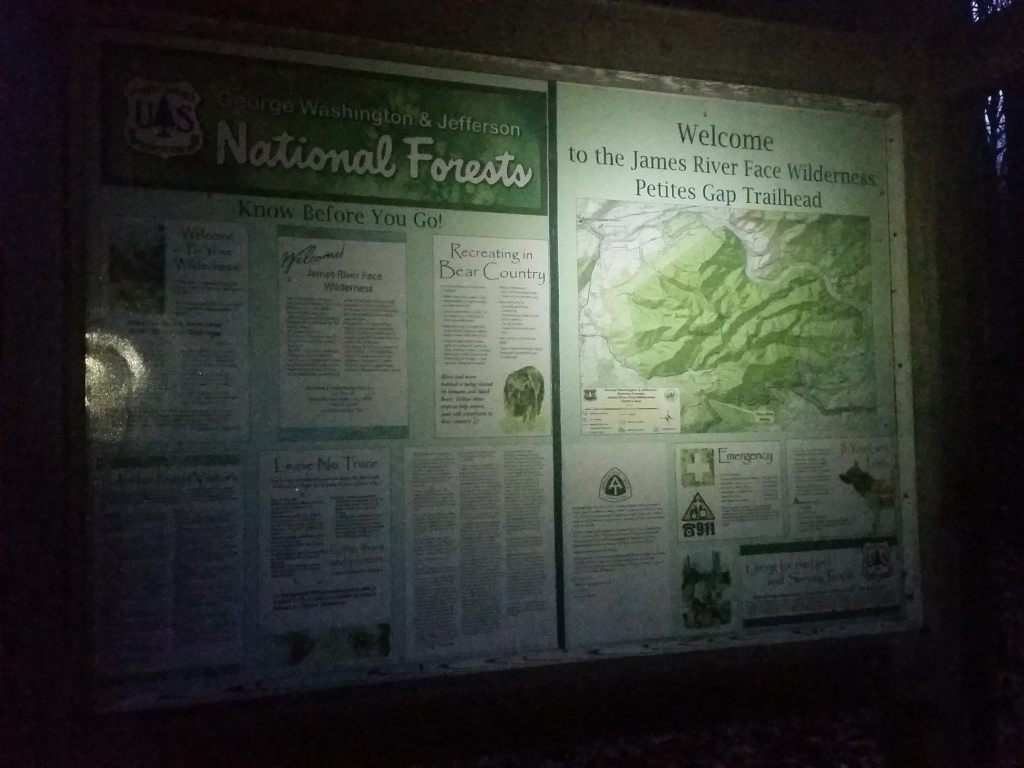 I finished my morning ritual of cooking breakfast and packing up camp. I felt like I was getting the process down to a science when I strapped my pack on, ready to let out into the dark. The fog still weighed down so heavily that I could only see about 4-6 feet ahead of me, even with the aid of my headlamp. I trekked through the wet leaves covering the muddy trail downhill towards the James River, which would mark the half way point of my journey, the lowest elevation I would hit on trail, and my next filtering point! Wearing trail runners and trekking downhill through all the wet leaves on off camber rock, it wasn't long before I had a misstep and twisted my ankle. Sharp pain went searing through my left leg and ankle, and this was only the first of three slips that would happen that day.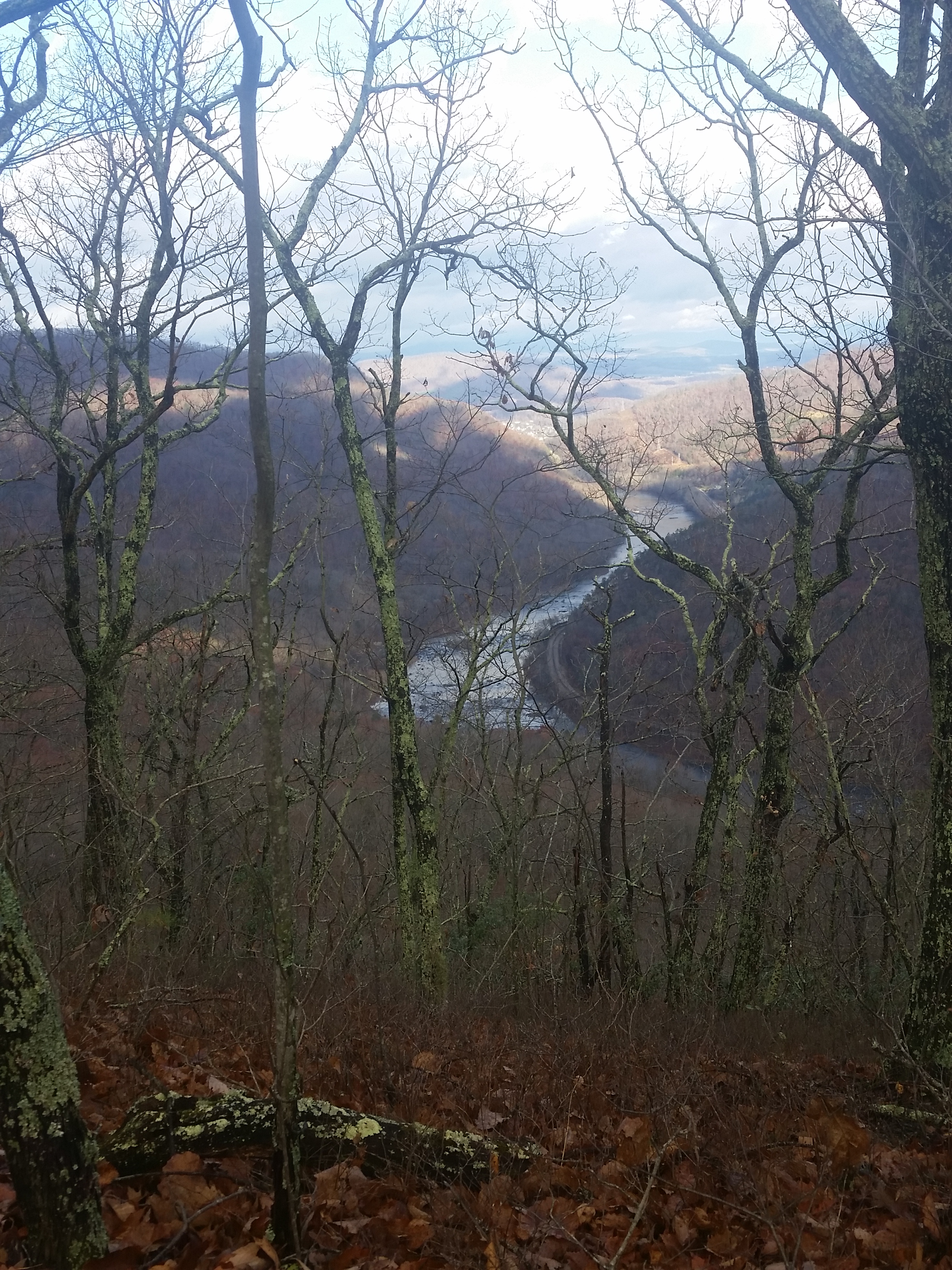 Paranoid about my ankles, I treaded lightly and leaned heavy on my trekking poles, hoping for the best. I was lucky the first time; another misstep could spell disaster. The sun soon rose and the fog lifted, along with my spirits. Twisting trail finally gave way to my first views of the James River a few miles before Matt's Creek Shelter. I was excited to touch the river and claim half my tremendous goal complete! This time of year, all the leaves have fallen and scattered across the trail, which give you opportunities to see the vast landscapes that surround the trail. However, some of my favorite views were of creek crossing where I got to see the moss, ferns, and low-level plant life thrive! It was such a contrast to the surrounding leafless, almost lifeless, trees.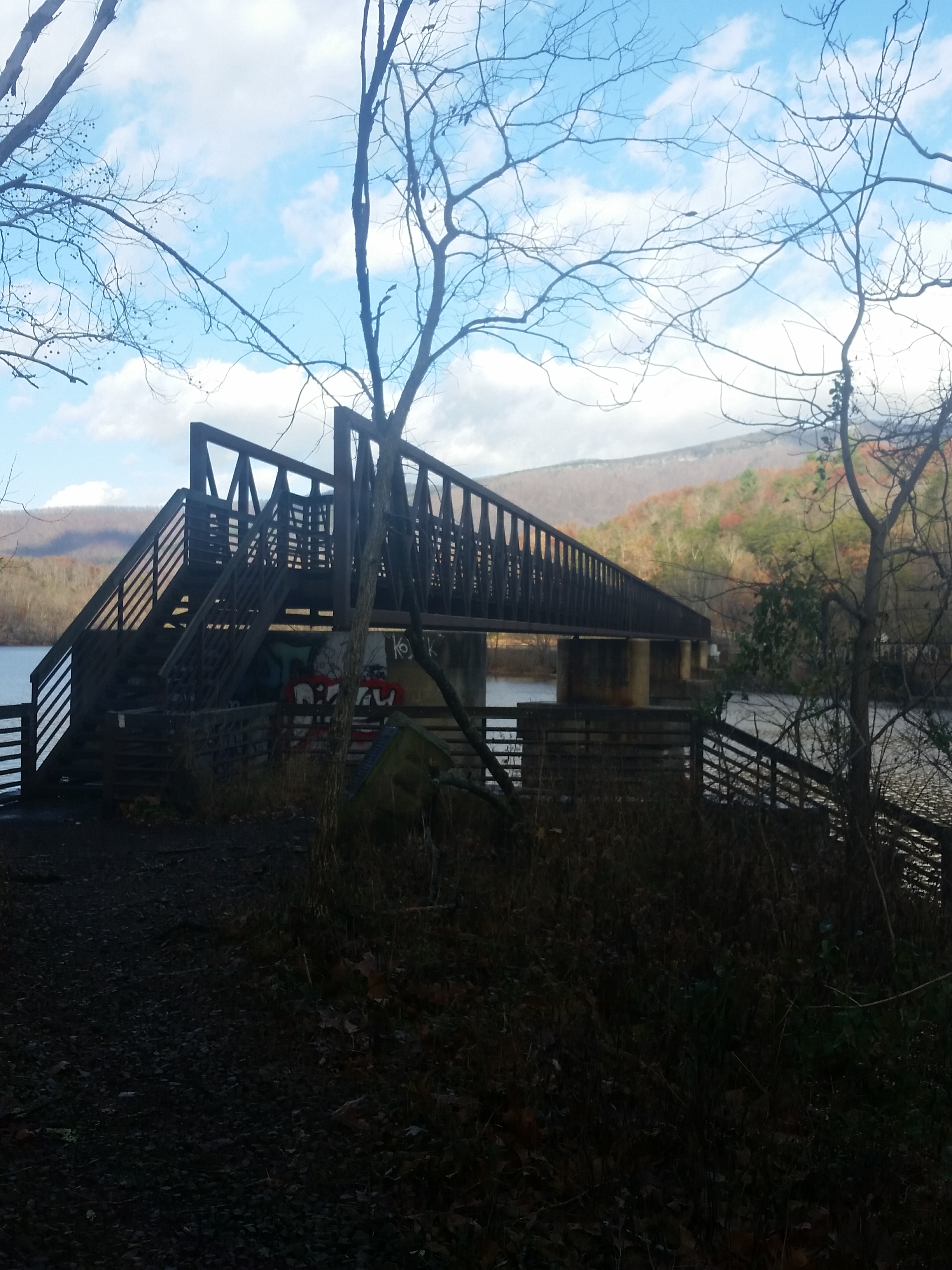 I finally reached the footbridge that spanned the river. Upon crossing, I took a quick snack break and the opportunity to remove my shoes and let them dry some from the morning's wet walk. I was one happy fella at this point, but I knew I still had 11 miles and a big gain to conquer before the day was done. I finished my break, filtered water and got back to the grind. The next grade was one of those 800-1000 feet of gain within a mile that never seemed to end. Half way up, to my surprise, I came across an older couple (in their 70s) that were just "out for a short 6 miler"! This made me laugh a bit. I know some people half their age that wouldn't want to even think about taking on this section of trail, and here these two were happier than a couple of pigs in a mud pit! I had a quick chat with them and kept on trekking.

I finally reached the top of the ridge dripping in sweat. By this time the sun came out and it warmed up to the 60s, which seemed like an anomaly. My long sleeves and pants were all rolled back! I pressed on weaving back and forth, up and down, along the ridge until I peeked out on Bluff Mountain. This was the end of my climb and I was happy to find it! The last few miles I drug my tired body across the last miles and into the Punchbowl Shelter where I set up my tent, made a huge meal, and read 2 lines of my book before passing out like a rock. It was one good day.
HIKE STATS:
Weather: Hi 60s, Low in the upper 30s, Overercast Morning Sunny/Warm Afternoon
Water: 5 liters
Food: 2 Nature Valley Dark Chocolate Bars, 2 Nature Valley Cashew Bars, 2 Clif Bars, 1 bag of beef jerky (3oz), 1 via starbucks instant coffee, 1 Quaker Real Medleys, 1 Mountain House Chicken A La King meal (my fav), pro bag energy gummys, Sweet Potatoe Fries (Chips)
Time: 11 hours day 3
Distance: 25 Miles one way from Thunder Hill Shelter to Punchbowl Shelter
GEAR:
58 liter exos osprey backpack
Big Anges UL2 tent
Flash REI sleeping pad
Cosmic Down Kelty Sleeping Bag (rated to 20 deg F)
Cocoon Sleeping Bag liner
Jet Boil – Sol
Black Diamond trekking poles
Sawyer squeeze water filter
CLOTHING:
Smart wool 195 long sleeve shirt
Smart wool 150 long john bottoms
Smart wool beanie cap
Serius Ski Facemask
Patagonia Rain Pants
Patagonia Rain Jacket
Arc'teryx Mid layer Hoody
Soloman Trail Runners
Smart wool medium weight liners
Giro Mountain Biking Gloves