Day 2: Cove Mountain Shelter to Thunder Hill shelter (16 miles)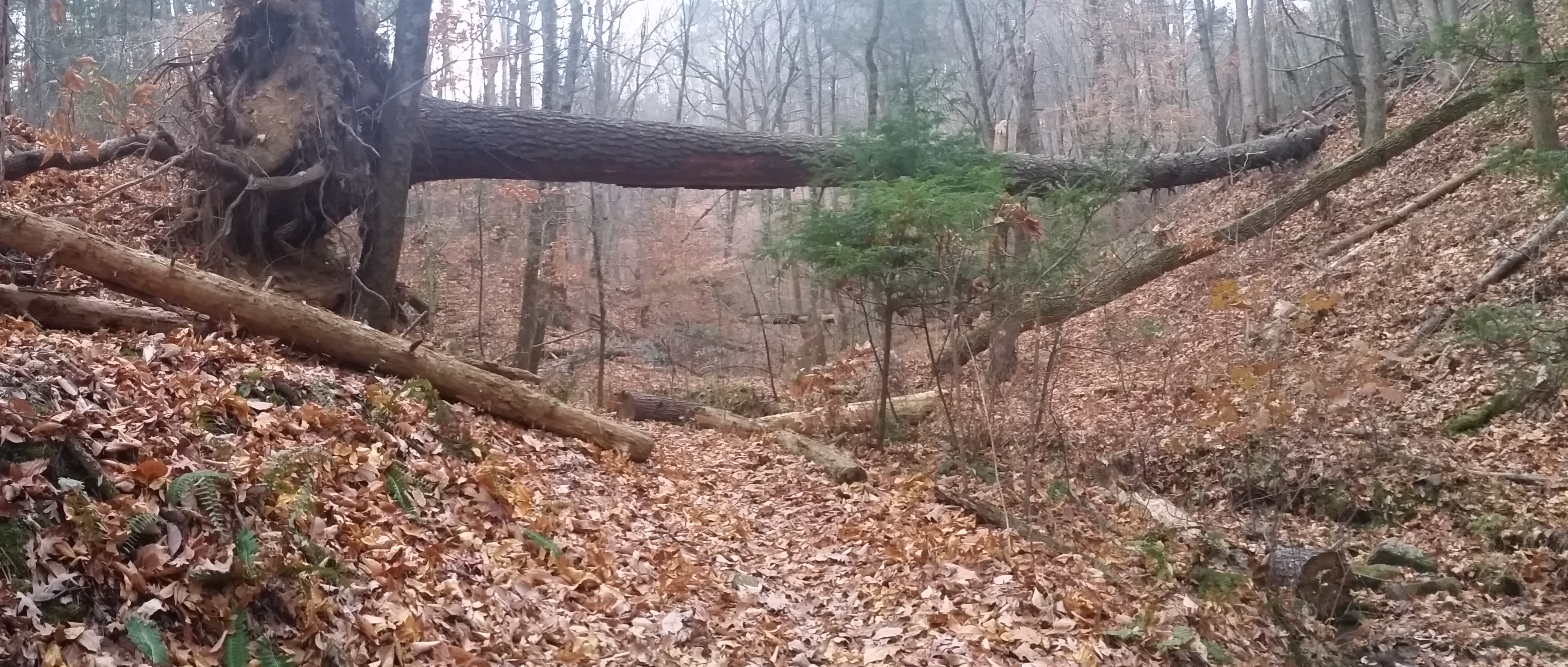 The second day, I woke and started moving with a purpose: to outrun the rain that was on the way! I had been checking the weather like it was my favorite t.v. show the week leading up to the trip and I knew the second day was going to have thunderstorms in the afternoon lasting through the night. I had 16 miles to cover and the bad weather was supposed to roll in about 2pm. I woke up, made breakfast, packed up my gear and sipped down my last bit of coffee as I let out onto the trail in the dark.
I trekked a few miles by headlamp, downhill to Jennings Springs where I filtered water for the day ahead of me. The morning was chilly and filtering the cold water was a chore in and of itself! Once complete I started the uphill battle towards Thunder Hill about 3000 feet above my current elevation. I had some work to do! The sun slowly rose but never peaked through the overcast morning protecting the cool canyons where the creeks trickled through. On one such creek crossing I stumbled upon Bryant Ridge shelter, this was well built sizeable double decker was meant to house 20 people! I took a quick break here before pushing on through the woods to my next stop.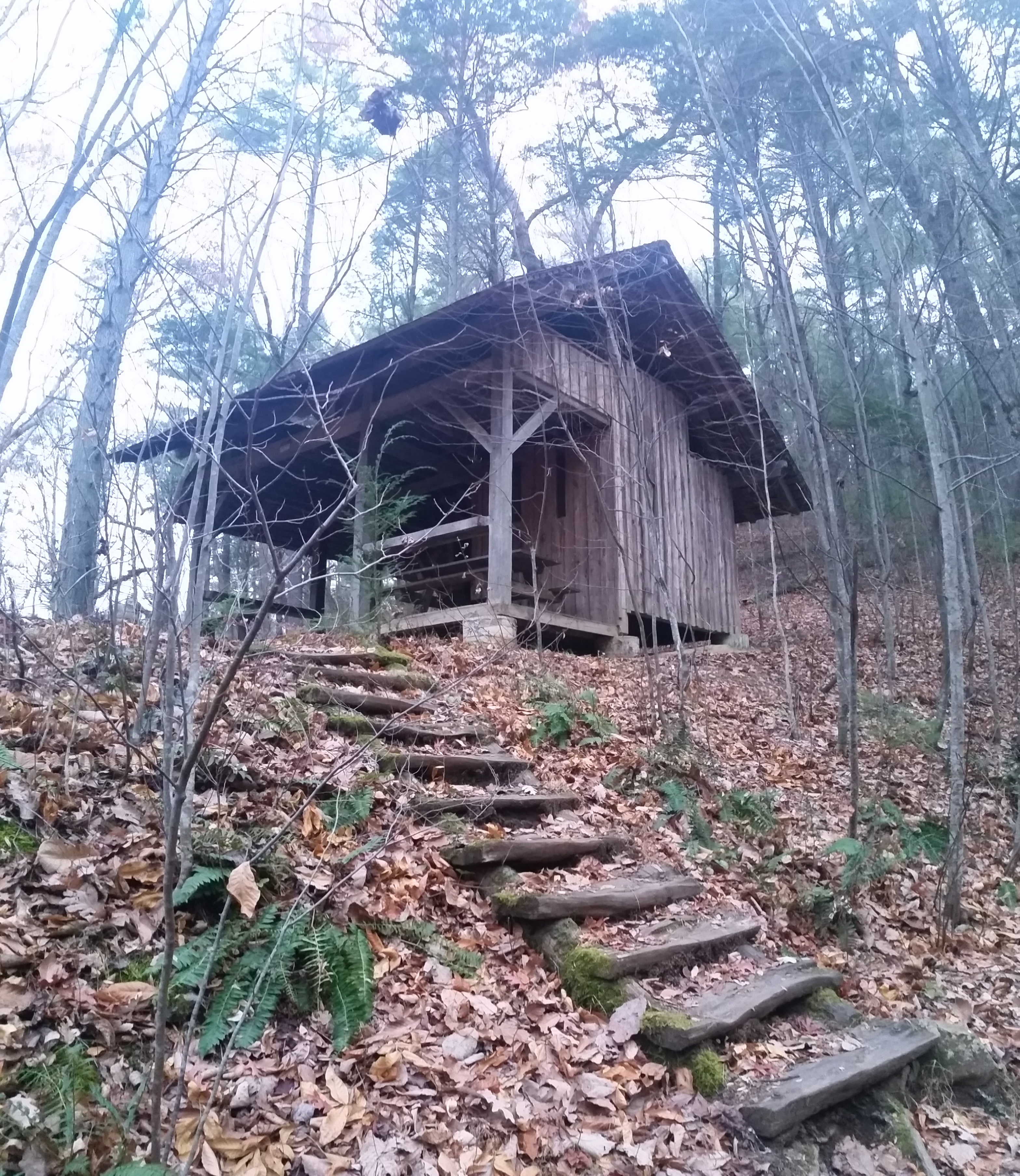 As I trekked upwards towards ridge where I planned to camp a creepy fog rolled in. I knew this was the precursor to the thunderstorms which were marching towards me. The low lying cloud engulfed the twisted woods around me and reminded me of a scene out of sleepy hollow. To add to the fun I walked past a tree that had been freshly stripped of bark from about 9 feet up to the base. There was no mistaking that this was bear sign. Only thing I could do was keep trekking.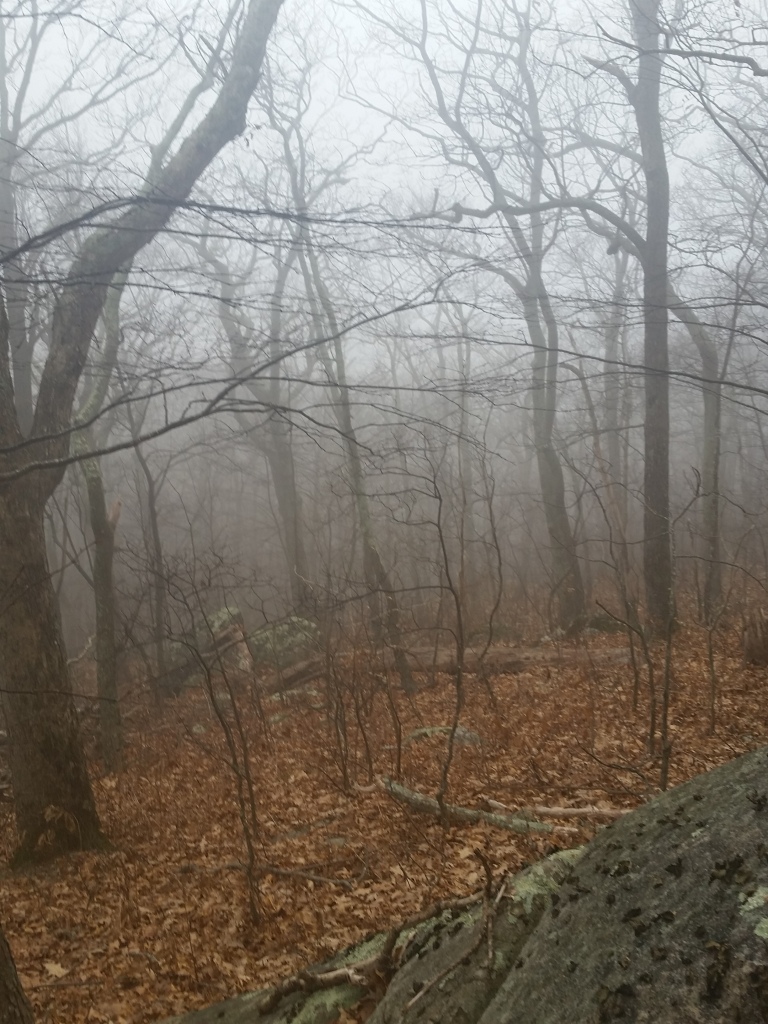 It started to sprinkle just a mile before my destination, I quickly threw on my rain jacket and pack cover and pushed through the fog. I finally reached the empty shelter and set up camp, filtered more water, and got into my tent ready to read the rest of the rainy afternoon. Just as I went to zip the tent closed a cold wet nose came sniffing my hand! To my relief it was a German shepherd named Chaos (and not a bear). A southbound through hiker and his dog "Chaos and Company" had just arrived to seek haven in the shelter from the rain. They had started hiking in Pennsylvania for a short 4 day trip which turned into a 2 month excursion after they decided just to stay on trail. They were a funny crew: he told me about only treating AT water with bleach, special all natural dog food for Chaos, his homemade couscous StoveTop Ramen meals, and his weakness for coffee (guy had a full bag of sugar and creamer, obviously lot too concerned with weight). It always amazing the people you meet out on the trial! I finished a few pages of my book and passed out to the sound of rain on the shelter roof.
HIKE STATS:
Weather: Hi 50s, Low in the upper 30s, Overcast Thunderstorms
Water: 5 liters
Food: 2 Nature Valley Peanut butter granola bar, 2 Clif Bars, 1 meal replacement protien bar, 1 bag of beef jerky (3oz), 1 via starbucks instant coffee, 1 Quaker Real Medleys, 1 Mountain House Beef Stroganoff meal, pro bag energy gummys, Doritos, 3 Oreos
Time: 8 hours day 2
Distance: 16 Miles one way from Cove Mountain Shelter to Thunder Hill Shelter
GEAR:
58 liter exos osprey backpack
Big Anges UL2 tent
Flash REI sleeping pad
Cosmic Down Kelty Sleeping Bag (rated to 20 deg F)
Cocoon Sleeping Bag liner
Jet Boil – Sol
Black Diamond trekking poles
Sawyer squeeze water filter
CLOTHING:
Smart wool 195 long sleeve shirt
Smart wool beanie cap
Serius Ski Facemask
Patagonia Pants
Arc'teryx Mid layer Hoody
Merrell Mid Moab Hiking Boots
Smart wool medium weight sox and liners
Giro Mountain Biking Gloves