8.22.18
Only you can prevent forest fires!
An ant is stranded on a rock in the middle of a creek. Two rocks to be accurate, touching each other, and covered in moss. His little island had but one route of escape. There was a long stick that created a bridge out and away to safety if only the ant were aware of it. I watched him clean off his antenni as if he was just washed on this island as I happened upon him. The question is: What woud you do? What would most people do? Pick up the ant and move him? Move the stick in front of him? Or let life happen as it may . . . I chose the latter as I don't think the ant would have learned anything by my interference. Eventually he found the stick, all on his own, and that is where I left him, and headed on down the trail.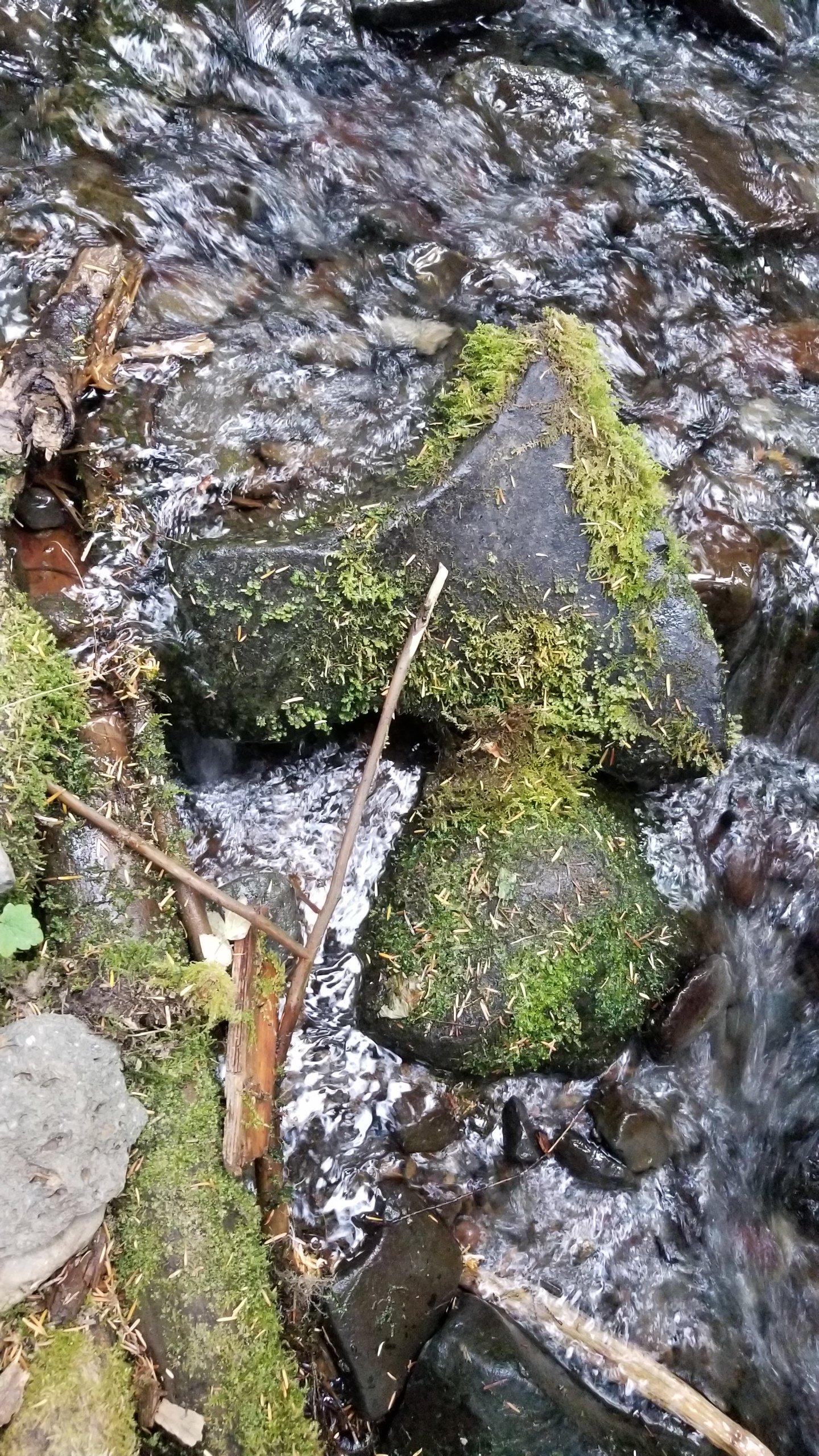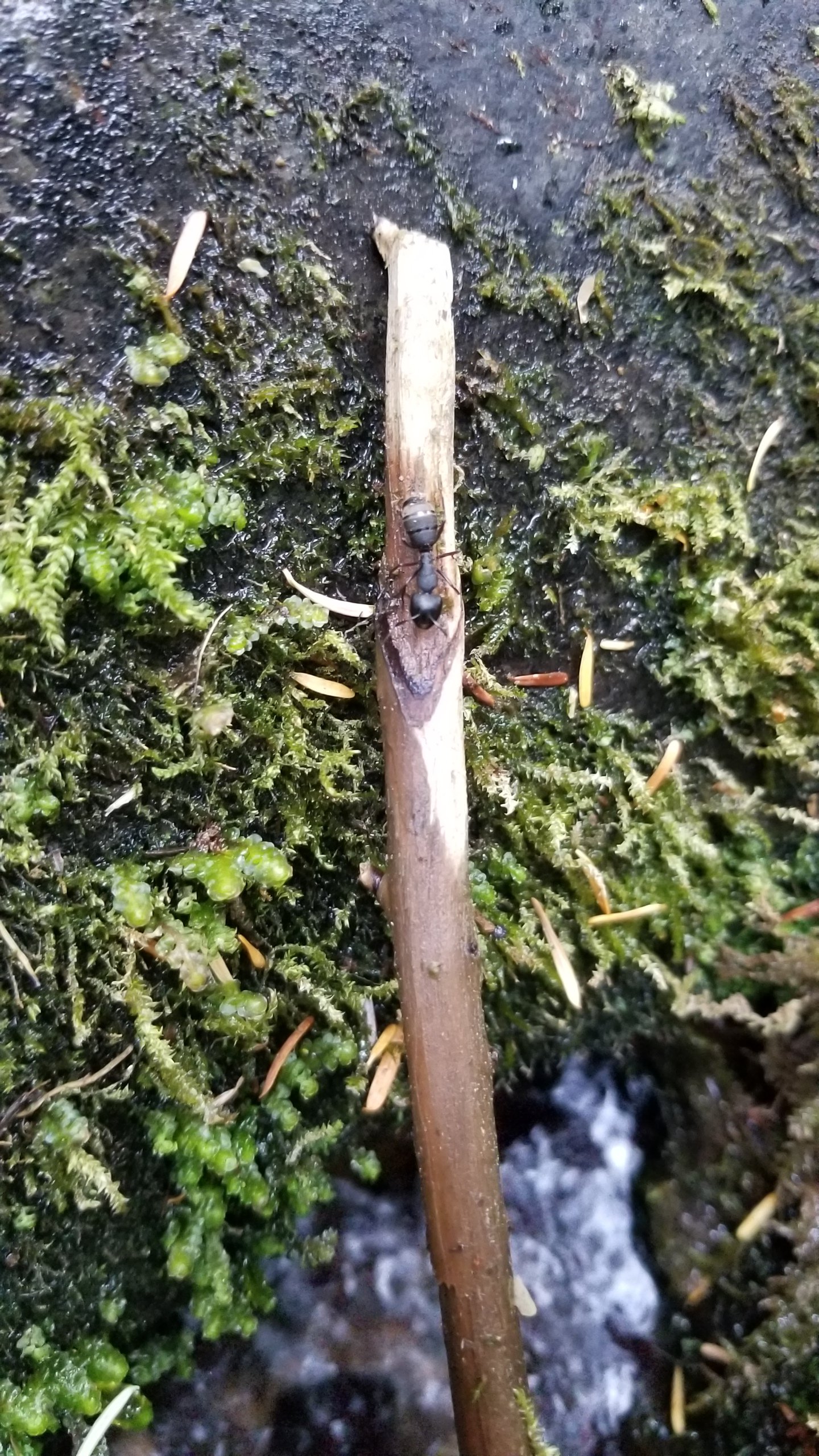 I woke on the side of a cliff in the Goat Rocks Wilderness. It was such a cool place. I packed up and trekked on admiring the surrounding ridges and peaks. It seemed as though some of the smoke was clearing and I could make out a little more of the distant features. The golden light of morning started peeping over the ridge and I climbed the trail.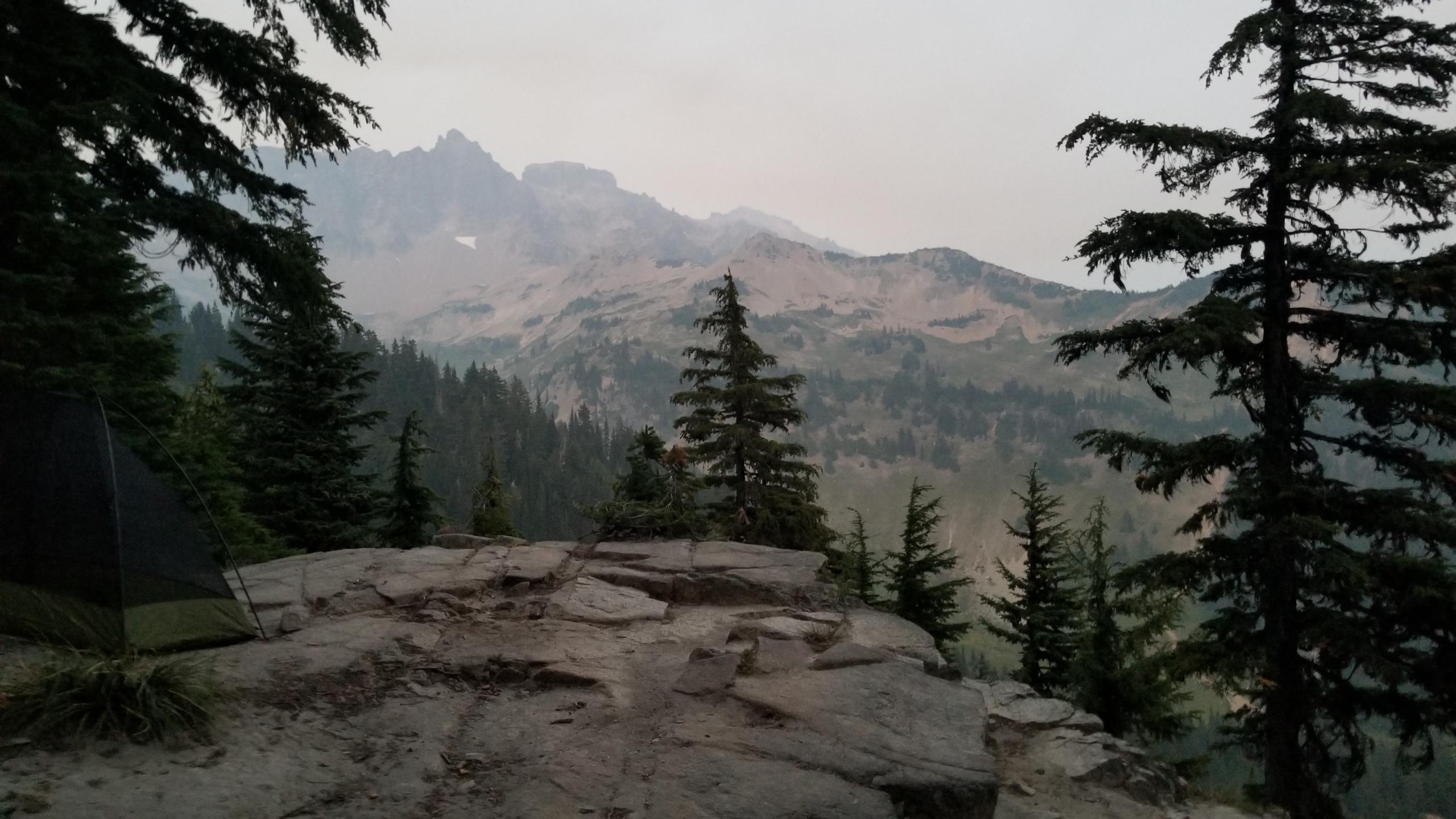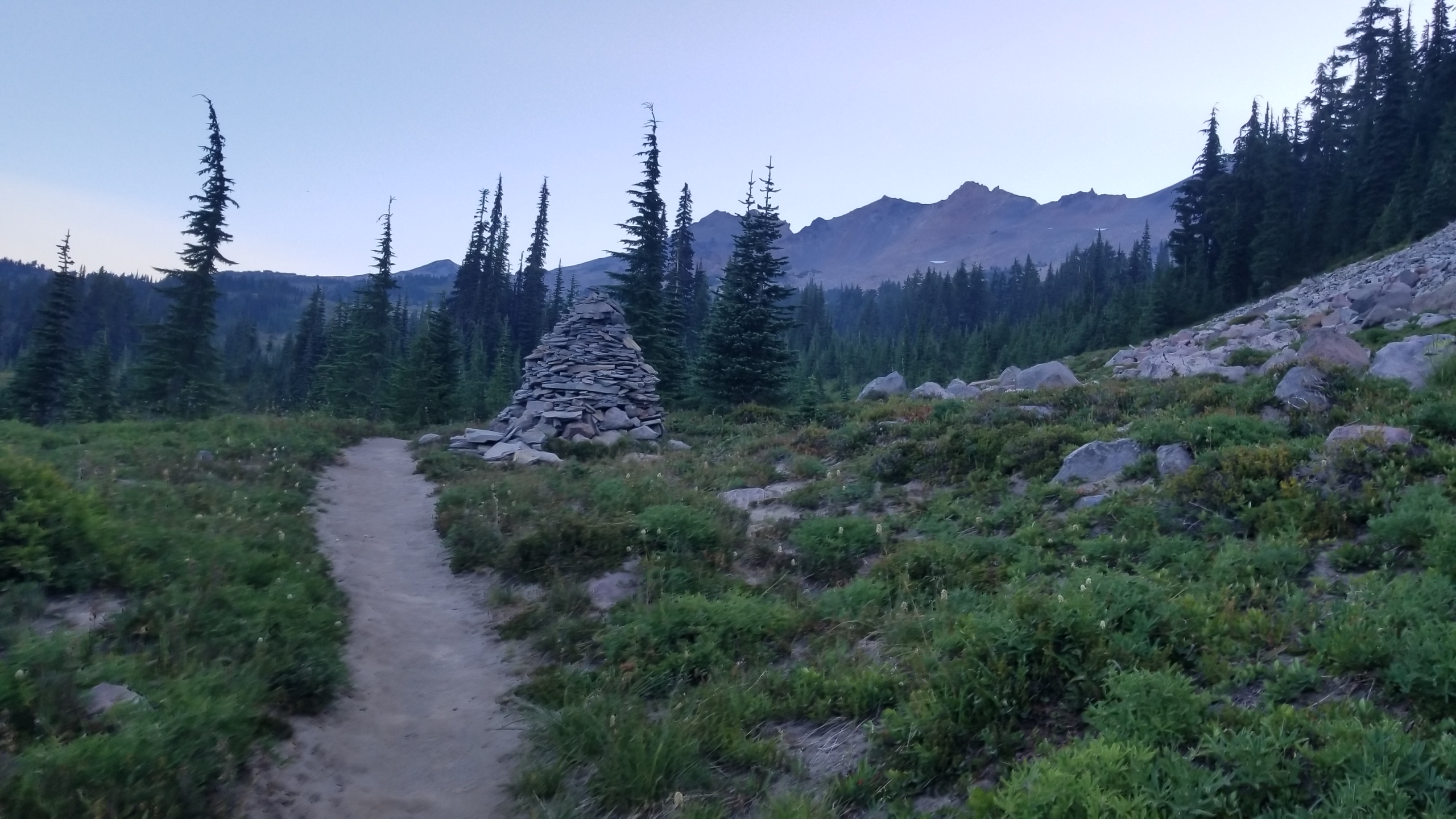 At one point I turned to look back to where I had come and realized that looming behind me was Mt. Saint Hellens. Its head popped out above the brown smoke and stood tall with its flat volcano top. I soon took the ridge and found patched of snow and a few intact glaciers. It was a gorgeous sight and I found a nice perch to have a break and take in the sights.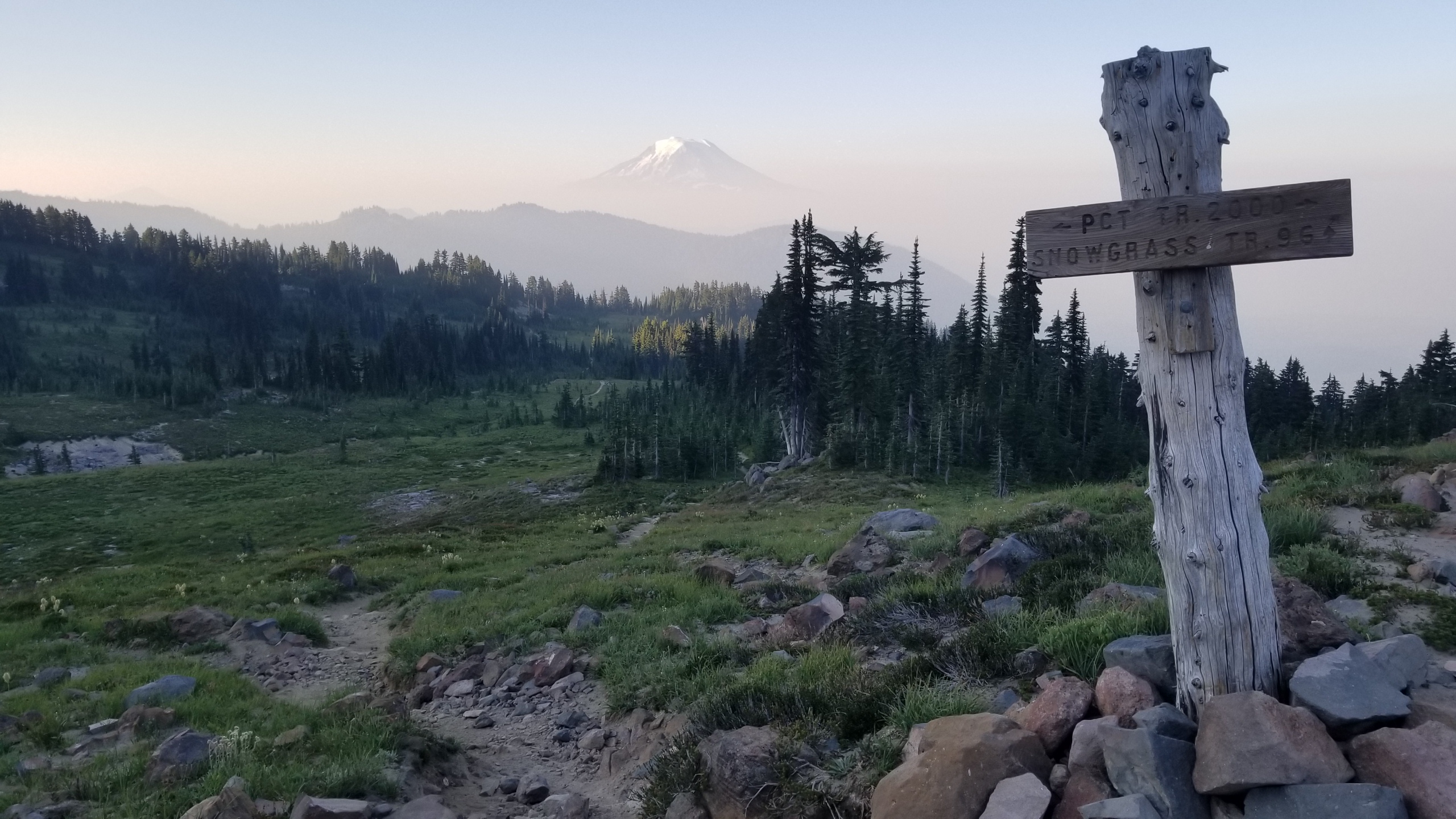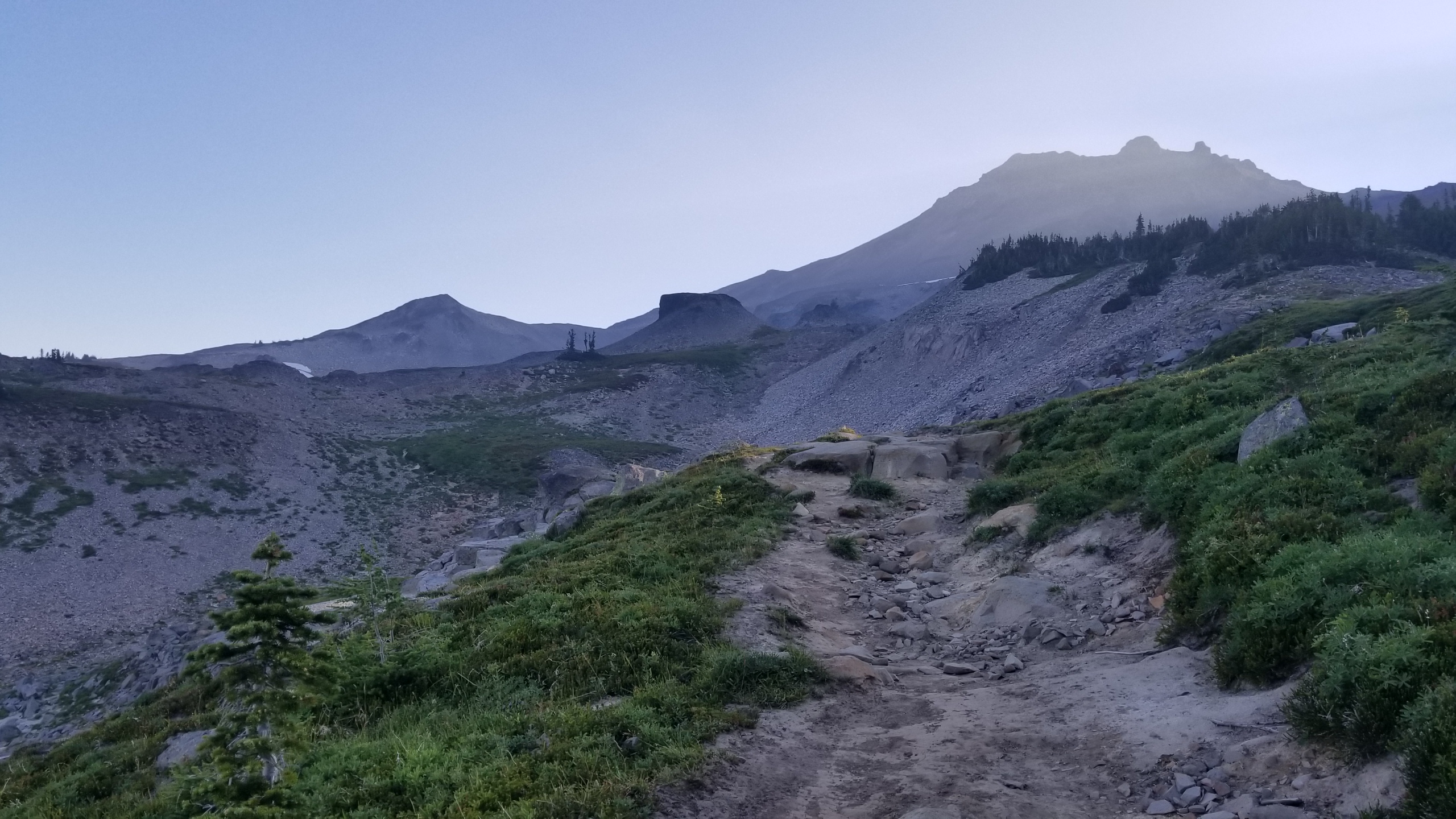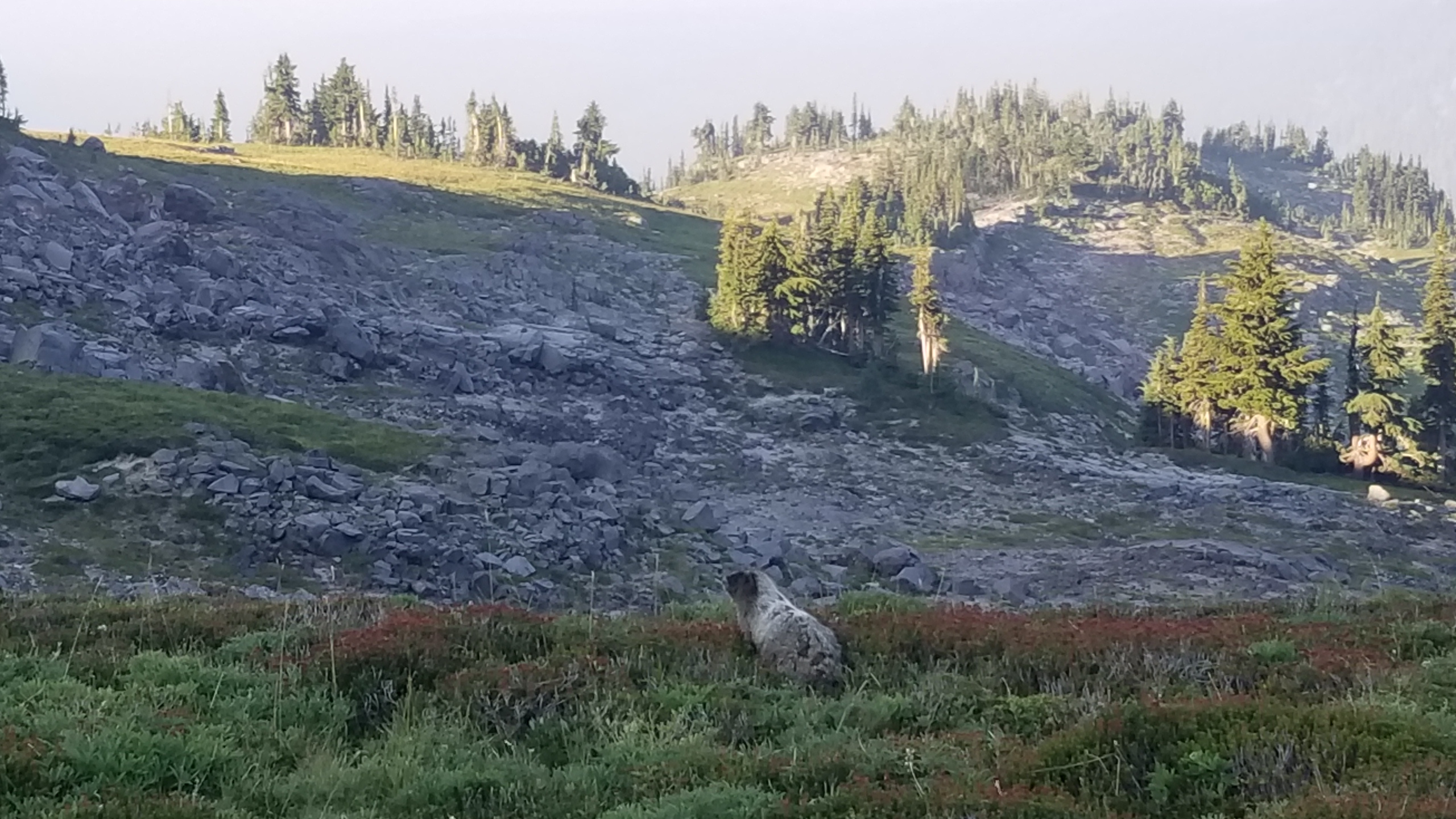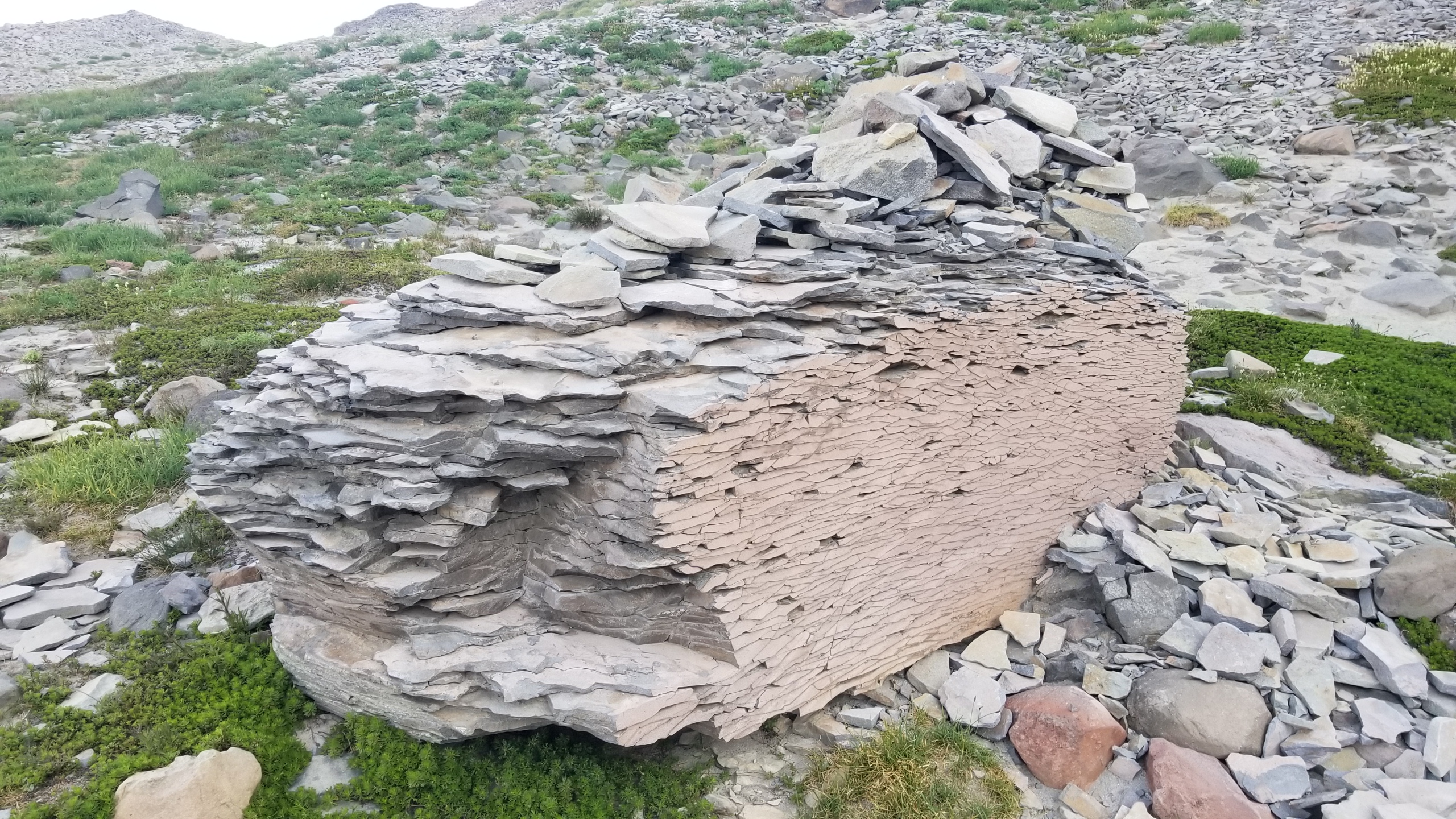 A group of middle aged guys came upon me and started asking all sorts of questions about the PCT and my journey. They were a fun group and it was nice to see them all enjoying nature together. I just kept taking it in, and the ridgewalk from there was phenomenal. Thousand foot drops on either side and views for miles. There was still smoke masking most of it, but even with that you couldnt deny the beauty of this place.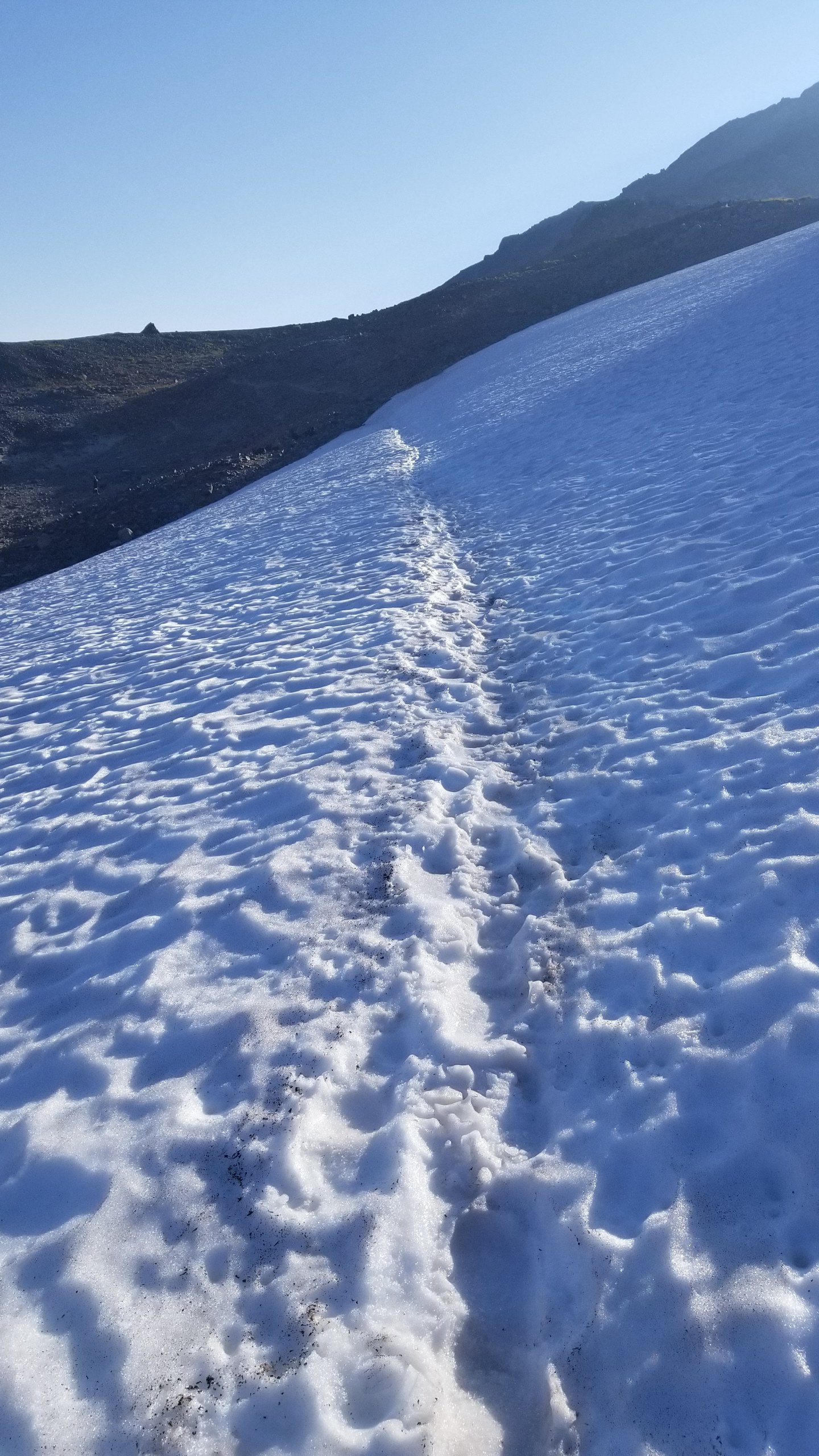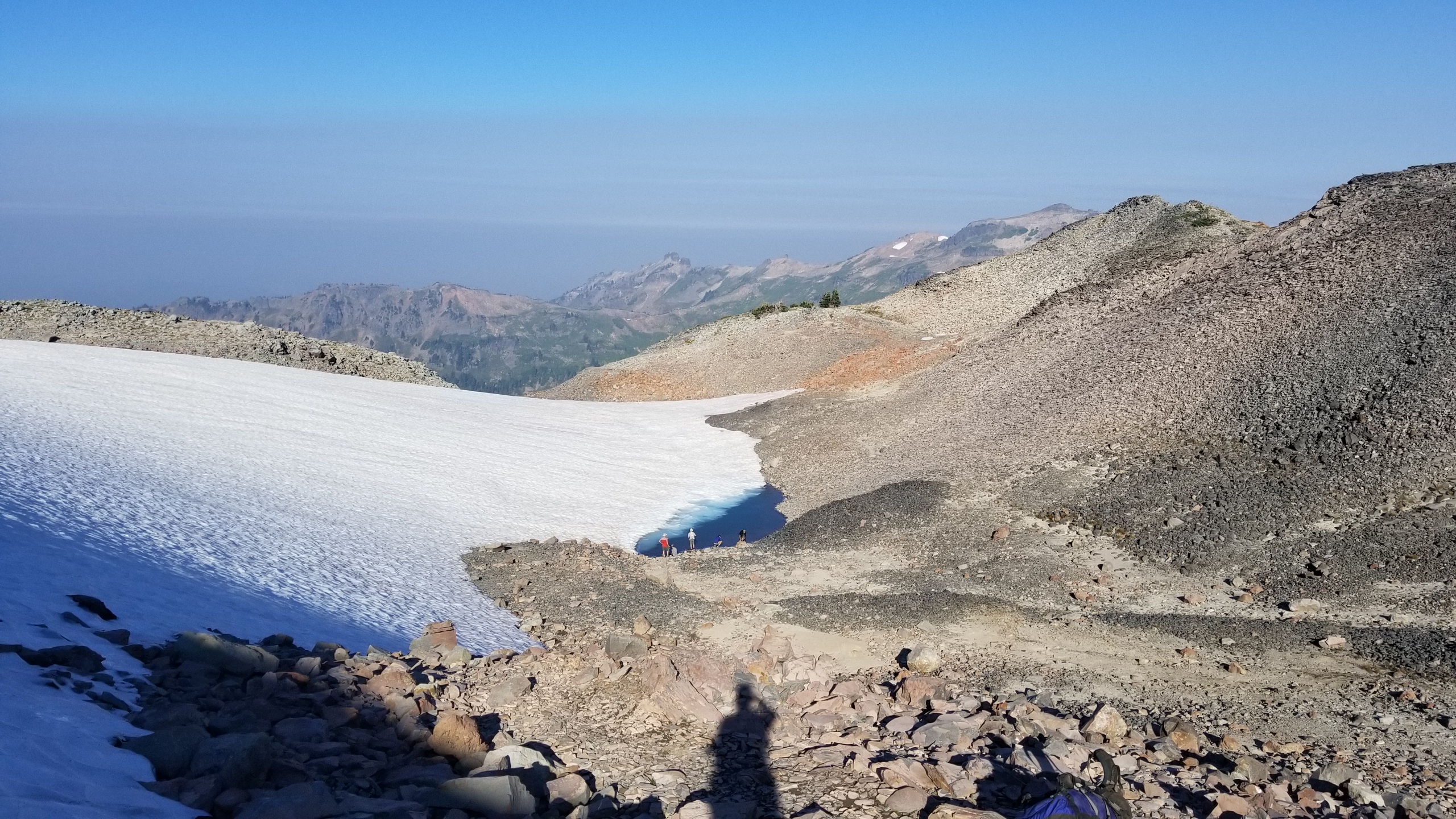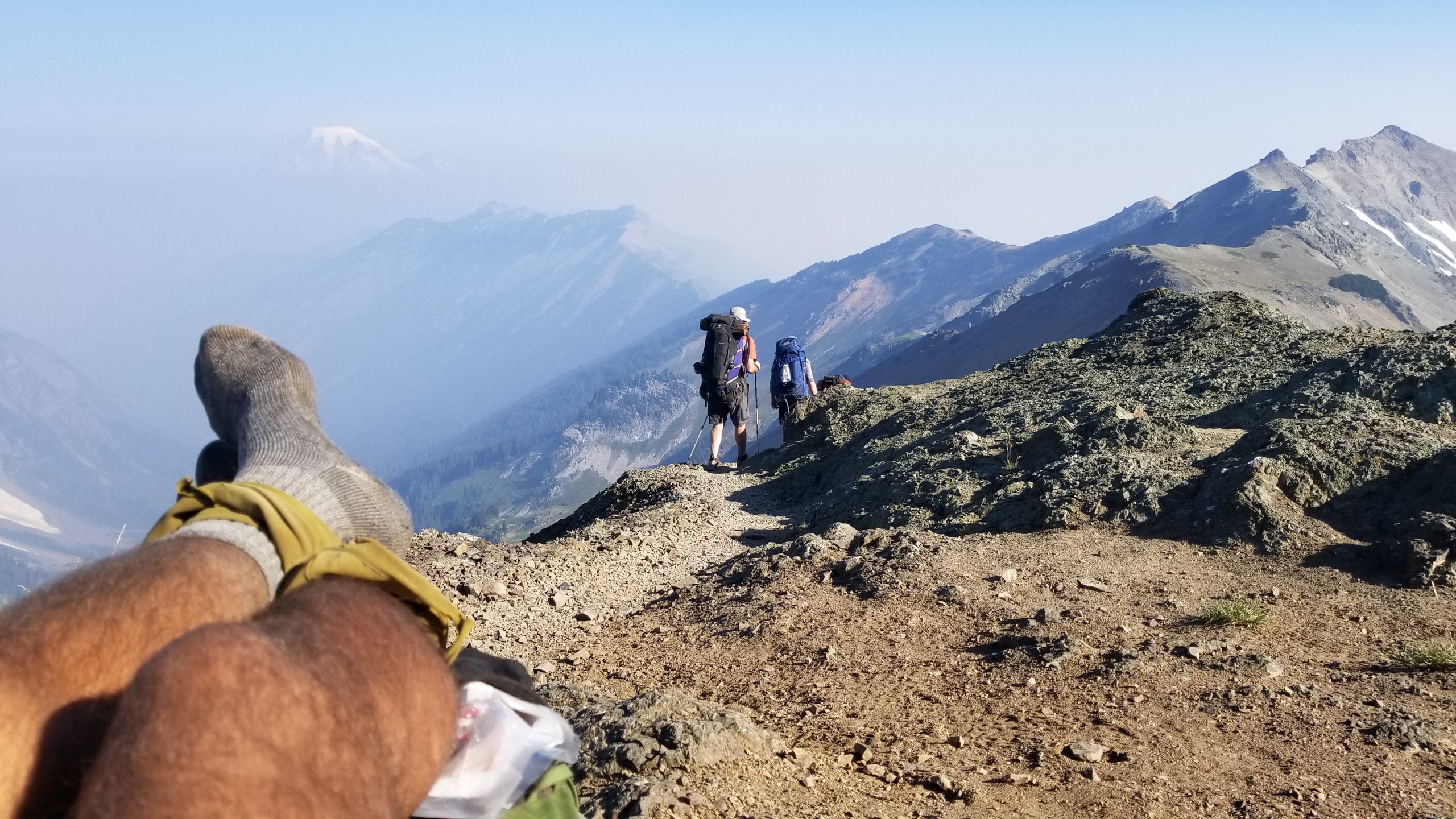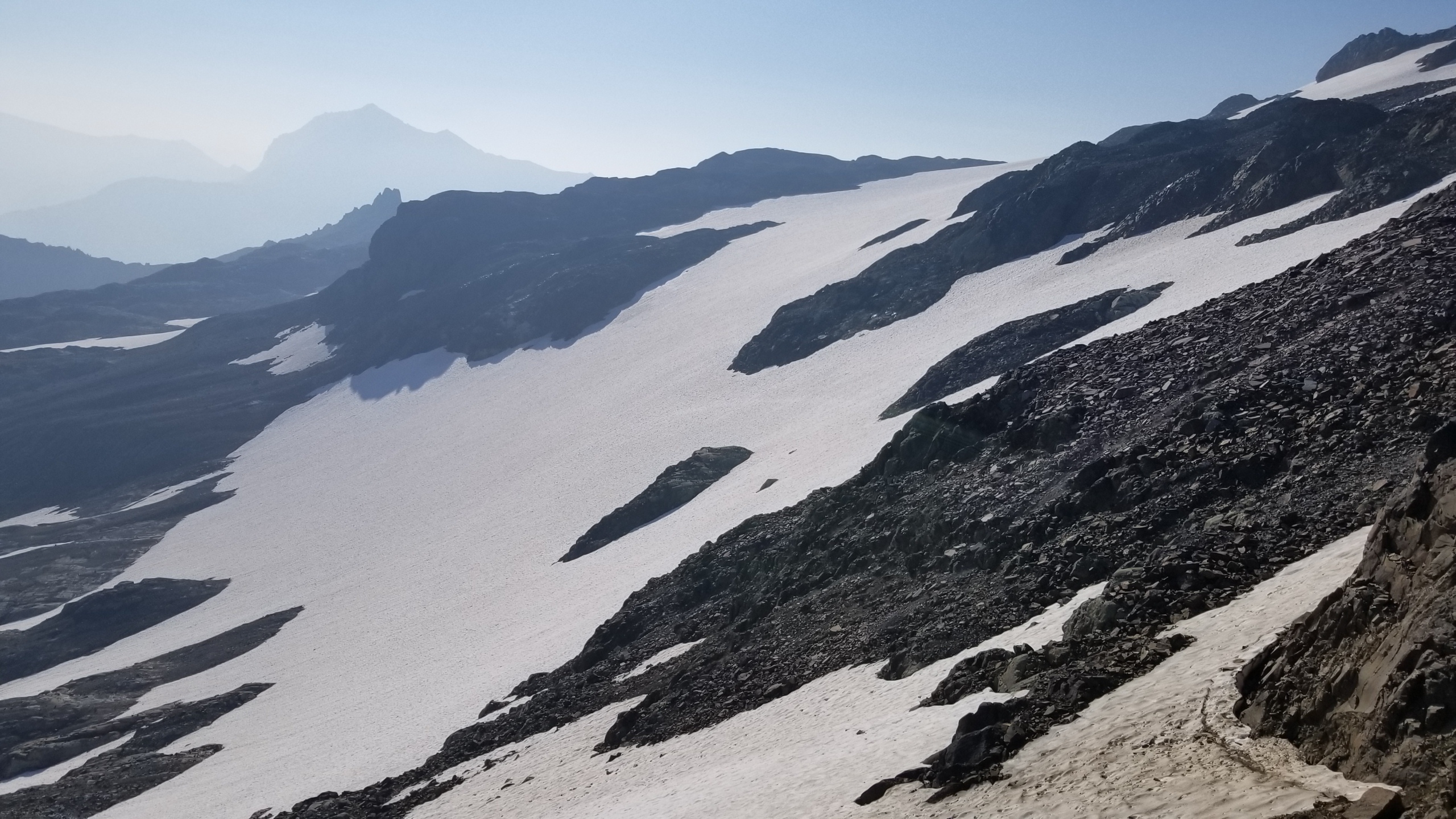 Soon I came to Elk Pass where an alternate route diverging PCTers away from the Miriam fire was in place. Man let me tell you, this trail was a roller coaster! I started out bombing down the backside of a ridge before finding Packwood Saddle where the trail went right back up climbing towards Chimney rock. The views were great but once I was in a rythm it the would dump right back off again.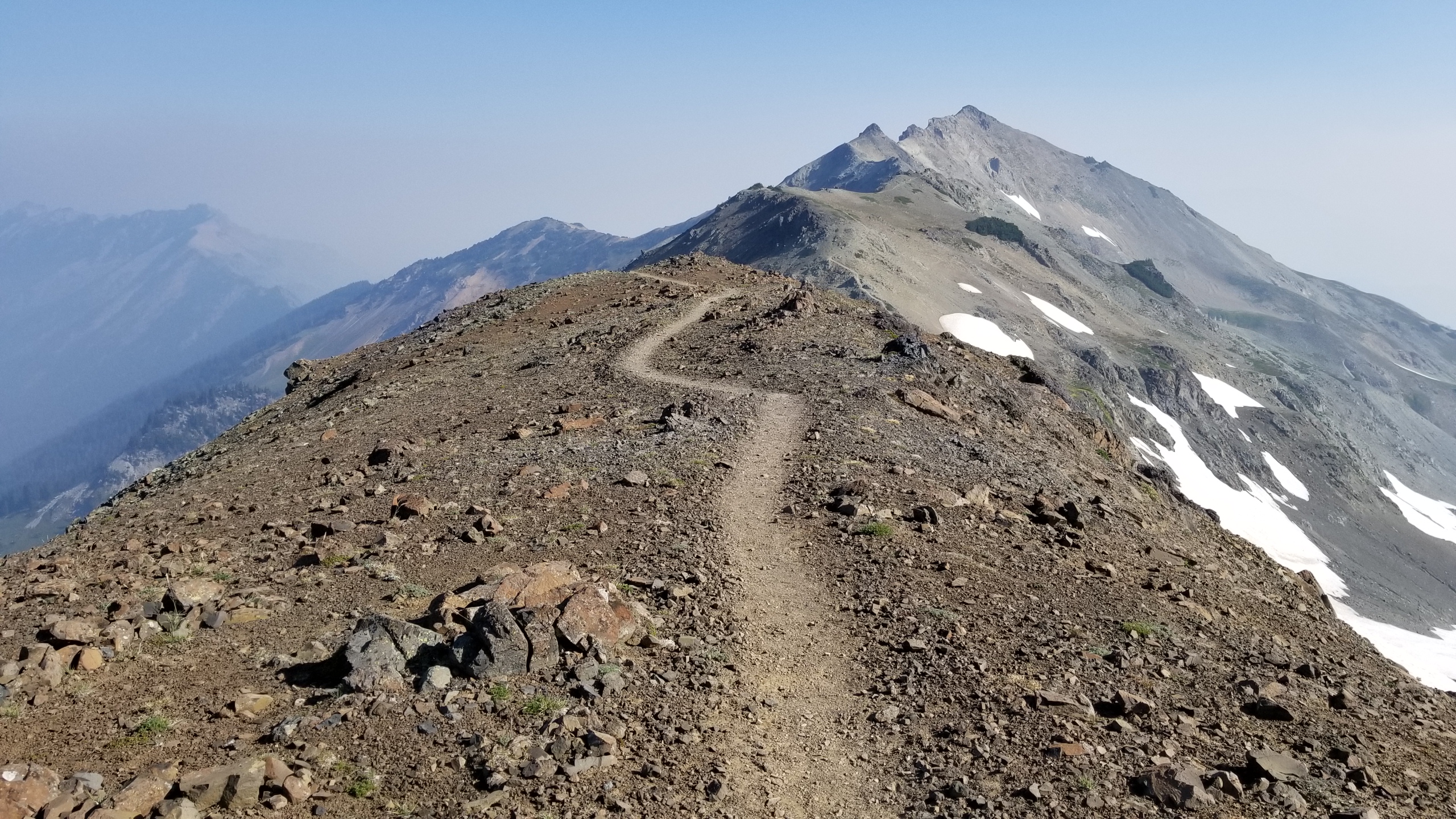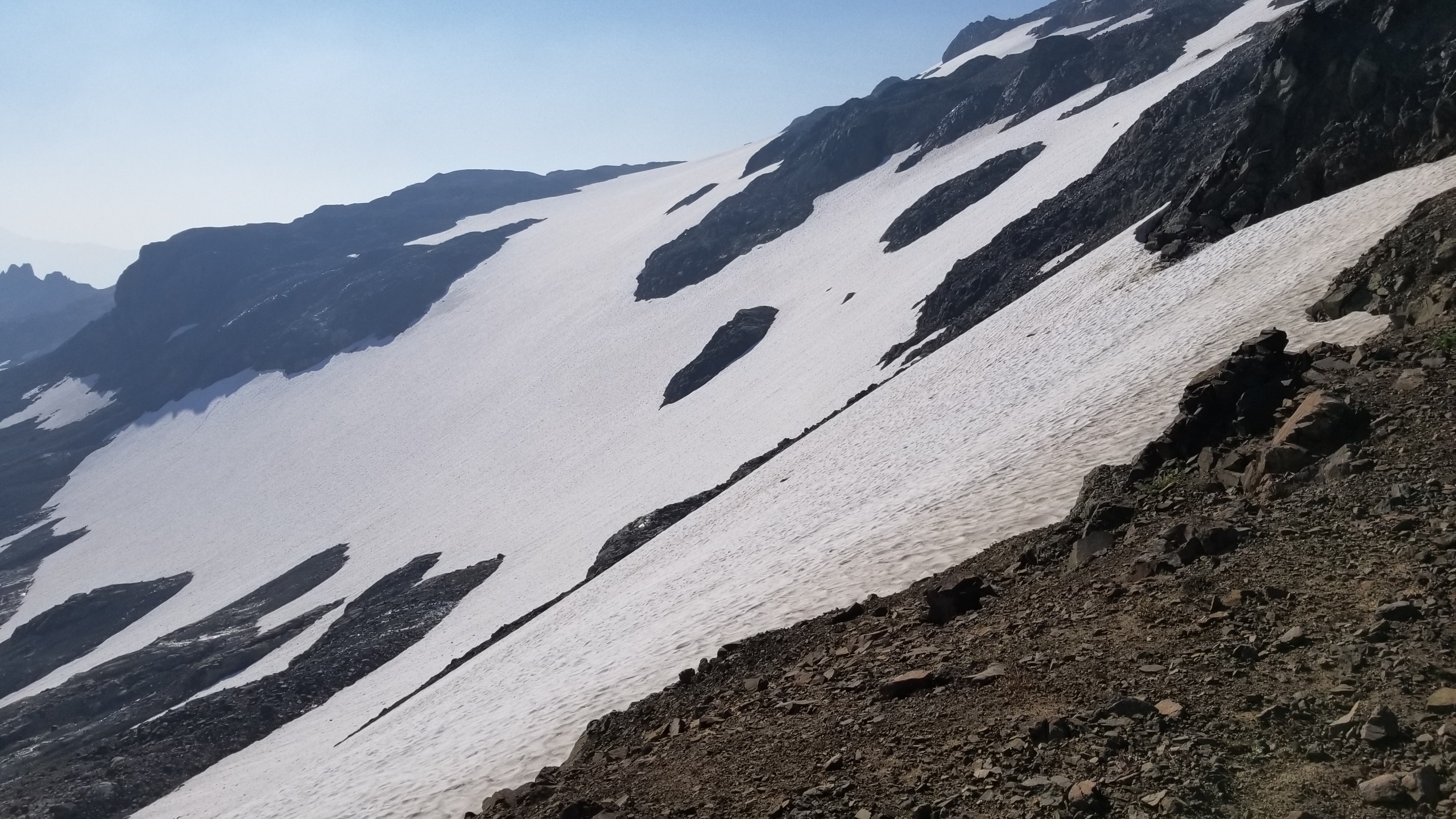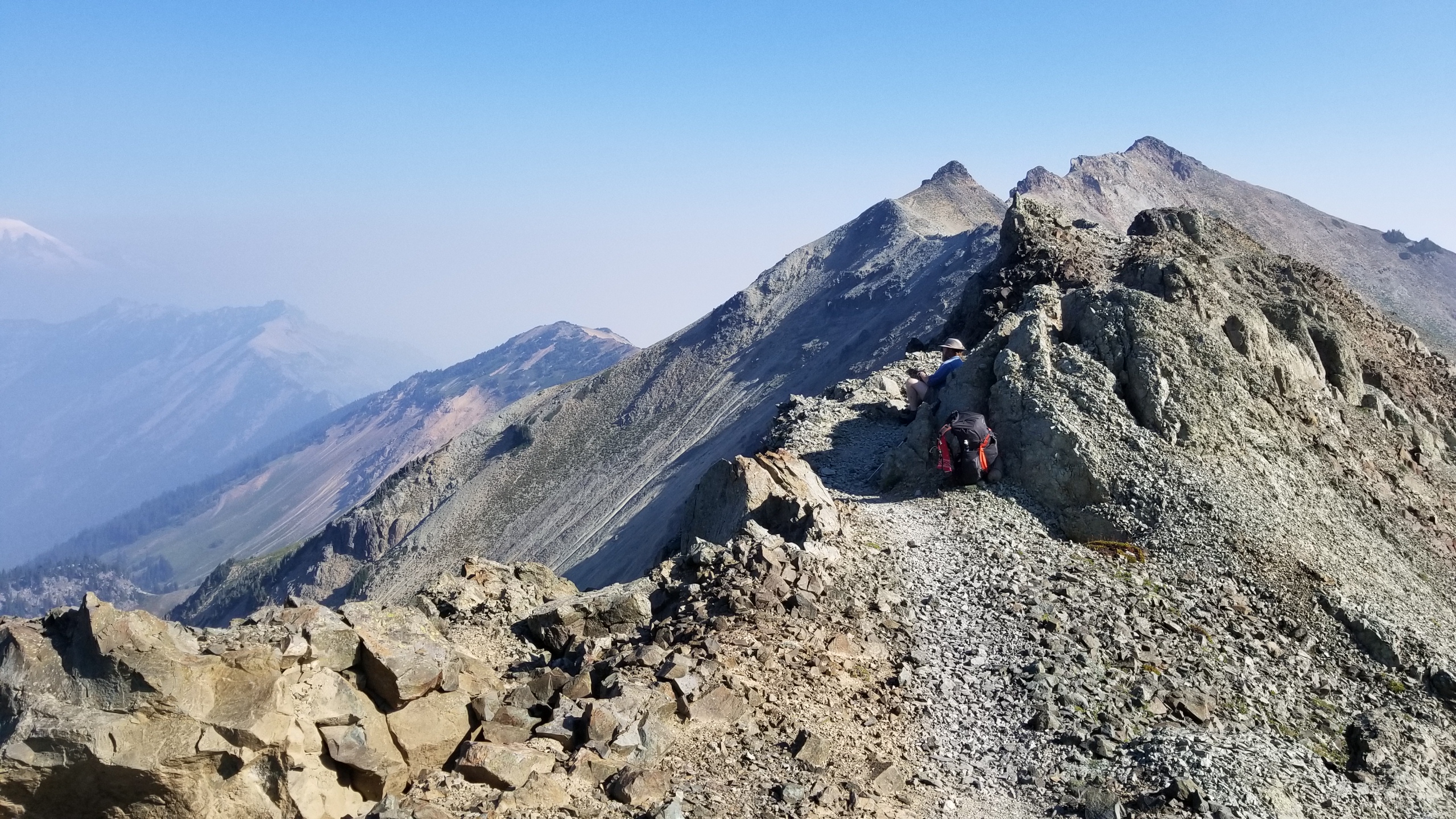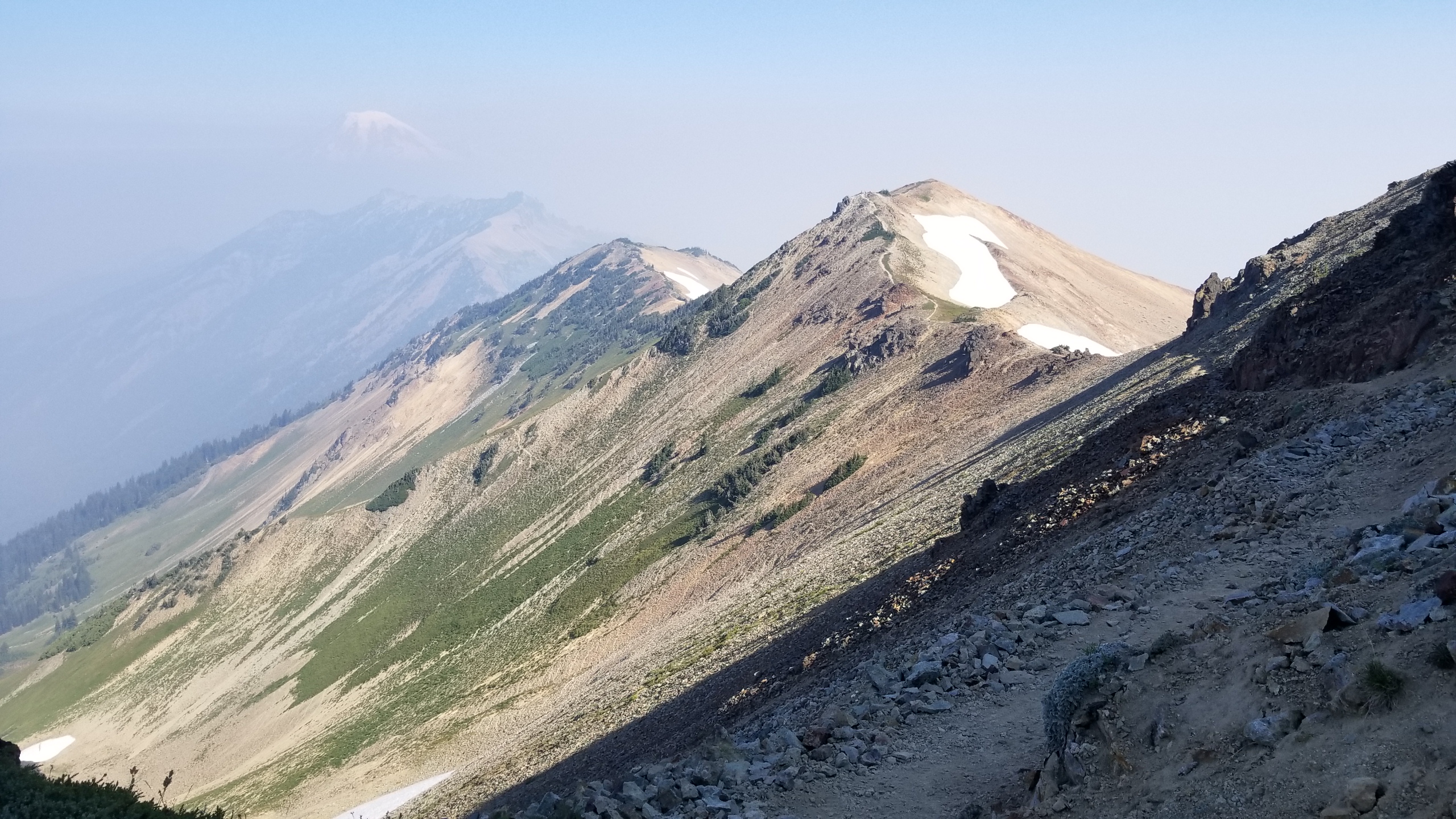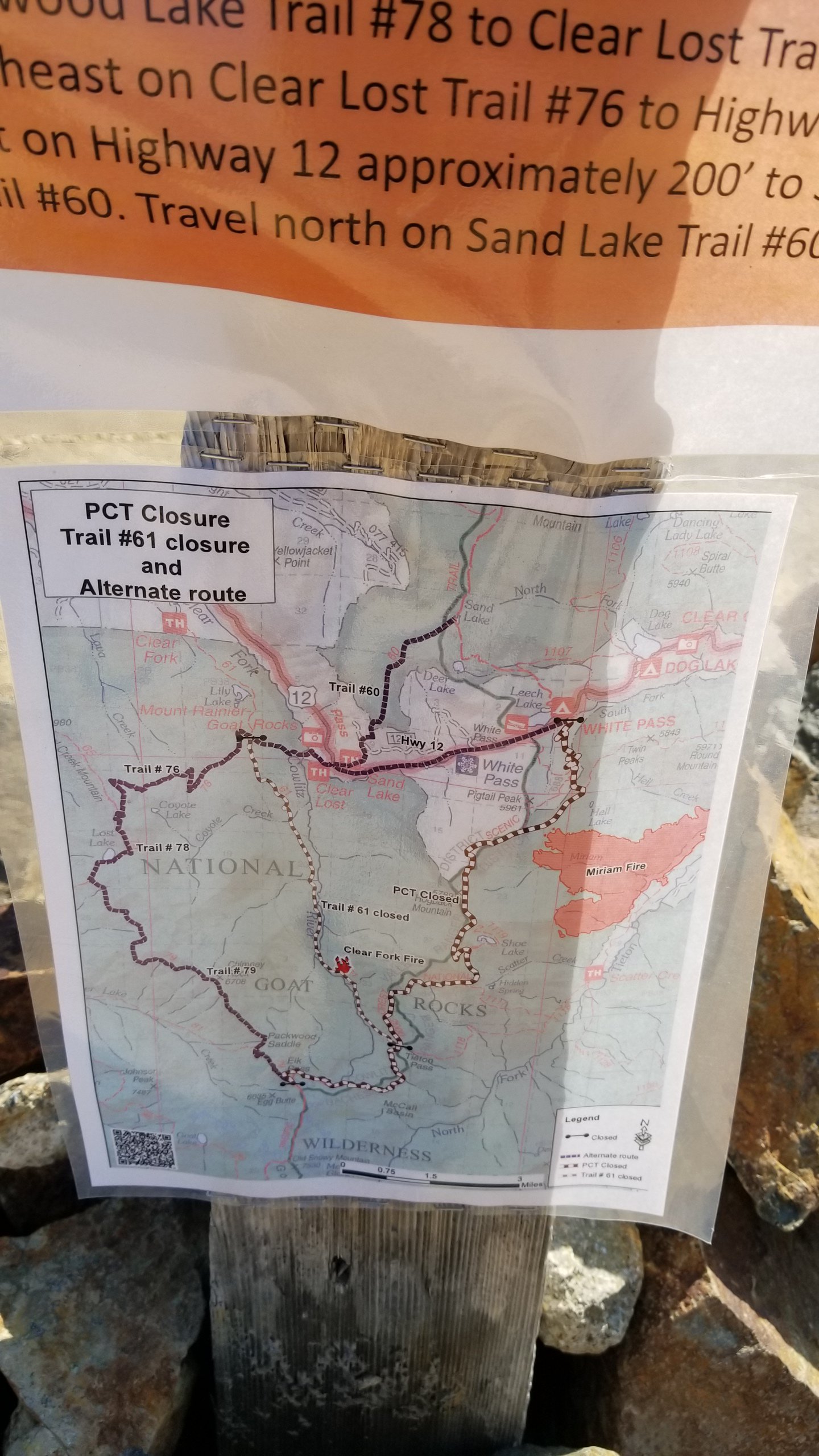 I found myself at the beautiful green and blue Lost Lake. I thought to myself about taking a dip for a moment, then reconsidered seeing how long it took me to go just a few short miles. From there the trail gained on, up and up I went. When I found the edge of a ridge, I would just find another climb waiting for me. After 3 false summits I finally found the top of the ridge. I could see the fire from a far and the smothering smoke that covered everything.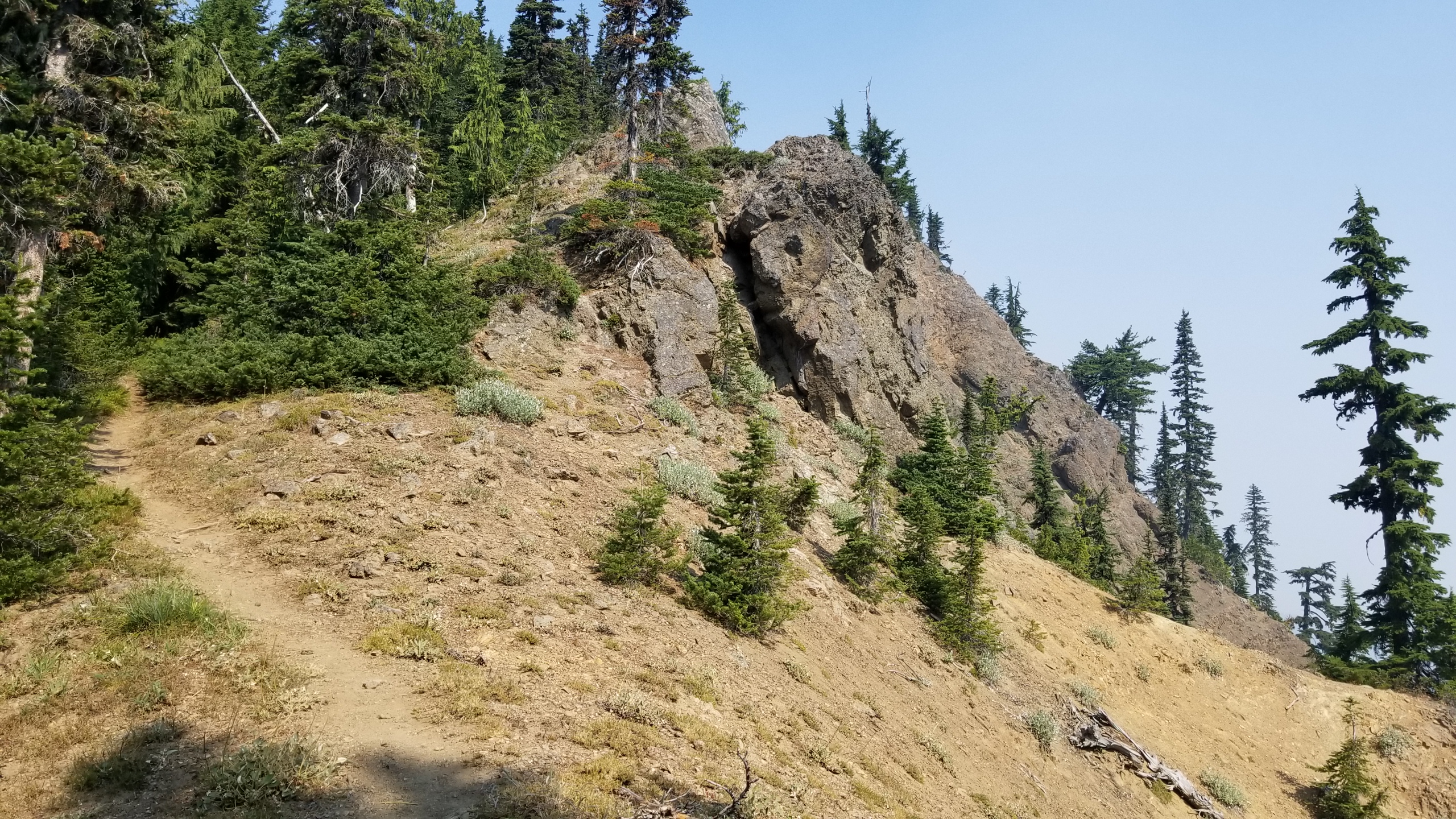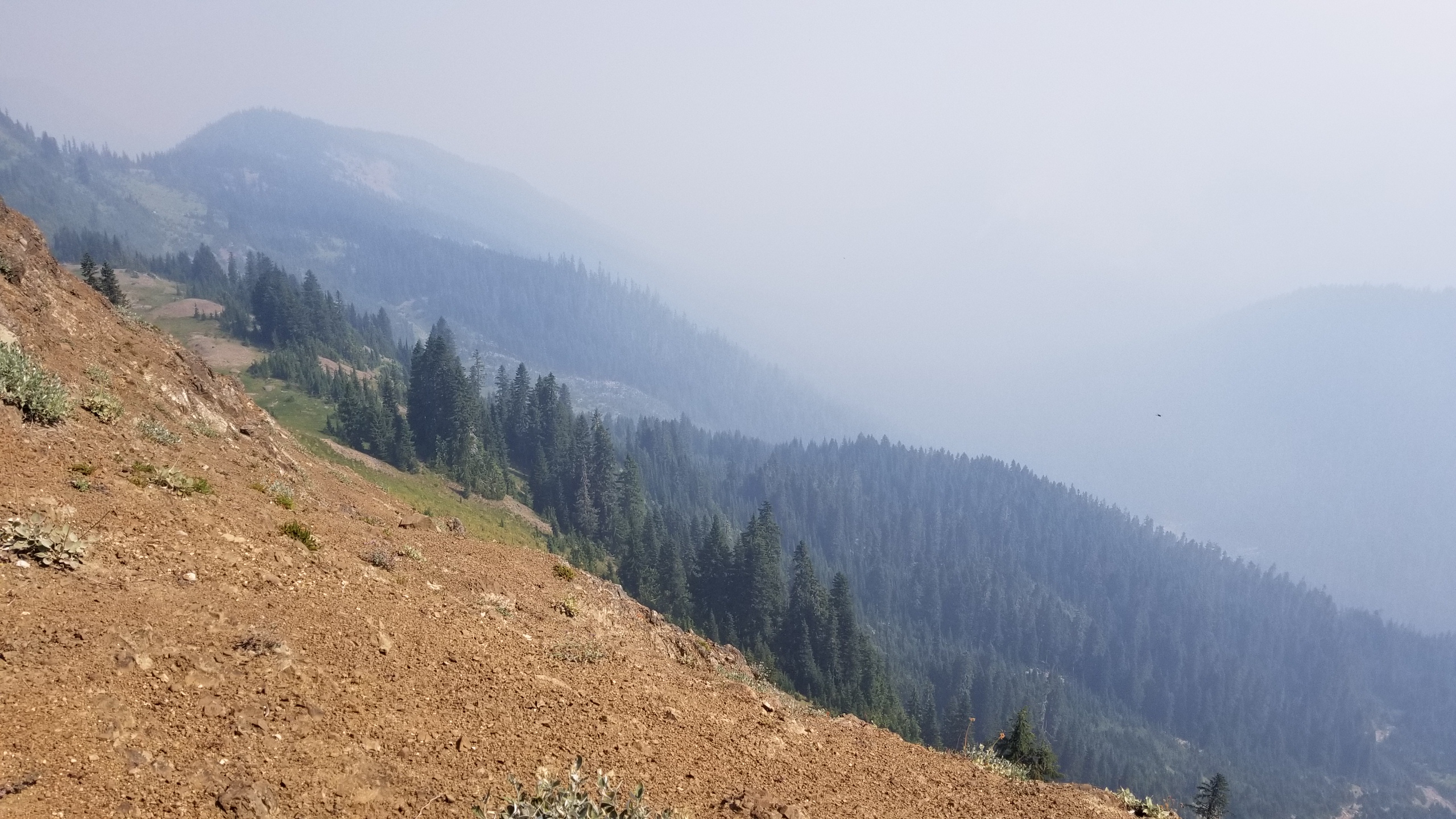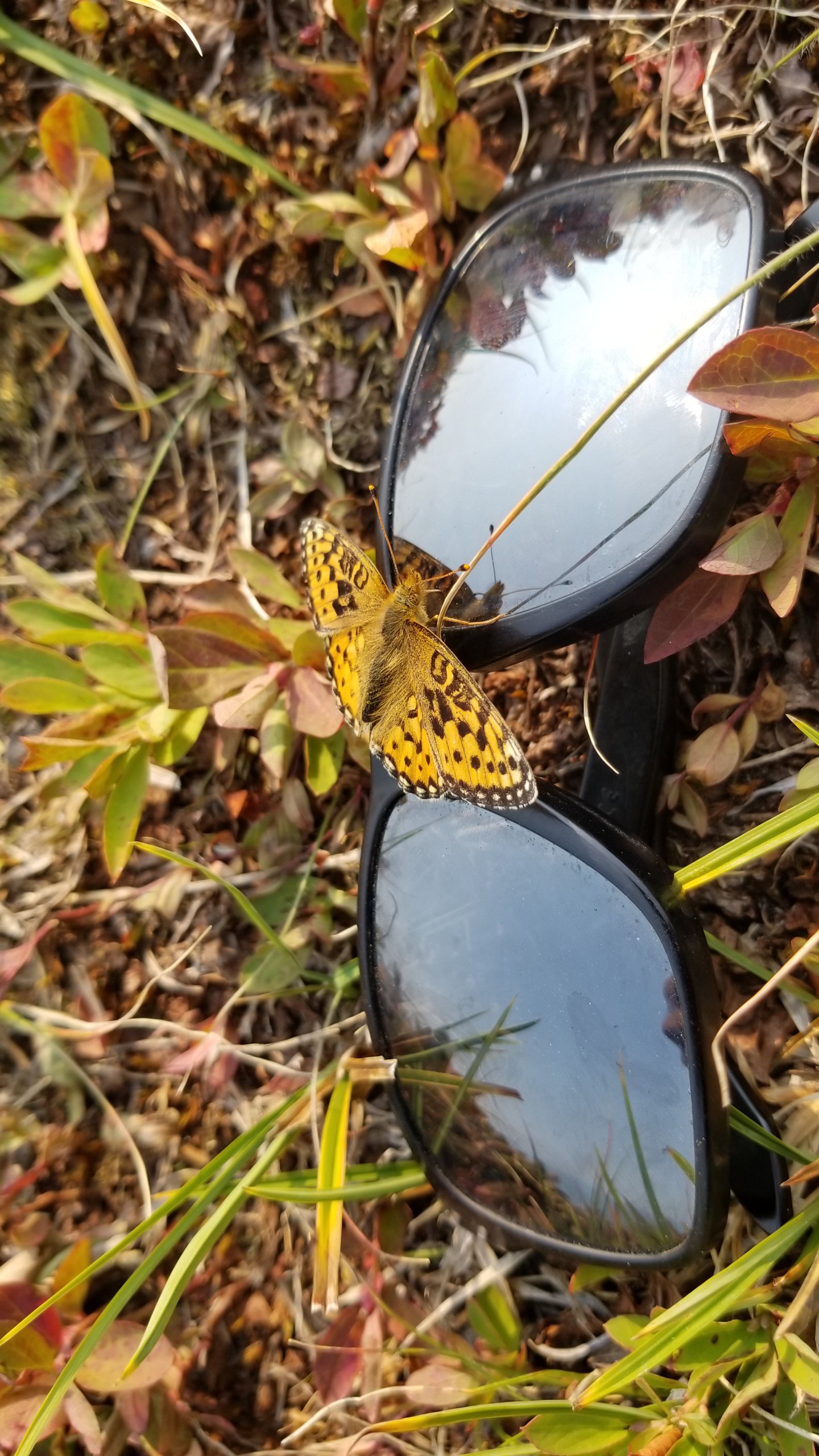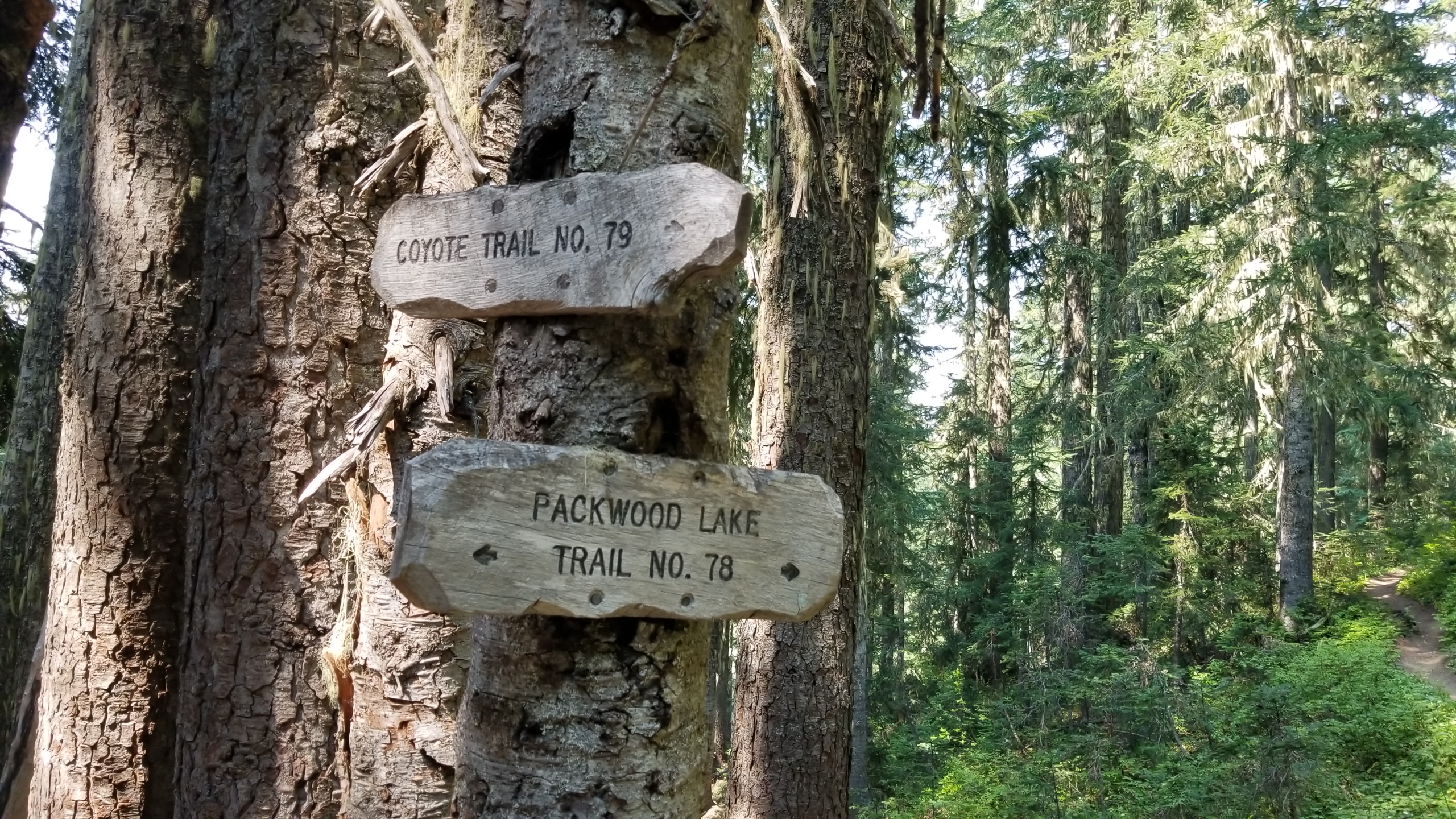 I bombed off the ridgetop past Lost Hat Lake were I gatered water and finally the final roller coaster ride that brought me to Cowlitz River. There was no good crossing and I ended up getting out on a tree that had been felled by some storm. The other end of it wasnt touching the ground and as I worked my way out towards the end, it bounced and swayed over the rushing river below. It looked like a scene out of a cartoon. Finally about 3/4 across the river the tree bounced me so much that I lost balance and had to jump in. Luckily I landed well and water went up to my calves. Could have been much worse.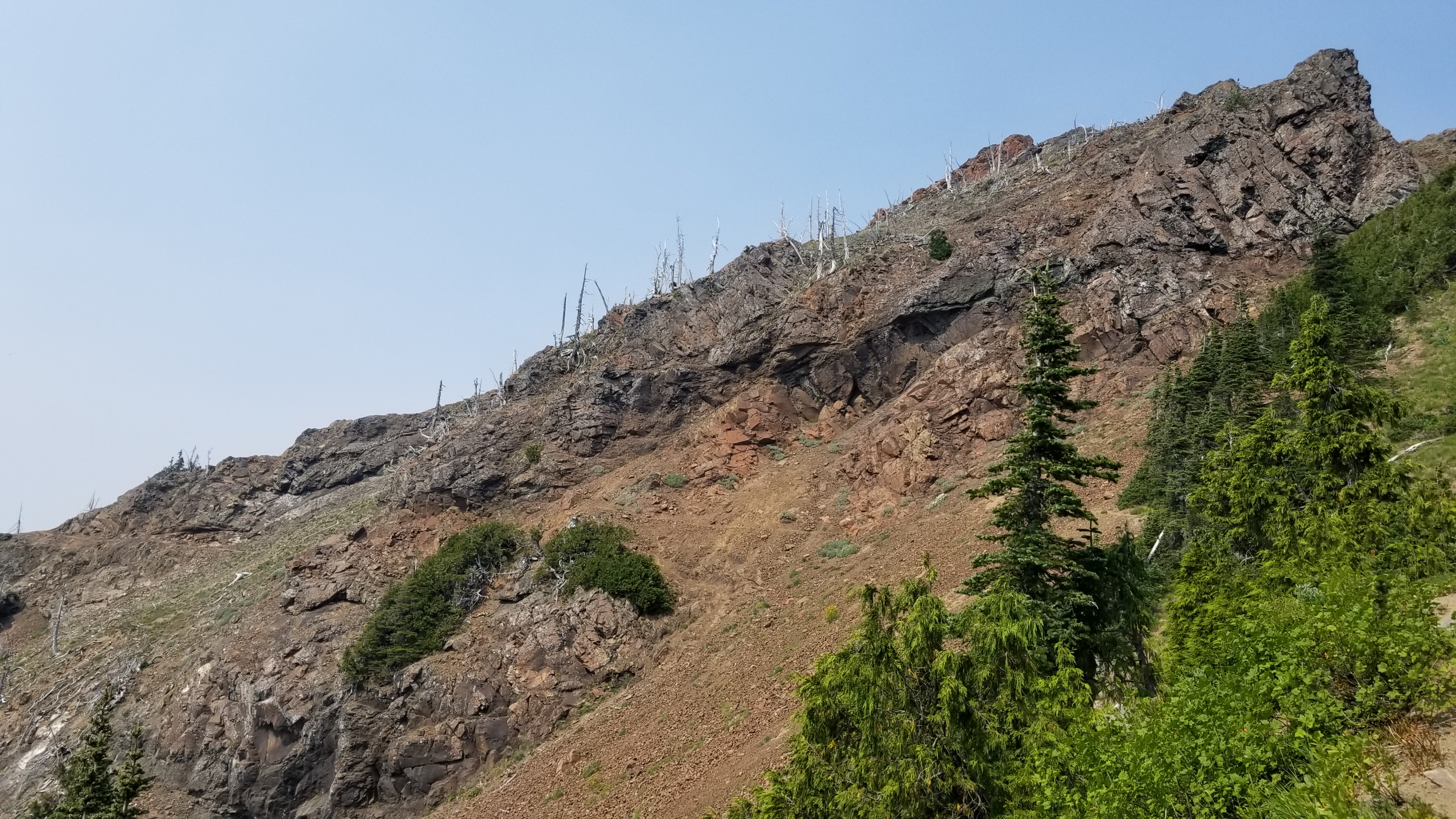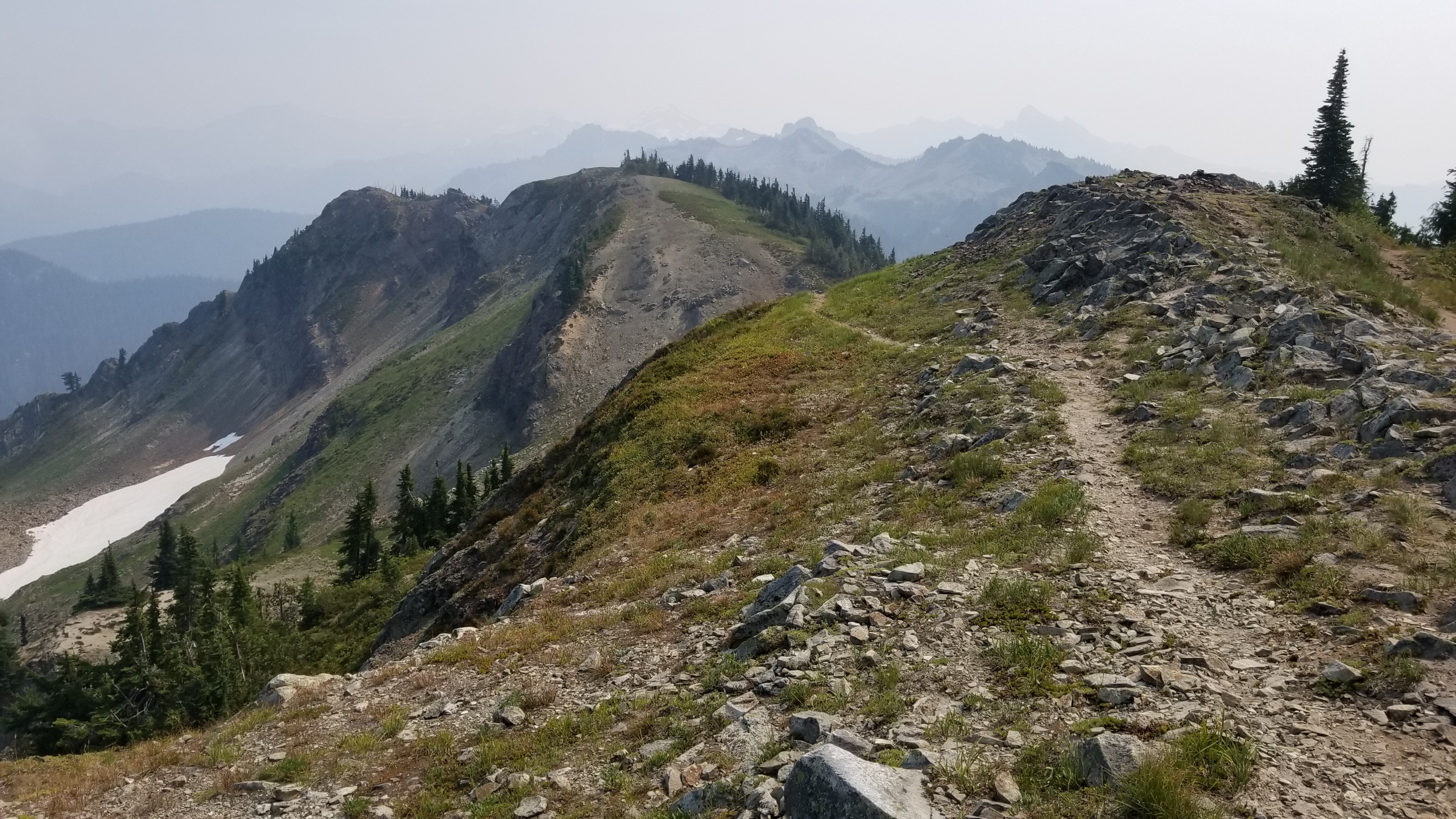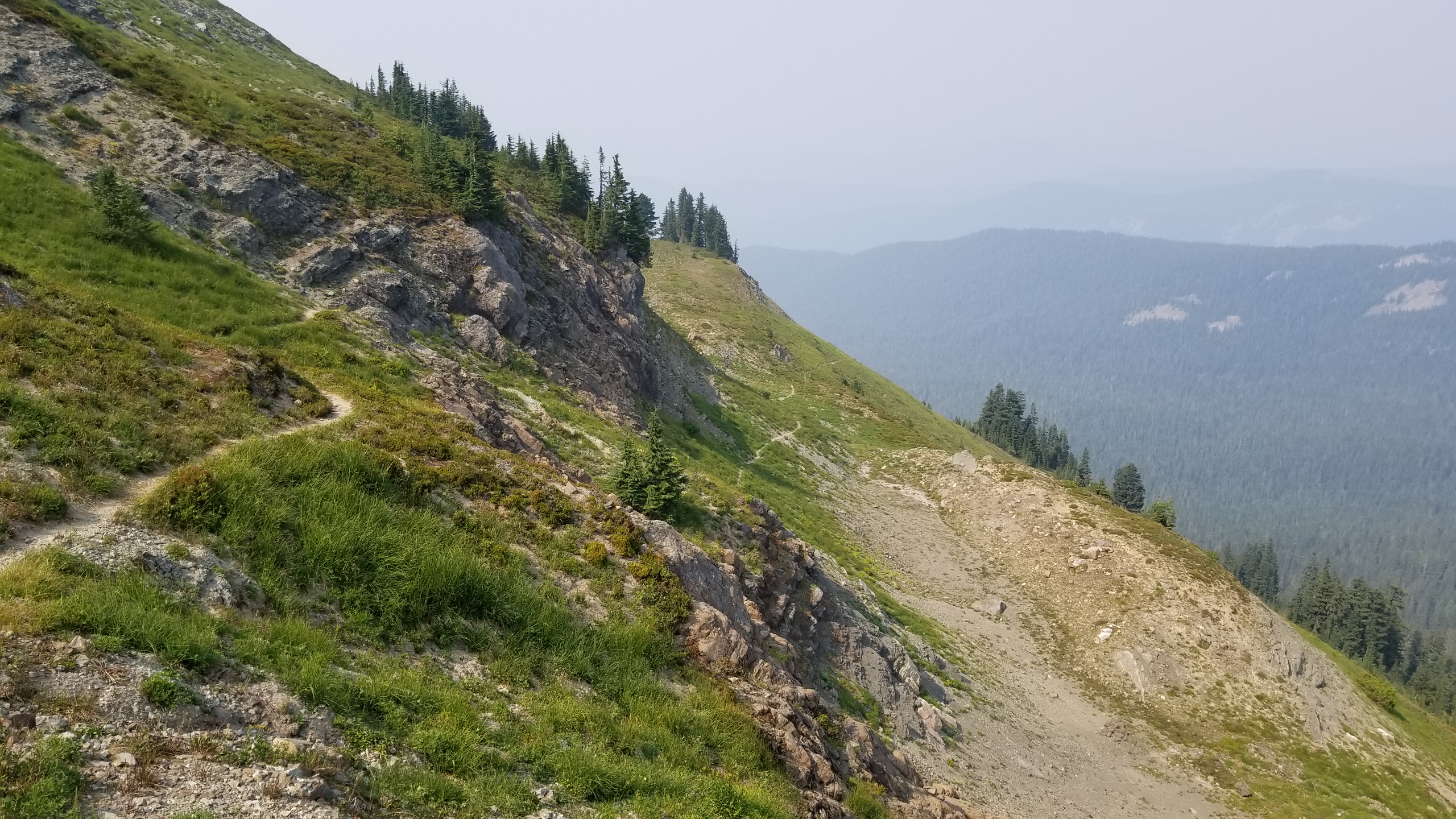 I climbed the trail and foud myself on Highway 12. I had 2.5 mile roadwalk to Cracker Barrel store and I hurried along hoping I would get there before they closed. Cars and 18wheelers alike went roaring by. The shoulder wasnt huge but with some luck and a good pace I finally pulled into the store parking lot. Tired and ready for rest. With 8 minutes to spare I grabbed my box and a beer and found my way out back where the rest of the thru hiker trash was all camped out for the evening. Right where I belong!