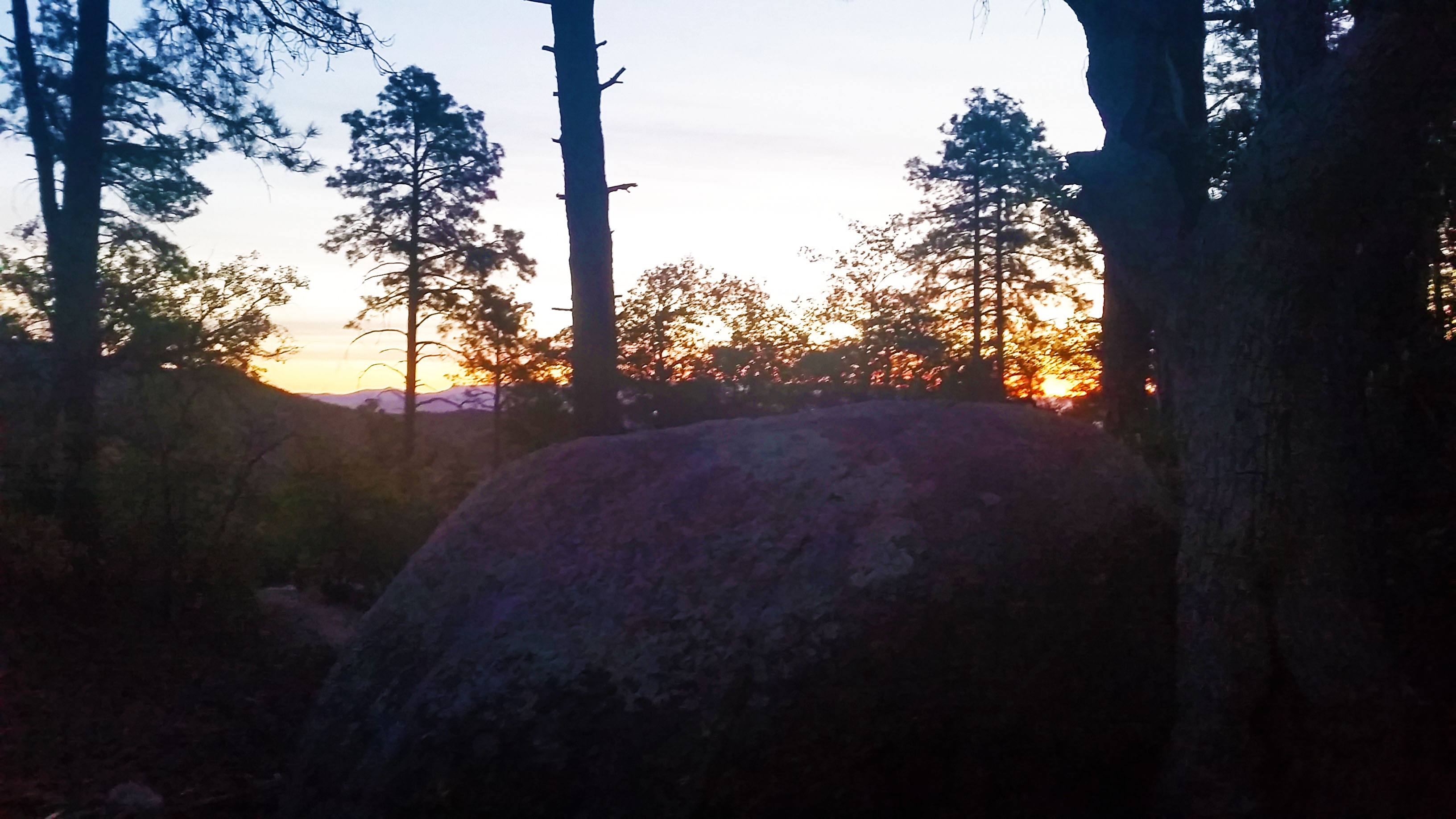 I woke early, before the sun was up, and my eyes cracked open from my 10 hour slumber like Sleeping Beauty ready to start the day! There's something about backpacking…the sun goes down, you crawl in your tent after a long day and try to read and be productive, but instead you're instantly drowsy and sleep seems to strike before your head even hits the pillow (for me at least).
I went through the motions, making breakfast, packing up, and getting everything in my bag, before finally standing. I was in a personal race with the sun as some of my favorite times on the trail are just as it peeks over the horizon. The golden light bathes everything around you, illuminating rock faces making cool shadows, and snakes through the trees, giving some beautiful views that you can only capture for that brief moment before it's gone. Sunrise and sunset are some of my favorite views on a trail.

Strapped up, I stepped onto the dirt road where the AZT would wind and rise and fall for the next 11 miles before I would reach the trail cutoff to Kitty Joe Canyon and eventually my truck (hopefully still waiting for me un-vandalized and un-ticketed in the parking lot). With no idea what the day would hold for me, I headed out on my road walk. Not a soul was in sight, it was like the zombie apocalypse had happened while I was away and I was the last to know.  Road walking gives you an opportunity to crank the pace wide open without worry, but it's also one of my least favorite ways to hike. After 7 miles I took a break and had a quick snack on a rock, looking out the valley below. Just then I heard voices behind me…I turned quickly to see two hikers with big bags on their backs trudging my way. I stood on the rock, waved to the couple, and soon discovered that "Barking Spider" and "Stretch" were taking on the AZT in its entirety before continuing on to the PCT.  Having not seen anyone for more than a day, I was glad for the company.

It was both of their first times visiting AZ and they mentioned that they were blown away by the state's diversity. They were on Day 21 of their trek and making great time. There are 43 sections for the AZT, each about 20 miles long, and their pace showed they could easily keep a solid 20 mile per day average going. We chatted about through hikes, saving up for the treks, working seasonal jobs, and of course AZ.  "How about that water at Pigeon Springs?" Barking Spider asked. "Oh yeah, it wasn't horrible, but I'll take what I can get out here!" I responded.  Apparently they had chosen the worse of the two troughs, not seeing the other, and got the blunt of the funk.

All in good spirits, we kept trekking and the 11 mile slog quickly melted away.  We made it to the cutoff and bombed down the canyon. I could see some old remains of a farm's cattle watering trough in the distance. I snapped pictures as often as I could while trying to keep the pace going. Stretch held true to her name, man she could really move! At first glance you wouldn't think it to look at her, but she took the lead and was quick as lightning, pushing a good 3.5 to 4 mph pace (this of course with a 20-30 lb pack on her back). We kept trekking until finally crossing a tributary to Boulder Creek. Here we parted ways as Stretch and Spider decided to take lunch and I pushed on.  The cool creek was calling my name, but I wasn't ready to rest yet, I wanted a few more miles under my belt.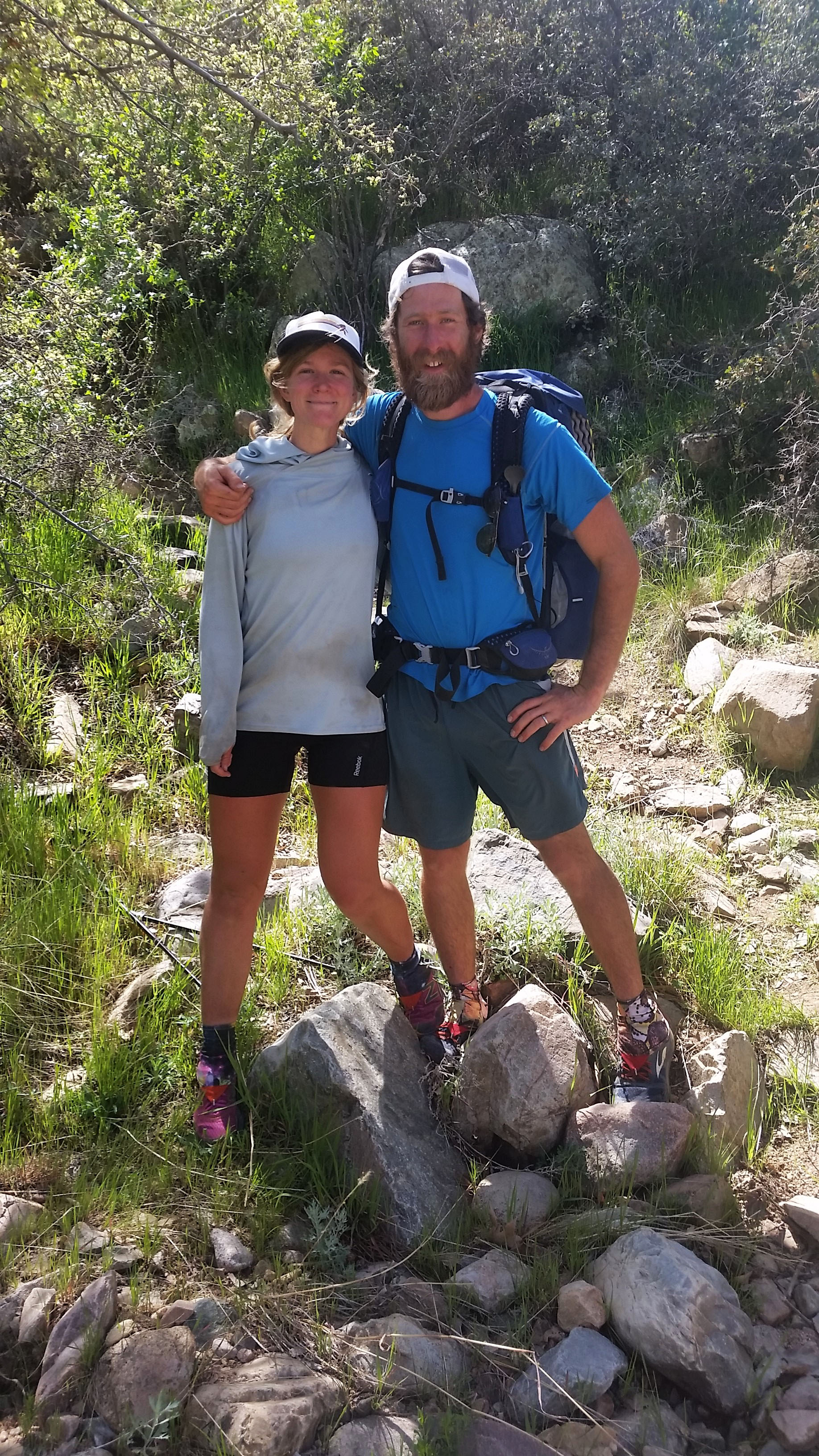 I kept pushing onward, up over into open plains. The sun once again began to beat on my head as I approached Boulder Creek, and this time I was ready to hang out for a few minutes. I pulled my bag off and plopped down on a nice big grey rock next to a deep pool in the sluggish creek. The longer I looked at it the more inviting it became. I was making great time and I figured what the heck, a little dip after 2 days in the middle of nowhere would do me some good. I stripped (almost) all the way down and jumped in. Whheeeewwww boy was it cold! Springs from snowmelt were undoubtedly feeding the creek and it was exactly what I needed to rejuvenate my spirits, cool off, and have a minute to soak the feet.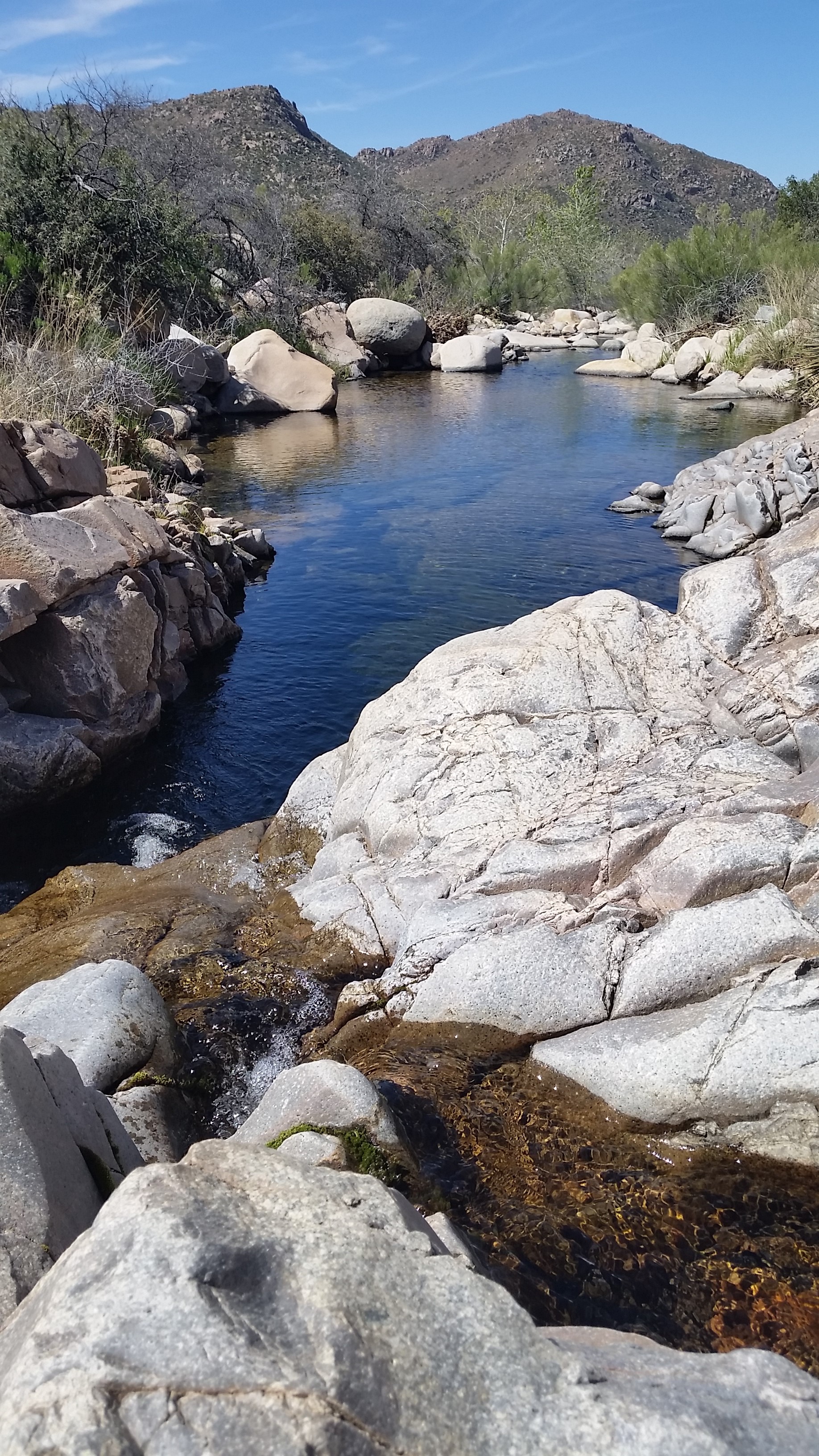 I pulled myself from the creek, threw my cloths and boots back on, and strapped up my bag again and before long was back on the trail. I was all smiles at this point, feeling refreshed and ready to close out the journey. I trekked on until I saw a figure in the distance. I figured it was one of the through hikers, but began to second-guess that conclusion as the hiker was alone. Catching up, it turned out to be another section hiker named Stephen Cox from Phoenix. He was a firefighter and was out for an extended weekend to take in the sights and make some nature videos. He was loaded down with gear, which all in all he told me he probably weighed 300 lbs between his own weight, the camera gear, and his backpacking gear. What a trooper! With my small frame I couldn't imagine holding that much weight. We chatted for a while before I headed on, towards Sycamore creek and further on Highway 87 where my truck waited on me. I wasn't in a hurry to finish but matching the pace of the two through hikers had gotten me into a rhythm.  I crossed Sycamore Creek, lined with cottonwoods, and before I knew it the highway came into view. The end was within sight! I wasn't ready for the day to be done, but I had already pushed this far and figured I might as well finish strong.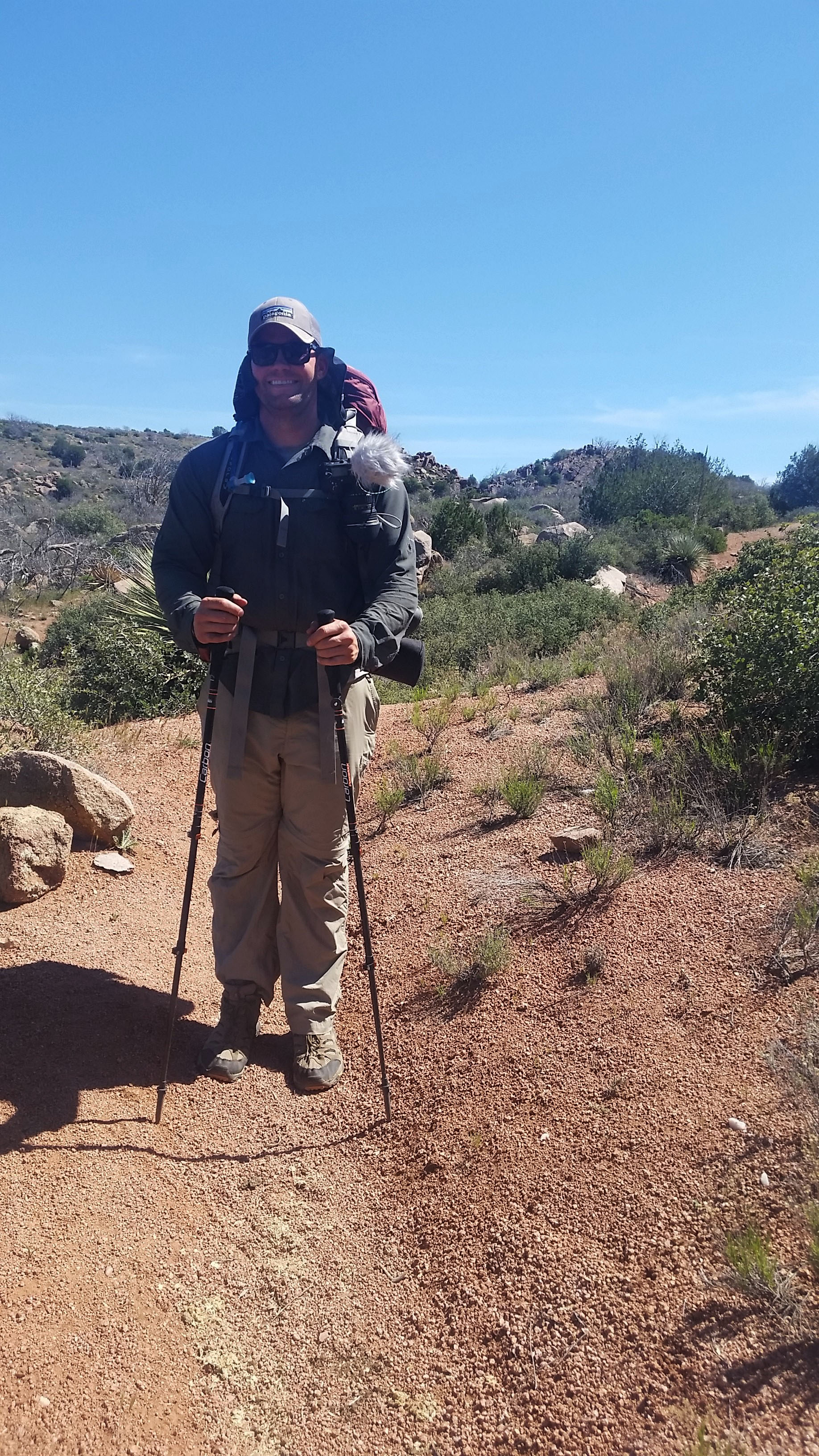 I hiked on until finally passing under the highway which marked the official finish to my Section of the AZT. I had recently completed Section 22 last year, and it was nice to be able to connect the two. I was dirty, smelly, and tired from the two day trek, but otherwise felt great as I approached my truck. Arizona is such a diverse and gorgeous place. There is so much to see and experience out there, and there is no better way to see it than walking every inch on the AZT (even if you have to section hike it)!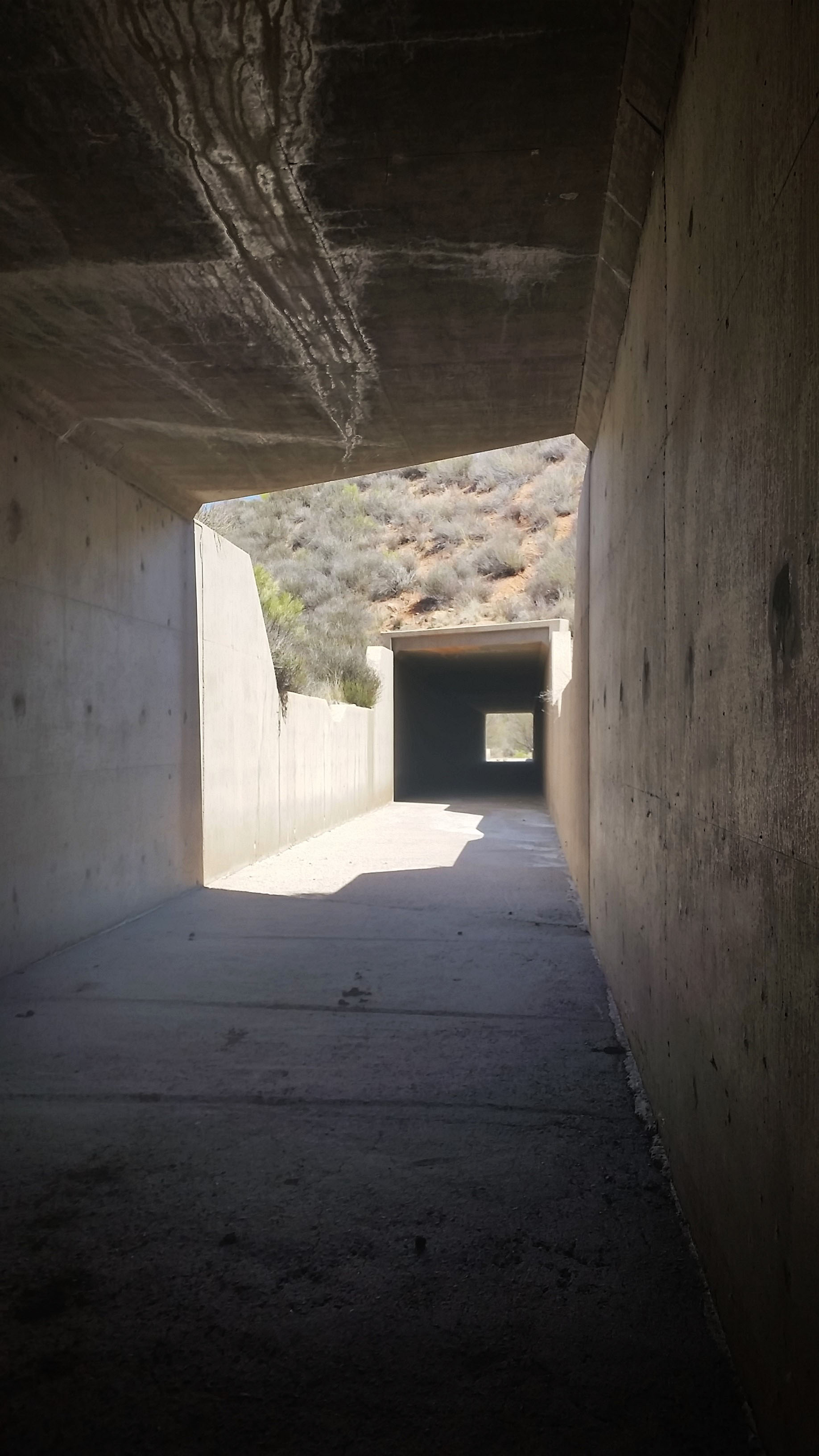 HIKE INFO: http://hikearizona.com/decoder.php?ZTN=2435
HIKE STATS:
Weather: Hi in low 80s, Low in the 50s, Sunny
Water: 3 Liters (including breakfast)
Food: 1 Power Bar, 1 Clif Builder Bar, 1 Granola Bar, 1 Protien bars, 1 Clif Bars, 1 Kind Bars, 1/2 bag of pringles, 1/2 bag of trail mix, 1 bag of Quinoa, 1 Oatmeal, 1/2 Avocado, 1 Pear, 1/2 bag of gummy worms, 2 bgas of Welches gummys, 1/2 bag of jerky, 1 Mountain House.
Time: 8 hours
Distance: 19.8 miles
Accumulated Gain: ~700 feet (loss of 2,200 feet)
GEAR:
58 liter exos osprey backpack
Big Anges Copper Spur UL2 tent
Flash REI sleeping pad
Cosmic Down Kelty Sleeping Bag (rated to 20 deg F)
Jet Boil – Sol
Black Diamond trekking poles
Sawyer Squeeze Filter
SPOT Gen3 Tracker
CLOTHING:
Smart wool 195 long sleeve shirt
Arc'teryx hoody
Patagonia Pants
Merrell Mid Moab Hiking Boots
Darn Tough wool medium weight socks
Threadless hoody