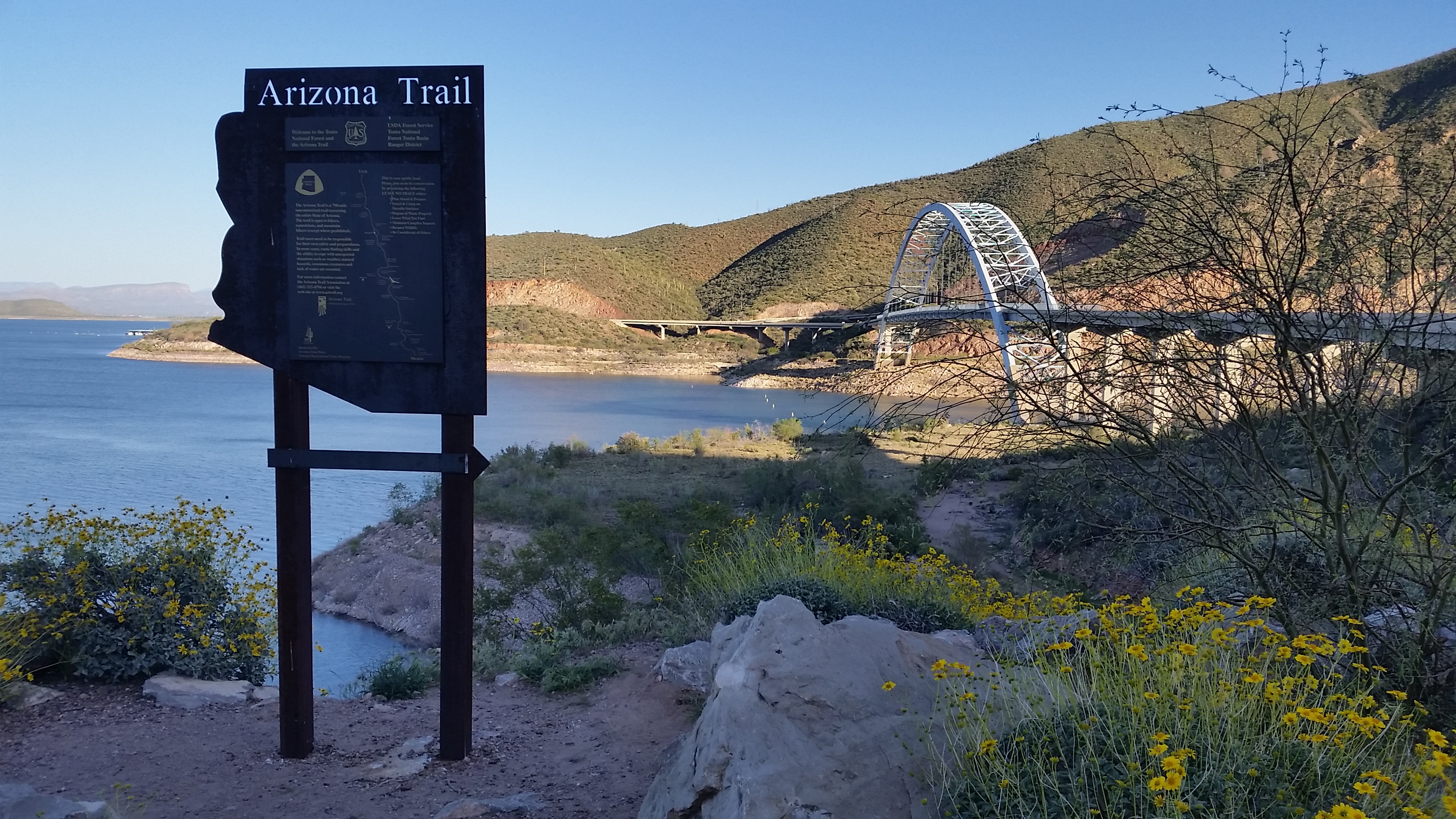 Once again I found myself on a Friday post-work drive to a trailhead. This time my buddy Stevo was gracious enough to help me set up the shuttle trek which put me in position to take down two sections of the AZT in one weekend! The plan was to drive to Sunflower first and dump my truck.  I would then hop in his car and we would circumvent the Four Peaks Wilderness back to "the Bridge" on the west side of Roosevelt Lake, where it feeds the Apache, Canyon, and Saguaro Lakes via the Salt River.

All was going to plan as we pulled up to the trailhead just an hour before sunset.  We said our farewells and I stood there, backpack heavy and trekking poles in hand, knowing I had no other choice but to trek 40 miles on the AZT back to my truck.  It's a funny feeling sometimes when you go backpacking, knowing you have to survive with only what is on your back.  Funny, but also liberating!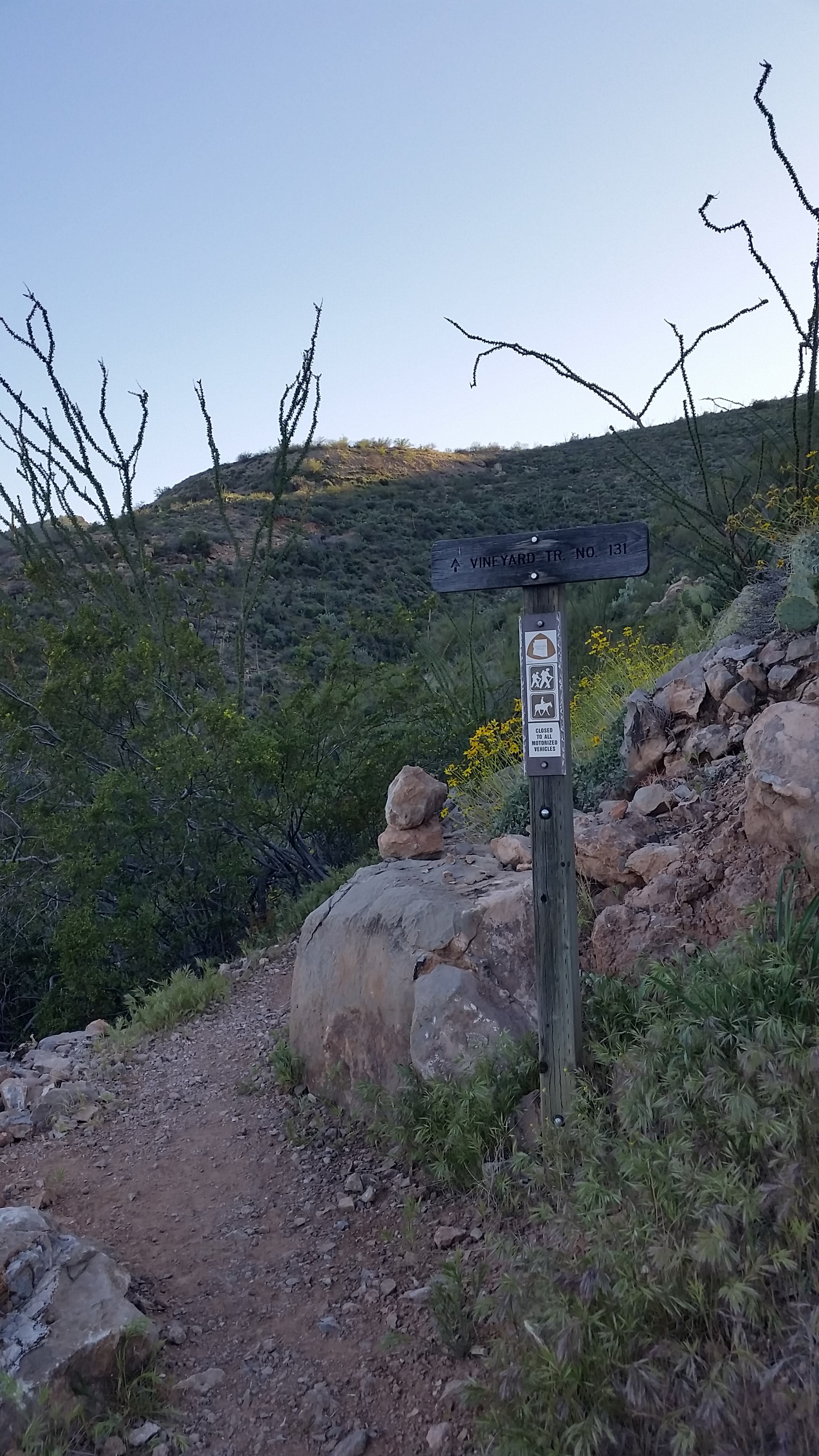 I took my first steps on the AZT at Vineyard Trail #131, anxious to get started. The trail took no time at all getting some quick gain up over the lake for some gorgeous sunset views.  I pushed in just over a mile before I found a relatively flat spot just west of Vineyard Mountain (not much to choose from out here) to camp and plopped for the night. On the way I figured I would touch off on Inspiration Point to get a nice 360 degree view of the lake and mountains to come, totally worth the side trip! With the tent set up and camp made for the night, I watched the sun set over the lake. What a view!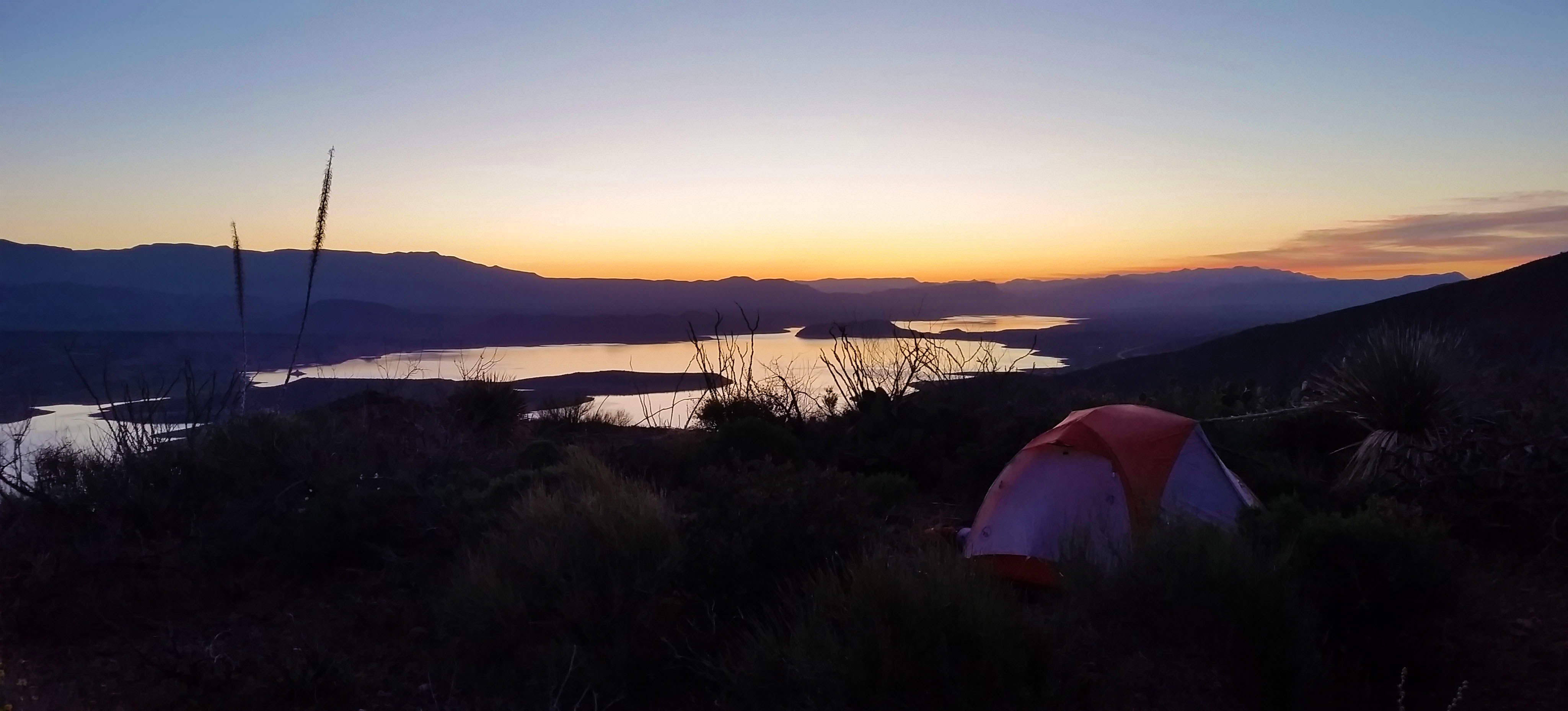 The alarm blasted in my ear, as usual, waking me from my peaceful slumber signaling the time to get moving! Packing up camp in a zombie-like state (its pretty much a brainless task from continued repetition at this point), before I knew it I was already throwing my pack on my back, ready to start the first of two 20 mile days. I pushed out and up a hill as the sun rose, and once again in regular fashion, it took no time to hit some good gain!
The trail was lined with freshly blooming yellow flowers, and for a moment I started singing in my head "follow the yellow brick r…." Nope! I'm not going to have that song stuck in my head the rest of the day! I kept tracking on the Vineyard Trail not really knowing what to expect. At first, the trail paralleled the Salt River, high above in the morning before taking a northerly sweep, until finally finding its way through the saguaros jetting up from the grass-fed landscape surrounding the trail. The trail was awesome and I had it all to myself!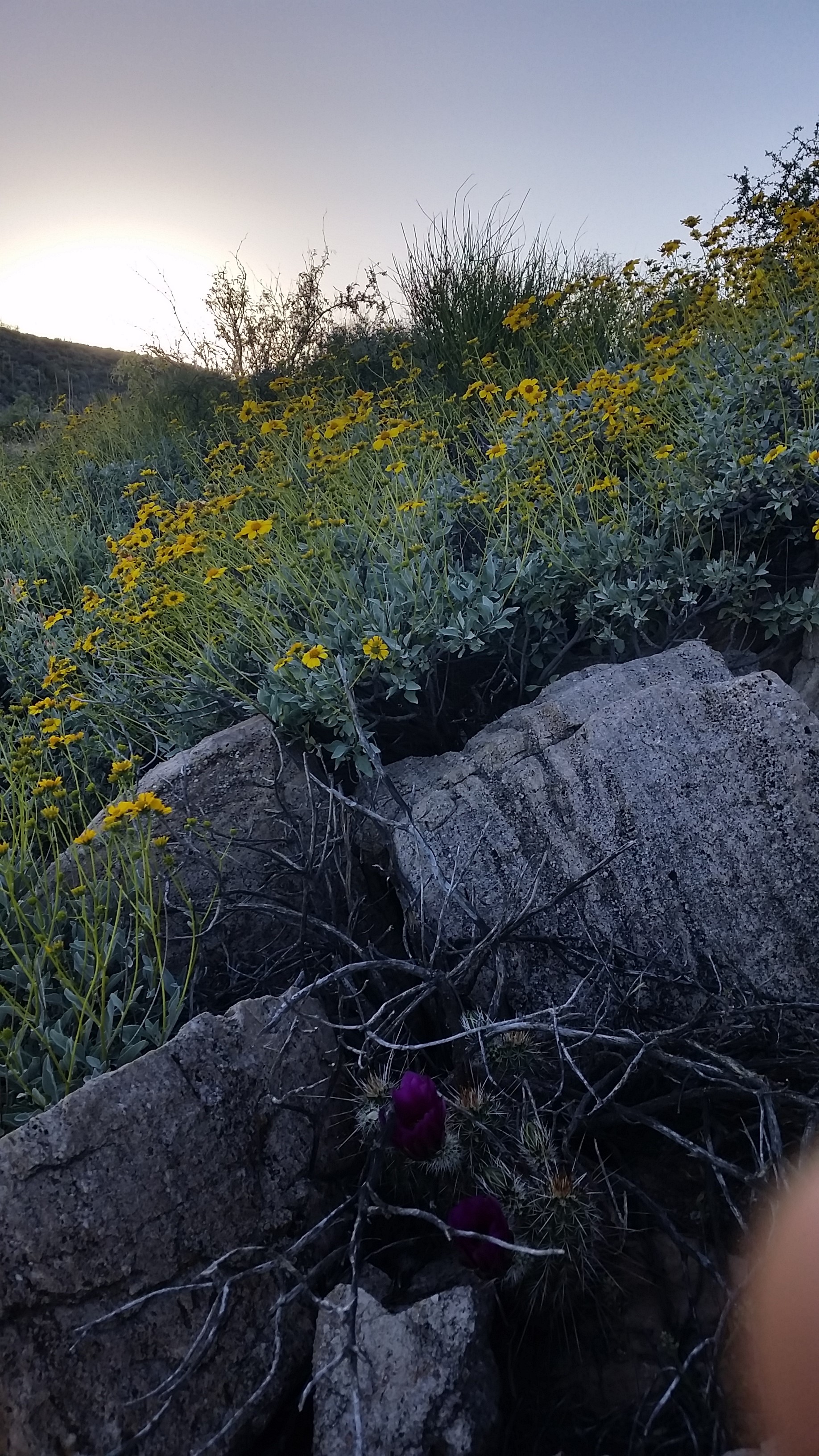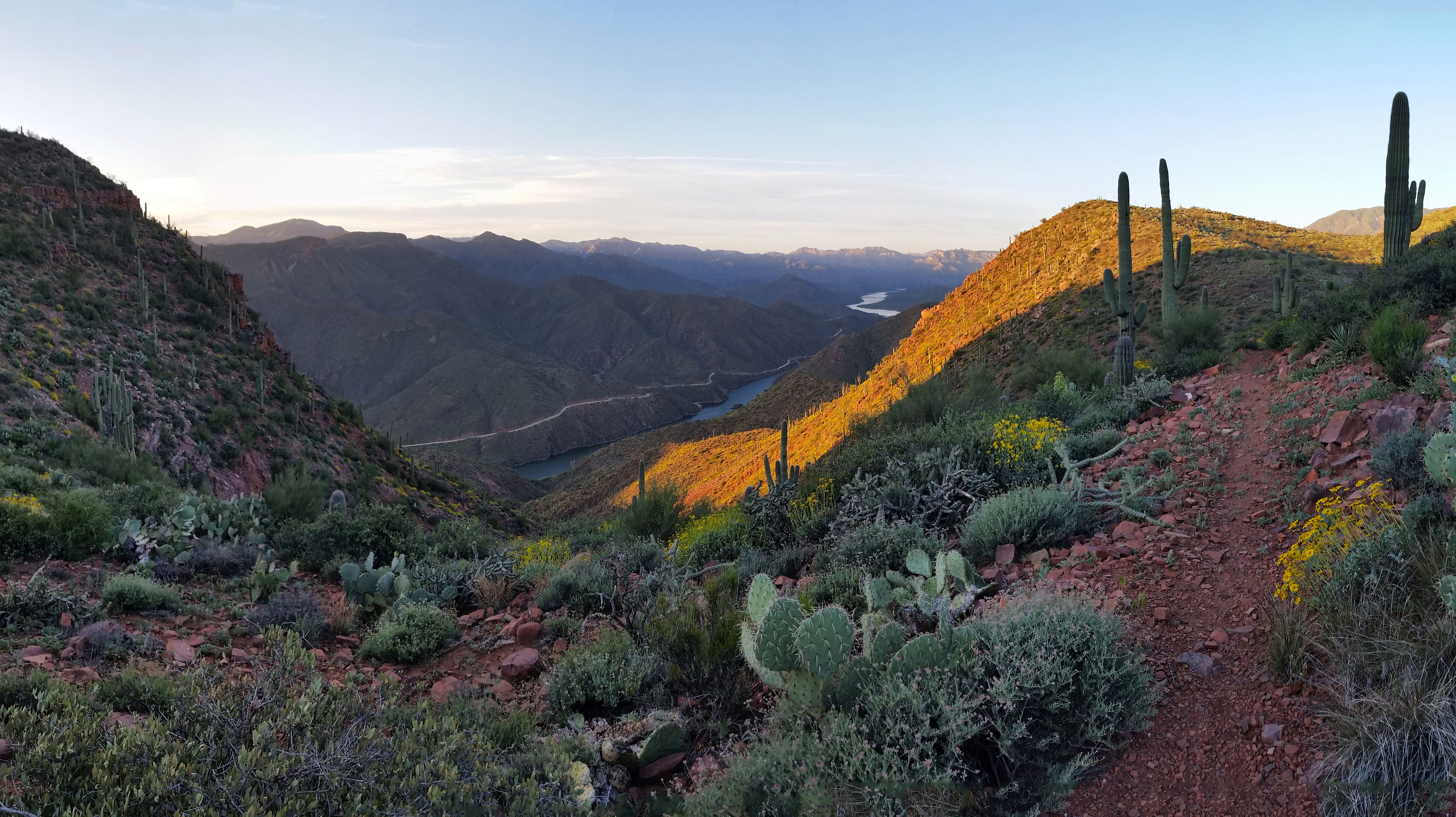 I kept trekking through the morning deeper into the desert, crossing open fields, and just taking in the views. I came across a dirt road, which the AZT followed just briefly before springing back on its own single track. I hiked on, up and though the fields, stumbling upon wild plants, wildflowers, and the occasional wild life. Once again I came upon a road, but this time it was a dead end and a large AZT sign stood next to the trailhead. I had made it to Mills Ridge trailhead! By that time the sun had risen pretty high and the temps had started creeping up, which of course was just in time for the trail to take off in the vertical! Up through high desert grass and Manzanita I pushed, my head down, fighting through the gain and the weight of the pack on my back. It couldn't last forever, I knew, and finally the trail leveled off. I dropped down into a small canyon, finding a small flowing Buckhorn creek trickling by, and stopped for a much needed rest.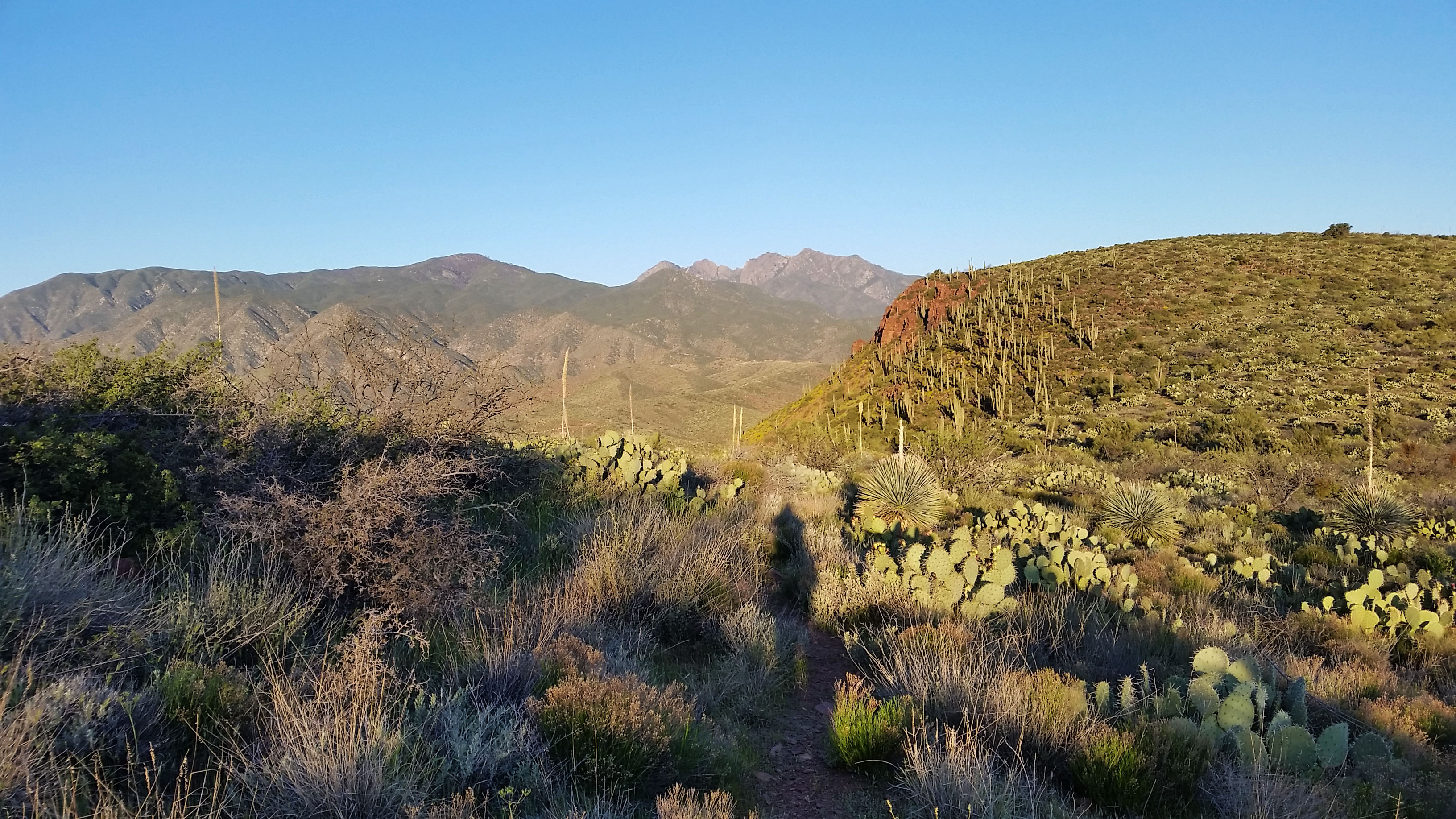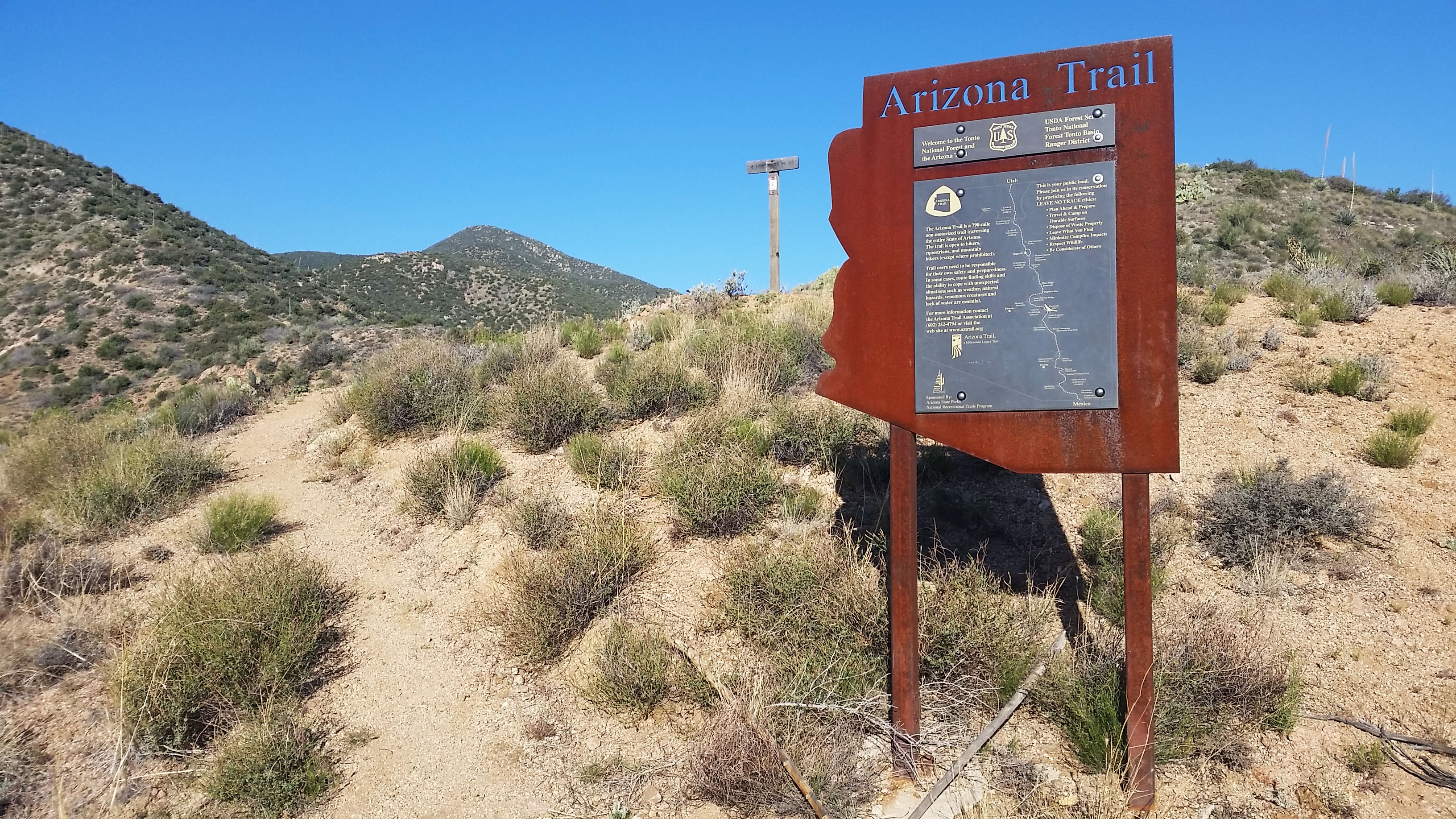 Listening to the cool creek trickle by made me forget about the sun beating down on my head as I opened a bag of Quinoa and began munching down. Snack time is always welcome on the trail, everything always seems to taste that much better when you are on a long haul. I knew I couldn't sit there all day though, so I stood, threw my food back in my pack, and pushed up the next ridge.  I caught glimpses of Roosevelt Lake as a hit a few switchbacks, it seemed so far away now.  I popped up over another ridge and saw my first real sights of Four Peaks. They were poking out from the hills ahead as though it were playing peek-a-boo. All I thought was "I'm coming for you fellas!".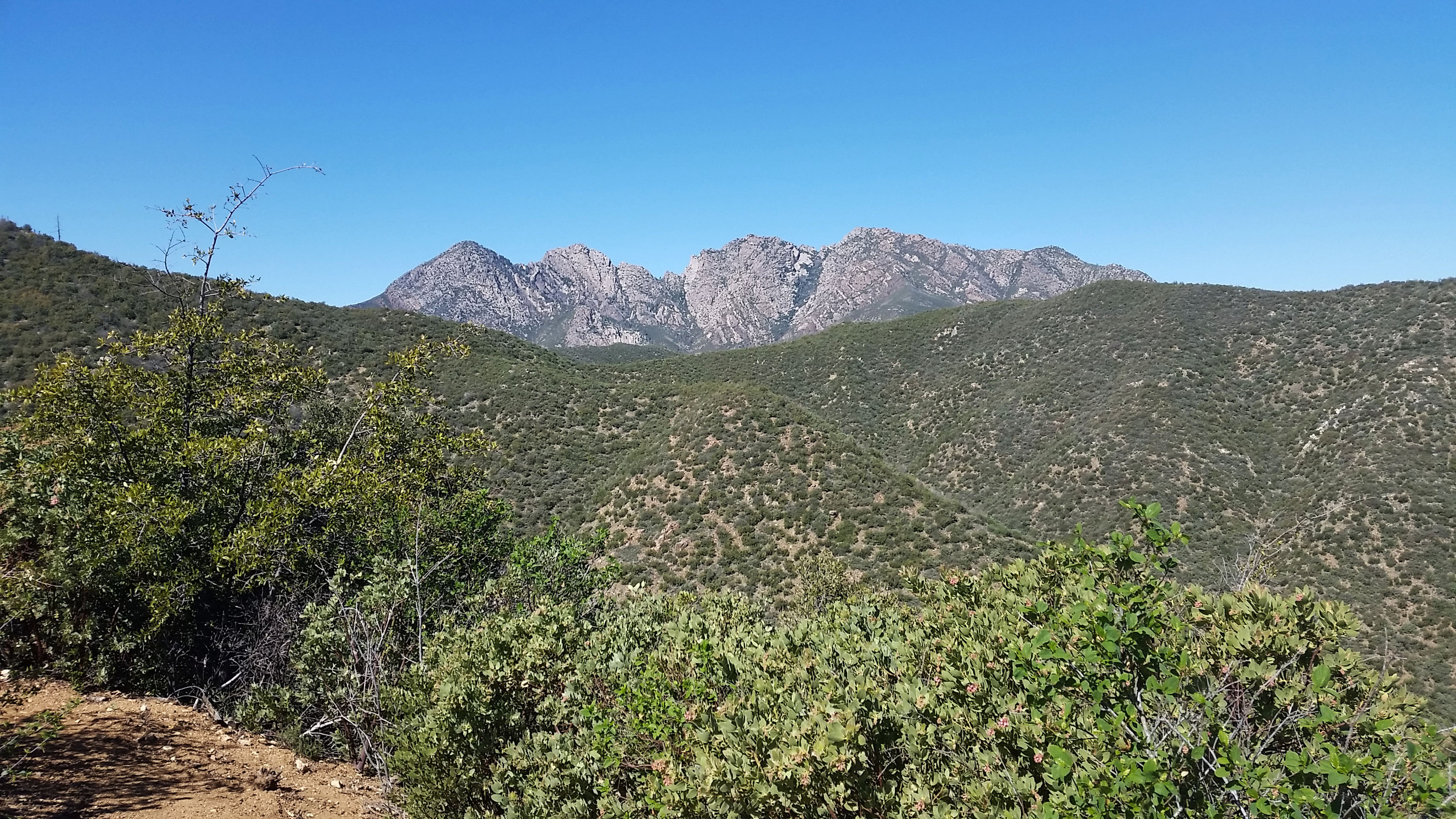 I was up in the best of the Manzanita at this point, skirting the mountains, not another soul in sight.  I turned a corner and saw pines and it put a big grin on my face! I was getting closer to my goal and I decided to take another quick break. Looking up, I watched a few screeching eagles circling back and forth overhead.  I figured there must have been a nest nearby, and I continued to rest in the shade of the pines.  Being outside all day by yourself brings you to a good calm place, and sometimes you need to disconnect with civilization and reconnect with nature.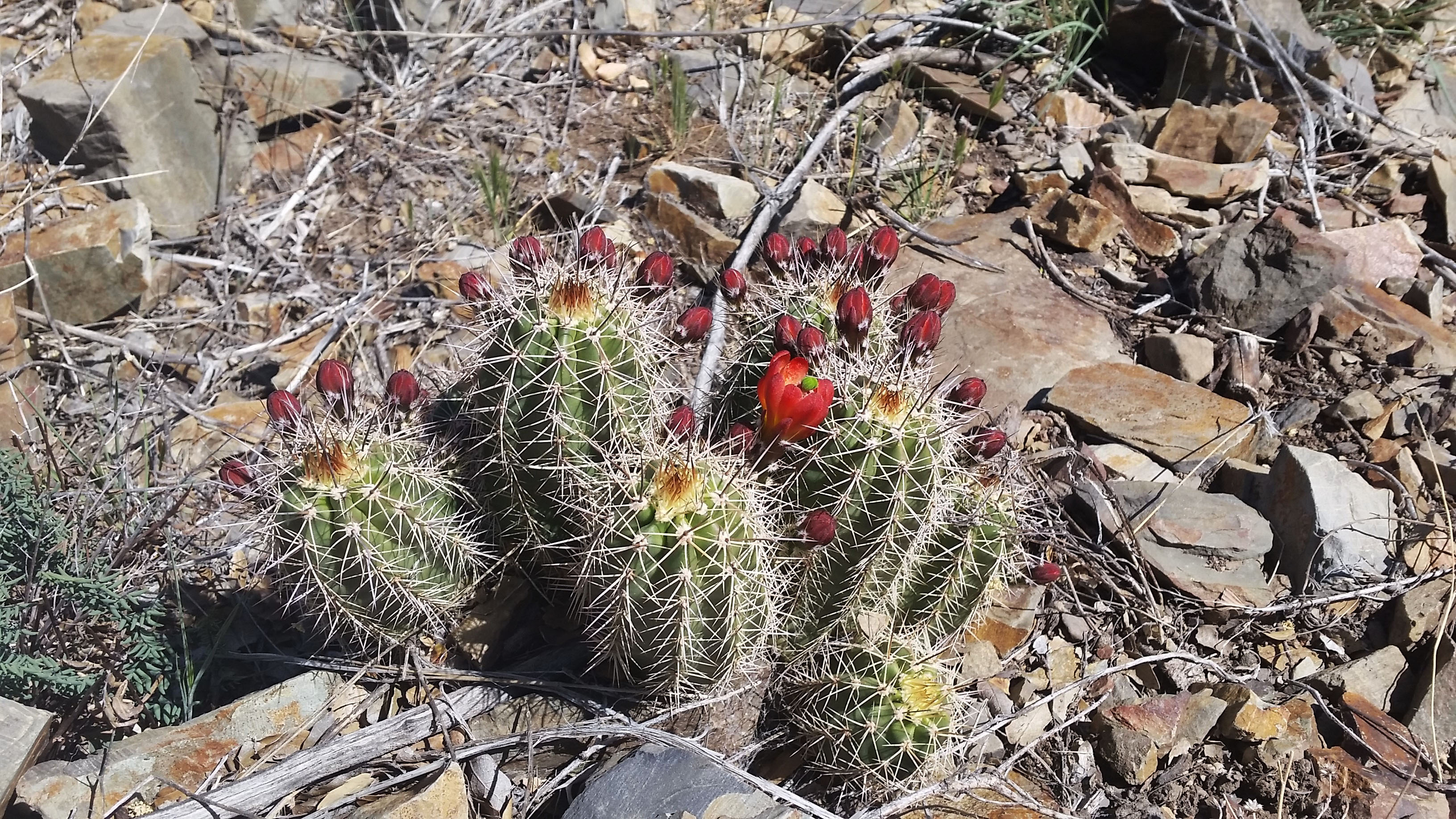 It was go time once again.  I passed Black Bear Saddle, grey rock jetting up from the surrounding Manzanita, and started skirting the back side of the peaks. The trail was tight and hardly traveled, and the drop-off became more severe as I got closer to the peaks. After rounding a corner, I hit trees again and an open grass meadow. I knew I was getting closer to the end of the day's journey. Trekking along, tired from the day, I crossed a few rolling creeks. Shake Spring was rolling well and Bear Spring had a nice trickle. As I reached Pigeon Springs though, I wished that I had filtered at one of the previous two as Pigeon wasn't flowing.  It was barely a dribble, two murky concrete troughs that had bugs, leaves, and god knows what else swimming around.  I had trekked too far to go back, though, so I selected the lesser of the two evils and filtered. That "tasty" flavor came through a little bit, but flowing water in Arizona is hard to come by and I was grateful to get what I could!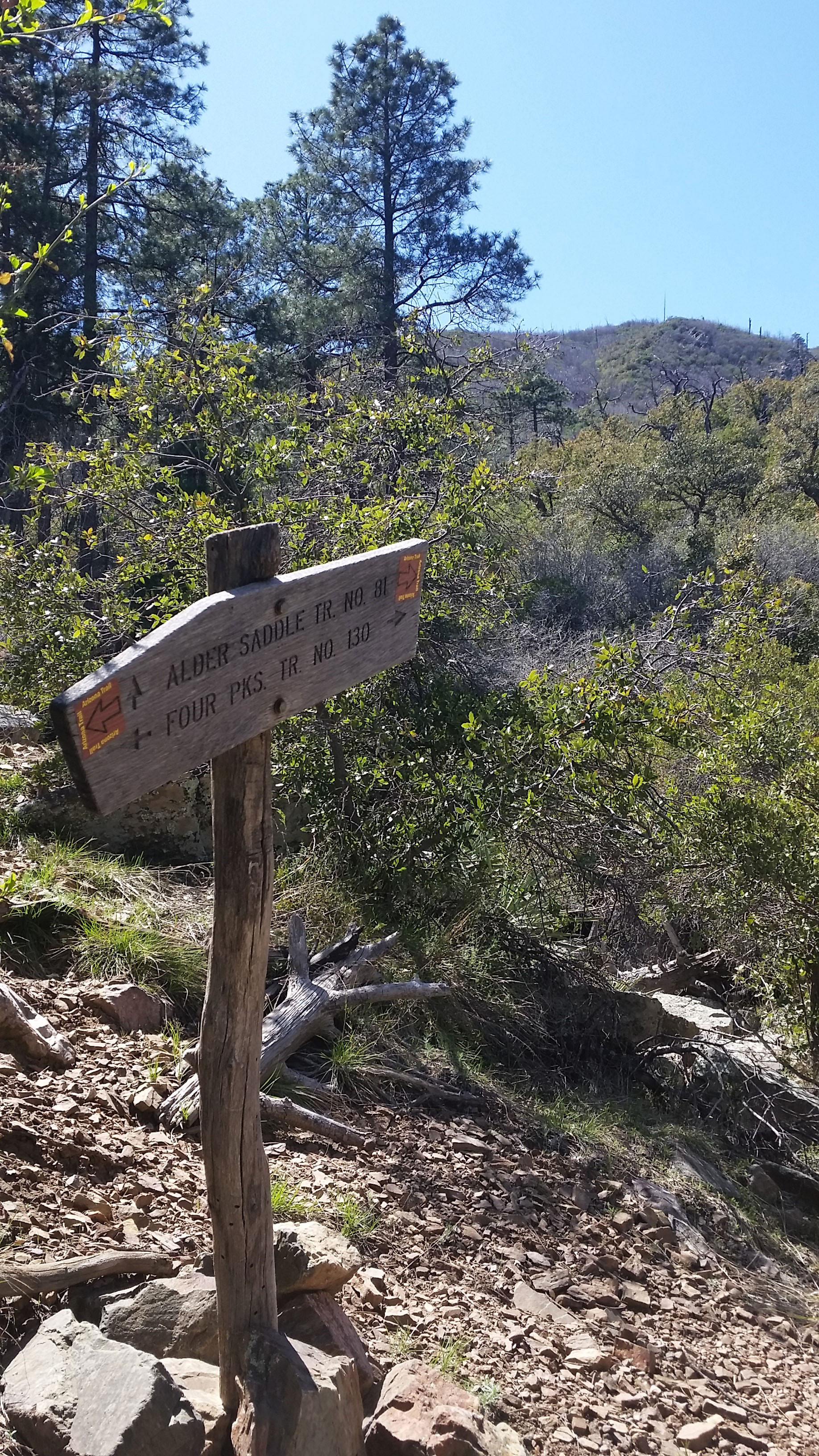 I set up camp just a half mile up from the spring. I didn't want to be right next to a water source just in case some wildlife came in late for a sip. Exhausted, I fixed up a mountain house and had a small fire in a nearby pit. I didn't see a soul all day, and I couldn't have been happier. I bedded down after my meal and crashed like a tranquilized wildebeest. It was a long day, but the trip was only half over. I love Arizona, and the Arizona Trail is a great way to really experience what it has to offer.
HIKE INFO: http://hikearizona.com/decoder.php?ZTN=2434
HIKE STATS:
Weather: Hi in low 80s, Low in the 50s, Sunny
Water: 5 Liters (including meals)
Food: 1 Power Bar, 1 Clif Builder Bar, 1 Granola Bar, 1 Protien bars, 1 Clif Bars, 1 Kind Bars, 1/2 bag of pringles, 1/2 bag of trail mix, 1 bag of Quinoa, 1 Oatmeal, 1/2 Avocado, 1 Pear, 1/2 bag of gummy worms, 2 bgas of Welches gummys, 1/2 bag of jerky, 1 Mountain House.
Time: 10 hours
Distance: 19.5 miles
Accumulated Gain: 7,000 feet
GEAR:
58 liter exos osprey backpack
Big Anges Copper Spur UL2 tent
Flash REI sleeping pad
Cosmic Down Kelty Sleeping Bag (rated to 20 deg F)
Jet Boil – Sol
Black Diamond trekking poles
Sawyer Squeeze Filter
SPOT Gen3 Tracker
CLOTHING:
Smart wool 195 long sleeve shirt
Arc'teryx hoody
Patagonia Pants
Merrell Mid Moab Hiking Boots
Darn Tough wool medium weight socks
Threadless hoody