6.14.18
We all slept in an extra hour after all the good food and visiting we had the night before. Now we were reunited with Cowboy, Ladybug, Sissyphus, Happy, and myself were ready to hit the trail. The big boat wasnt ready so it gave us an excuse to have a lazy morning and send more money having breakfast at VVR.

After hanging out and chatting with other hikers un the waiting area, drinking coffee, eating honeybuns, and going on about the trail, Paint finally road up on a 4Wheeler and in a loud voice announcede that we would be ready to leave in 5 minutes! A cheer came from all of the hikers and we were soon on the water buzzing across the calm lake back to the trailhead were we would "get back to work" (as Paint put it) and start hiking again.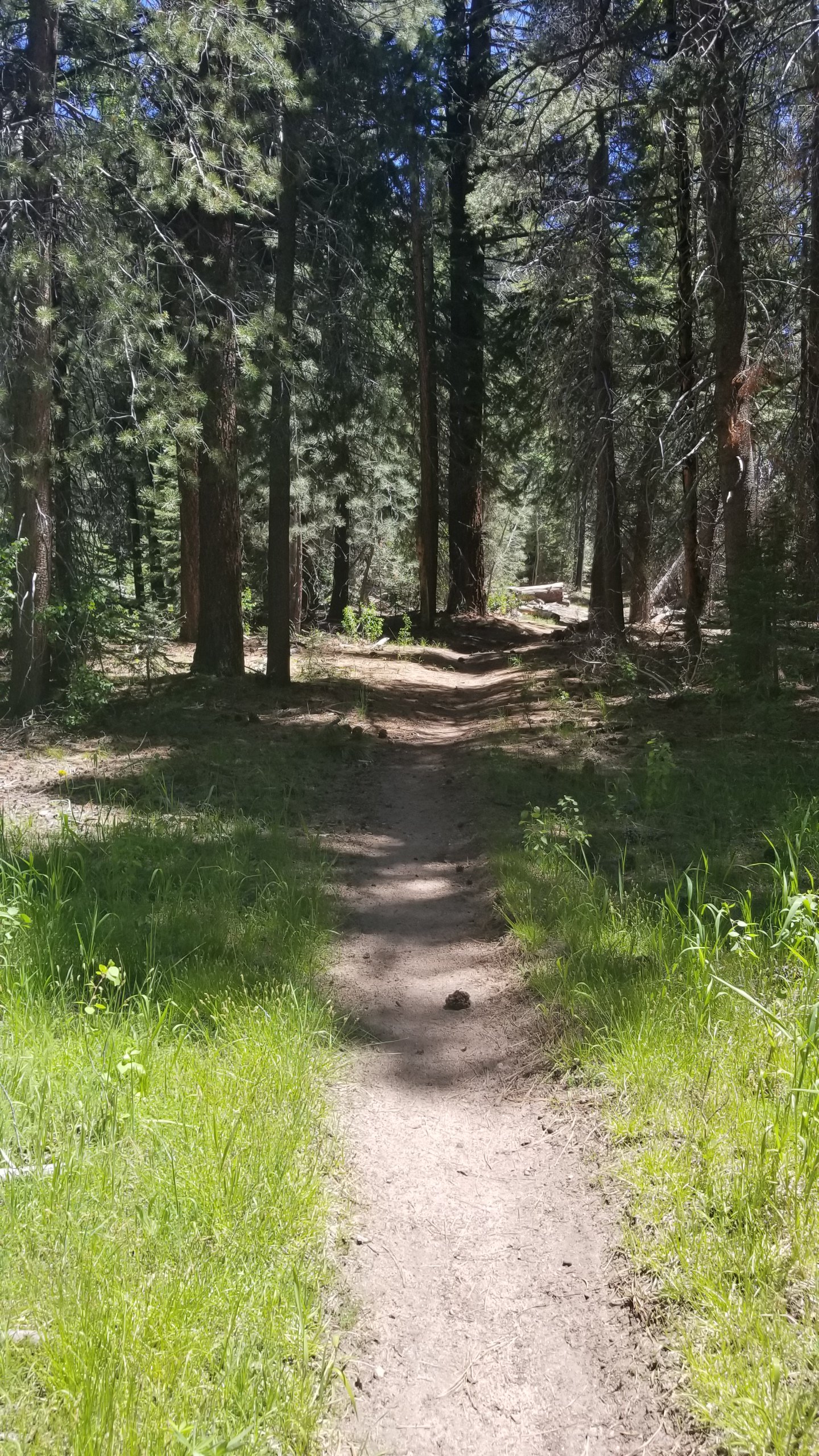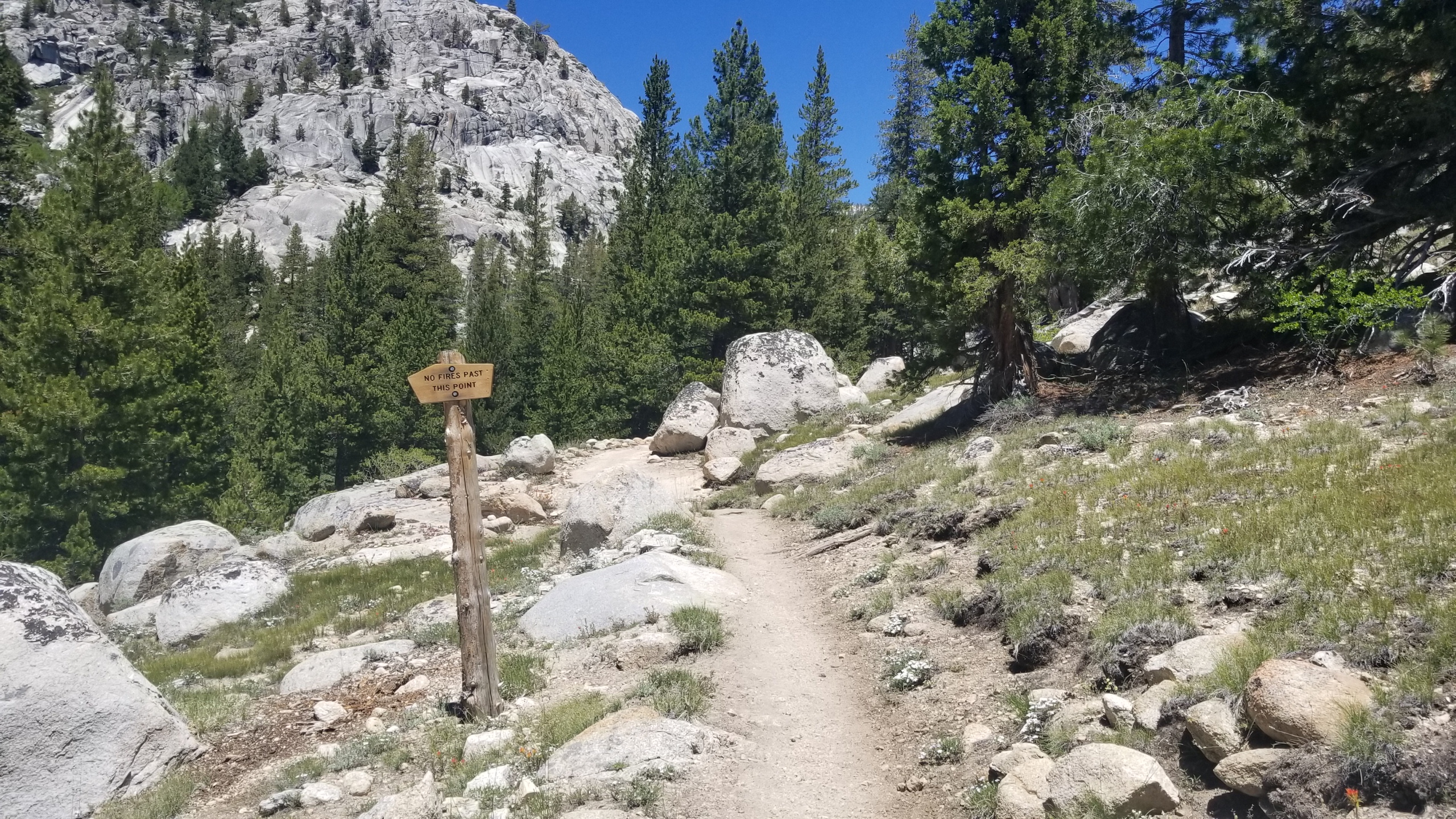 It felt good to get my feet back on the dirt, and we were moving! We had 3000 feet inside of 6 miles before reaching Silver Pass and we really had our work cut out. We hiked on and up trying to keep our feet as dry as possible. At one creek crossing, Sissyphus did some fancy rock hopping, and I followed. My pack was much heavier with a full resupply and I barely made the jumps that Sissyphus's long legs did with ease. Happy came up behind us and after hopping to the first rock was caight off balance tried to reverse his course but had one of the strangest falls I had ever seen. It was like the momentum of his pack sent him in 2 tumbling summersalts, into the water and back to the bankl. He was just fine and crossed the creek by fording as the rocks had won this round.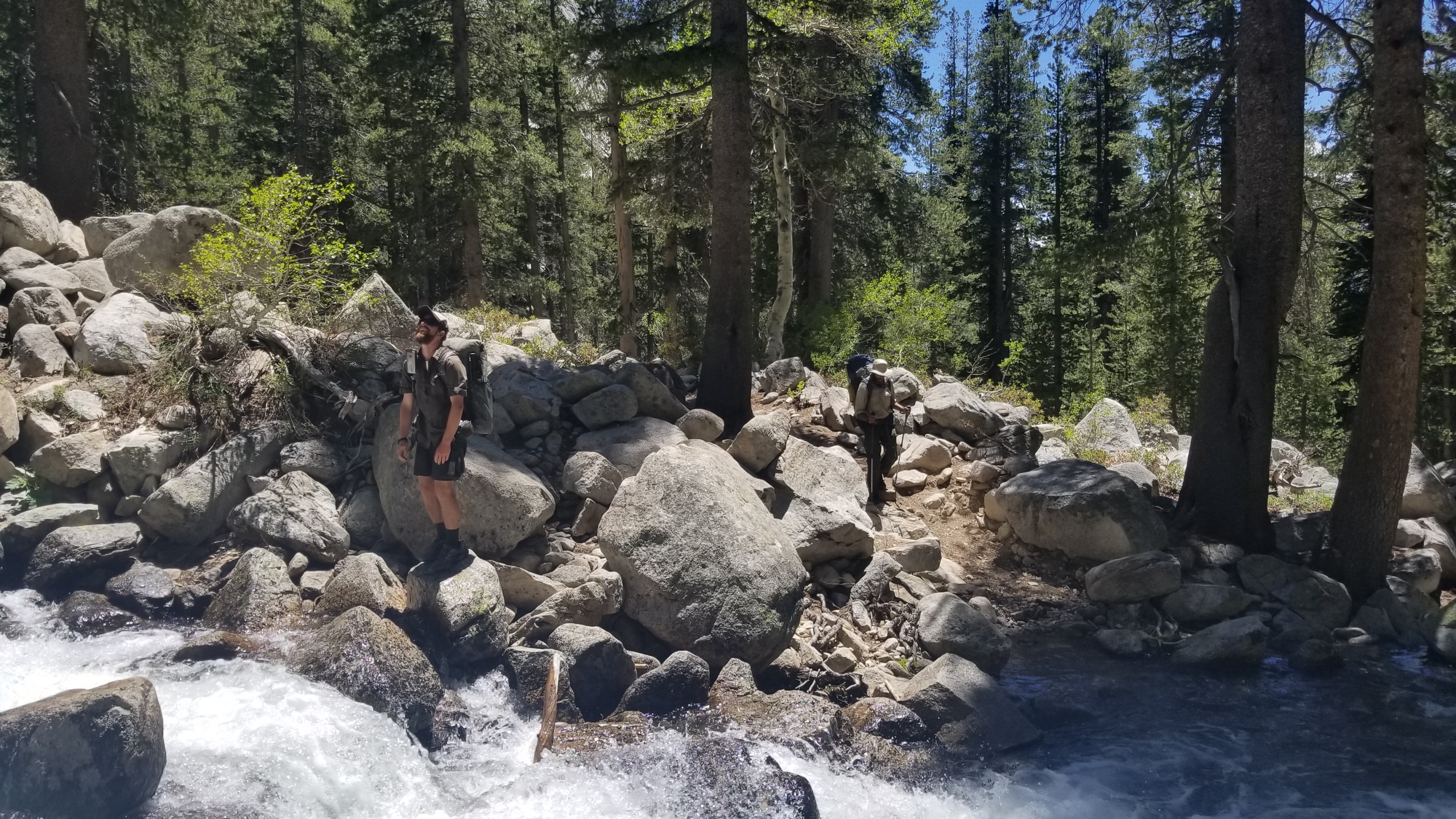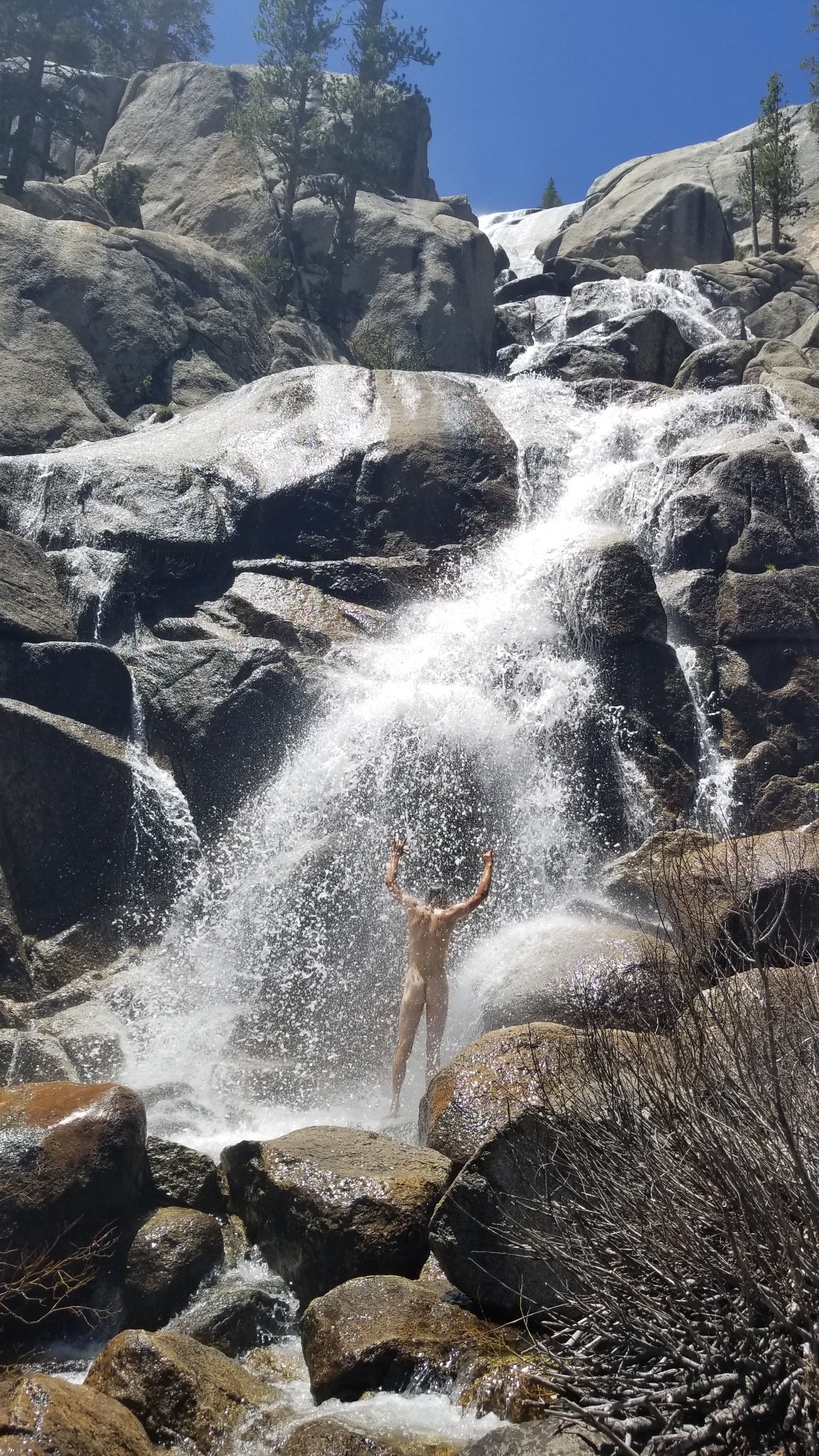 We pressed on, but not before Sissyphus found himself a nice beautful waterfall where we couldnt resist but to strip down and jump into. He was delighted, but cold as hell! Enough messing around we pressed on adn really got to work on the pass. There were onlya few snow patches and after some navigation and obstacle avoidance, we all reached the top. We sat there in the sun and had a nice lunch together att chattering on. Sissyphus equated it to the Shawshank Redemption scene where all the guys were tarring the roof and Andy Dufrain got some beer for all the guys. The sights were incredible and I couldnt agree with his analogy more.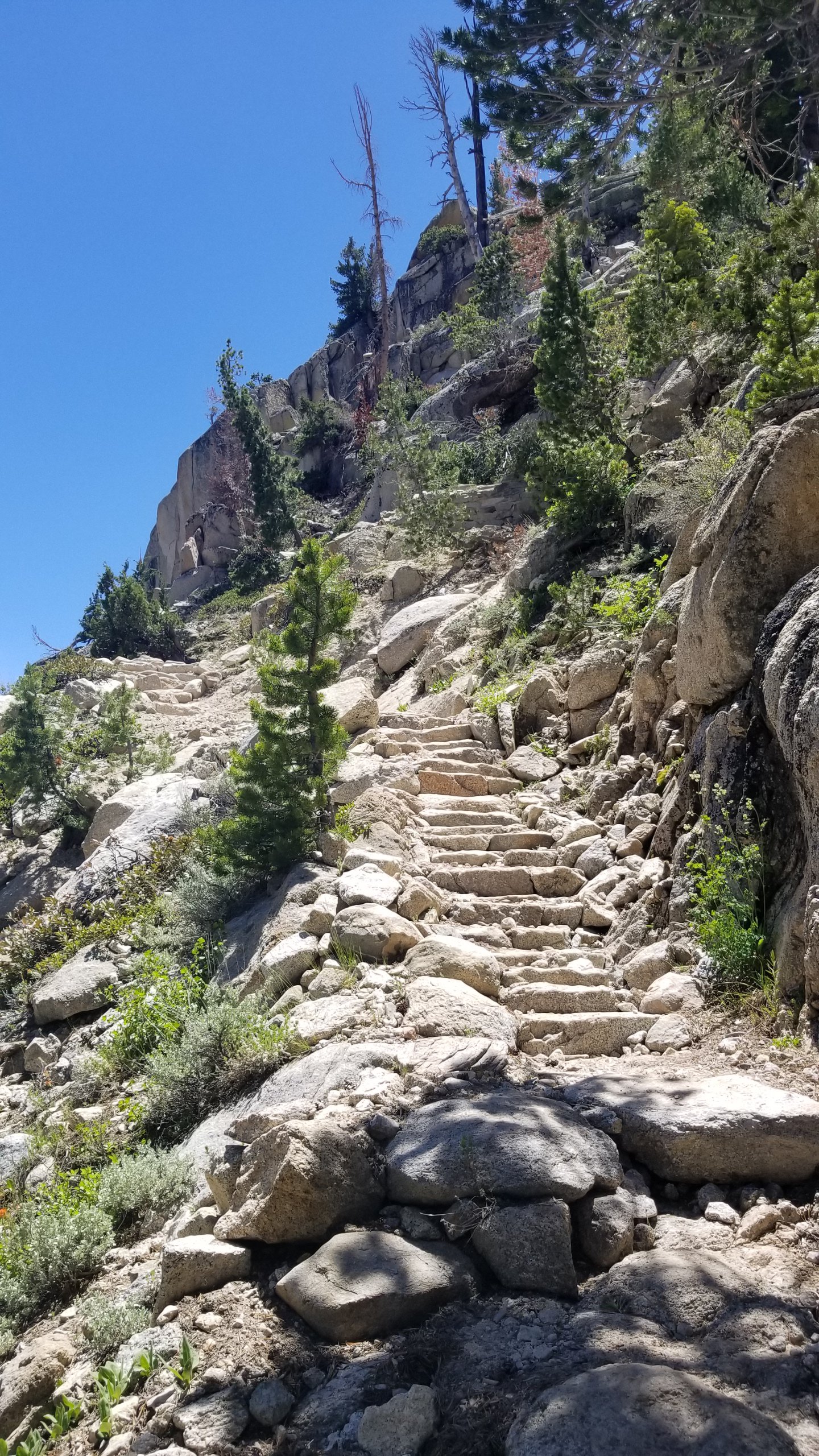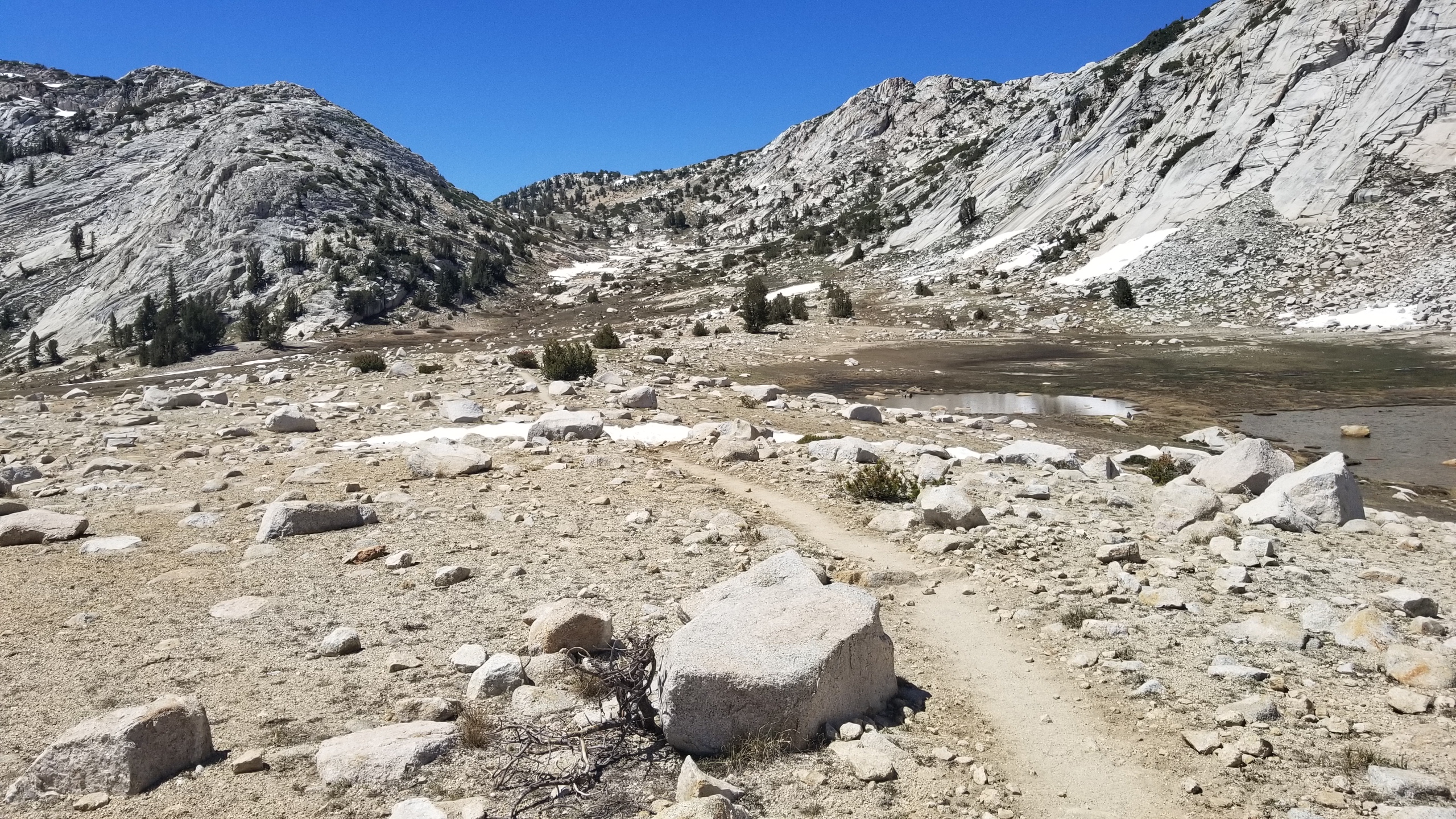 We finally got moving again and glacaded as many snow patches as possible before all grouping back together and snaking through the lake riddled valley. We trekked on through the lush green forest chatting on about running, the Olympics, and new sports coming to the event. Before long we came to the final ascent.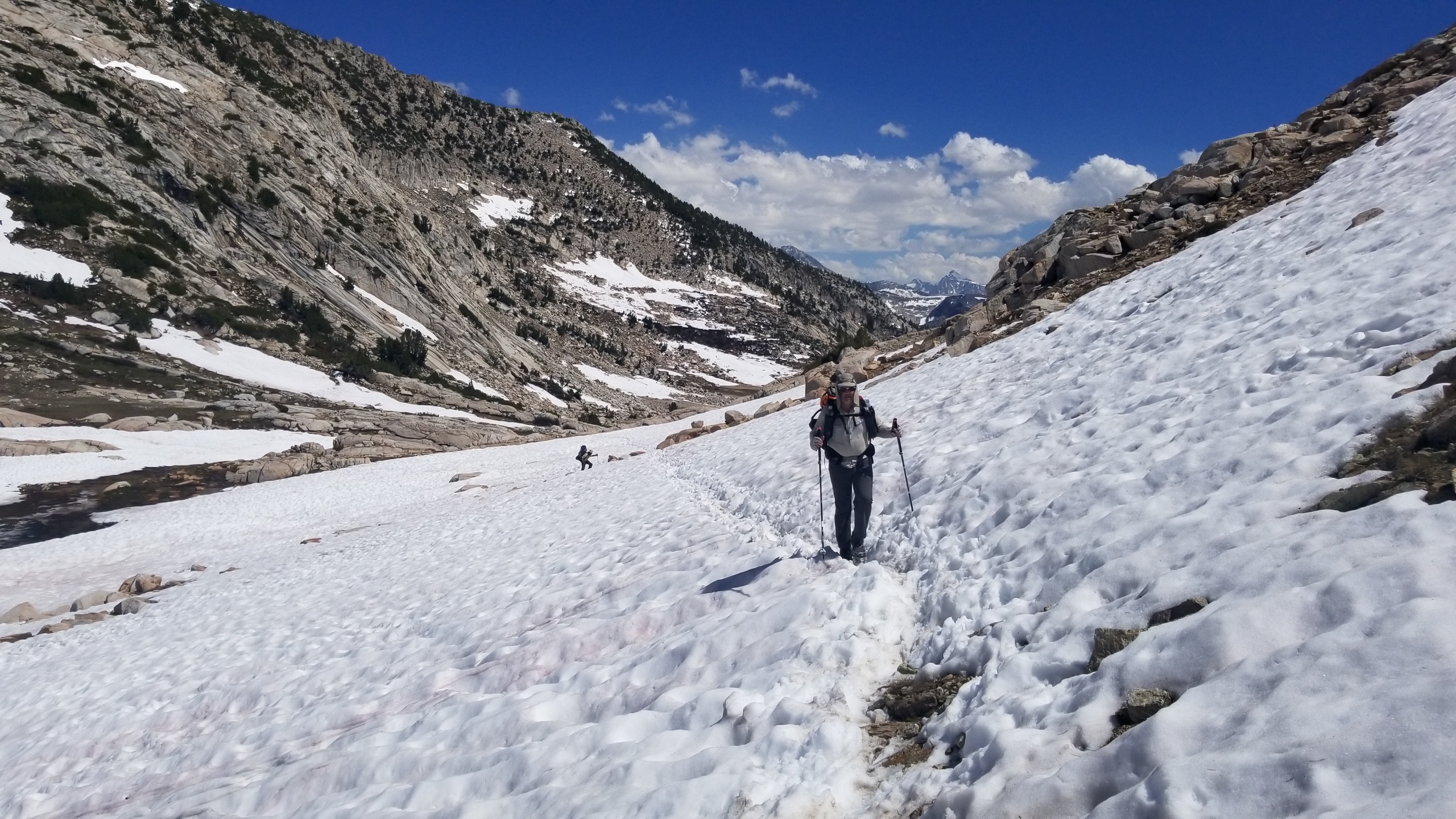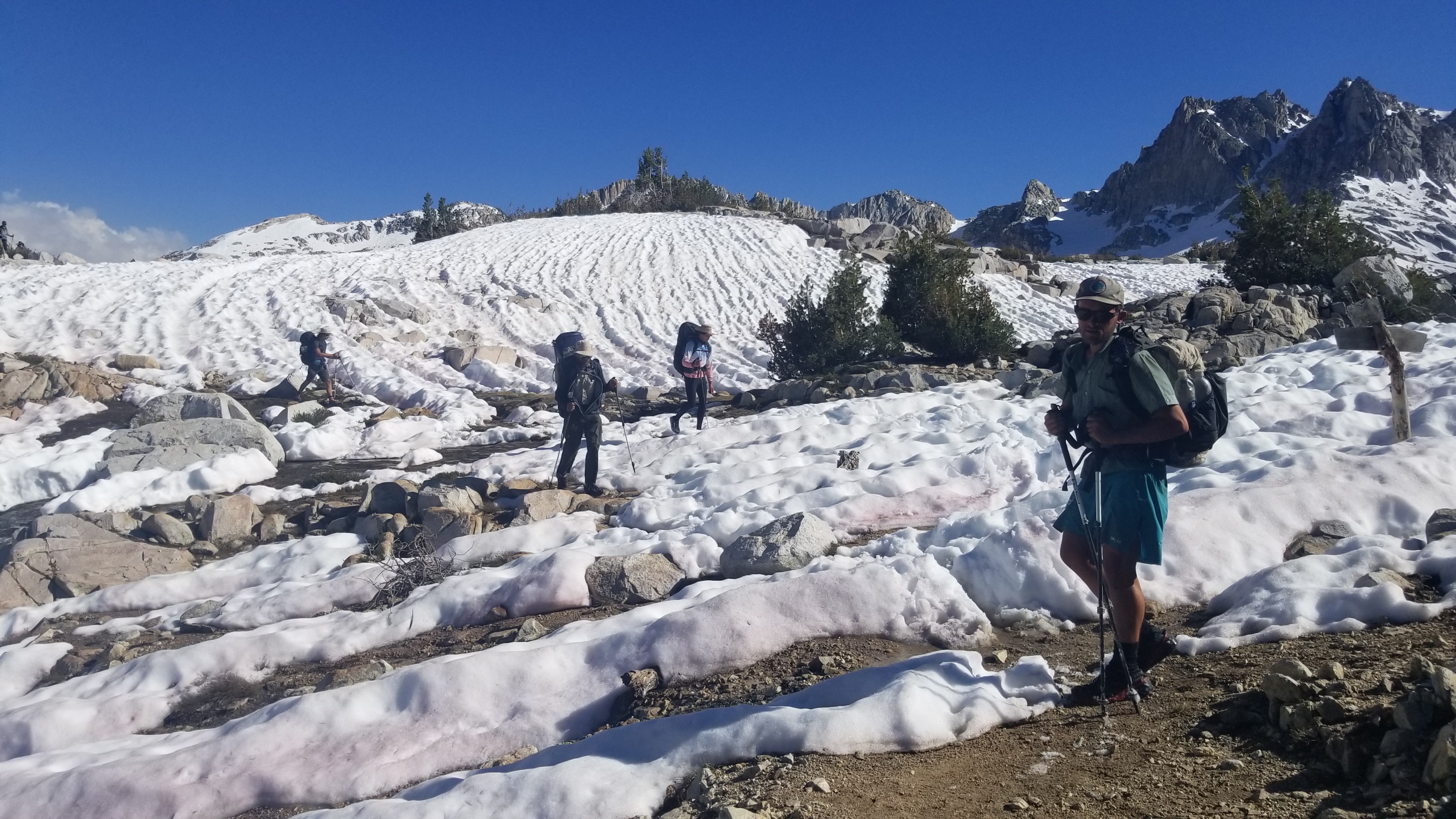 I paused to filter water and Ladybug with Reaper (a newly foudn friend at Silver Pass) pressed on. I gathereed my water, chatted with Sissyphus as he passed telling him the camp plant before packing up. I had 900 feet of gain and just 1.5 miles to camp. I was like a pig in crap, I found my little zone and just hammered up the hill. Switchback after switchback I took on the gain, not falling back or giving up pace. It felt good to push, and after some good heartpumping trail with incredible views all around I reached the top of my climb and the camp for the night.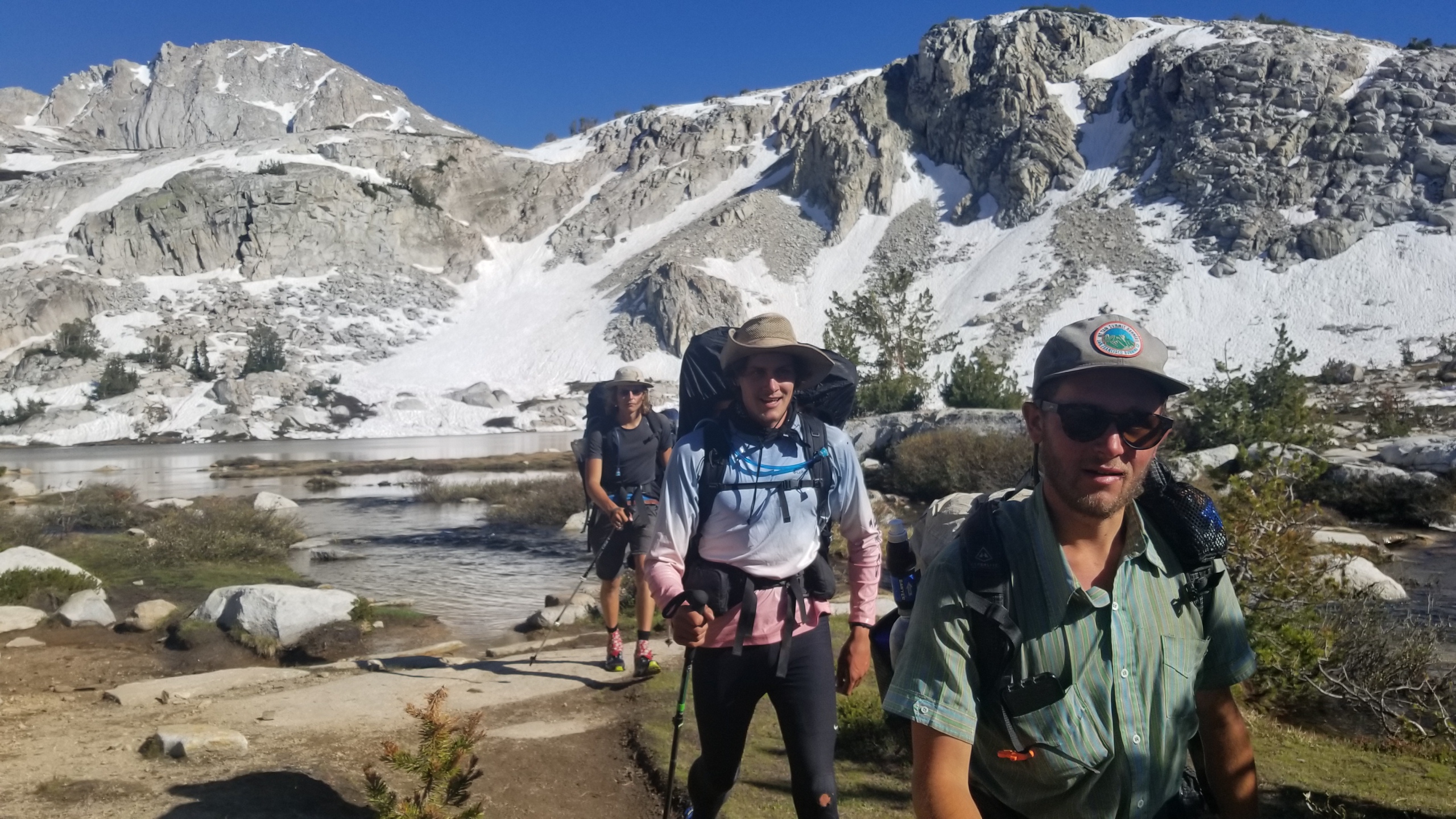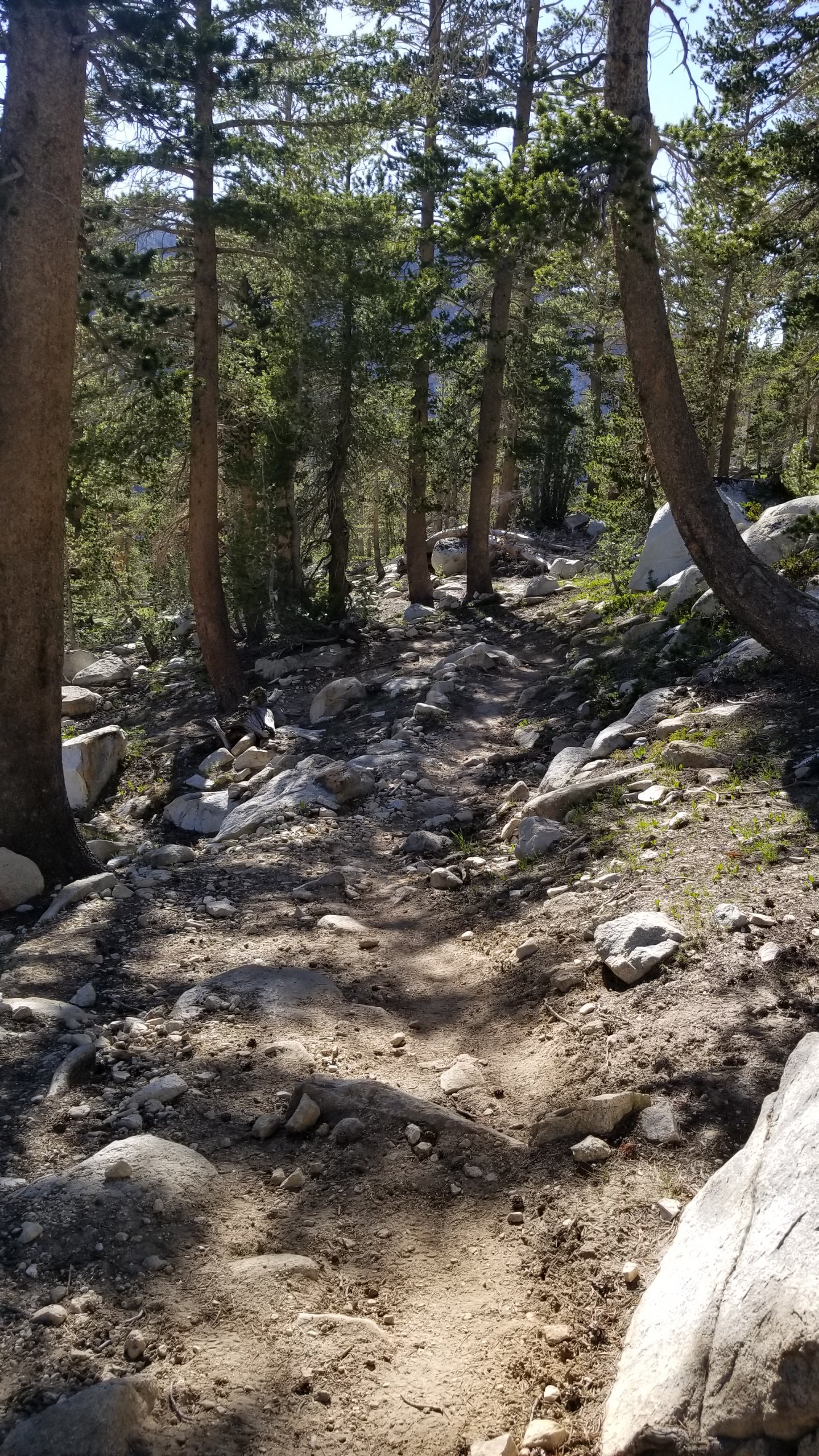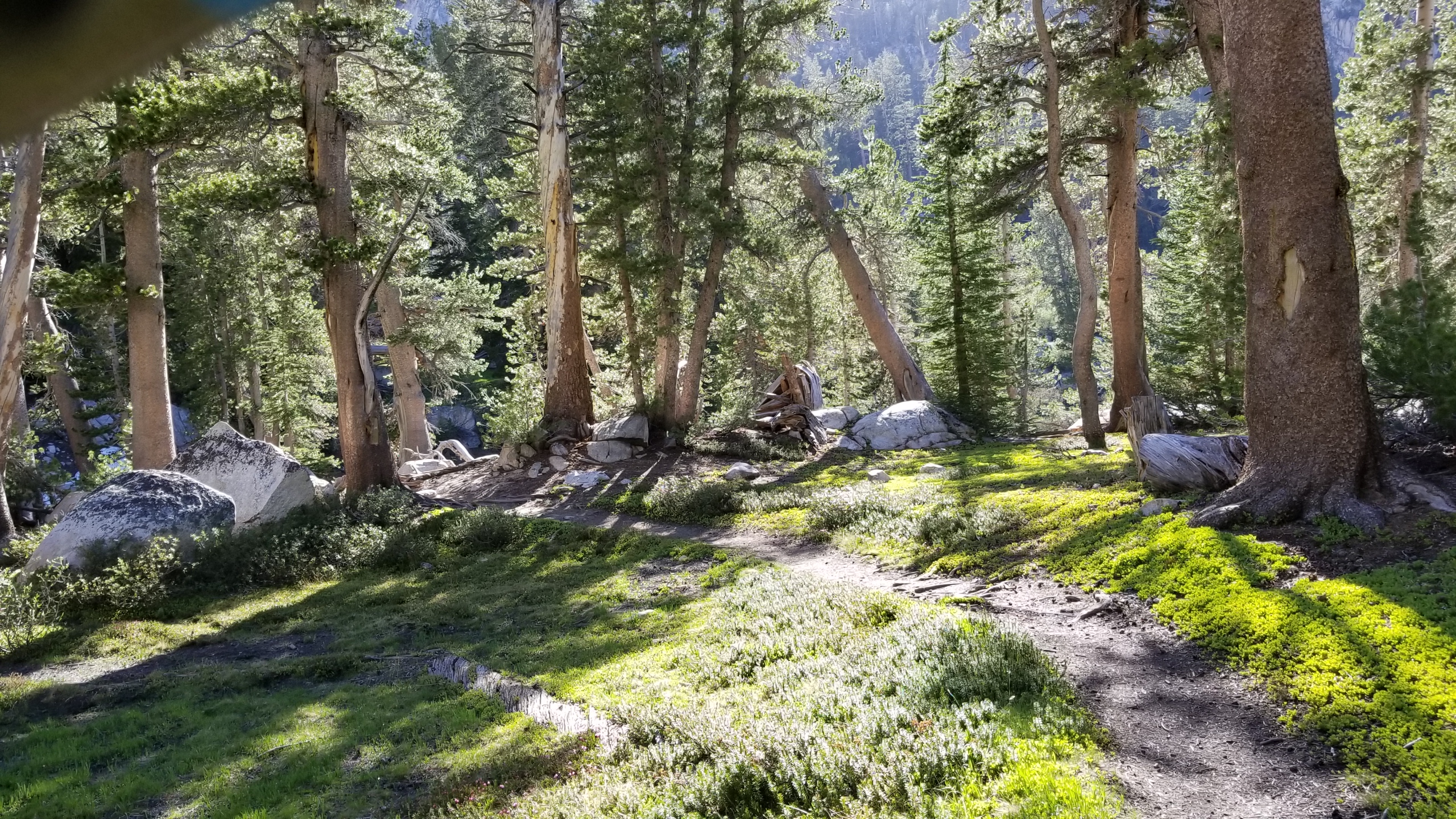 I gathered water and the crew trickled in. Ladybug, Sissyphus, Cowboy, Happy, and now Reaper joined in. It was a solid crew and we all had good fun hiking together. The sun set on the mountains in the distance and after the usual nightly routine we crawled into our tents and found restfull slumber.