6.11.18
We woke next to the Palisde Lake, what a magical place! By far the best campsite I've had on the PCT to date. It was chilly and pulling myself from my war sleeping bag was all the motivation I need to get my butt going on the trail.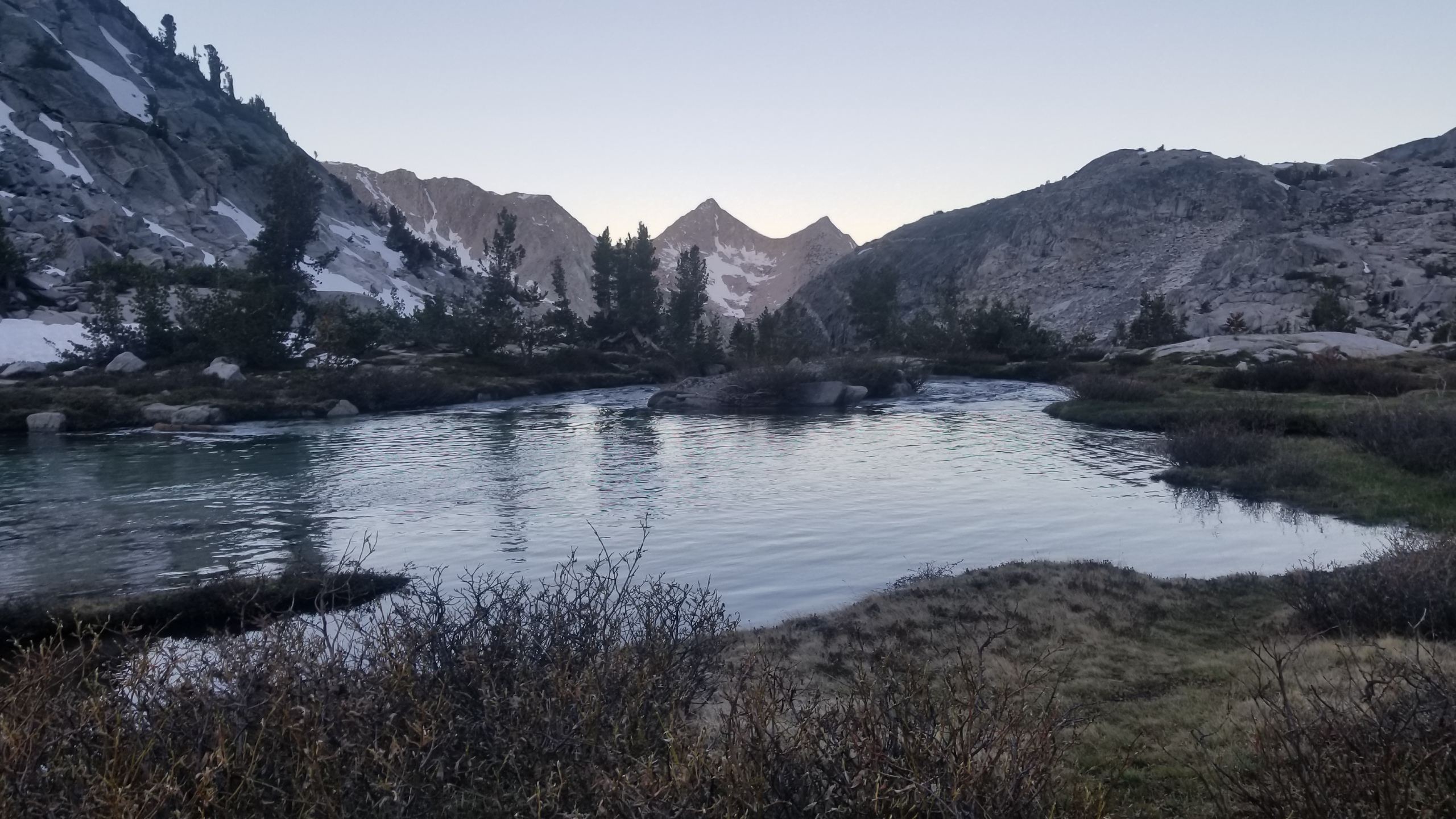 The sun had yet to hit us as I let out. Ladybug and Sissyphus weren't far behind and Happy and Pickle seemed to be taking their time. The trail bombed down from the lake and followed a beautiful cascading waterfall as it did. Down and down it went and it really felt good to get the legs going. I paused for a picture when Ladybug and Sissyphus rounded the corner. We bombed down the canyon as a trio and chatted on about political history.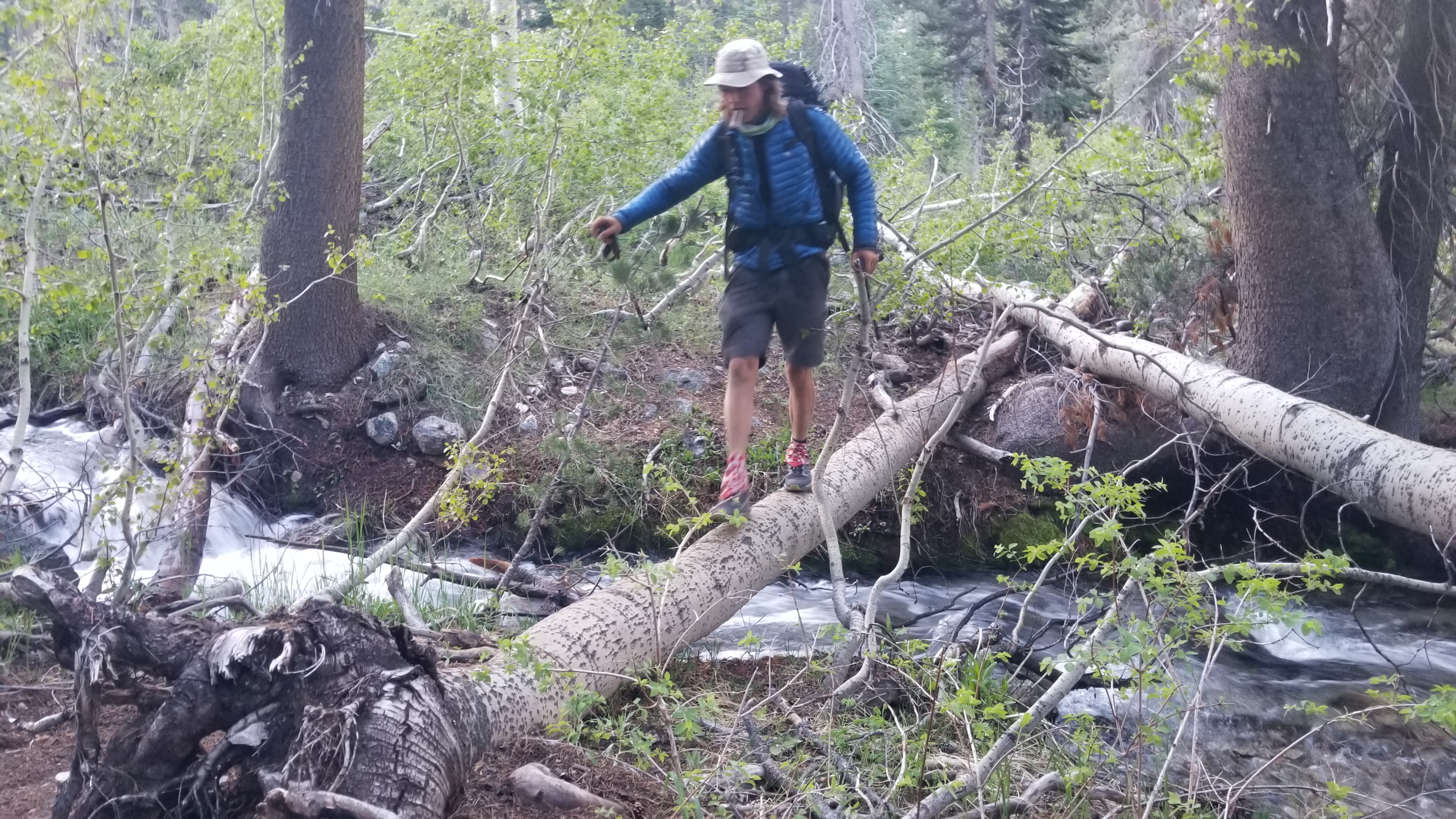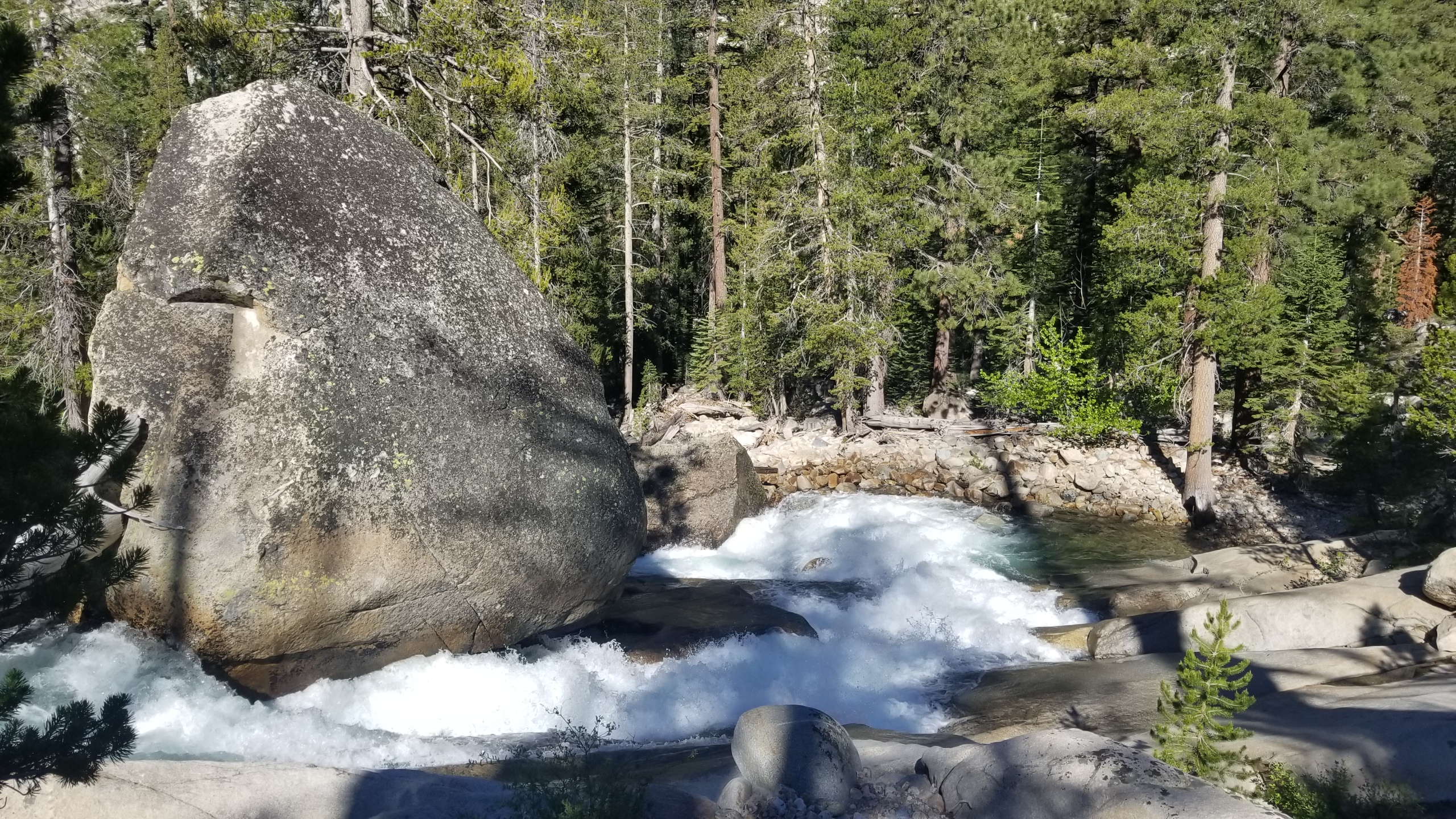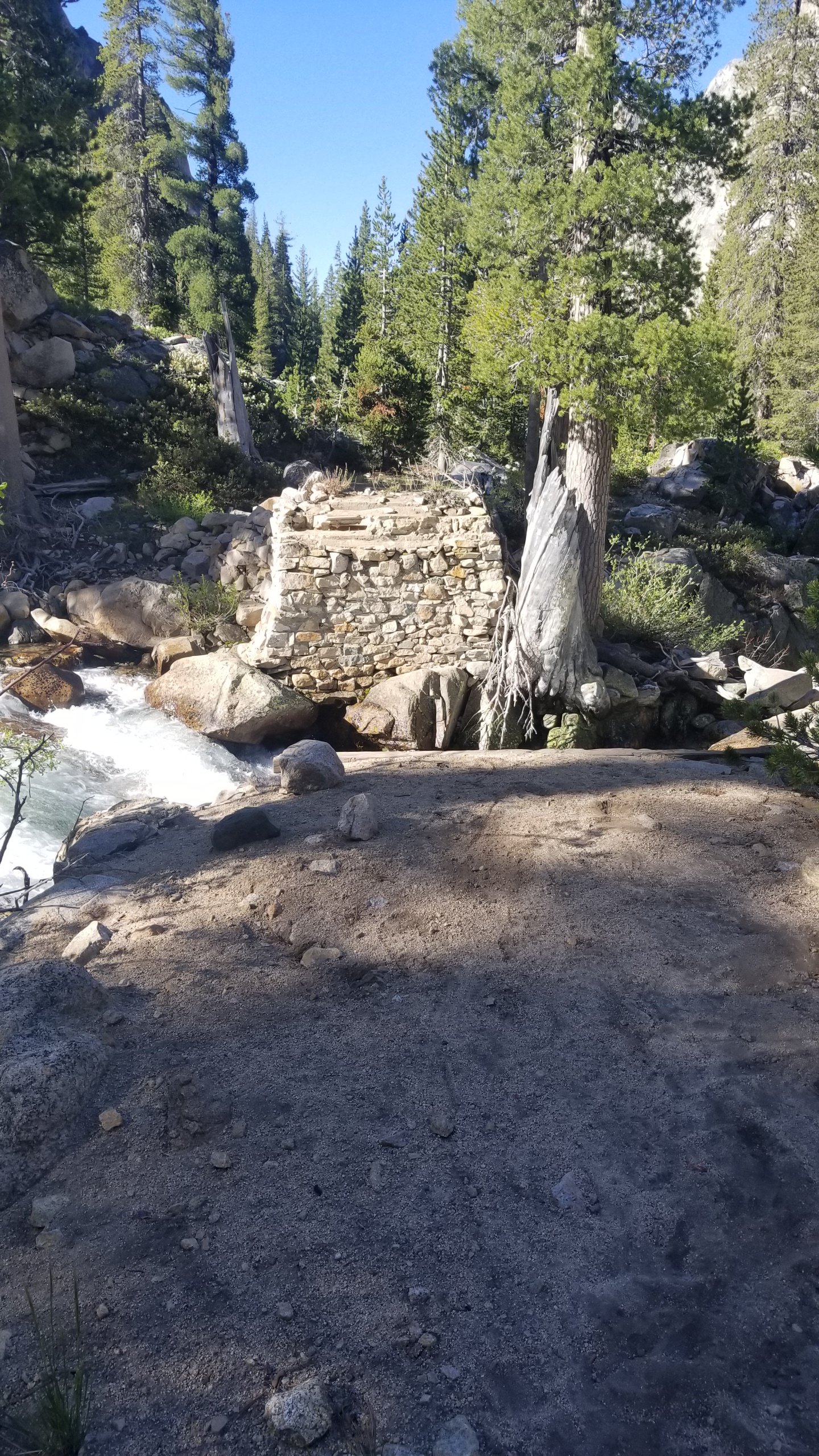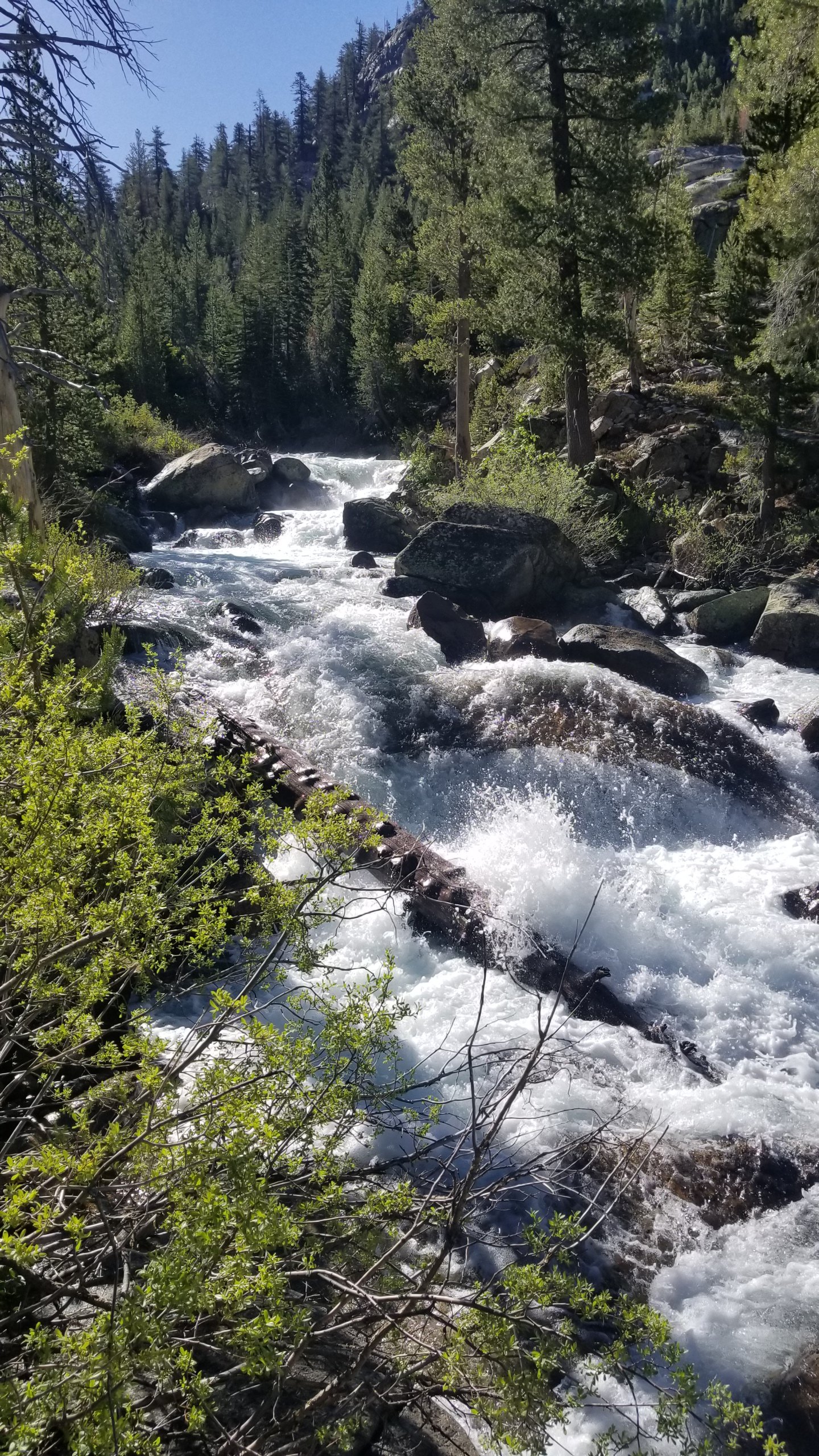 The granit towering walls were the theme of the day and continued all the way down, even once we walked back into treeline. We all pulled over for a break to check out an old washed out footbridge and Happy and Pickle come strolling in. Pickle was getting off at Bishop pass to meet his fiance and we bid him a goodbye as he pressed on.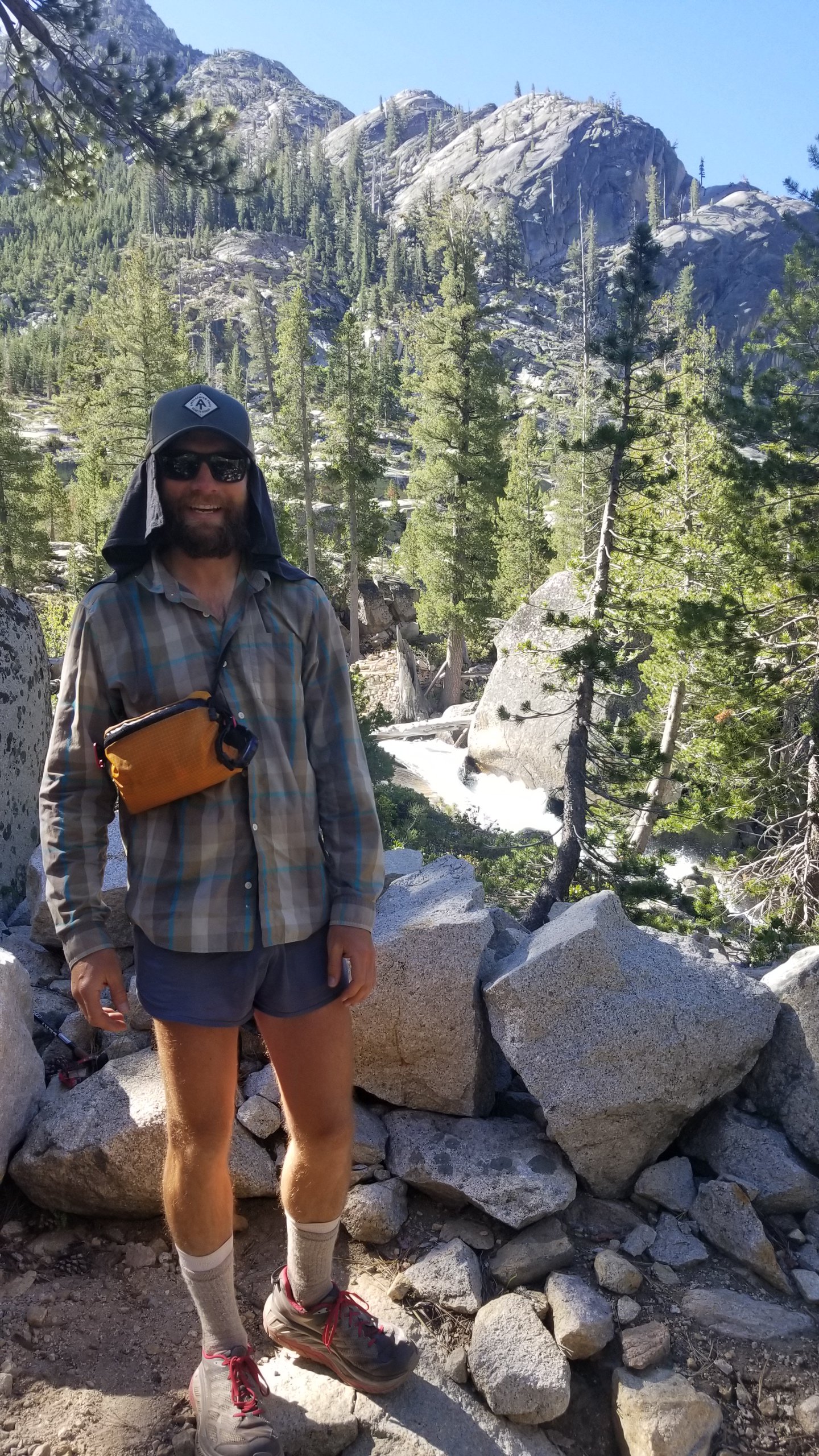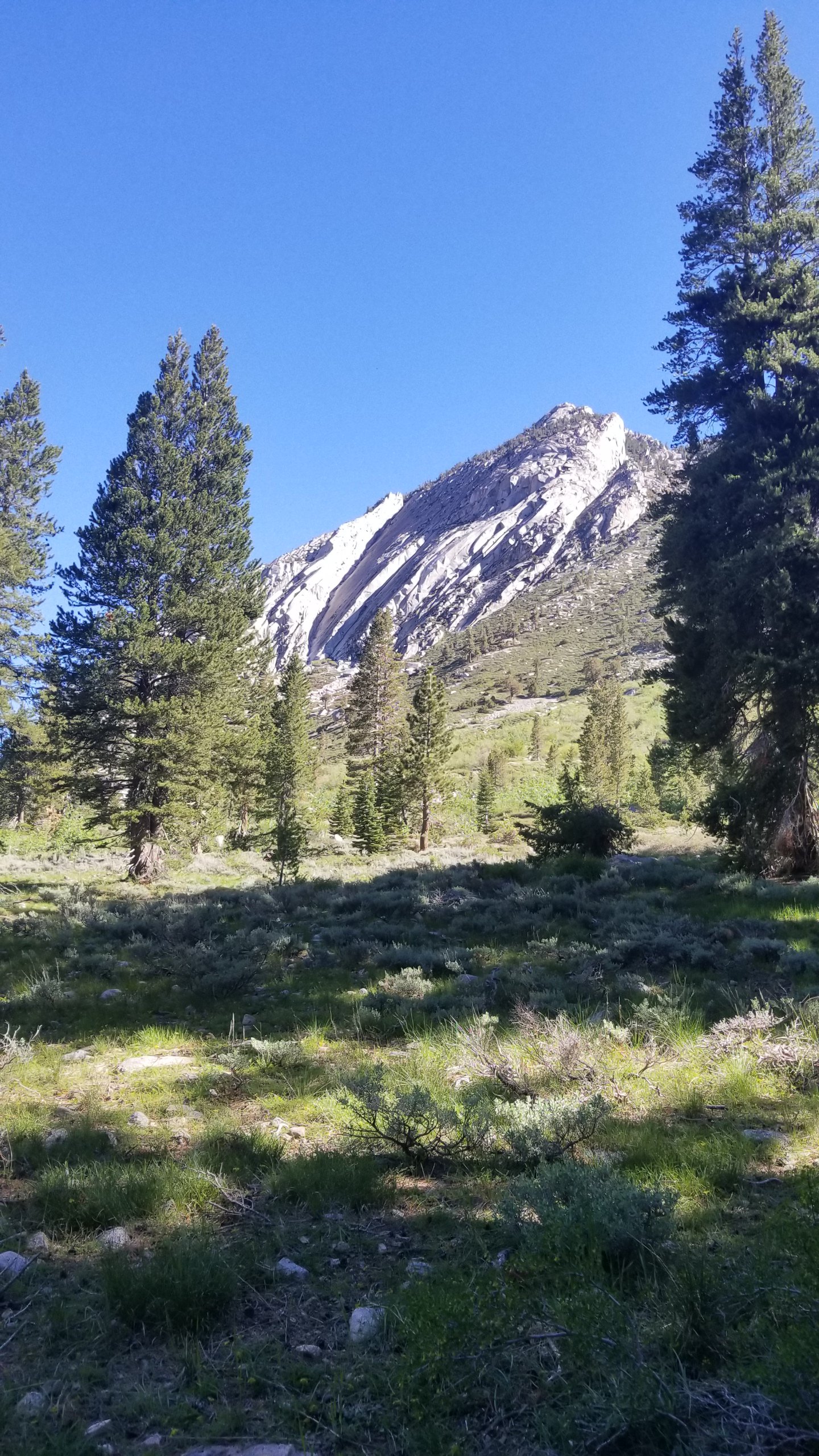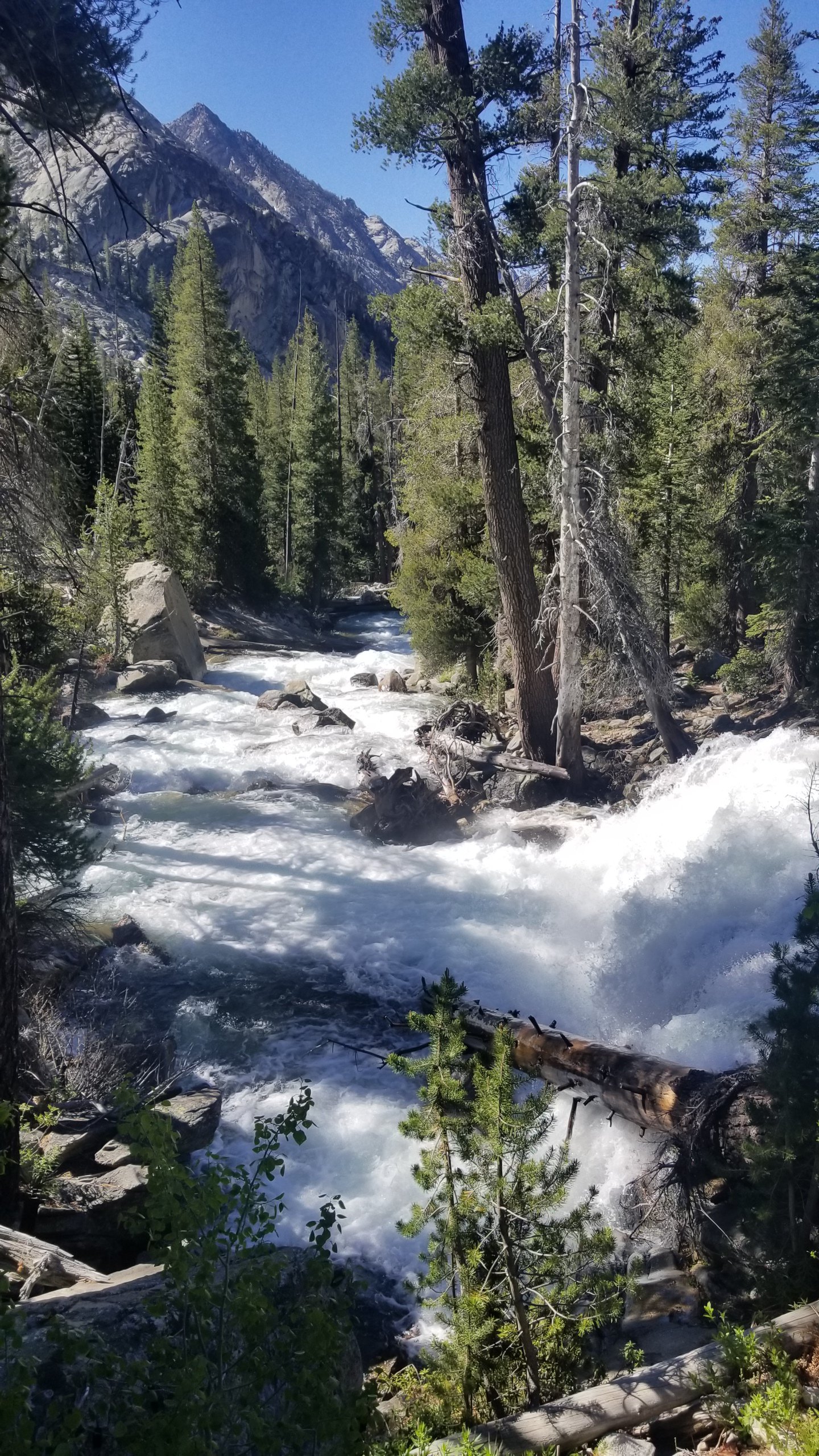 We had reached the bottom of the canyon and it was time to climb. We hiked up and on, checked out the roaring creek, wandering deer, and lush green meadows below the surrounding granit cliffs. It was a wounderland.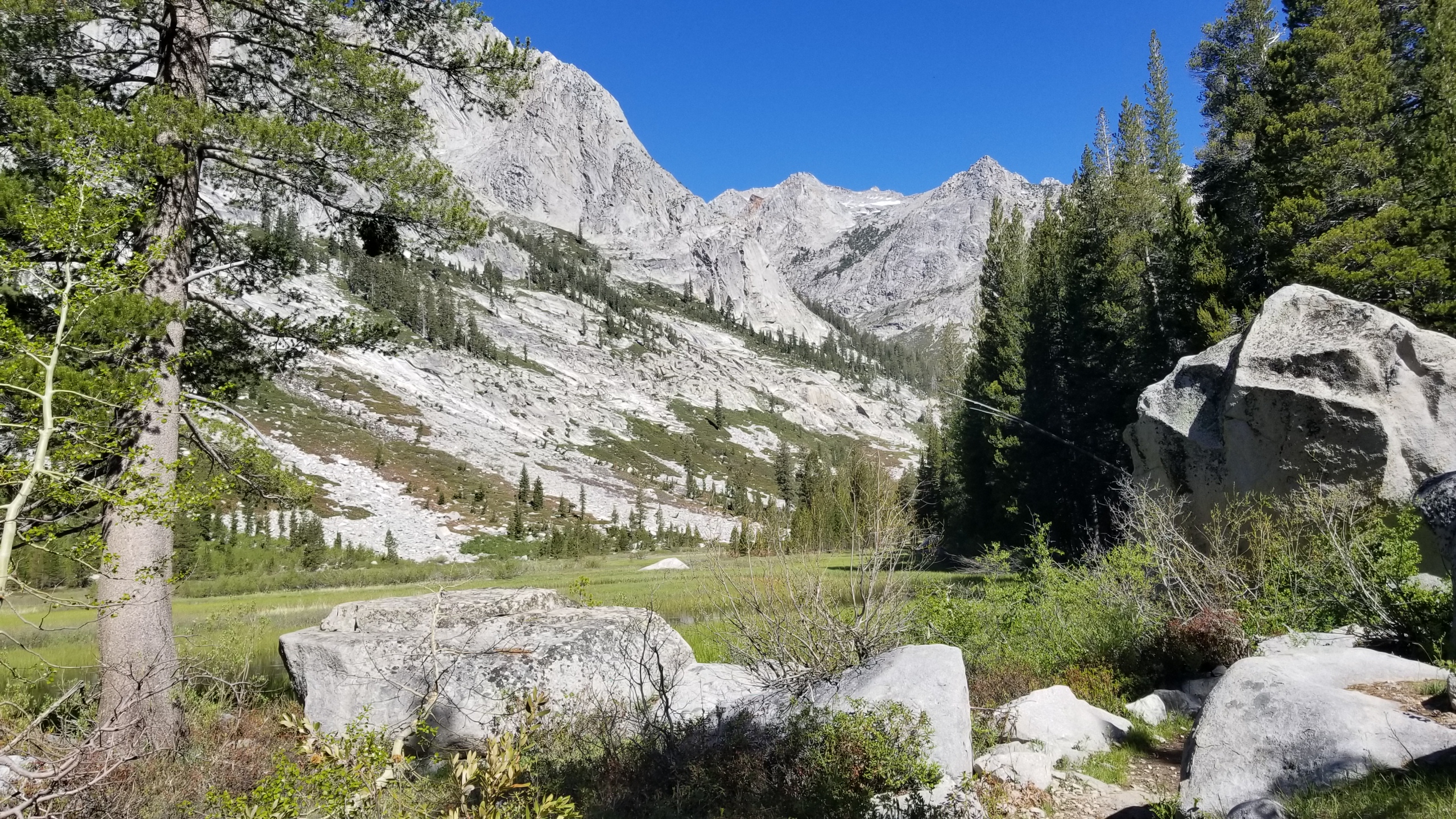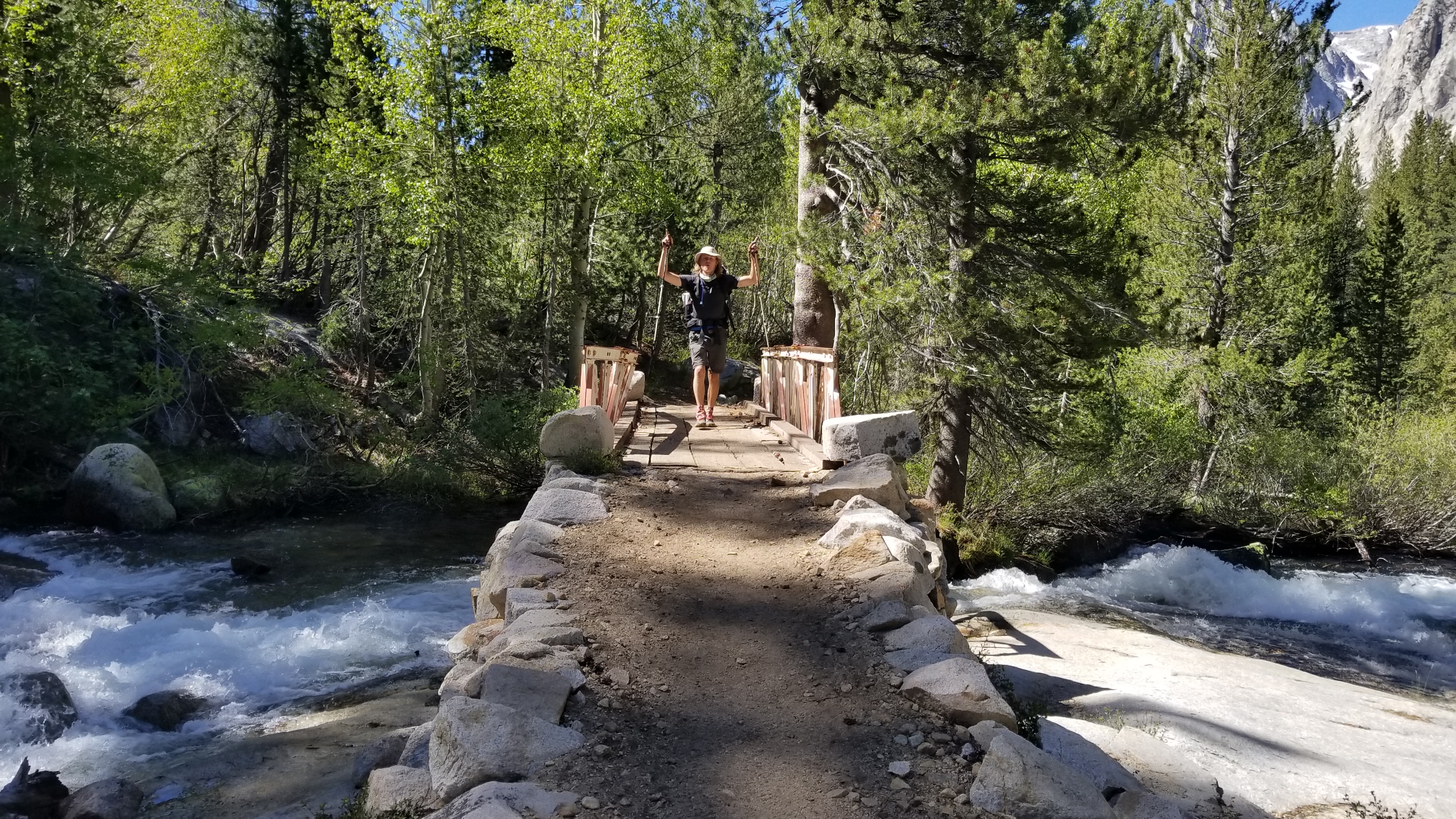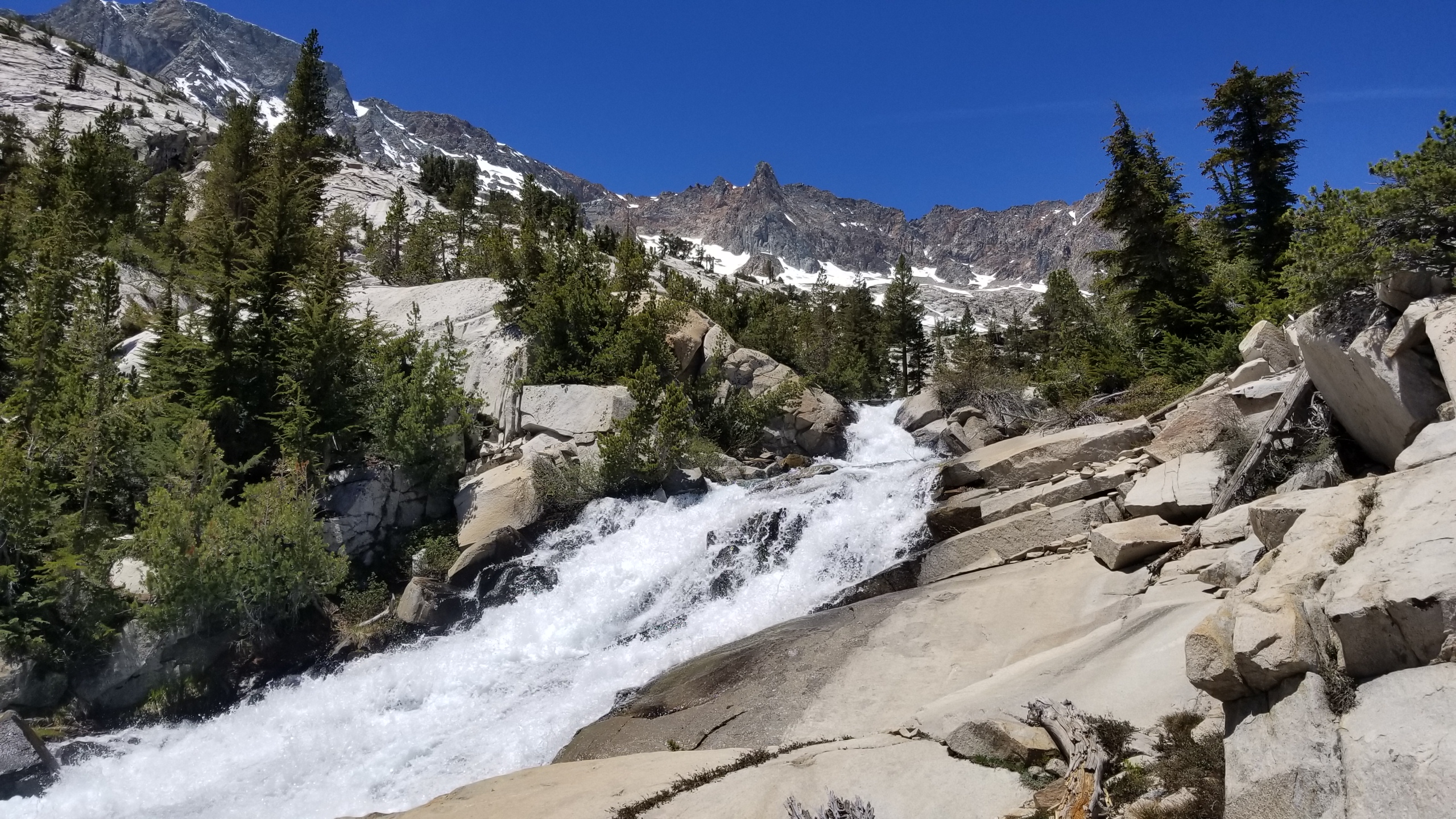 Soon after leaving tree line again our wounderland turned to winterland. Snow patches that had been feeding the roaring rivers reared their heads, but we were determined. Ladybug and I pressed on as we were seperated from Happy and Sissyphus after taking a break hidden up high from trail.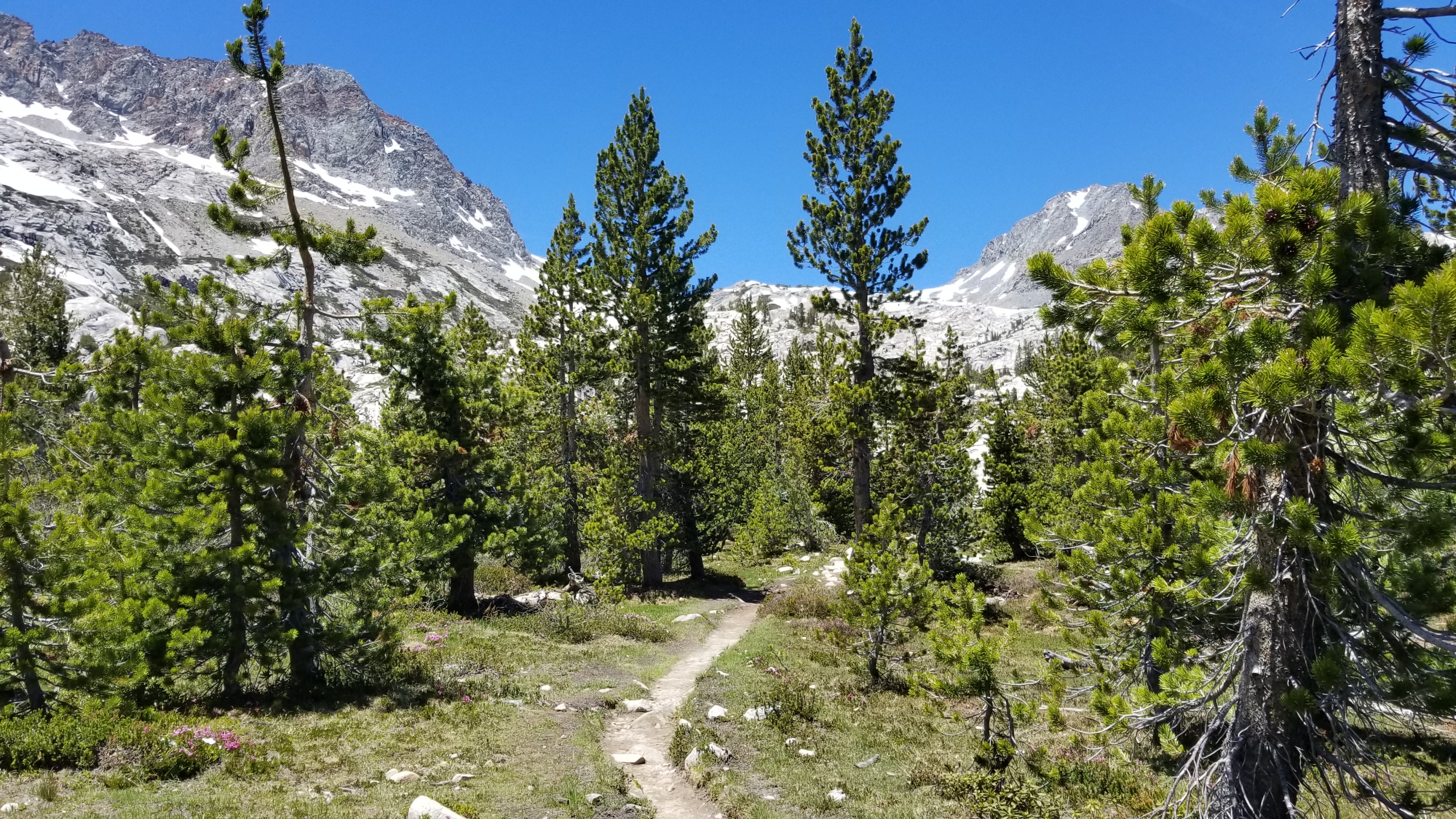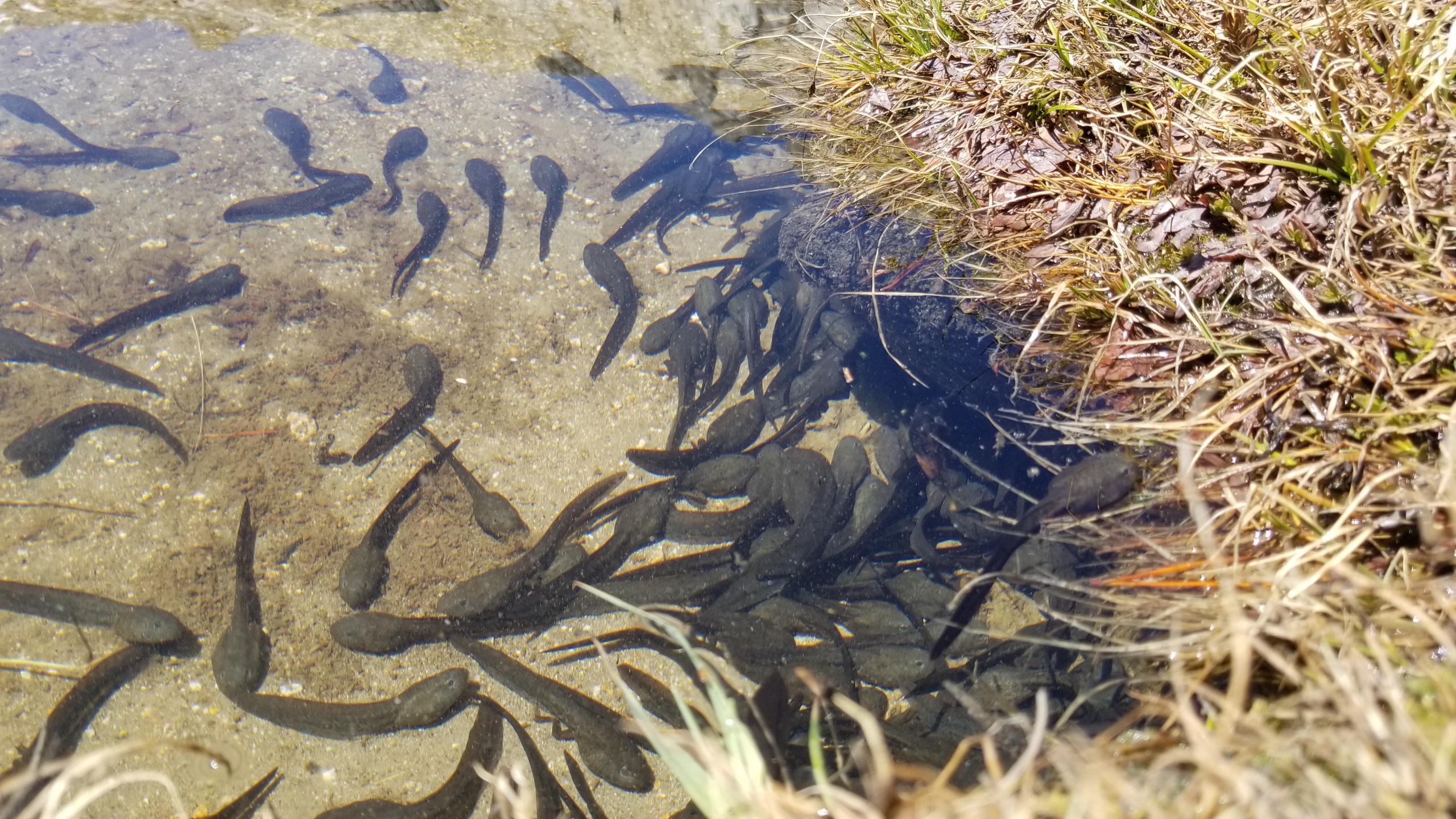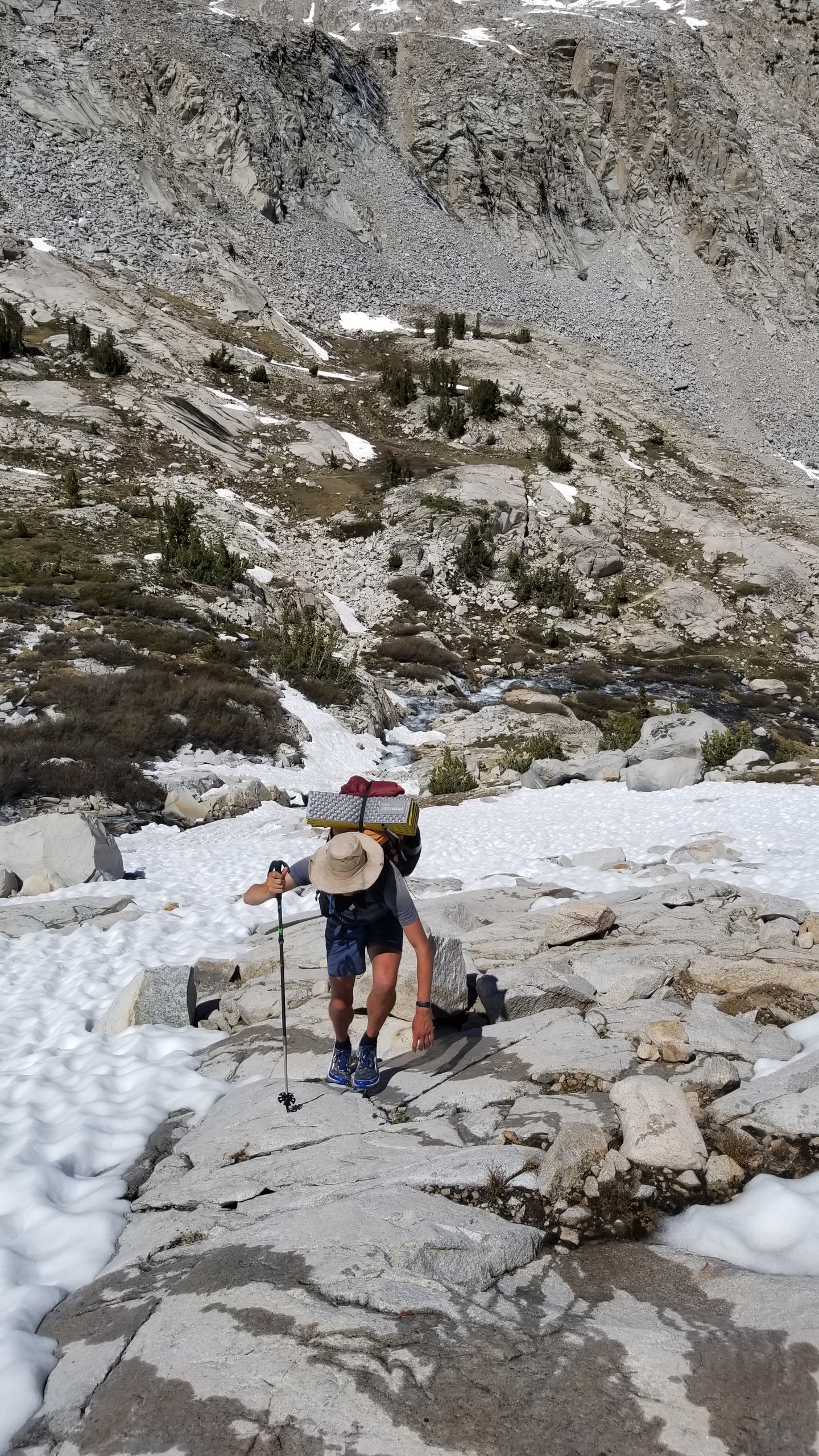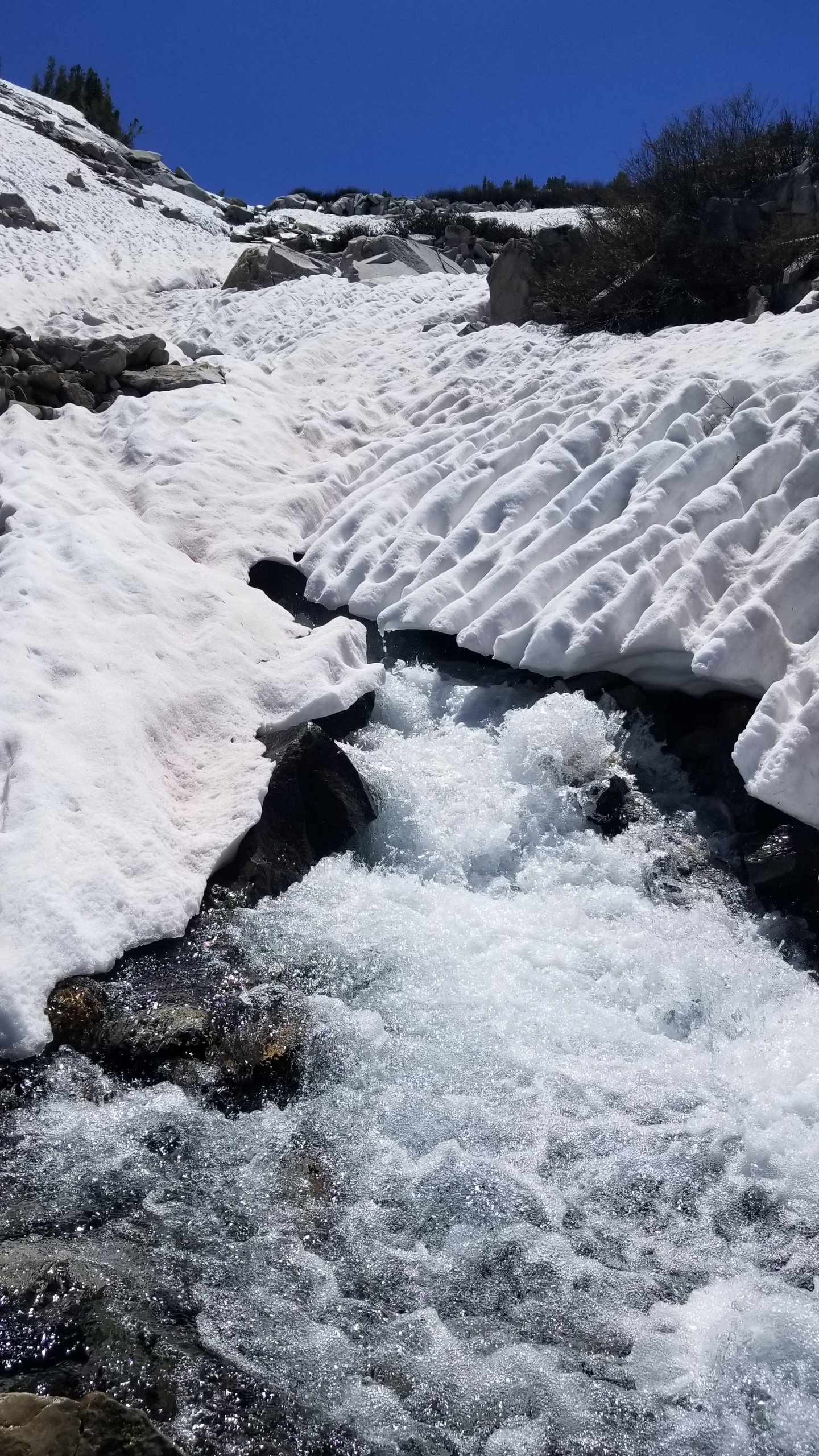 We hiked on, postholing in the snow, crossing ice bridges above raging rivers, and seldomly scampering across some exposed rock. It was pressy sweet and I was loving the trailless mountaineering approach to the ascent. We climbed up to a beautiful glacier lake half covered in ice and filtered a bit of water.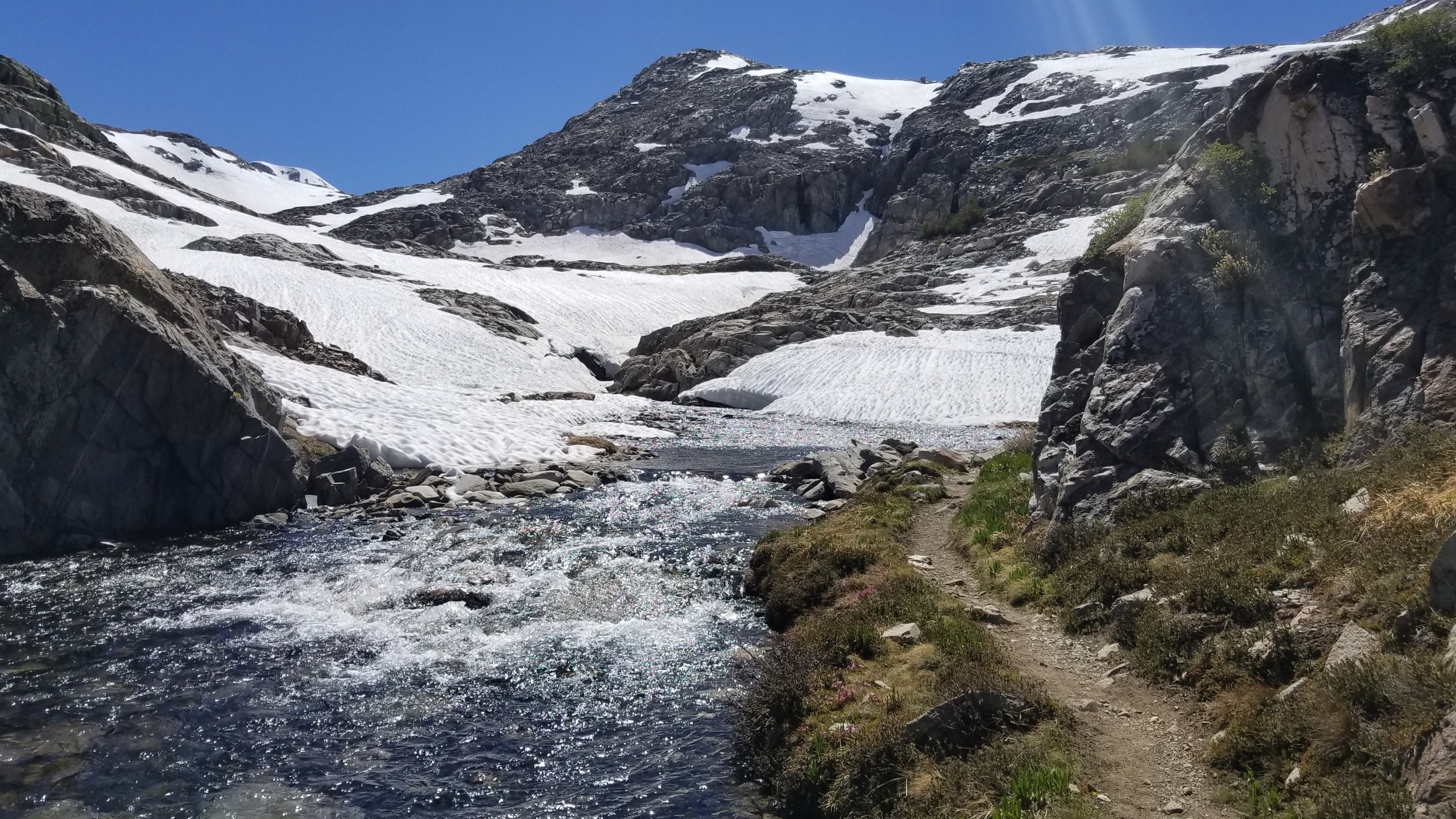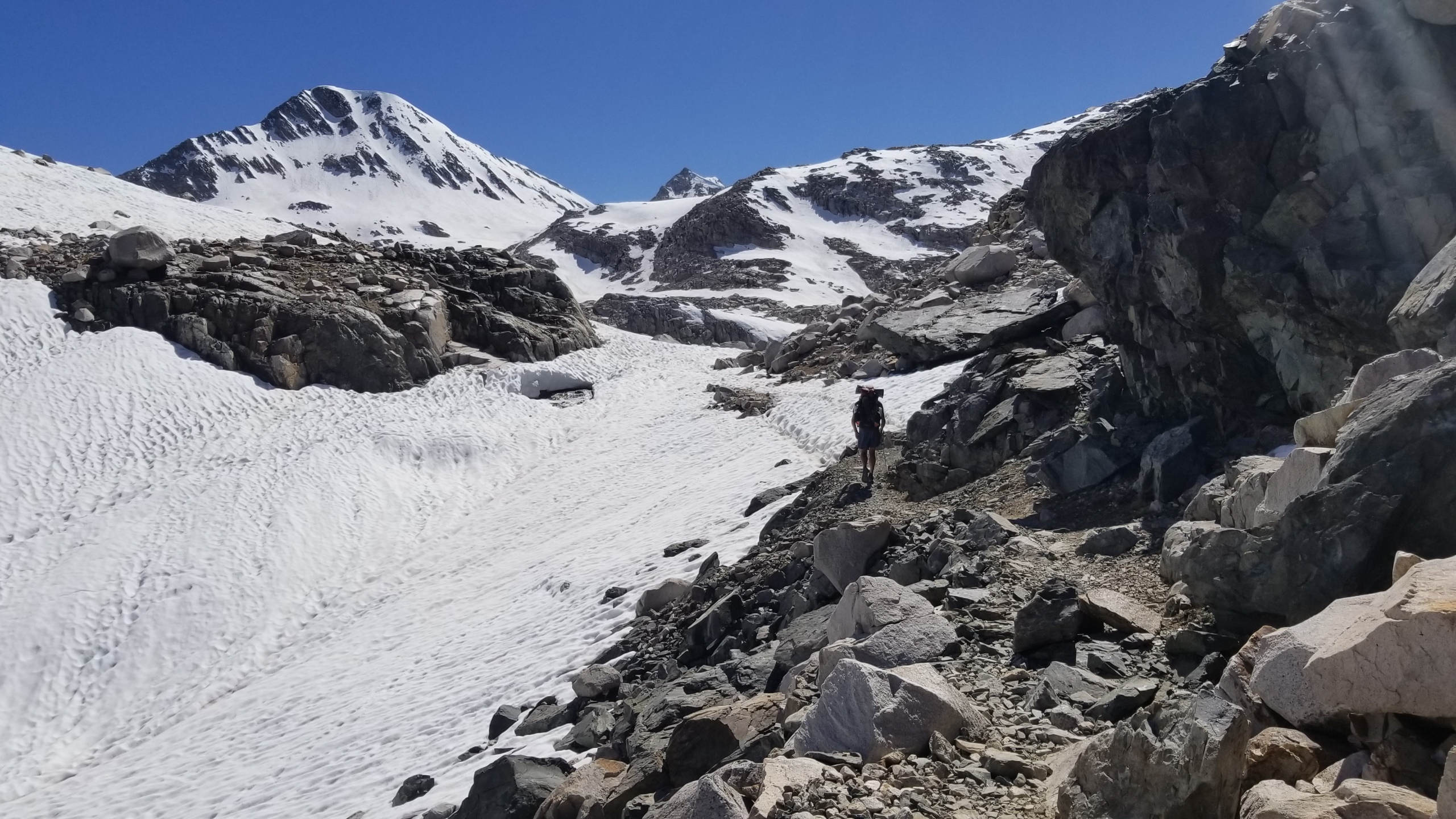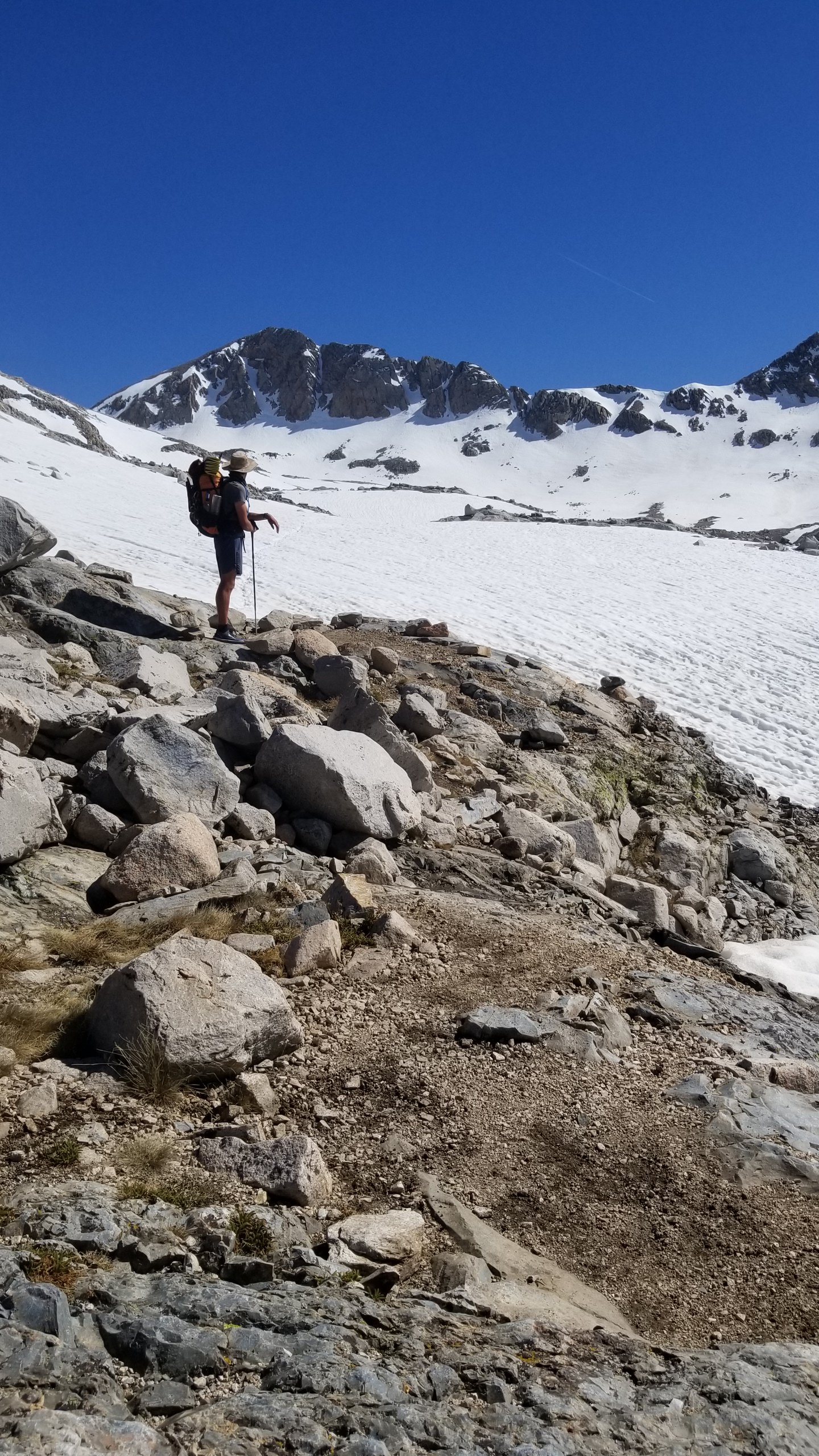 As soon as we rounded the ridge we saw Happy and Sissyphus having a break on a rock. "Whats up guys!" We were happy to find them as it woud have been a nightmare trying to manage the pass and figuring out of we should pwait or go on without them. We pressed the last snow covered slopes together. Step after atep until finally Muir Stone House came into view!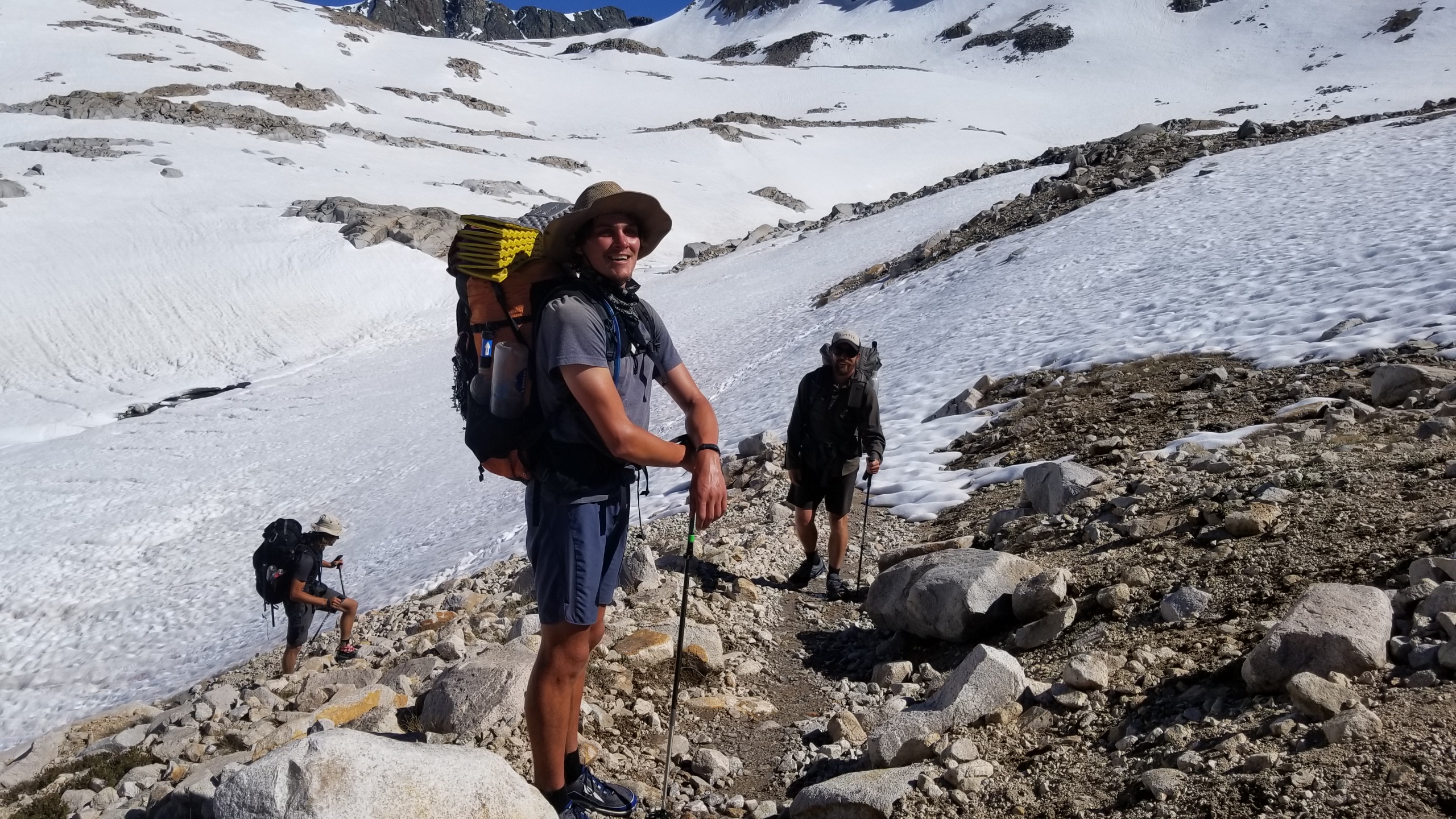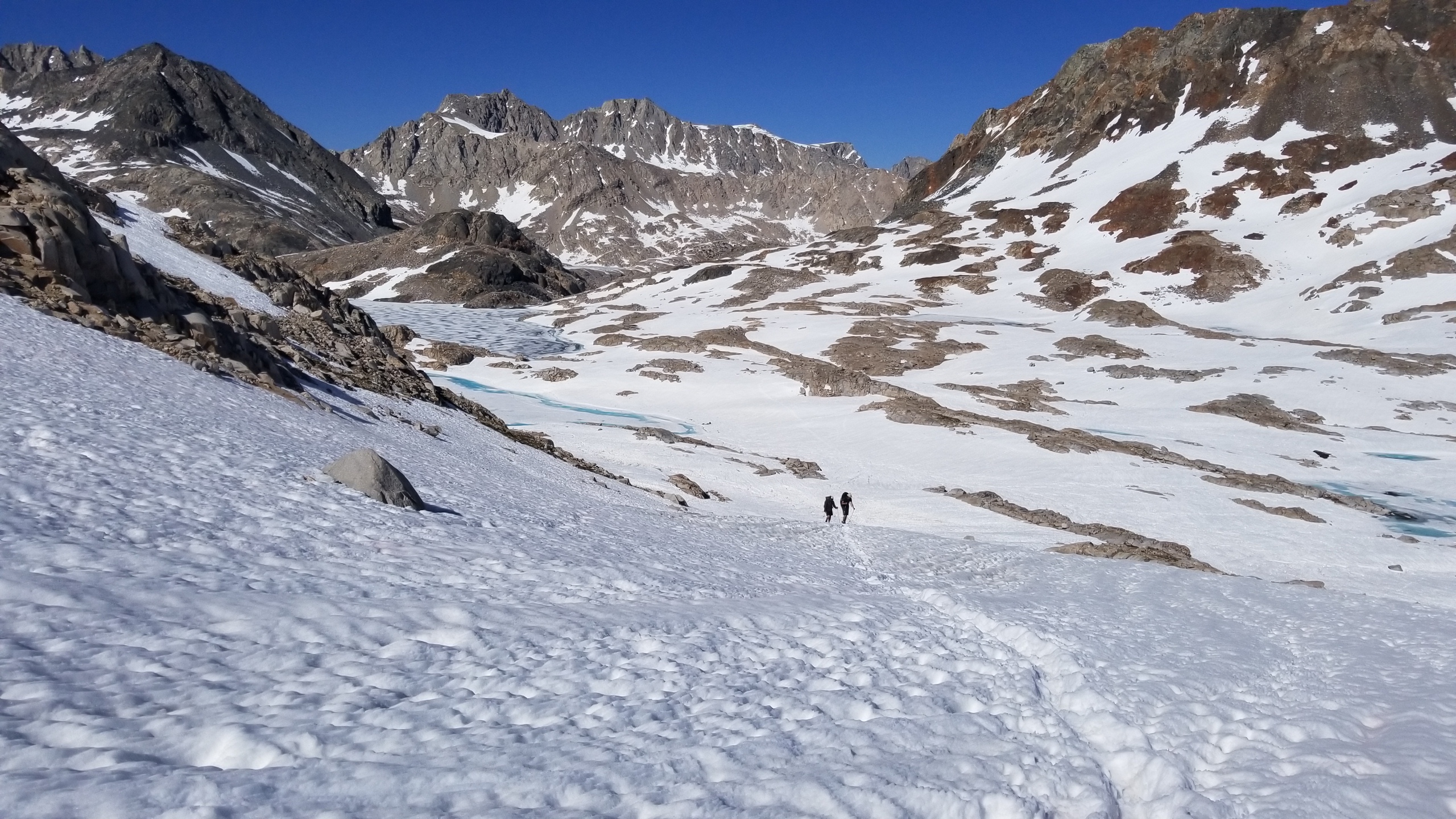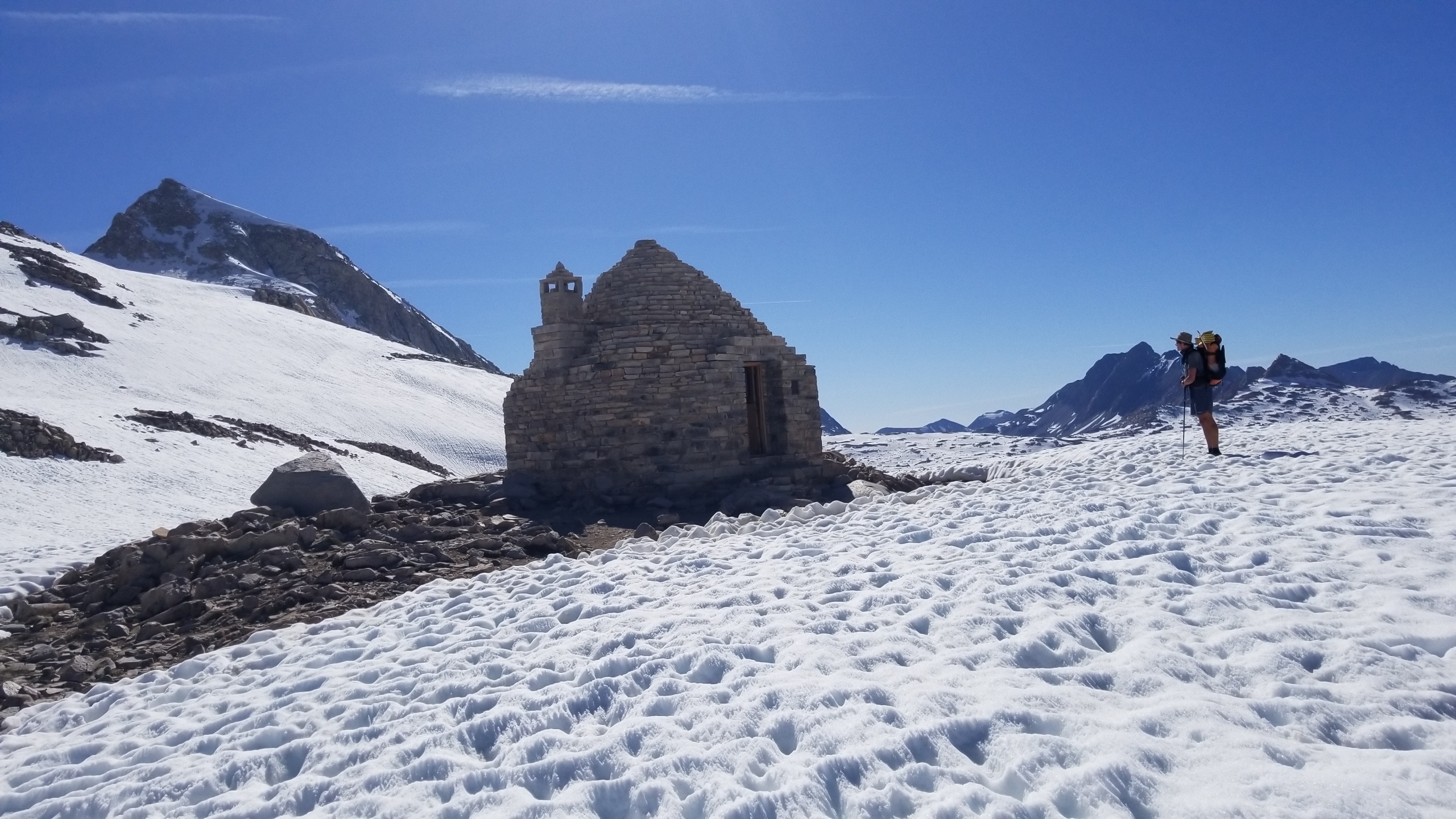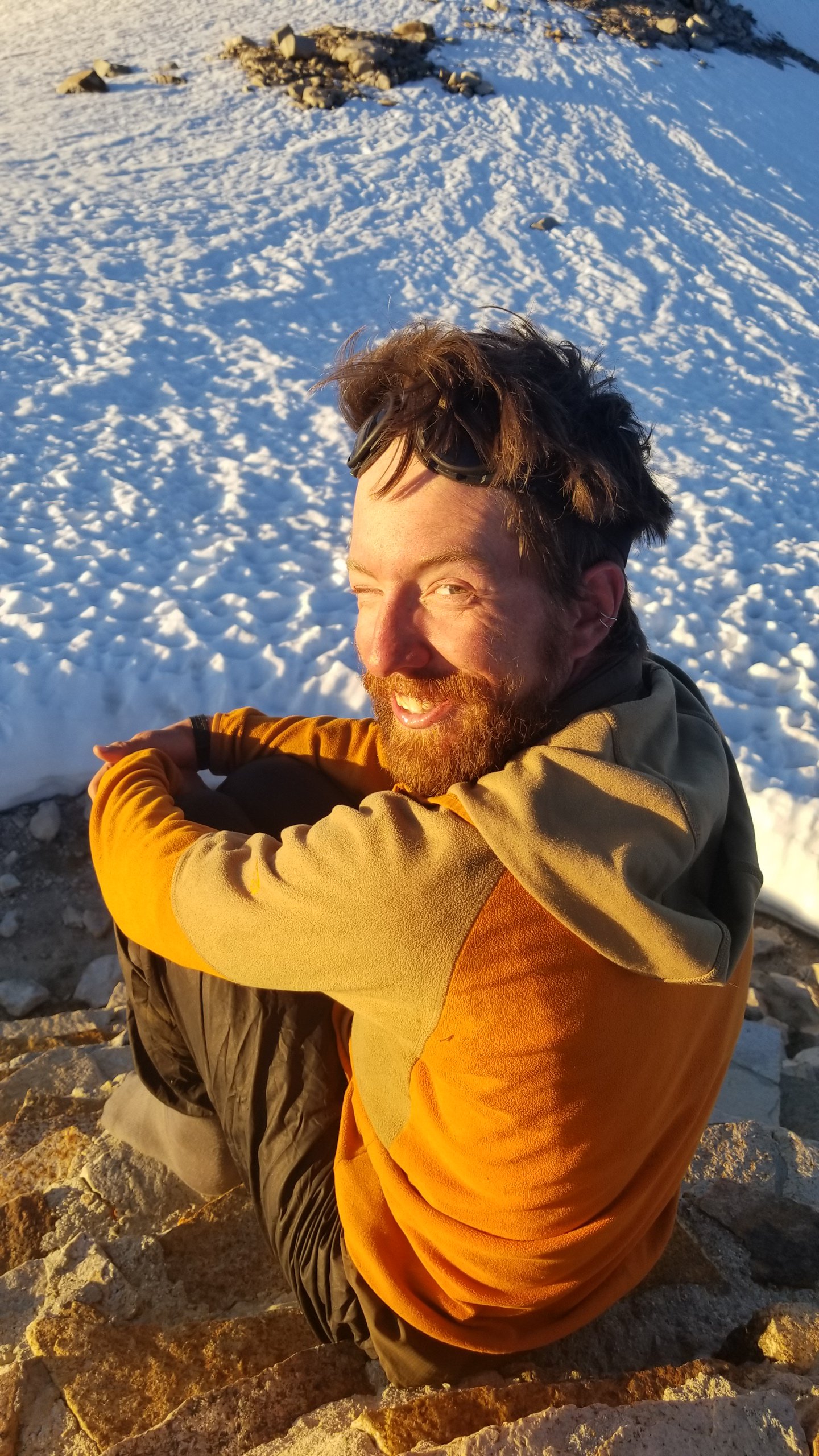 This would be our camp for the night and we were extatic to fially have arrived. We all cooked up dinner as hikers came rolling in. Opa, Shoppin Cart, Buscuit, and Feather. Feather only stayed for a moment, long enough to share some food and drink with us. Buscuit and Shopping cart seemed hell bent on catching a nearby marmot. I let them be not thinking they could do it, until my surprise they did. Something in me had to protest and I said they should prbably let the lil fella go. Once that whole ordeal was over, we all settled down and watched the sun set over the mountains. What an action packed incredile day. To top it off we wouod be sleeping in a little mountain paradise!