9.7.18
The end is near.
At 4:30am I woke to see lights outside my tent moving around in the darkness. I wasn't supposed to be up yet, but my eyes were open and the excitement got the better of me. I was up and out packing up my gear for the day. Pickle was long gone, Pooper packing up, and Sissyphus snoozing away as usual. I staked my tent out for rain, threw on my pack with just food, water, and extra clothes for the day and headed out into the dark.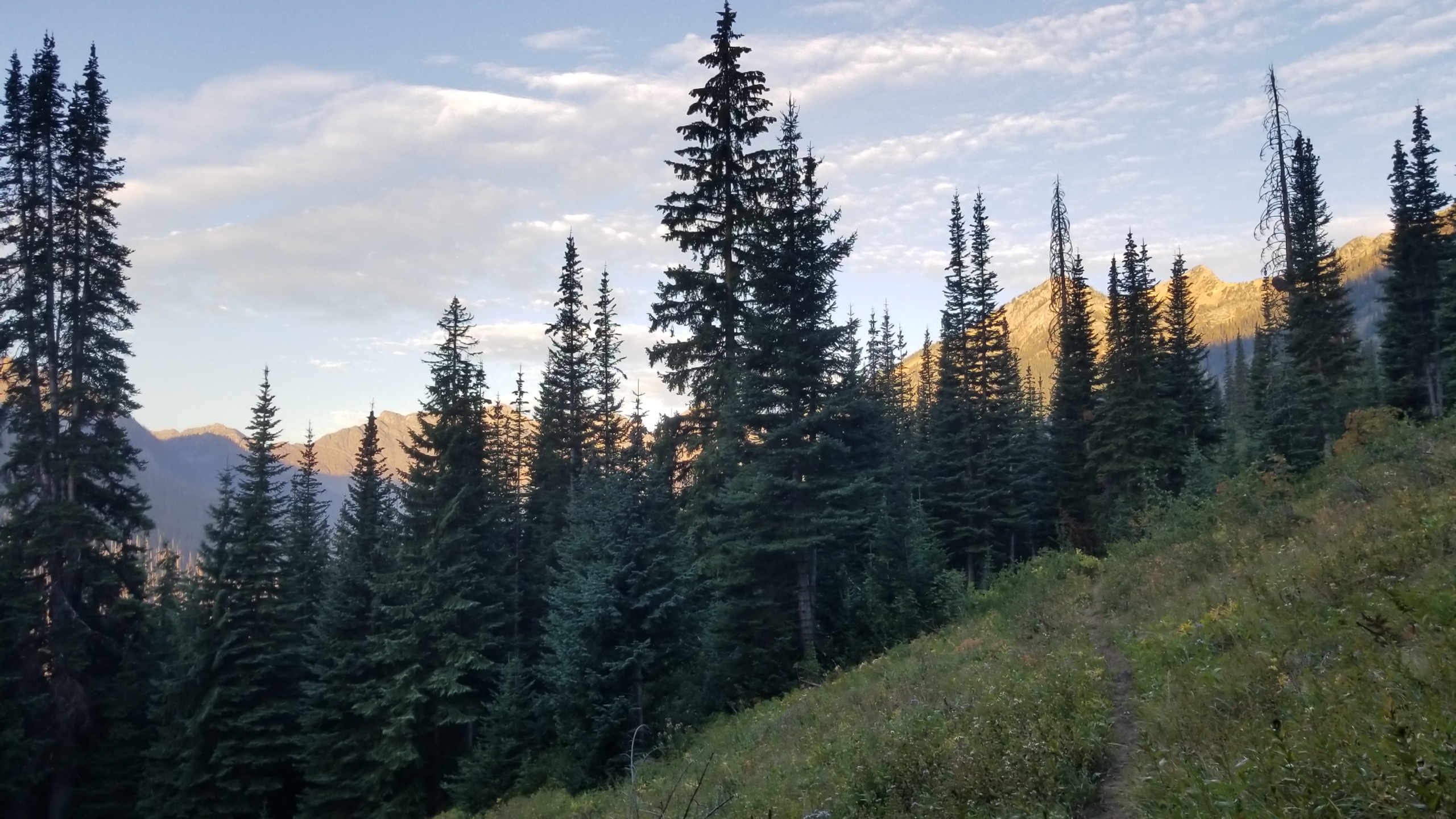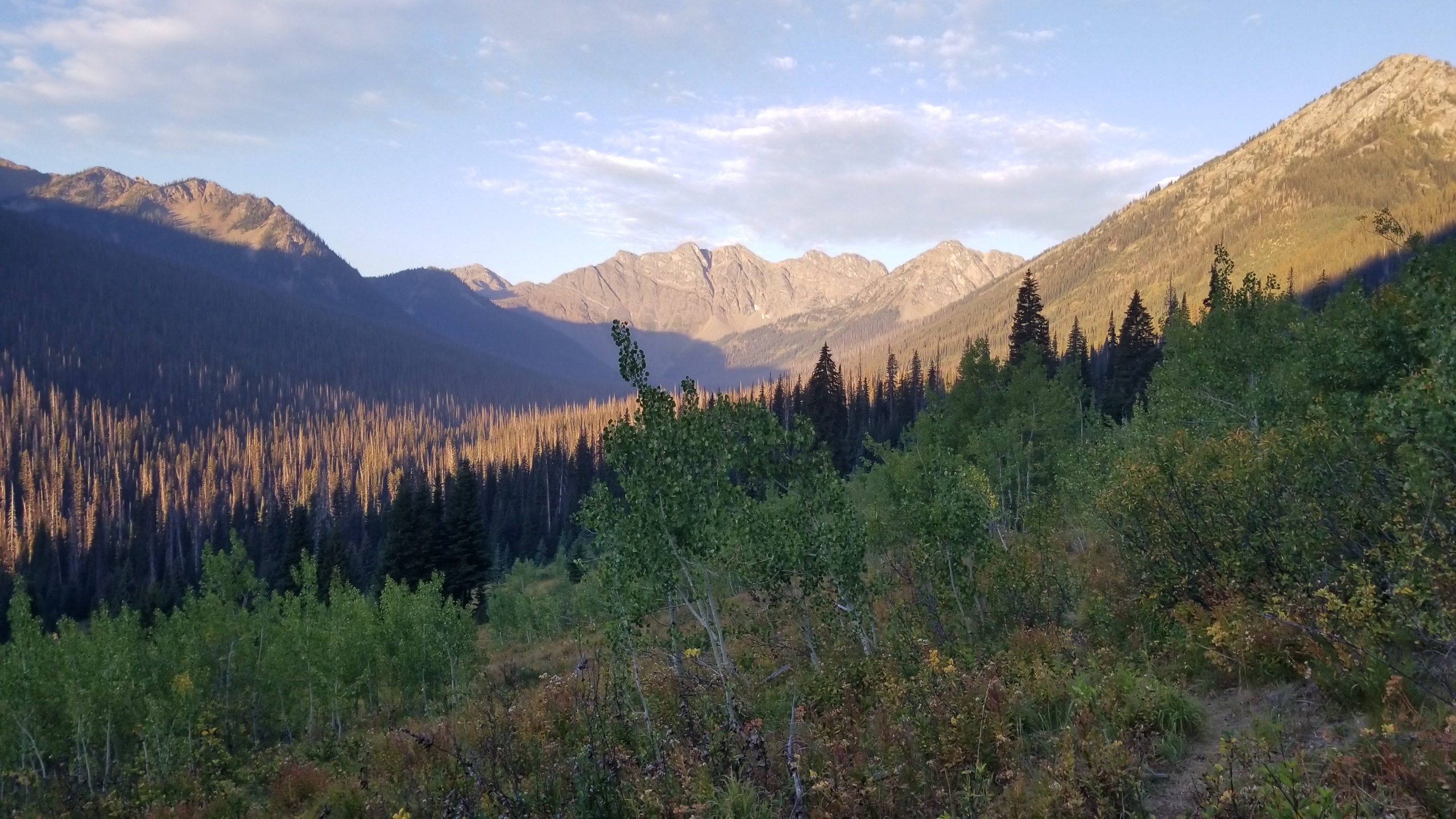 It wasn't long before I was at the junction of Rock Creek and started the climb out of the valley back to the true PCT. The trail was chunky and for a good half mile was riddled with downed trees. Climbing over the trees takes time, and slows the pace, but with a light pack I was moving quickly. Up and on I pushed until finally seeing the golden ridgeline ahead. On the ridge I saw a small line cutting across it's face, which must be the PCT. I was getting closer!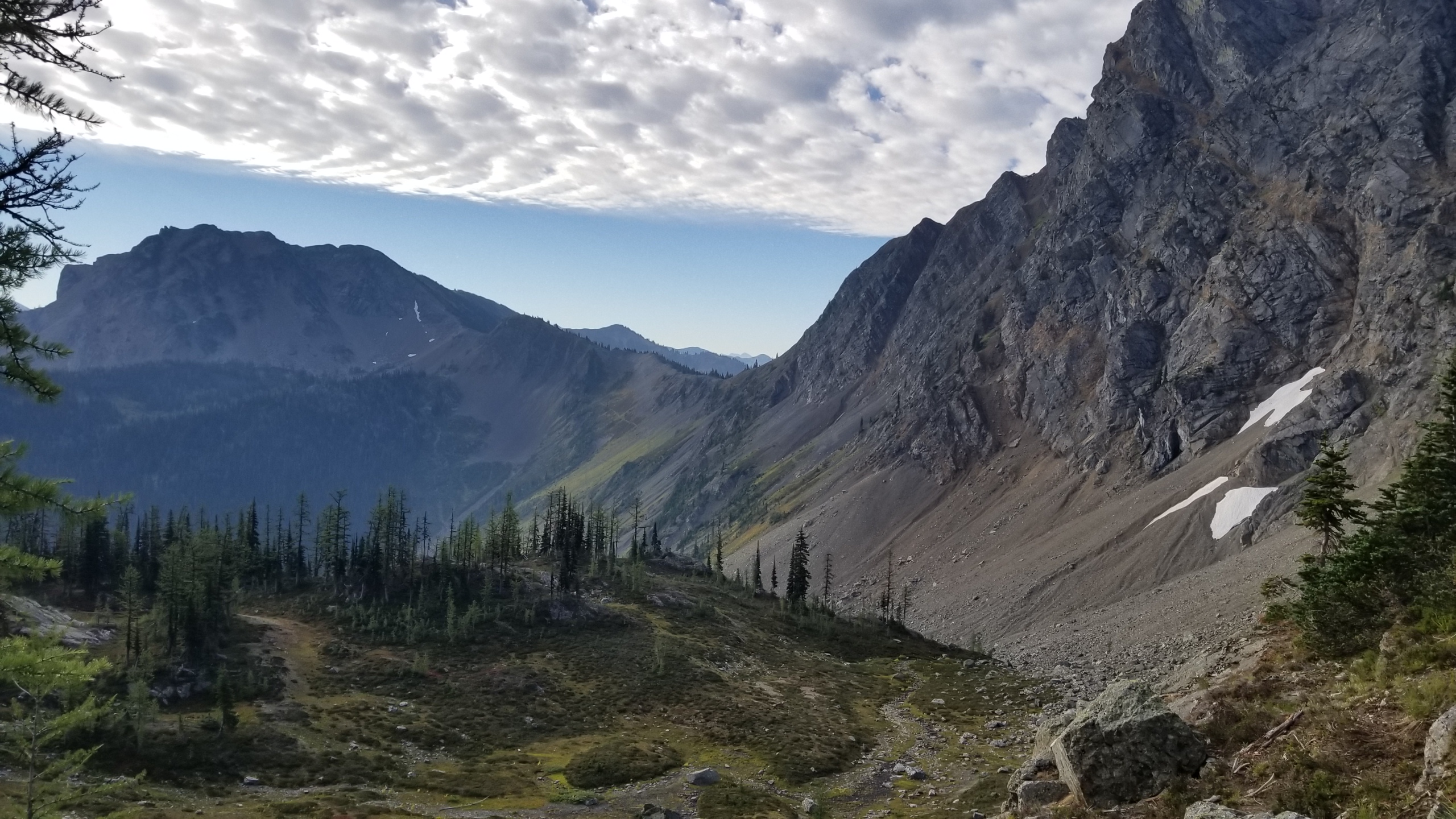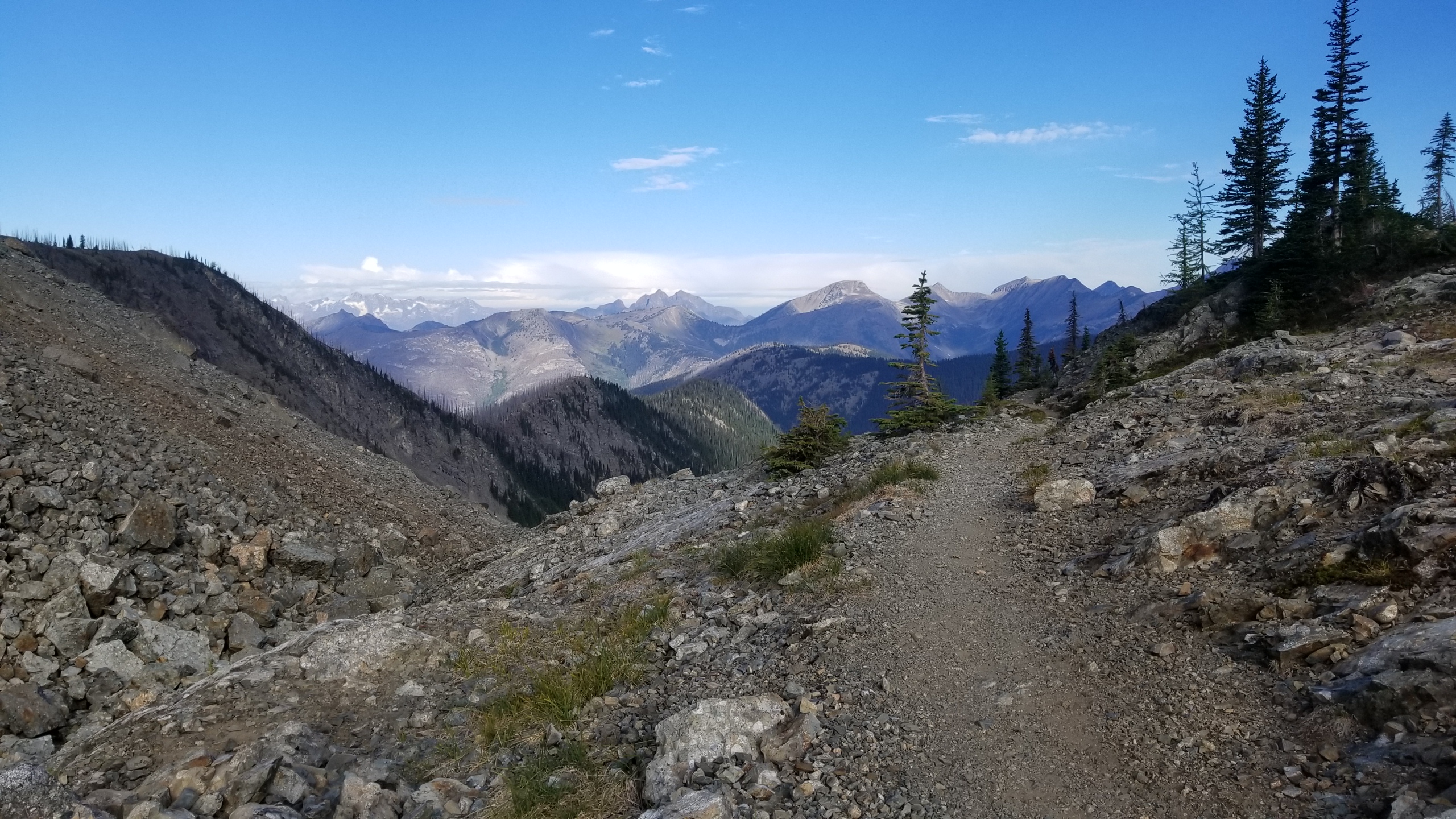 I thought for sure that I would have seen Pooper by now, but so such luck. The sun rose revealing a beautiful morning sky as I climbed the hardy gain. After reaching the PCT and pausing for a quick snack I pressed on. The end was creeping closer and somewhere in the back of my mind I knew it.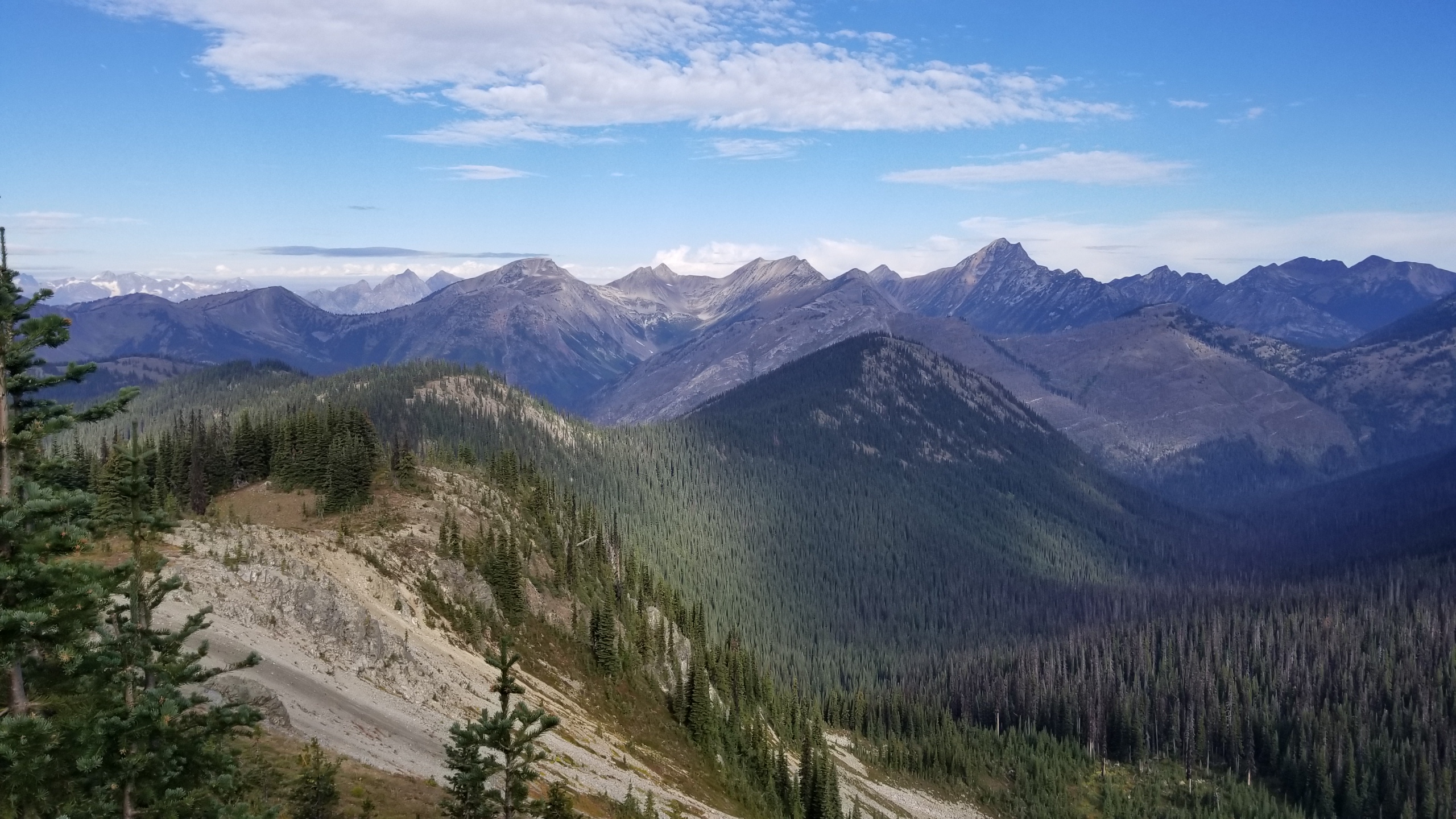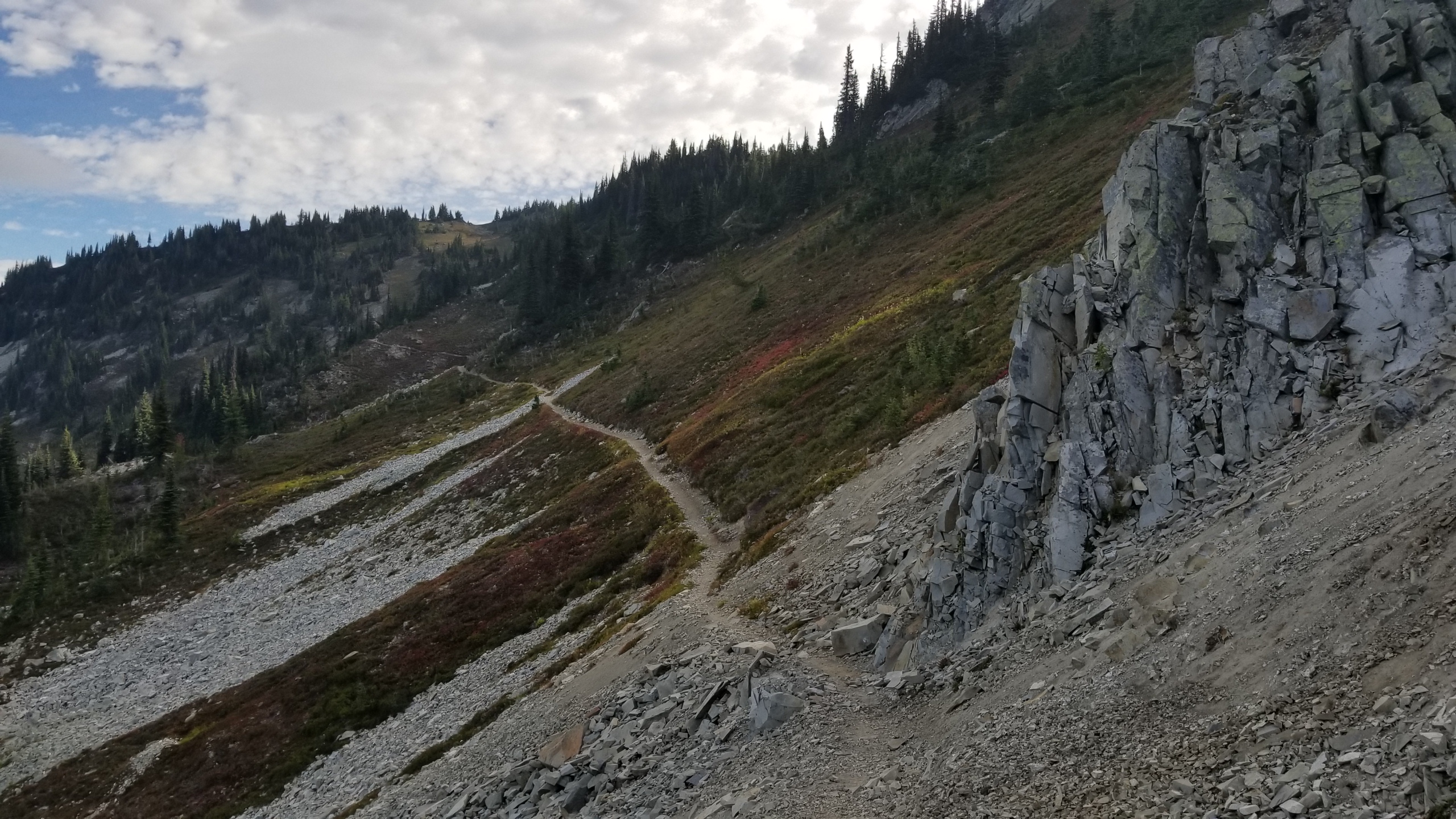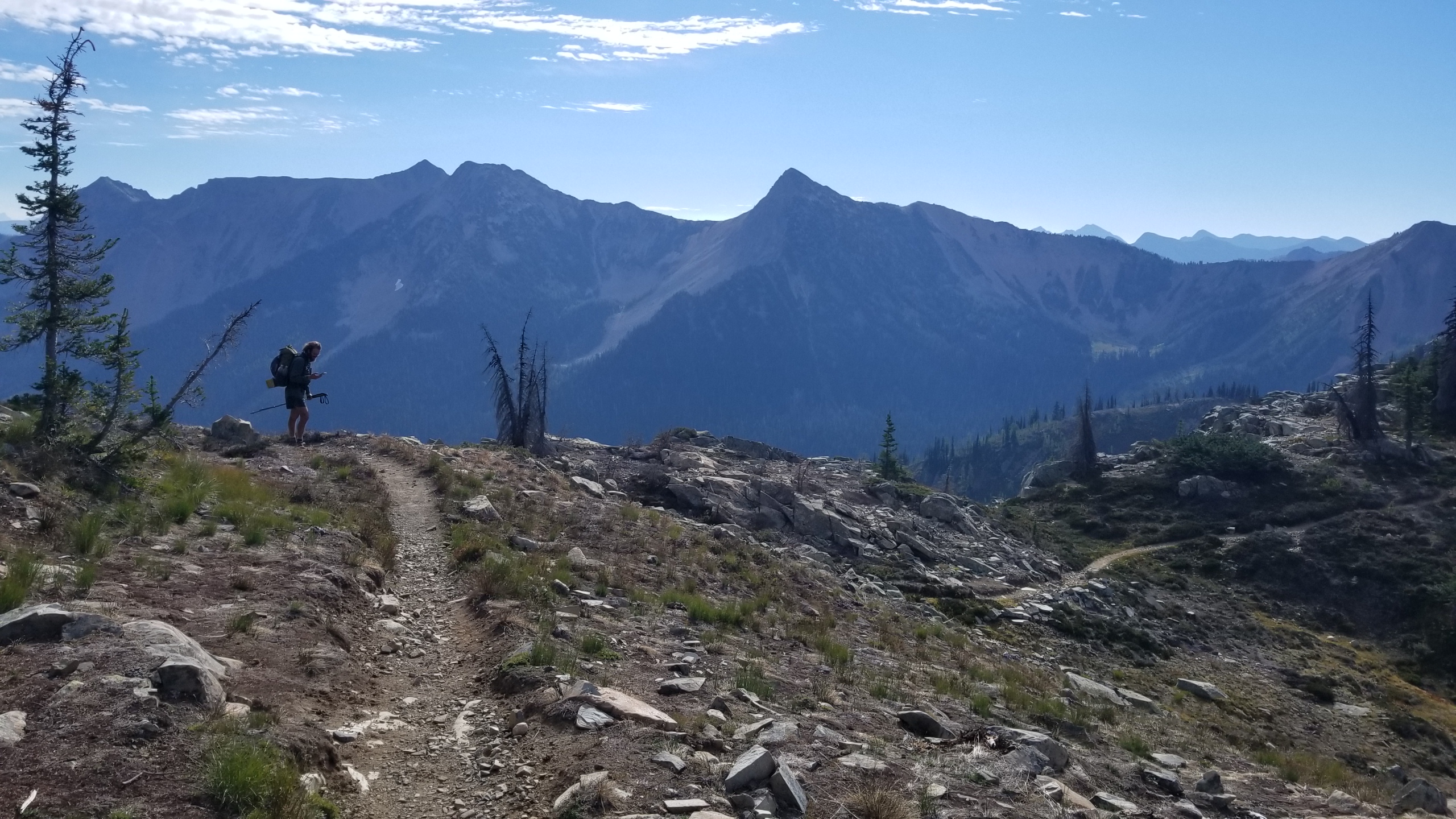 Behind me I saw another hiker approaching. It was Mr. Giggles, and we greeted with huge smiles at the top of the climb at Castle Pass. Below us we could see Harper lake, all the way down to its bottom. We chatted on and soon to my surprise Sissyphus came rounding the corner. Pooper had got turned around in the dark and took a wrong trail. He wasn't too far behind us so we pressed on.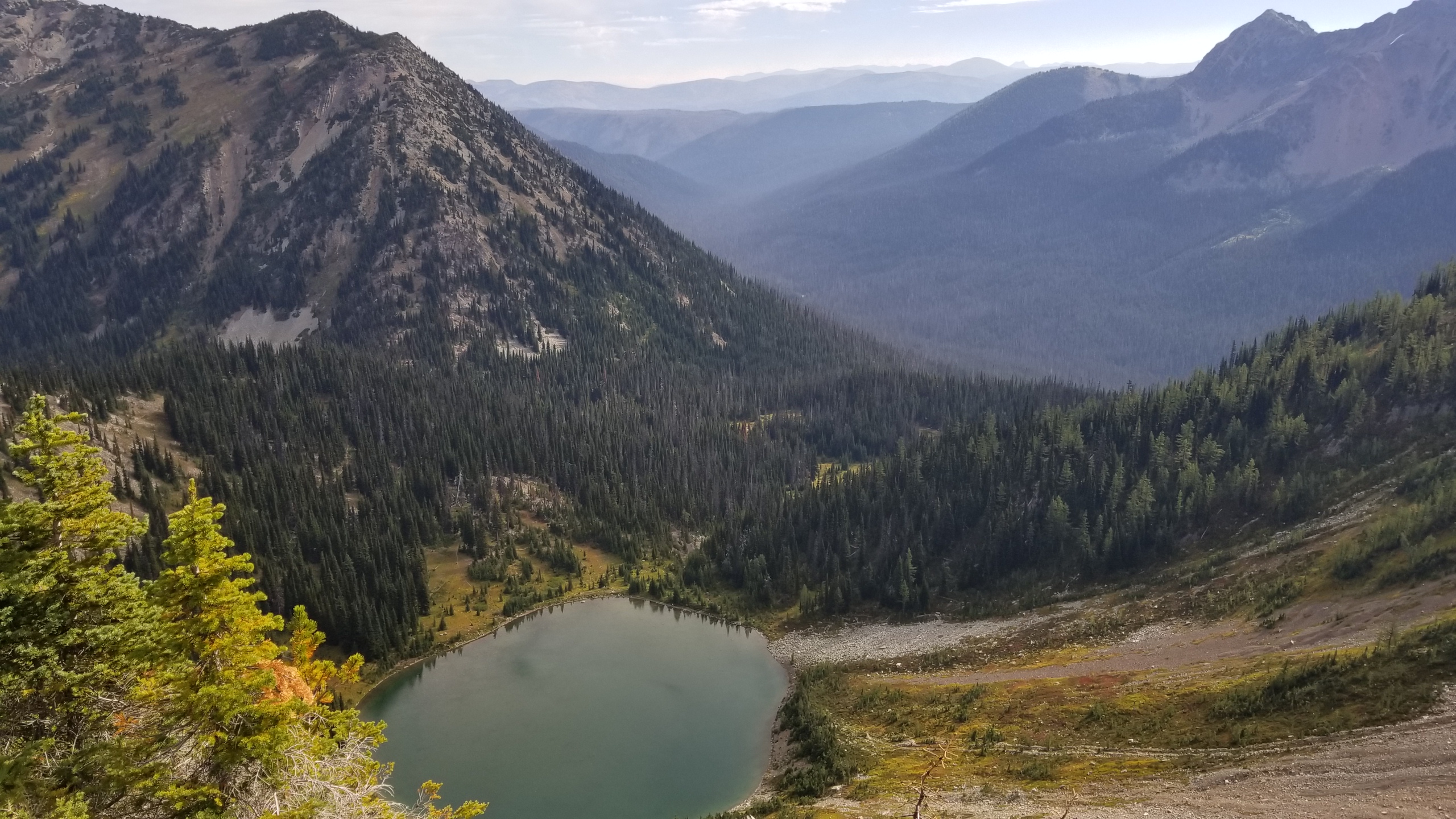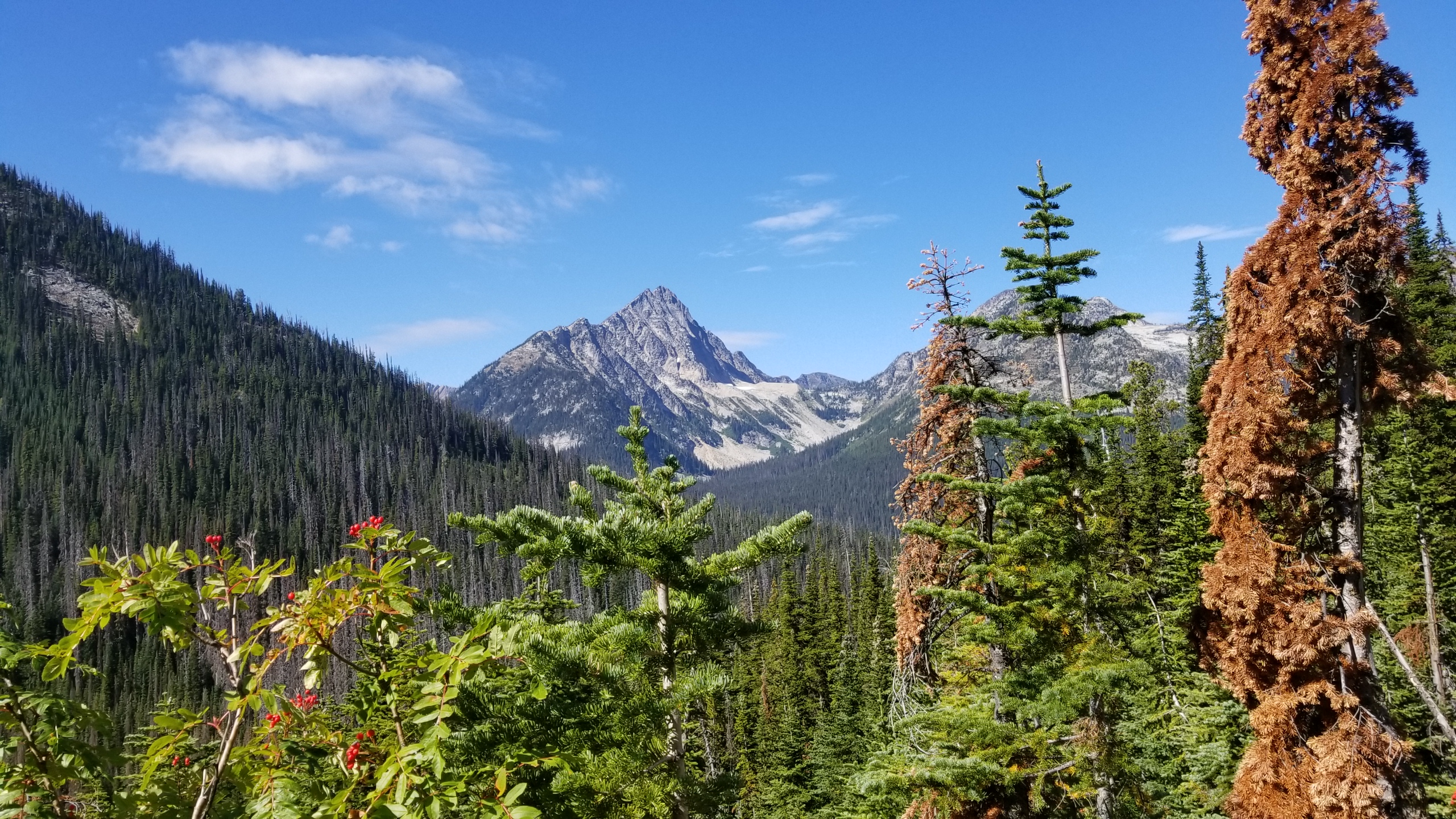 Down we went inching closer to the finish line. We chatted on as usual and paused only for a moment at a small fall just a quarter mile before the Canadian boarder to chill the bottles of Champagne we baught in Stehekan a few days before. It was surreal. We were right there, so close. We pressed the final distance as if it were any other stretch of trail. Finally the monument came into view. It was weird, like seeing death for the first time in real life, just stairing back at you expressionless, without simpothy or encouragement. We walked up and simultaneously layed our hands on the wooden statue. We did it . . .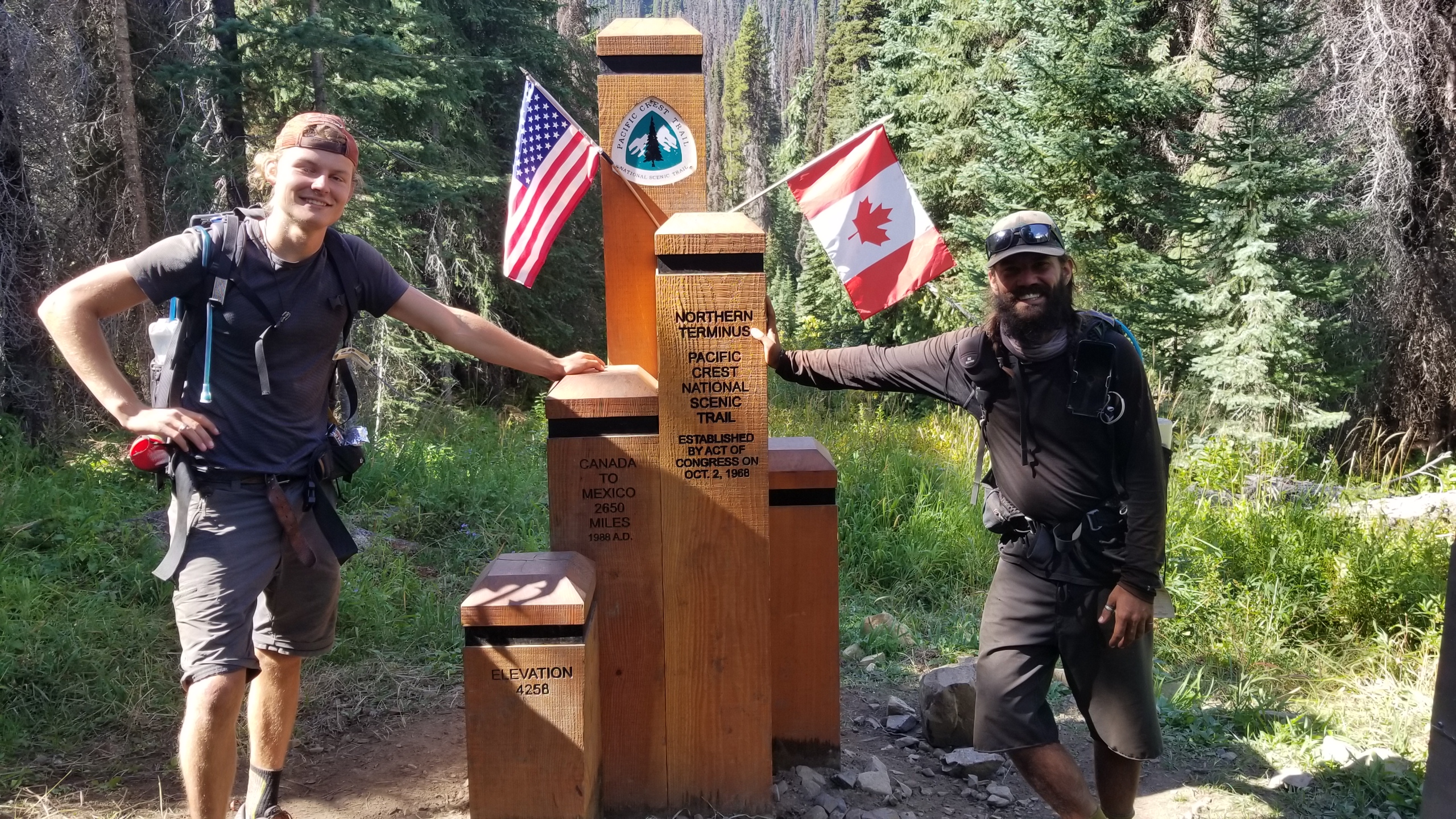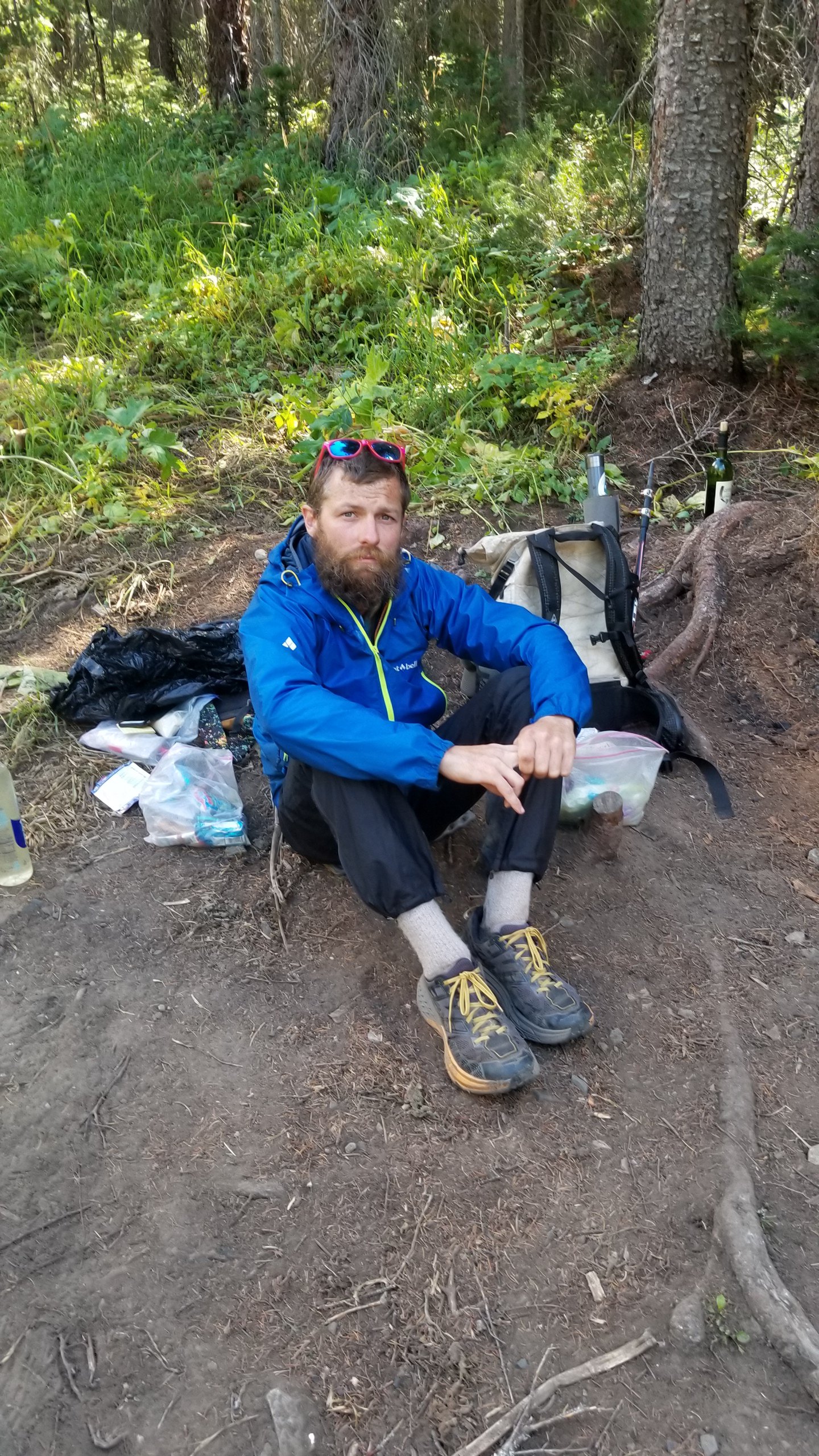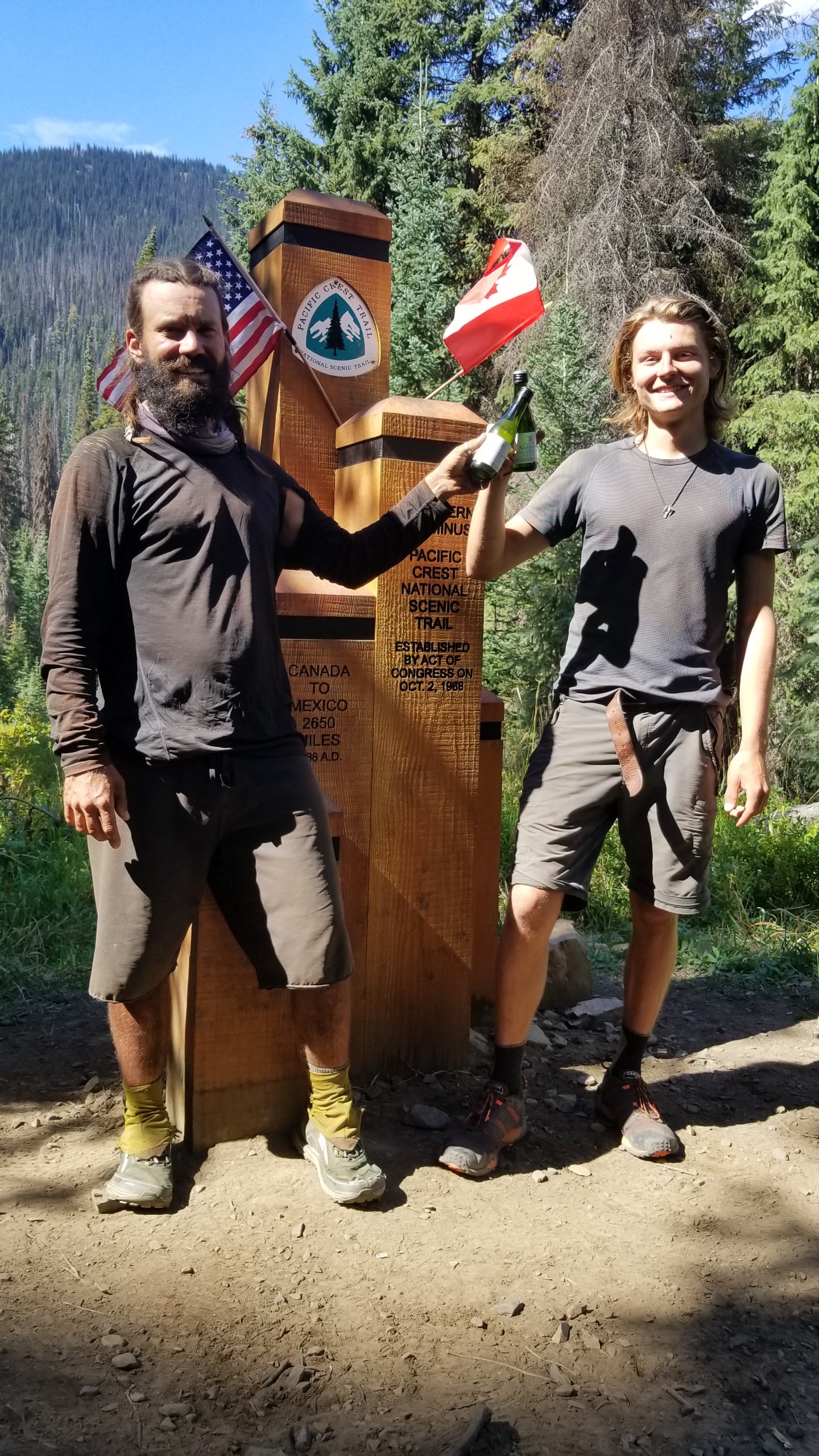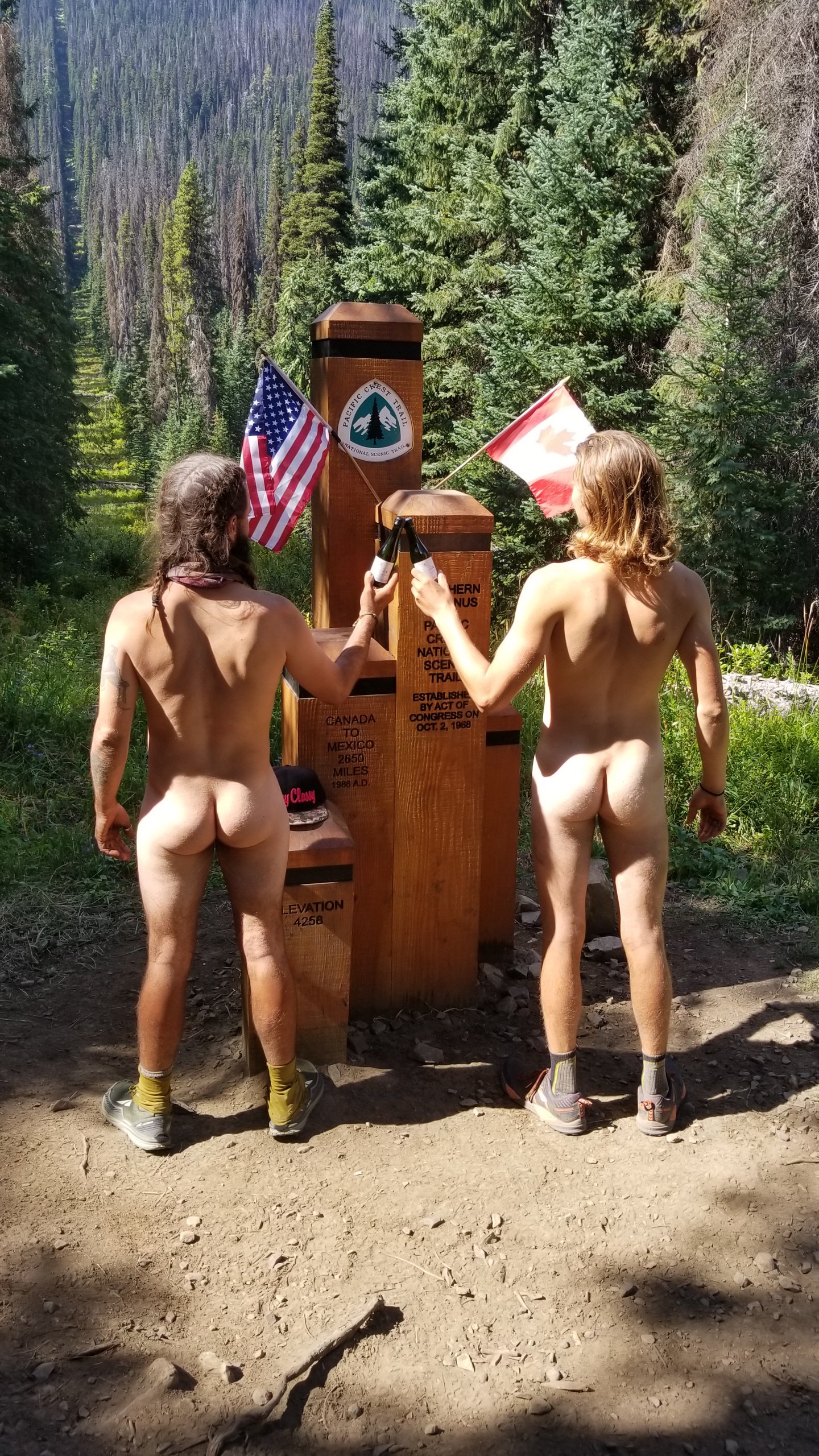 Pickle was there to greet us, and soon the rest of the crew started rolling in. There were a good 15 of us hanging out taking in the finish in our own way. Snapping photos, wooping out calls of completion, excitement, and also relief. I got all of us together for a picture, and afterwards read a little speech that I had prepared for the finish. It was a really cool moment, for all of us.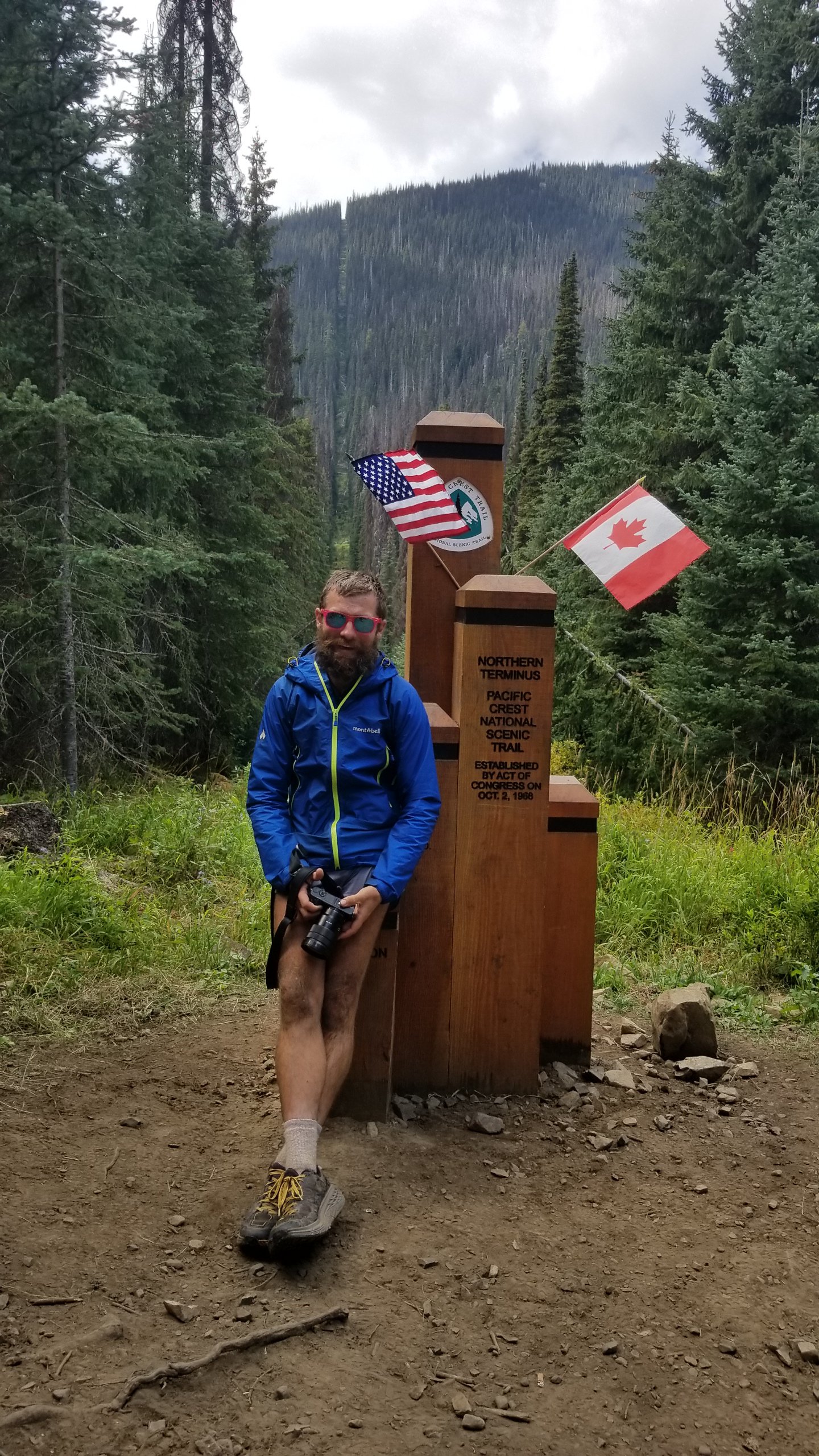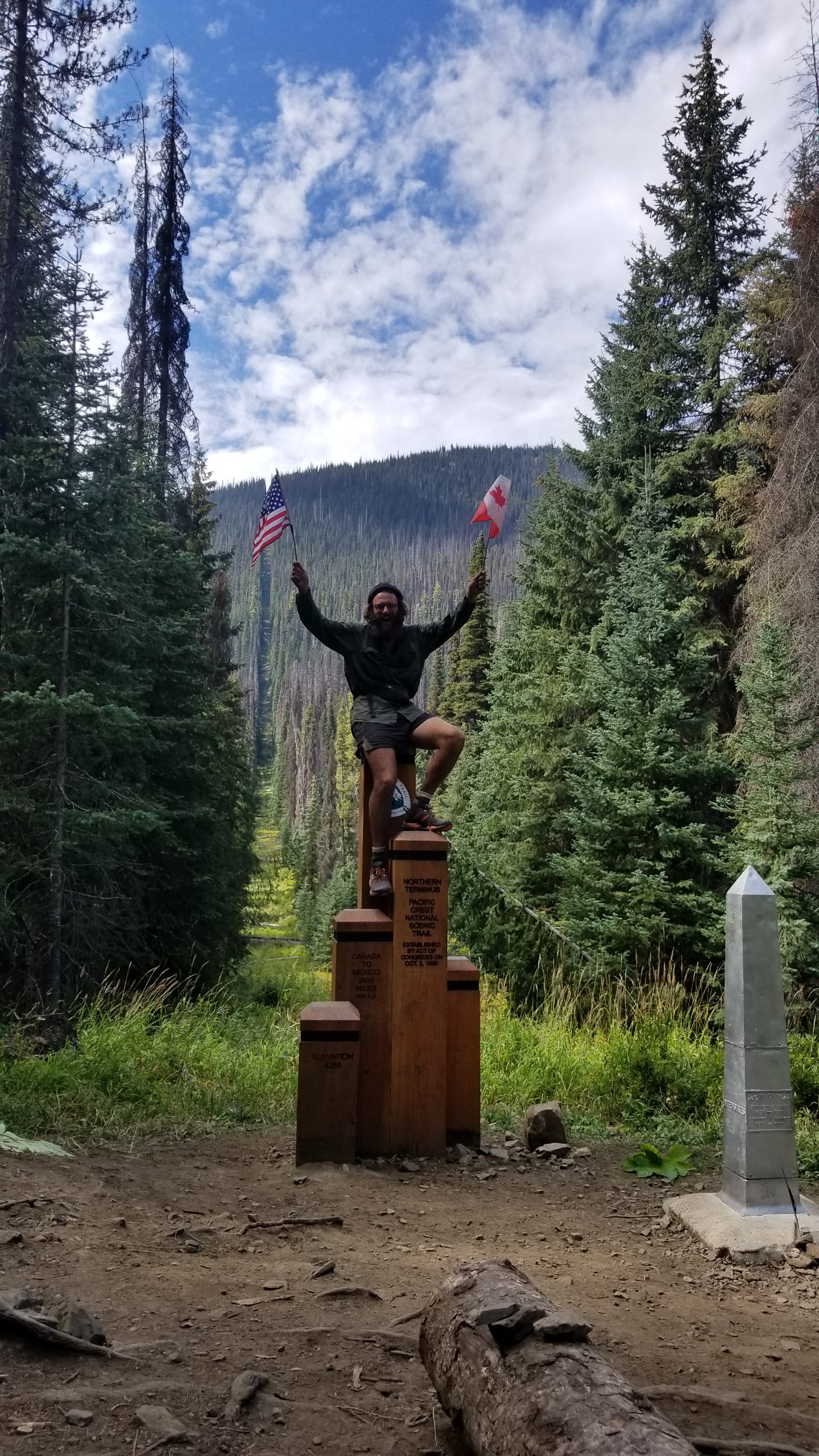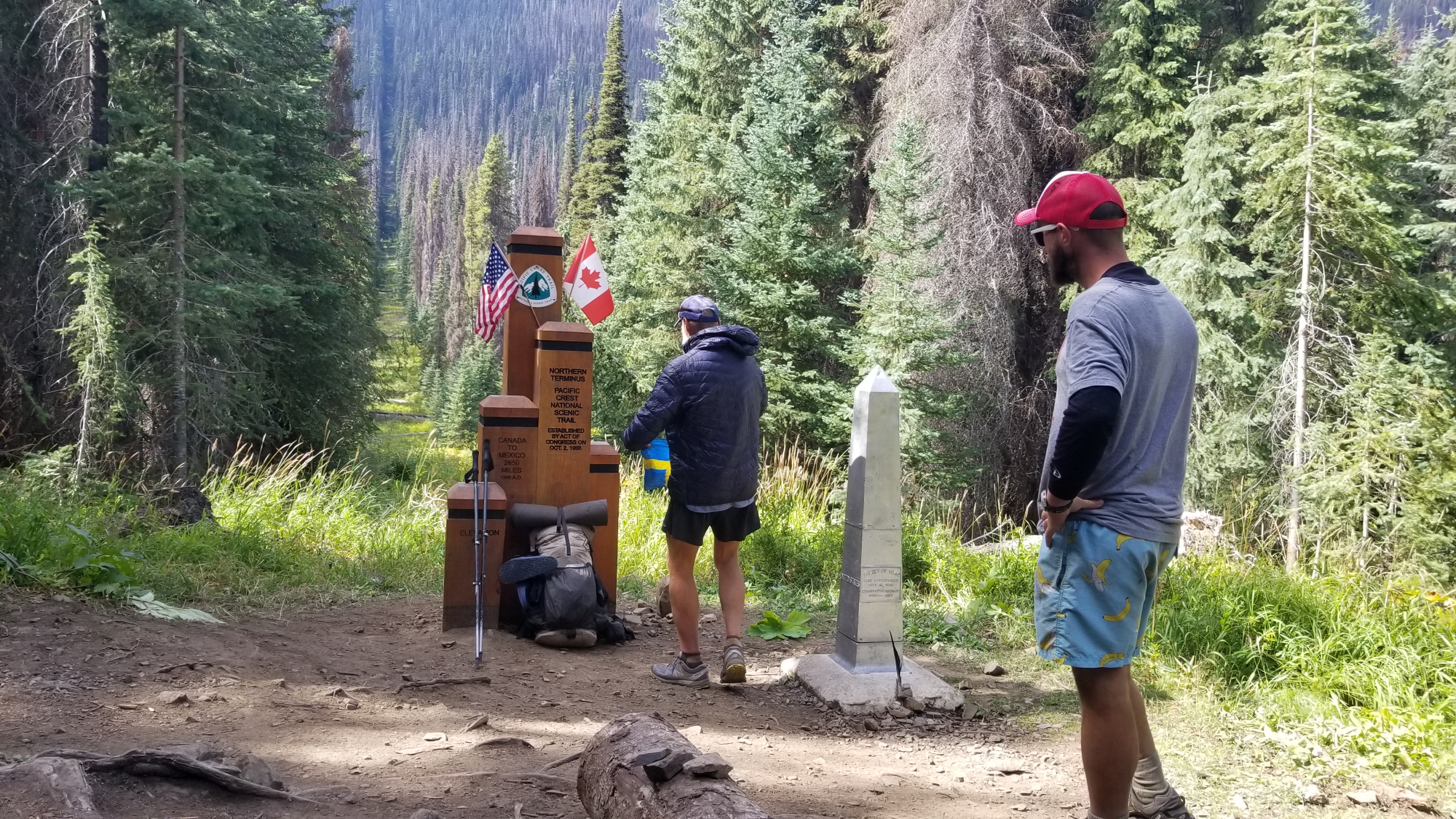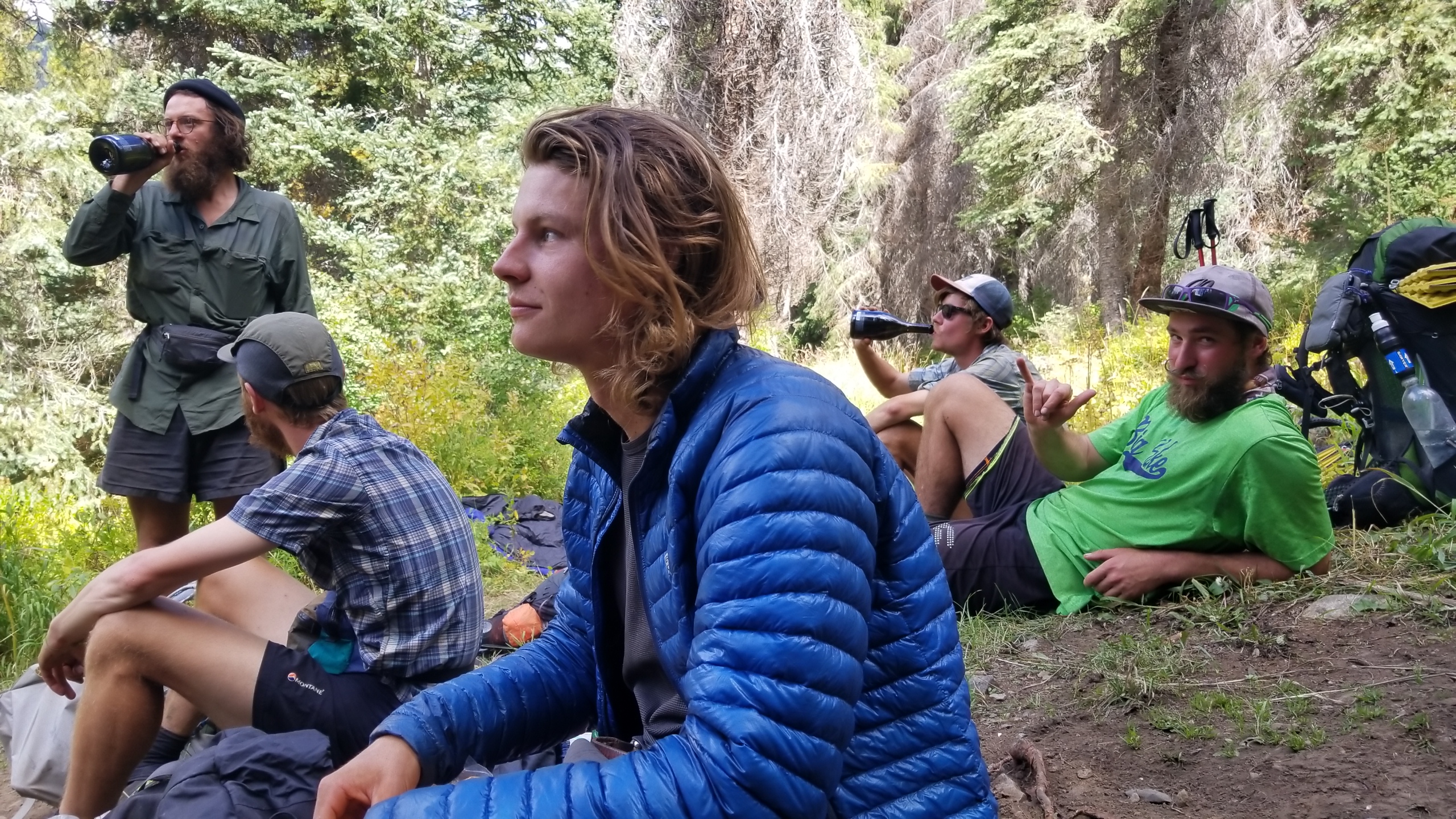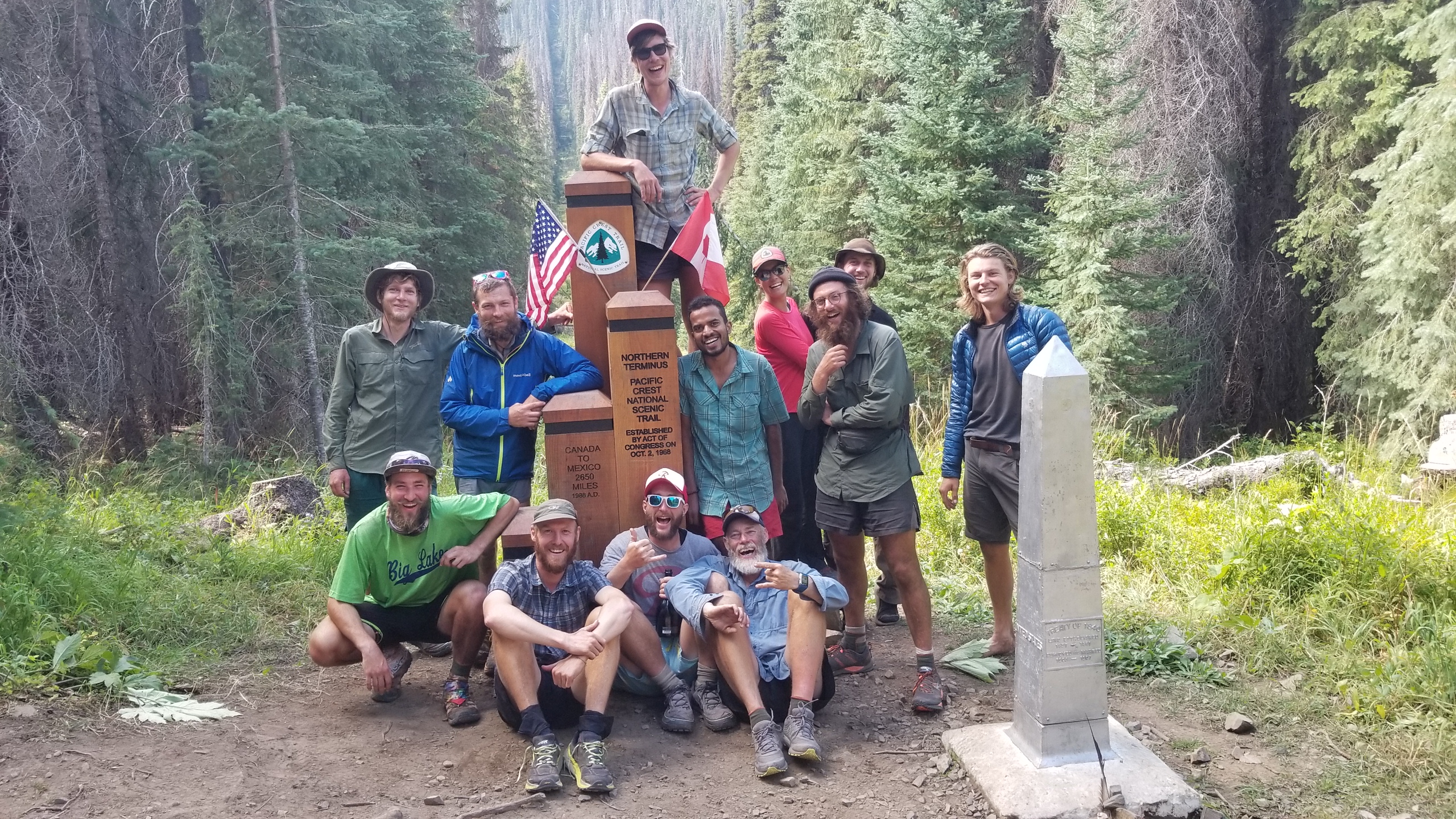 After the celebration subsided and making the realization we still had a good 17 miles to hike back to camp, we got moving. The gain began and we took it on quietly. We walked, strange in our own way, until we saw Johnny Staches group coming in. We all greated and congratulated each other on making it there. We trekked on, back past the lake, climbing up and on the gain, as the sky grew darker with rain clouds. The rain began to sprikle on Sissyphus, Pooper, and my heads, but the views were still incredible. Light spilled down beneath the clouds in areas in the distance revealing the ridgelines and valleys of this beautiful place.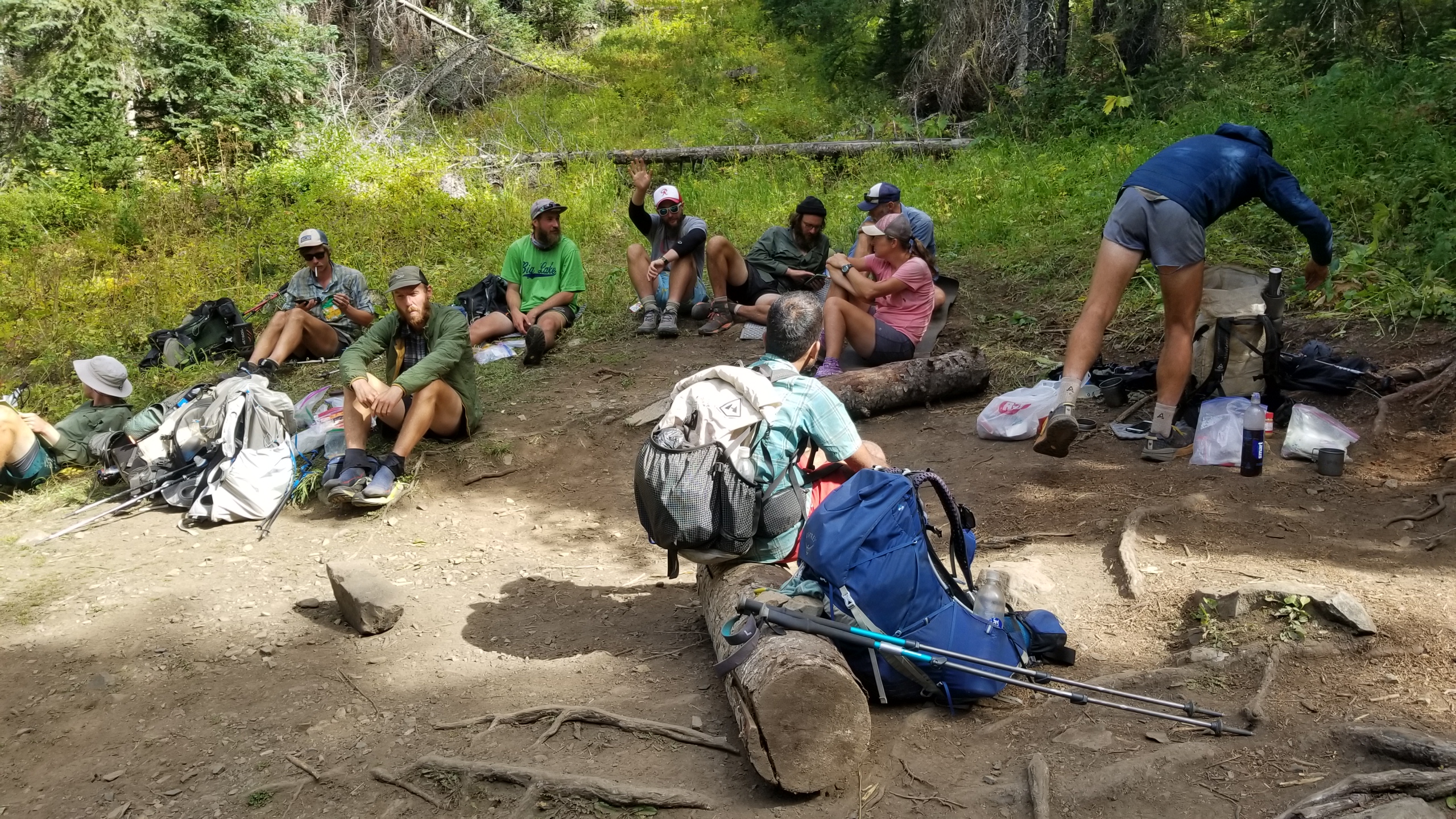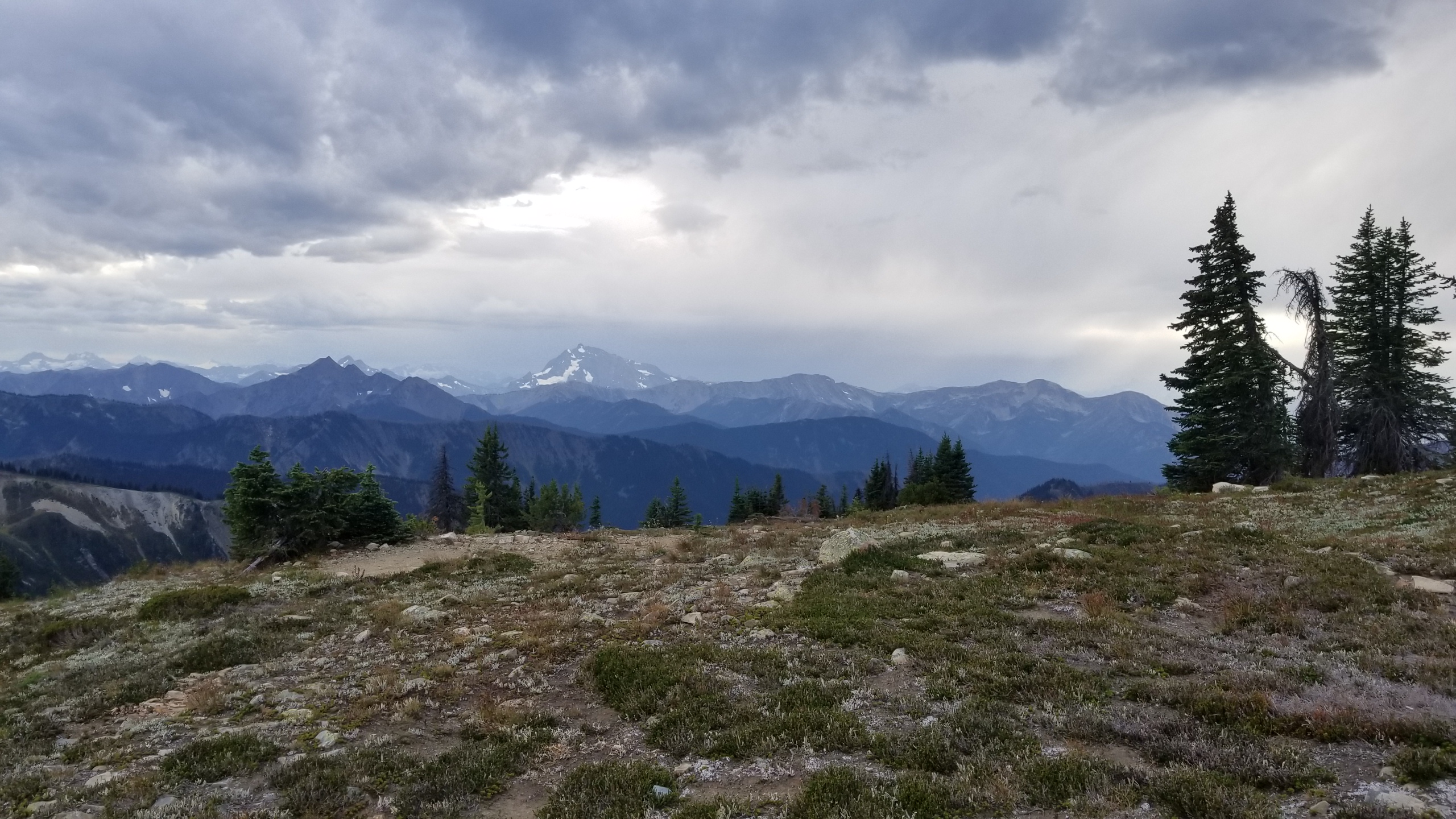 Finally we reached the detour as the sun began to set. We trekked the 7 miles downhill in dark. To our surprise the trees we were forced to jump in the morning were mostly all cut and removed from the trail. A maintainence crew had come in the day and eleaviated our struggle. We were all exhausted, stubbing toes, wet shoes, and a long day finally ended when we reached our tents at 10pm. The slumber we had that night was solid as a rock.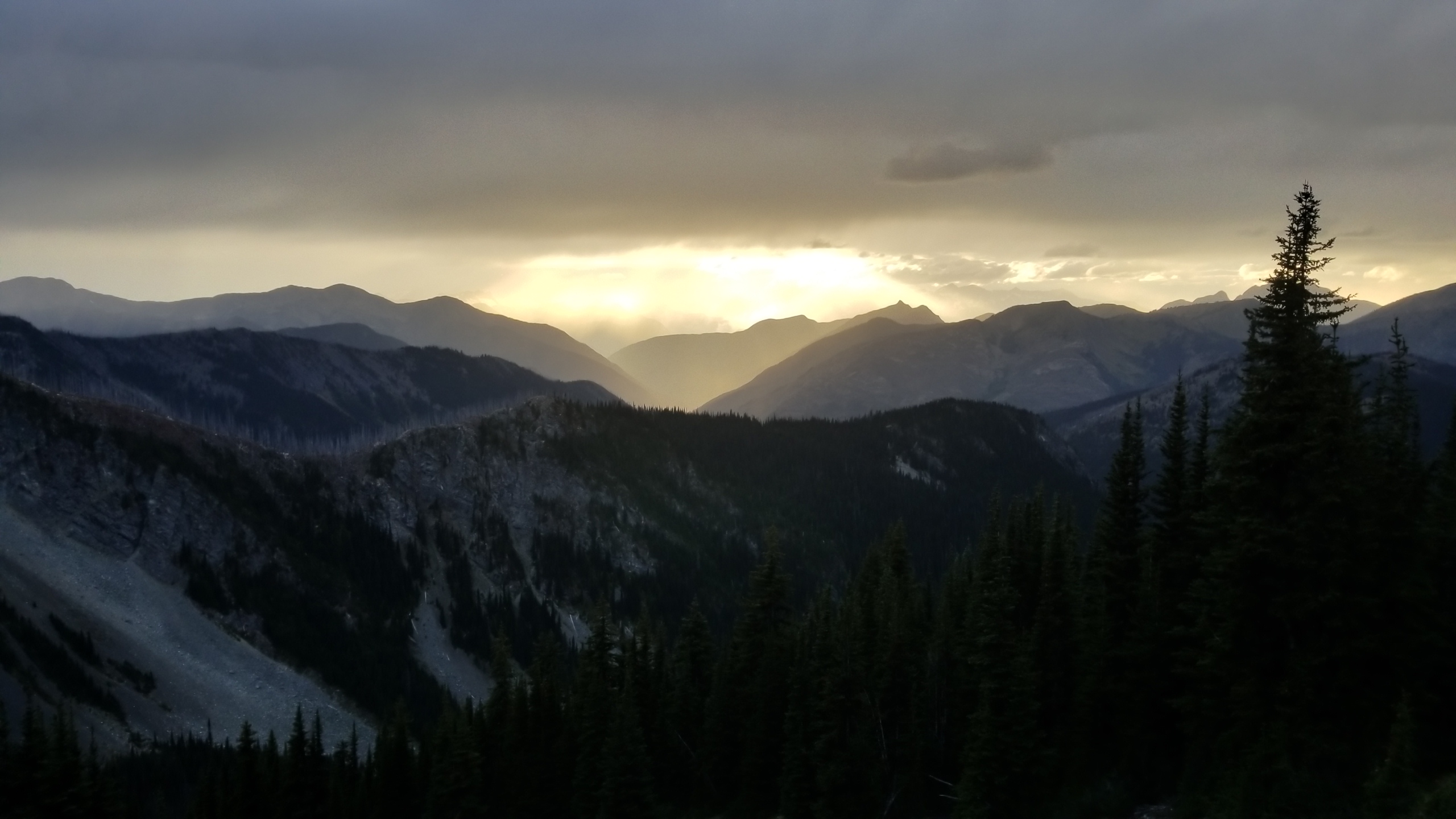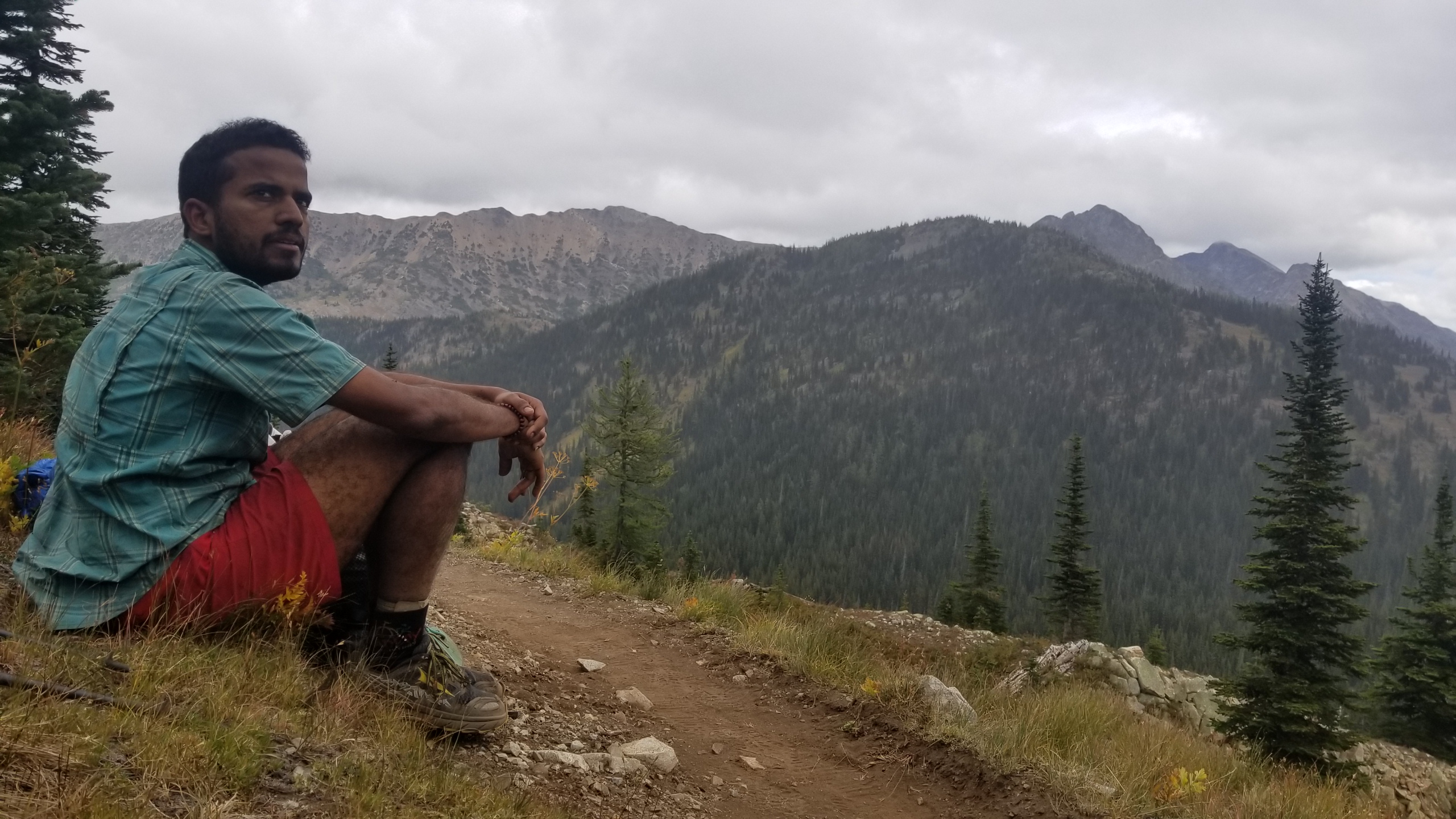 The next day we awoke early and retraced our steps back to Hearts Pass. We sat there, tired and in disbelief that we had truely finished and there wouldnt be 30 miles of trail waiting for us the next morning. With our thumbs out we got lucky and hitched into Winthrop with a bear hunter. Walking into School House Brewery my buddy Dan and my girlfriend Izzie were just sitting there waiting for us. Big stinky hugs and high 5's we celebrated that we had made it. Off the trail and back to civilization. It was a strange feeling, and my mind struggled to process it, but the fact is: We were done, we had walked across America. Mexico to Canada, 2650 miles, in 147 days. Wild!
Recommendation: Shuberts unfinished symphony