Selecting hiking shoes/boots is as sacred to each hiker as his or her own religion. No pair of feet and no pair of shoes are exactly alike, so finding the right match is paramount to making yourself comfortable on the trail. I've tried many different companies and styles, and I've found Merrell boots have always worked well for me. They're ready to go straight out of the box with little to no break-in time and you can put a good 500 miles on them before they wear out (once they fall apart I usually glue them back together and take them another 100 just for good measure).  Five years ago a co-worker handed me a pair of Merrel Moabs for $20 and I have been hooked ever since.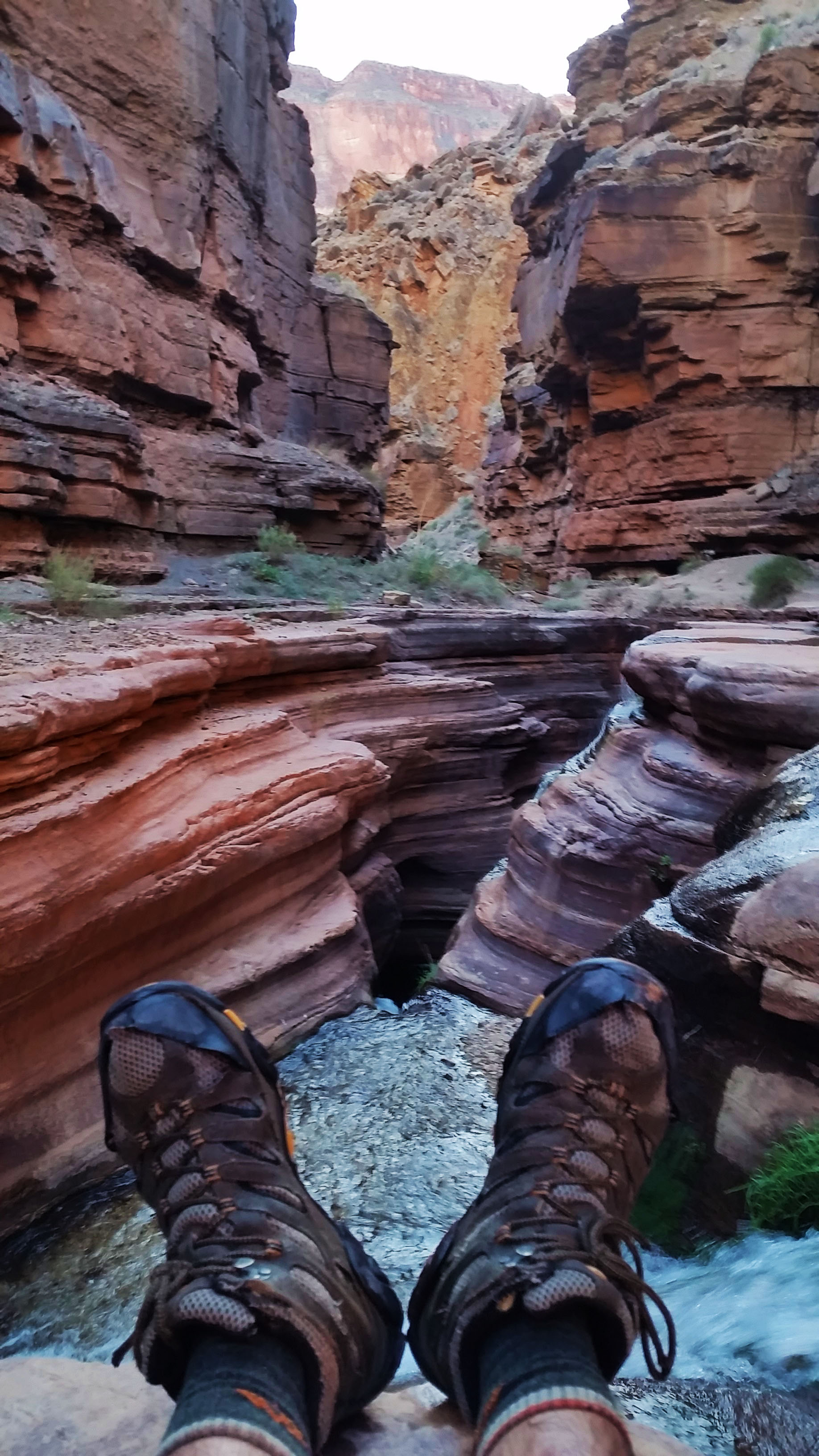 Merrel Moab Ventilator Mid (non-water proof version) 
These boots are optimal for desert hiking.  They're lightweight at just under 2 lbs., key on those long 10+ mile days where every pound you're carrying counts.  They're breathable and dry out quickly when wet, ensuring your feet stay dry even on those hot and humid days (or if you have to cross a creek you weren't expecting).  They're very durable and a great value for the cost.  As mentioned, there's little to no break-in time, so no worries about blisters or fatigue when your buddy calls you up last minute for a hike you just can't miss.  The only cons are they aren't waterproof and don't stand up to cold weather, so you have to plan your hikes accordingly.  I've heard that some hikers complain that they can feel the rocks under their feet through their boots.  Towards the end of the shoe's life they become like slippers, very comfortable but you can indeed feel the terrain beneath your feet. I wouldn't call it a con as I personally like this feeling, I mean why wouldn't you?  All things considered, these are great hiking boots for many terrain types and conditions and something I'd recommend for any level hiker whether they are a beginner or seasoned veteran with a lot of miles under their feet.
Pros:
Light weight
Breathable
Low cost
Durable
Dry quickly if wet
Low to no break-in time
Cons:
Non waterproof
Not great in cold temps
Some say they can feel rocks on the trail through their soles (I personally like this)
Full disclosure:
Merrell contacted me a few months back looking for a blurb on Buckskin Gulch. I still have no idea how they found me, but I have always been happy with their products. I didn't think much would come of it, so I shot them a small excerpt and a link to my post on the hike. Just the other day they got back to me saying I was featured in their 40 Extreme Treks site where they highlighted some good tough treks around the world.  Check out the site, they have some great bucket list treks on there and I think I will try and make some a reality.