The Grand Canyon is one of my favorite places to hike in Arizona. Yes there are a ton of tourists, the corridor trails aren't very technical, and the mule trains smell horrible, but the indisputable beauty of this vast, incredible chasm overwhelms any con you could come up with.
I planned this hike as an overnight backpacking trek. Down South Kaibab, ascending North Kaibab, and camping on the North Rim with some new friends would conclude my first day. The next day would consist of diving down North Kaibab, up and out Bright Angel trail, and a "short" drive back to Phoenix.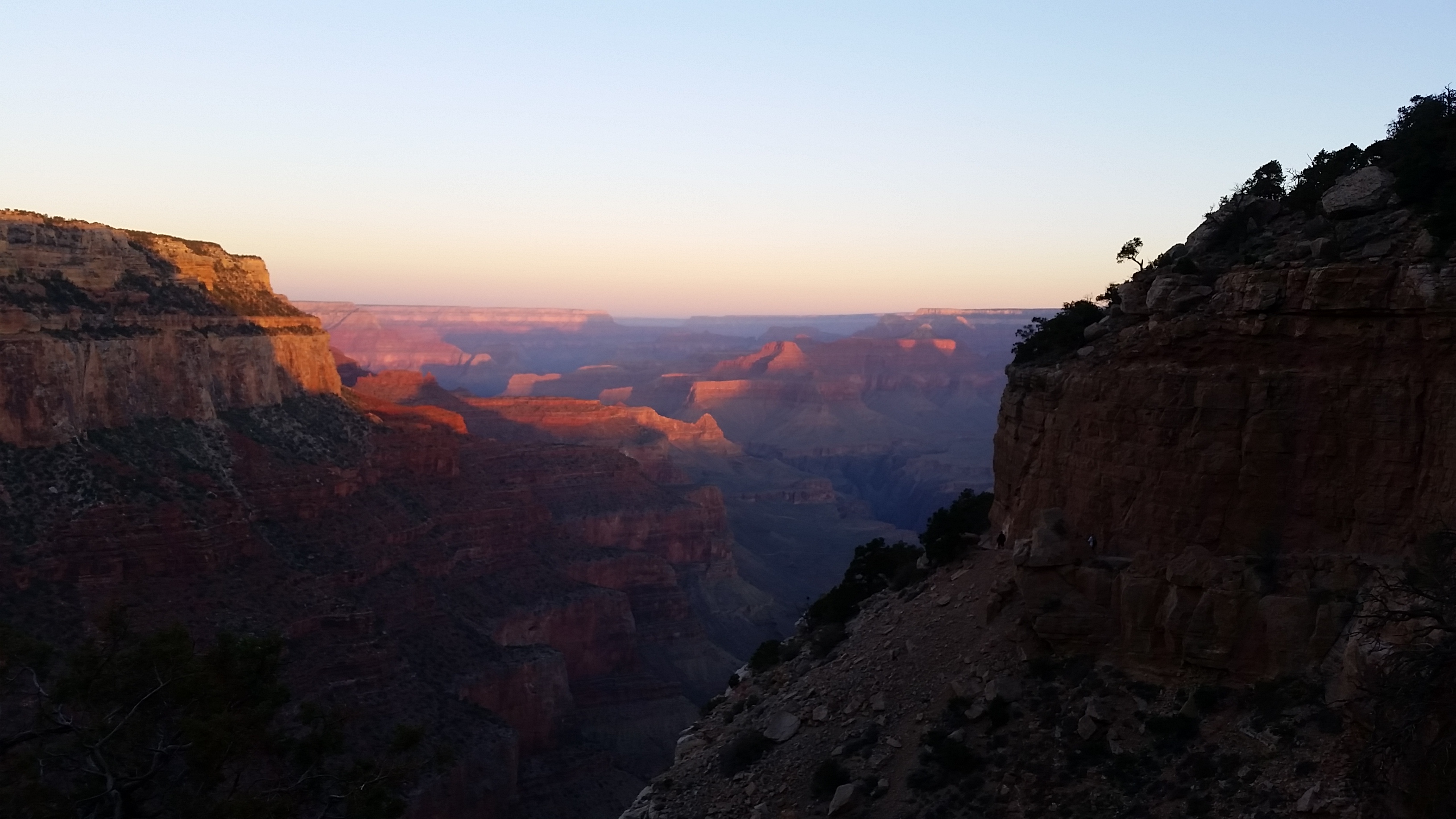 I always mentally divided this trek into 3 sections: the initial dive off the South Rim to the Colorado River, the long flat through the box and open desert to Cottonwood campground, and finally the long ascent through the red rock up to pines and the North Rim.
Being full of energy and excitement that morning and looking at the canyon in the morning light made the first section fly by. Before I knew it I was at Phantom Ranch, putting my feet up having a snack, and chatting with the other hikers who were breaking there. There is a small store there where you can pre-order meals and get fresh lemonade.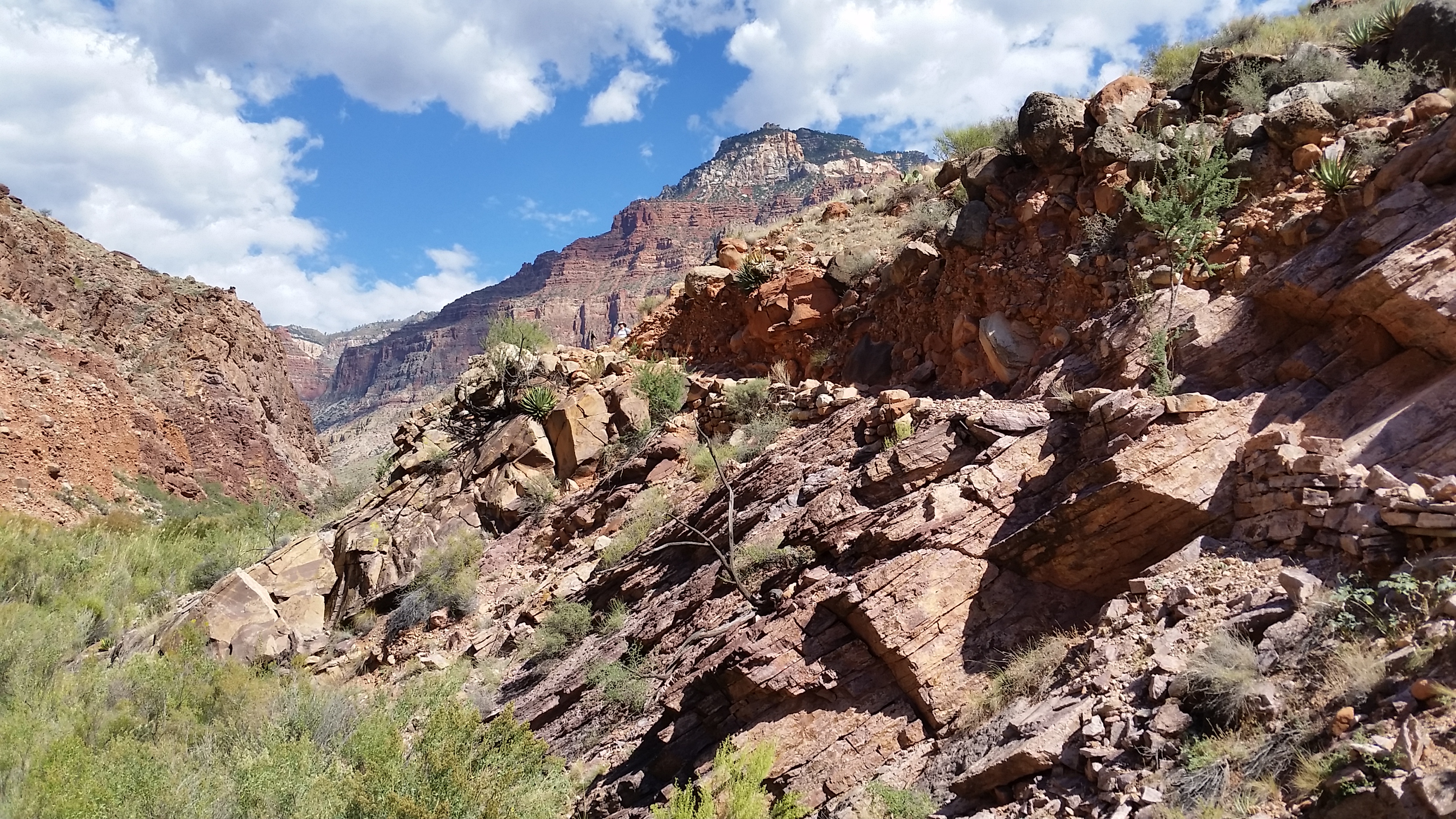 After taking a quick break at Phantom Ranch, checking my water, and filling my appetite on Clif Bars and Pringles, I packed up and headed into "The Box". In this section, the canyon walls came in close as I hiked along the Bright Angel Creek running down from Roaring Springs. In the summer this stretch of trail is absolutely relentless, and the heat beams off the rock walls like an oven. On an October morning, however, this wasn't a problem. Once the canyon walls opened up, and it became more apparent I was in desert landscape, I knew I was out of "The Box".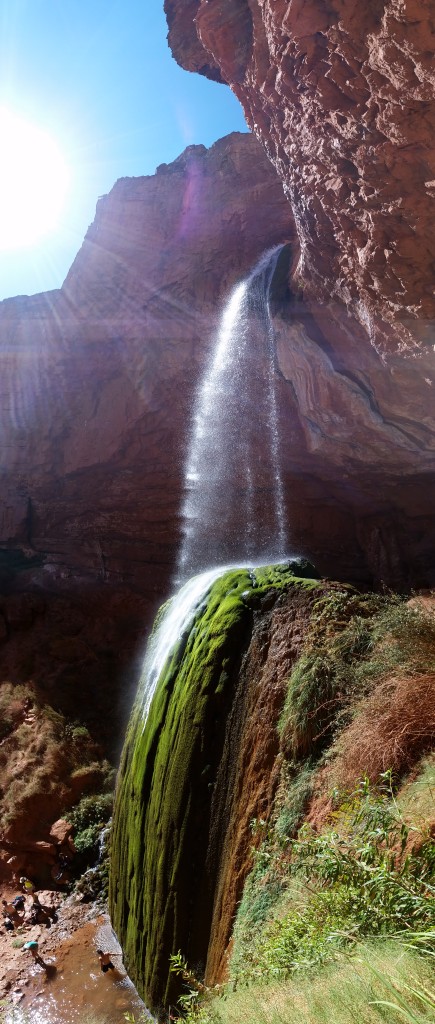 Half way between "The Box" and Cottonwood campground there is an oasis waterfall called Ribbon Falls, this is a must see! I walked into the small canyon that housed the fall and could instantly feel the air become cooler. Once reaching the falls, I took no time pulling off everything but my boxers and went for a refreshing dip in the crisp clean clear water, which totally rejuvenated my feet from any soreness they had accumulated. Little moments like these make hiking so worth it!
Before long I threw my gear back on and trekked on towards Cottonwood campground. Once I reached the campground, I checked my water, had another quick snack, and wasted no time heading out up towards the North rim. This is by far my favorite section of the trail in the Canyon. The combination of red rock canyon walls, cool temps, vast drop offs that guard the trails edge, pine trees, and afternoon light make this area very special.

Soon I was sweating, breathing heavily, and laboring the last few miles just before the North Kaibab trailhead. The last few miles are the most vertical, and of course to make things more difficult, the trail turns to sand from constant trample of mule trains (which leave nice steaming presents for you to smell as you're sucking wind). Even though this is a tough part, you're rewarded with gorgeous views of changing leaves and pine trees growing from the immense rock faces surrounding the trail.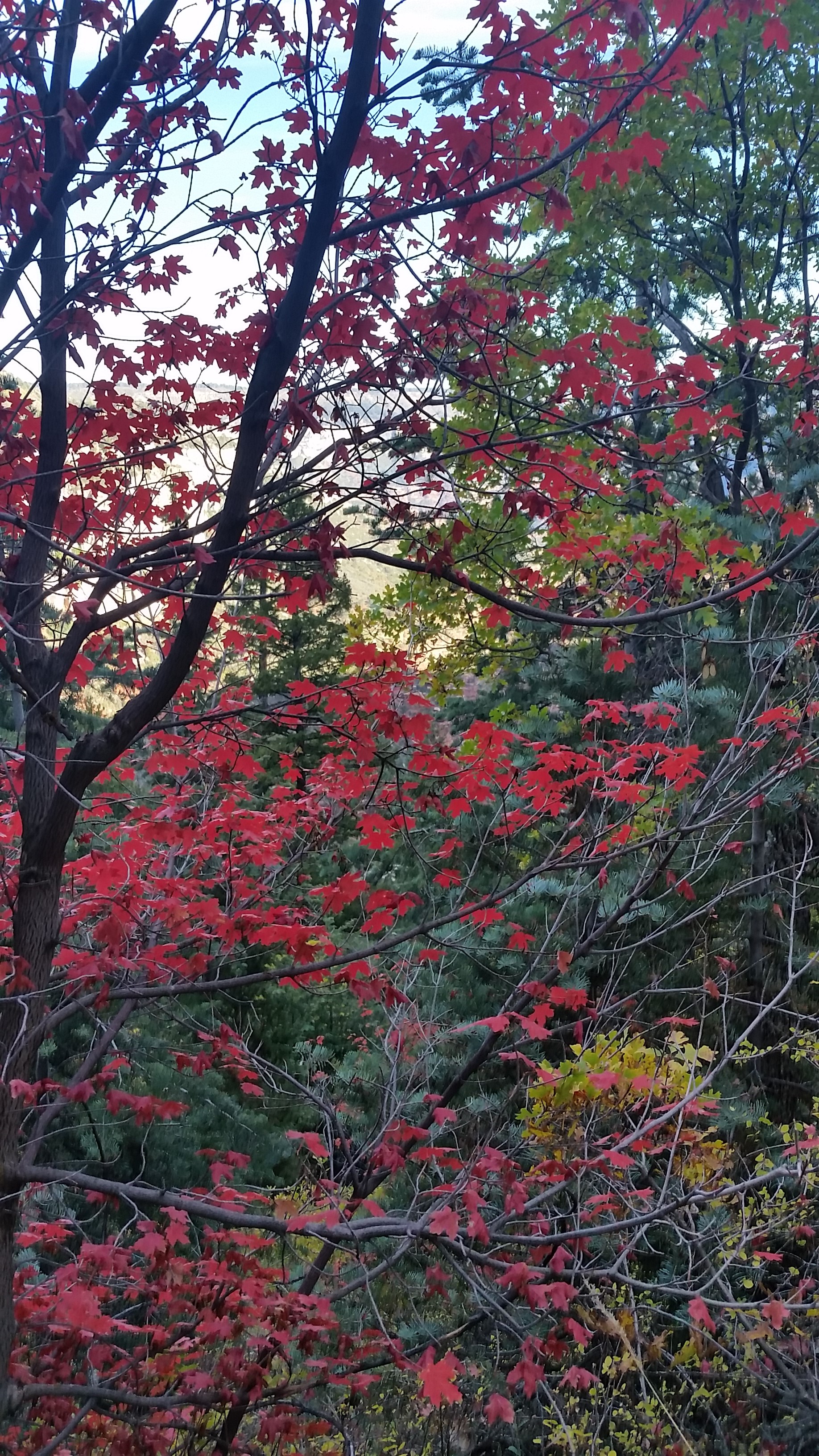 I pushed hard to finish out from beneath my bulging backpack. All of the sudden, I felt a strange sharp pain starting in my lower quad at the knee walking its way up my leg. After a few seconds I knew it was a cramp. My left leg followed suit and soon mirrored the pain I felt in the right. I had no salt tablets and I was only a few switchers from the exit. I pressed on knowing I could borrow some electrolytes from another hiker. I finally reached the trailhead surprised to hear a crowd waiting and cheering on exiting hikers. It didn't matter if they knew you or not, they were there for moral support. I almost forgot about the seizing pain in my legs. After a sharp reminder I hurriedly dumped my pack and found a fellow hiker with a salt packet. The salt and a gulp of fresh water quickly alleviated the pain. This was my first time experiencing cramps in my legs.
Soon after I reached the rim, my friends exited. We went to the campground to set up camp and a quick jaunt up to the North Rim Lodge to grab some food and beer before crashing for the night. It's always great to swap stories with people who enjoy the same things you are passionate about.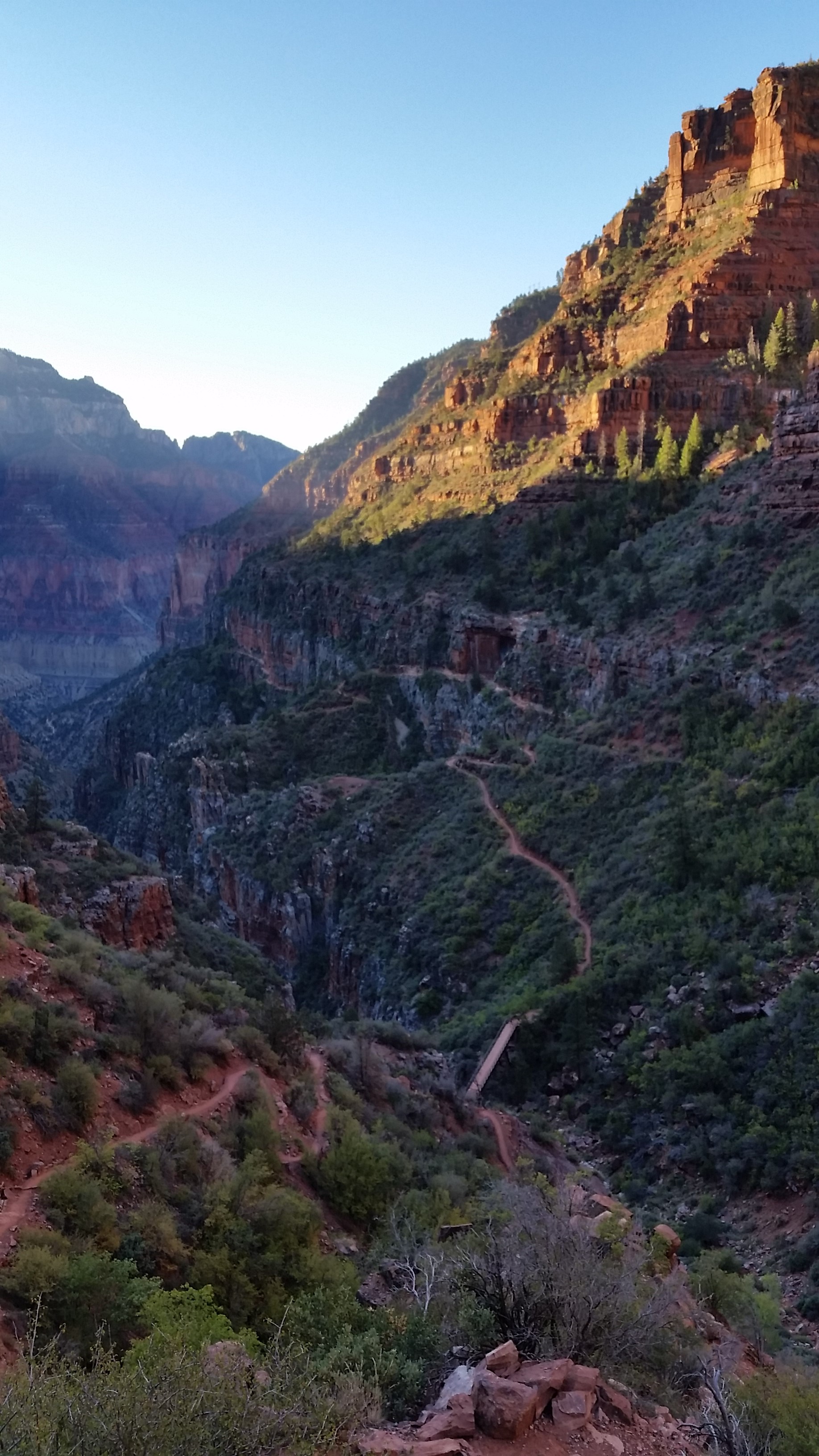 The next day I woke early for the return trek. I ate breakfast, threw my pack on, and said farewell to my friends before I bombed off once again into one of nature's most incredible wonders. Pictures don't do it justice and stories can only tickle curiosity. I urge you to throw on a pack, get some boots, put some dirt beneath your feet and experience this place for yourself. You won't regret it!
HIKE INFO: http://hikearizona.com/decoder.php?ZTN=292
HIKE STATS:
Weather: Hi in the low 70s, Low in the lower 40s, slighly cloudy
Water: 3 liters (per day)
Food: 4 Nature Valley Peanut butter granola bar, 4 Clif Bars, 2 meal replacement protien bar, 1 bag of beef jerky (6oz), 1 ziplock sandwich bag of cheese-its, 1 via starbucks instant coffee, 1 Quaker Real Medleys, 1 Mountain House Beef Stew, Pizza (north rim lodge), gummys worms, Pringles
Time: 10 hours day 1; 8 hours day 2
Distance: 20 Miles one South Kaibab to North Kaibab (Day1)
Distance: 22 North Kaibab to Bright Angel (Day2)
GEAR:
58 liter exos osprey backpack
Big Anges Fly Creek UL2 tent
Flash REI sleeping pad
Cosmic Down Kelty Sleeping Bag (rated to 20 deg F)
Jet Boil – Sol
Black Diamond trekking poles
CLOTHING:
Cotton Shirt
Cotton Hoody
Cotton Handkerchief
Under Armor shirt top
Basketball Shorts
Merrell Mid Moab Hiking Boots
Smart wool medium weight sox and liners
Giro Mountain Biking Gloves