The wind screamed by our tent most of the night, waking us every 15 minutes it seemed. Finally, after midnight, I remember it dying down and getting some solid sleep. The alarm blasted, Bzzzz Bzzz Bzz, man was it time to get up already?! We woke, staying still for a moment checking the time. Sure enough, it was time to start our haul to the base of Zoroaster and hopefully attempt our bid on the summit.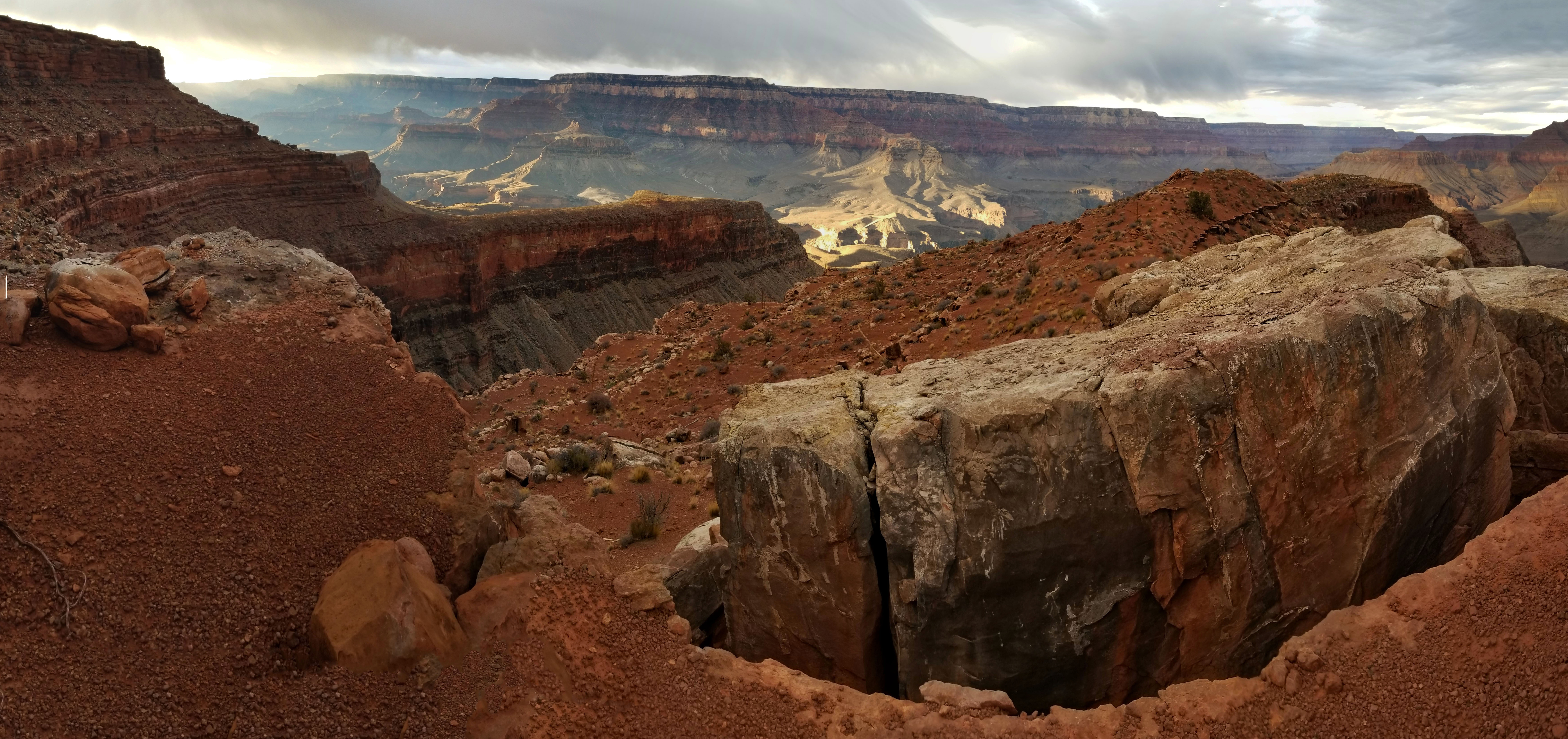 We ate breakfast, packed up camp, and before we knew it, Kari and I were taking our first steps towards the monstrous beast that loomed over our camp just as day began to break. Feet in red dirt we ascended Zoroaster's arm, chimneying up a small obstacle and soon the next cliff bands stared us in the face. We picked our way through, shimmying up some low class 5 (C5) chimneys, handing packs as we ascended. We moved as quickly and safely as we could. A slip or mistake here would not only cost an injury, but also the goal, and not to mention the excruciatingly long rescue effort. Cliff band after cliff band we somehow found our way through. We pushed further up the arm, and finally after a long slot ascent and a large boulder shuffle, we skirted to the north and headed towards the saddle of Zoroaster and Brahma temples.
The footpath grew very narrow, vertical rockface to the right, and sloped dirt leading to a 400 foot drop to the left . . . better keep our heads on in this section! We carefully picked our way through following the footpath, cairn after cairn guided our way. Finally we found the weak spot in the headwall and started to ascend. The first obstacle was a chill class 3 scramble up to a ledge where we found a fixed rope for the next obstacle. We bat-manned up and sere soon past the next C4/C5 section. We followed the cairns as we went, across another rope less climb, up a slab, and finally to the spiciest of the obstacles. It was a good 20' C5 climb with a fixed rope to guide us up! "How nice of someone!" I thought as we exited the obstacle.
We kept pushing our way up the steep faint trail, following cairns until finally we were face to face with the sheer walls of Zoroaster. None of the faces we could see looked like our climb, so we continued to skirt east across the north face of Zoro. Walking on and on, when all of the sudden we turned right at the arête and stared at the 5.9+ NE Arete route. It was time to go to work! We racked up and Kari put me on belay as I stepped towards the start of the climb.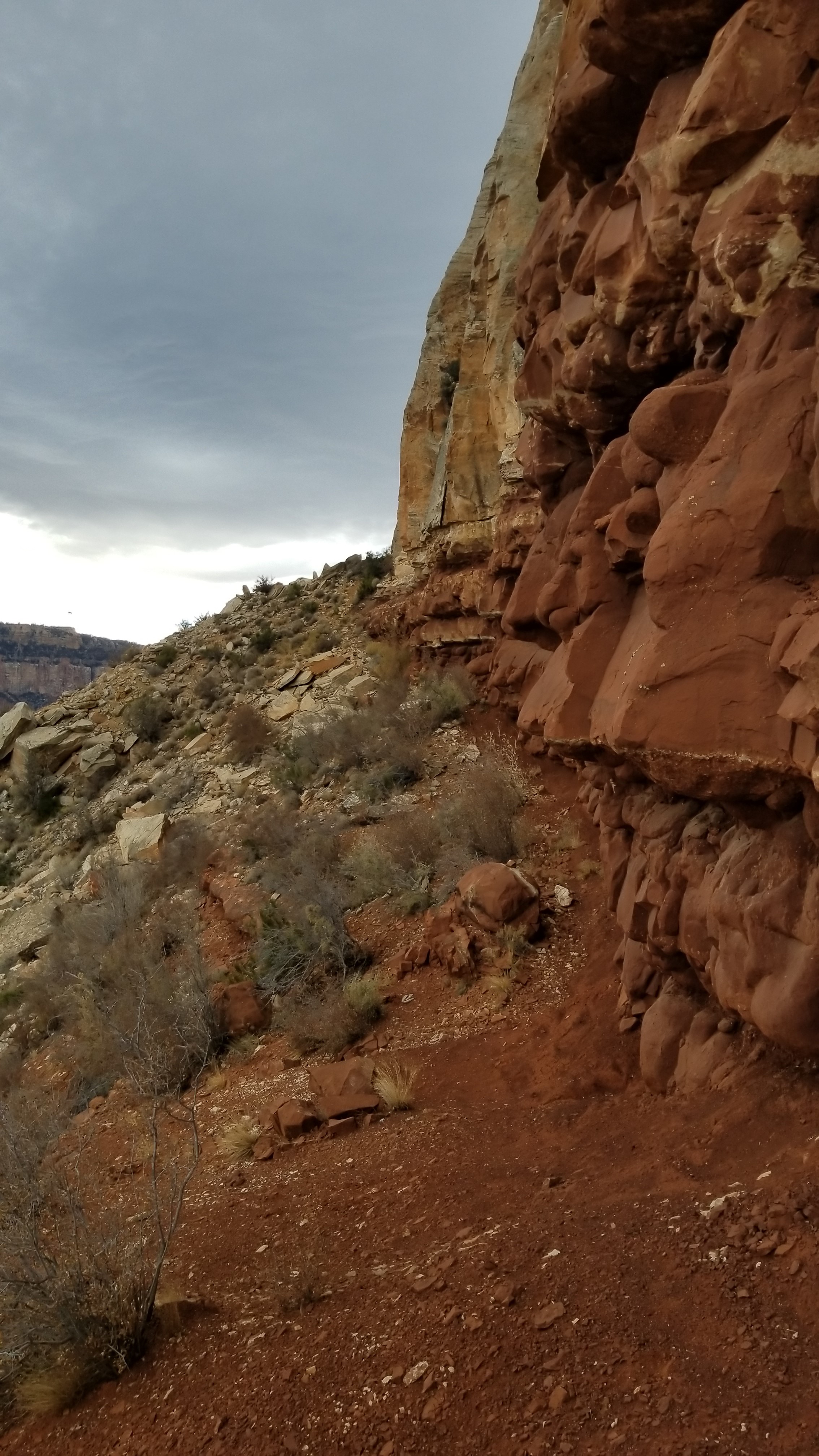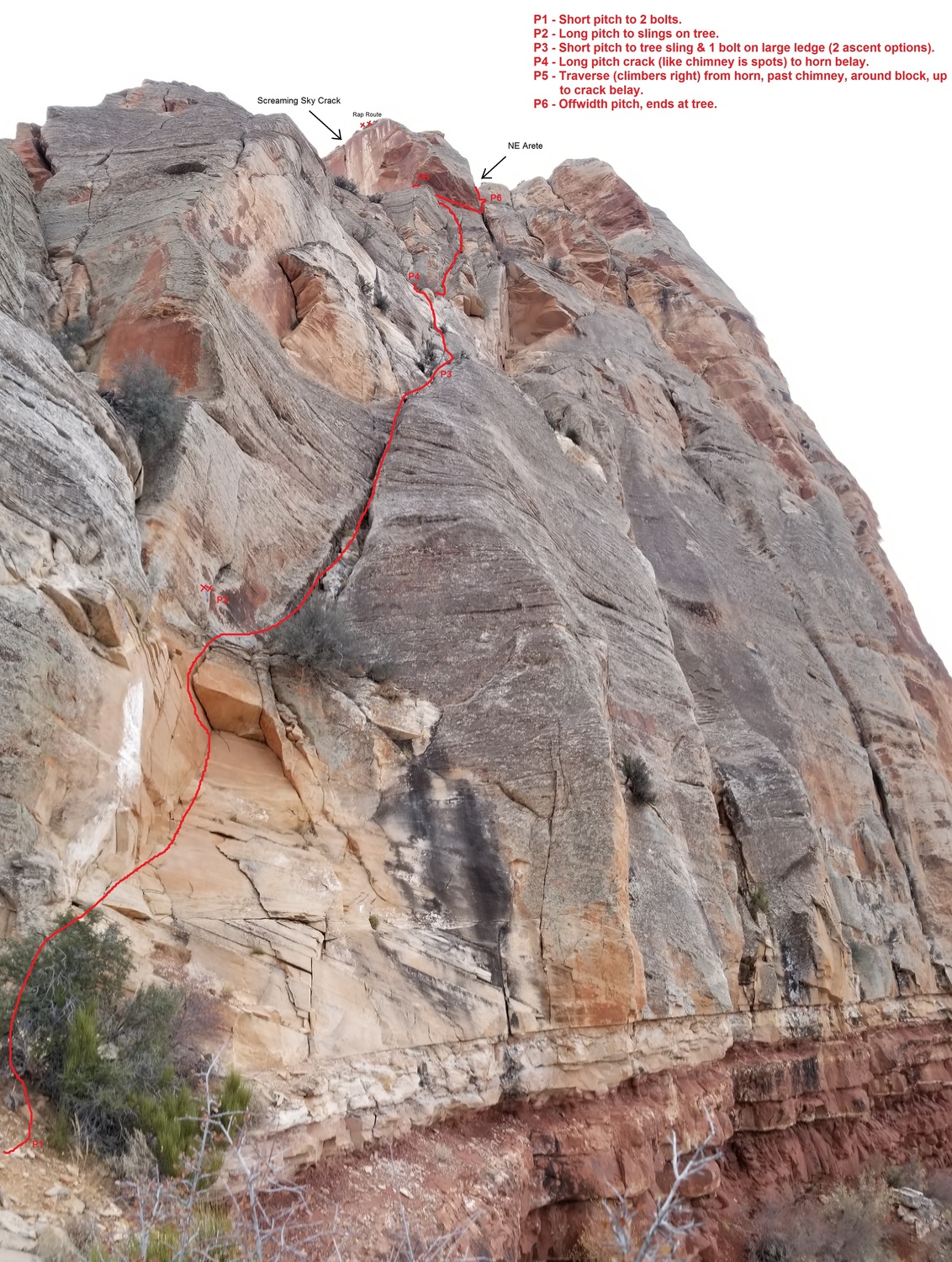 Pitch 1 (P1):  My hands were sweaty as I made my first step towards the start. I plunged them into my chalk bag shaking off the jitters and stared at a large triangle roof a good 25' up a face. I started up the sandy sandstone face reaching the clearly clean roof. I threw a #3 Camelot on the crack and inspected the face wondering how I would pull the first obstacle. I reached high, and using a nice foothold on the left face I pulled myself over the roof and was soon clipping chains just 50' off the ground.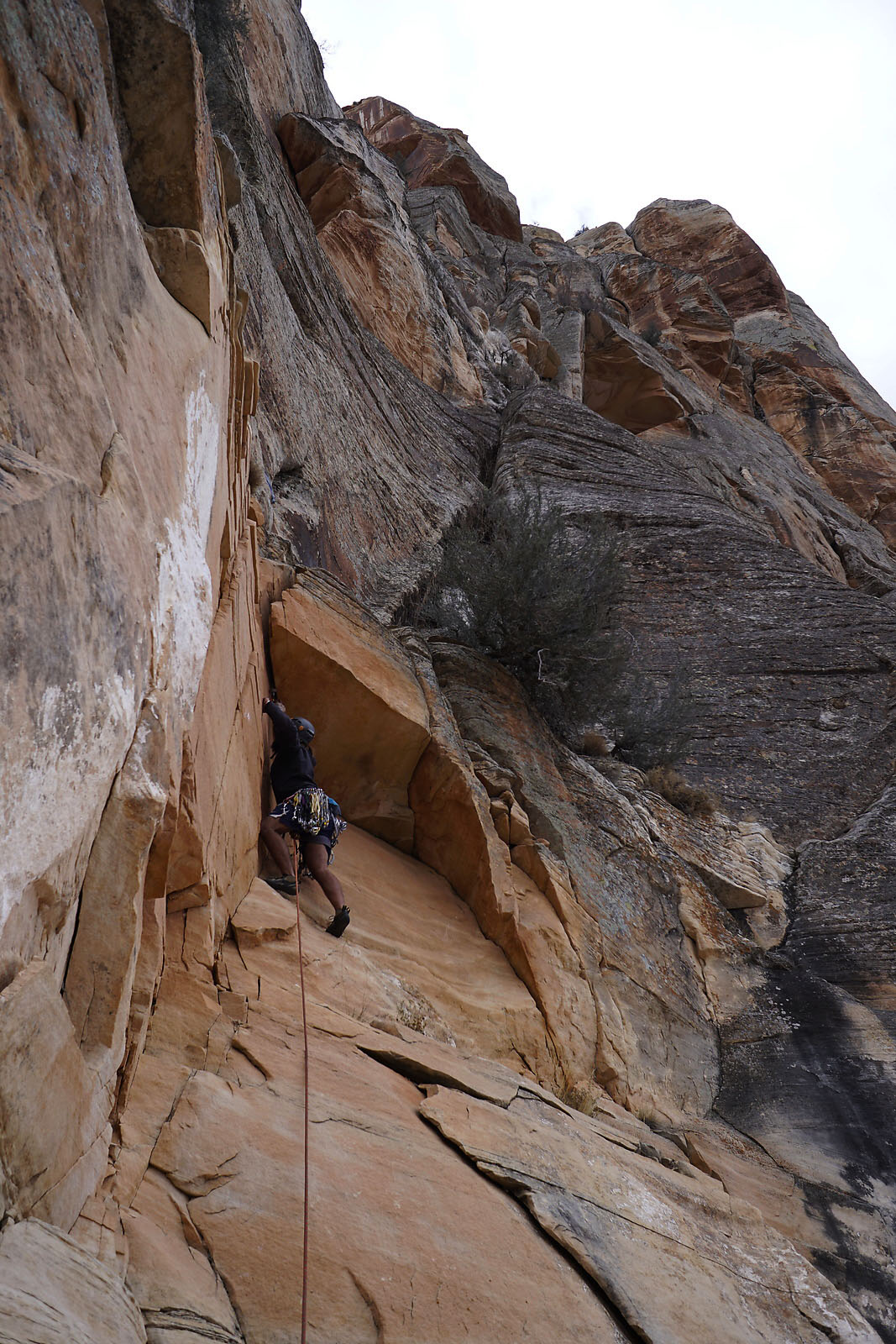 P2: The crack went up and climbers right from here and I followed. There were some fun moves, I stepped up, finding the next hold, repositioning and finding good gear placement. The long pitch meandered up right through the crack around some small trees. Move after move I ascended, sometimes being pushing onto some short slab climbs until finally I reached a tree covered in slings signifying the end of P2. Whew, made it! I threw Kari on belay and he soon followed. Trying to move quickly we spared no time exchanging gear and I set off again!
P3: The infamous "Crux Pitch". I move up and climbers right towards a fresh rock scar where a pinnacle used to hold on, creating a chimney for the next pitch (it fell in 2004). There were now 2 options for this pitch: ascend a section of runout slab face climbing with no protection, or a vertical sandstone slopper hold climb. I chose the sandstone, heading almost vertical and slightly climbers left from the tree below. I placed a Camelot #3 deep in a hole/crack with soft sandstone edges and prayed it would hold. I moved up and left, finding a good left foot, dropped knee, intermediate sloper with my left hand, pinching a sandy sandstone shelf with my right hand . . . needless to say it was awkward . . . all of the sudden I was out of position. "Falling!" I yelled down to Kari as I blew off the face! Gravity took over and I fell for a good 20' whipper before my #3 dug in and held me. Whew!!!! I thought to myself and let out a loud happy yelp "Wooooooo!"  I grabbed my composure . . . this climb could end here. I stood back up and headed back for the same move. "Falling!!!" Boop, once again I was thrown from the face, the # 3 held, my hero!!!! I dusted myself off and looked upwards woundering if this was the end for us. I got back into the same position a 3rd time, only this attempt I threw my right hand up, blind, above the huge sloped rock in my face. To my surprise a bomber hourglass shaped hold!! I grabbed in and rejoiced as I made my next move to climbers left and safety of the next anchor. Sweat dripped from my body and I put Kari on belay.
P4: I stood on a huge ledge and soon Kari joined me after enjoying the same interesting crux as I. We had no time to waste, so I geared up and headed to a crack that was just above the fresh rockscar that moved climber's right. I continued up this chimney running it out a bit, placing gear only where I had a nice stance. Even with all the runout, I started running low on gear! I found a small tree and looked up past the next chimney and there was still about 30' above to the infamous horn belay. I decided to just build an anchor here and belay Kari up, breaking this pitch into 2. After some "fun" chimney Kari appeared at the belay, looking a bit tired and ready to be on the horn. I collected the gear he cleaned and headed up the final section of chimney towards the horn. I popped out of the chimney only an arête that ended into a loose slab section. The next place I could throw gear in was a good 20' away, so I carefully climbed. Smearing my feet and slowly controlling my weight. I worked my way up until I found myself grabbing a bomber hold!! I quickly pulled myself up onto the infamous horn belay with a nice set of anchors. I set the belay, and Kari began to climb, cleaning gear as he went. As he popped out onto the loose slab section, he had the same impression as me: "What is this crap?!" Kari exclaimed!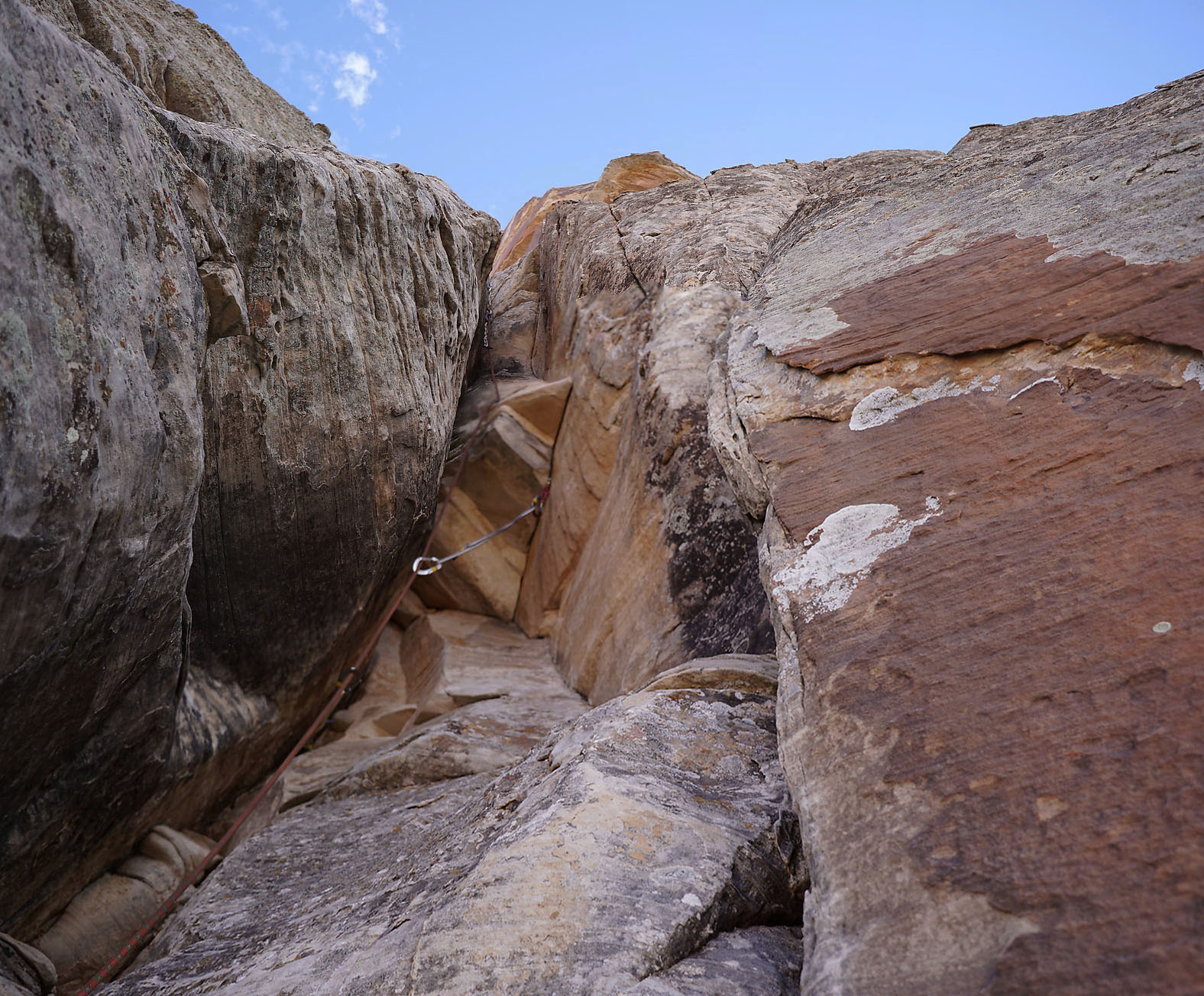 Kari joined me, as I sat straddling the horn, chilly, fully zipped up in my hoody. We had just 2 pitches left before the technical climbing was over. Although nervous, I was excited to take them on. The traverse was up next and after that the off width pitch. The traverse boasted almost no choices for protection and the offwidth pitch was some hard technical climbing. Kari but me on belay again . . . "Climb on!" he said. It wasn't over yet!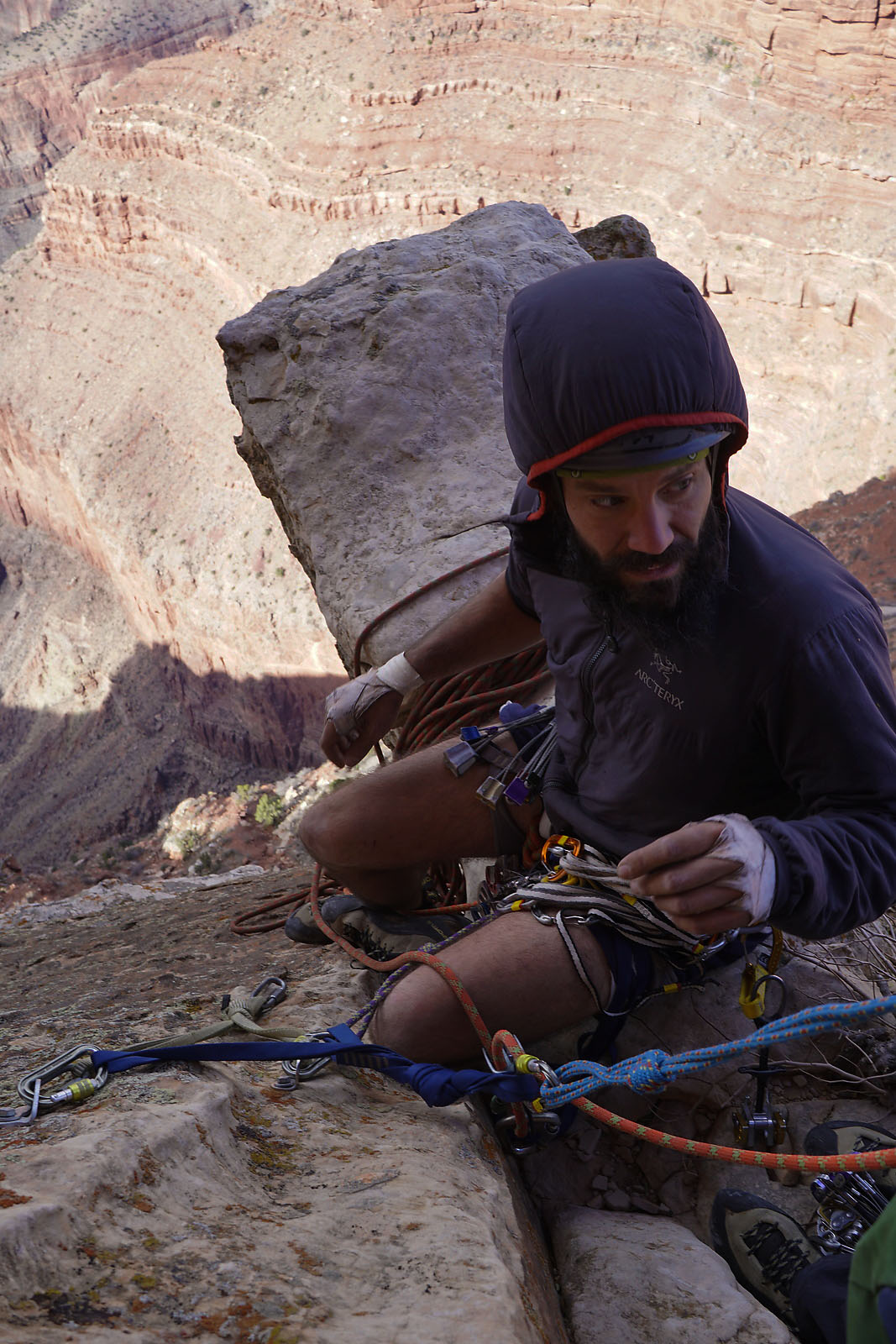 HIKE/CLIMB INFORMATION:
CLIMB/HIKE STATS:
Weather: Hi 60s, Low 40s, Sunny
Water: 4 liters
Food: 1 Cliff Builder bar, 1 protein bar, 1 Nature Valley granola bar, bag of salt & vinegar, beef jerky, bag of pizza Pringles, gummy worms, orange, chicken and mashed potato MountainHouse
Time: (Day 2) 20 hours
Distance: (Day 2) 7 miles
Accumulated Gain: (Day 2) 1,700 feet
Climbing Rating: 5.9+ Trad
Number of Pitches: 6
GEAR:
Big Agnes Copper Spur UL2 tent
Big Agnes QCORE SLX sleeping pad
Cosmic Down Kelty Sleeping Bag (rated to 20 deg F)
Jet Boil – Sol
Black Diamond trekking poles
SPOT Gen3 Tracker
Sawyer Squeeze – Water Filter
58 liter exos osprey backpack
Black Diamond Helmet
Petzl Corax Climbing Harness
2 Black Diamond screw carabiner
4 Phantom DMM screw carabiner
6mm Accessory Chord – Anchor
Black Diamond Camelot X4+C4 Cams – Double Rack – (2x), 0.1, 0.2, 0.4, 0.5, 0.75, 1, 2, 3, 4
Black Diamond Standard Nut Set
12 Alpha Trad DMM quickdraws – Alpine draws
Black Diaimond ATC Guide
70 meter 9.8mm Rope (Orange Slice)
Webbing/7mmCord for personal anchor
20′ Flat webbing to leave for anchors
Arc'teryx Chalk Bag
CLOTHING:
Smartwool 195 weight long sleeve
Arc'teryx Hoody
Cotton Handkerchief
Nike shorts
Patagonia Pants
Darn Tough Medium Wool Sox
Merrell Mid Moab Hiking Boots
La Sortiva TC Pro Climbing Shoes