Mike, Meg, and myself strapped on our packs and headed out on a warm afternoon search of adventure up Longs Canyon in Sedona AZ. The trail itself was 3.5 miles and 800 feet up the canyon before its terminates. I looked at the map and it seemed as though there was a possibility to push up the rest of the canyon to its top and tie into the peak Secret Mountain and hopefully a walkover down the backside of the mountain.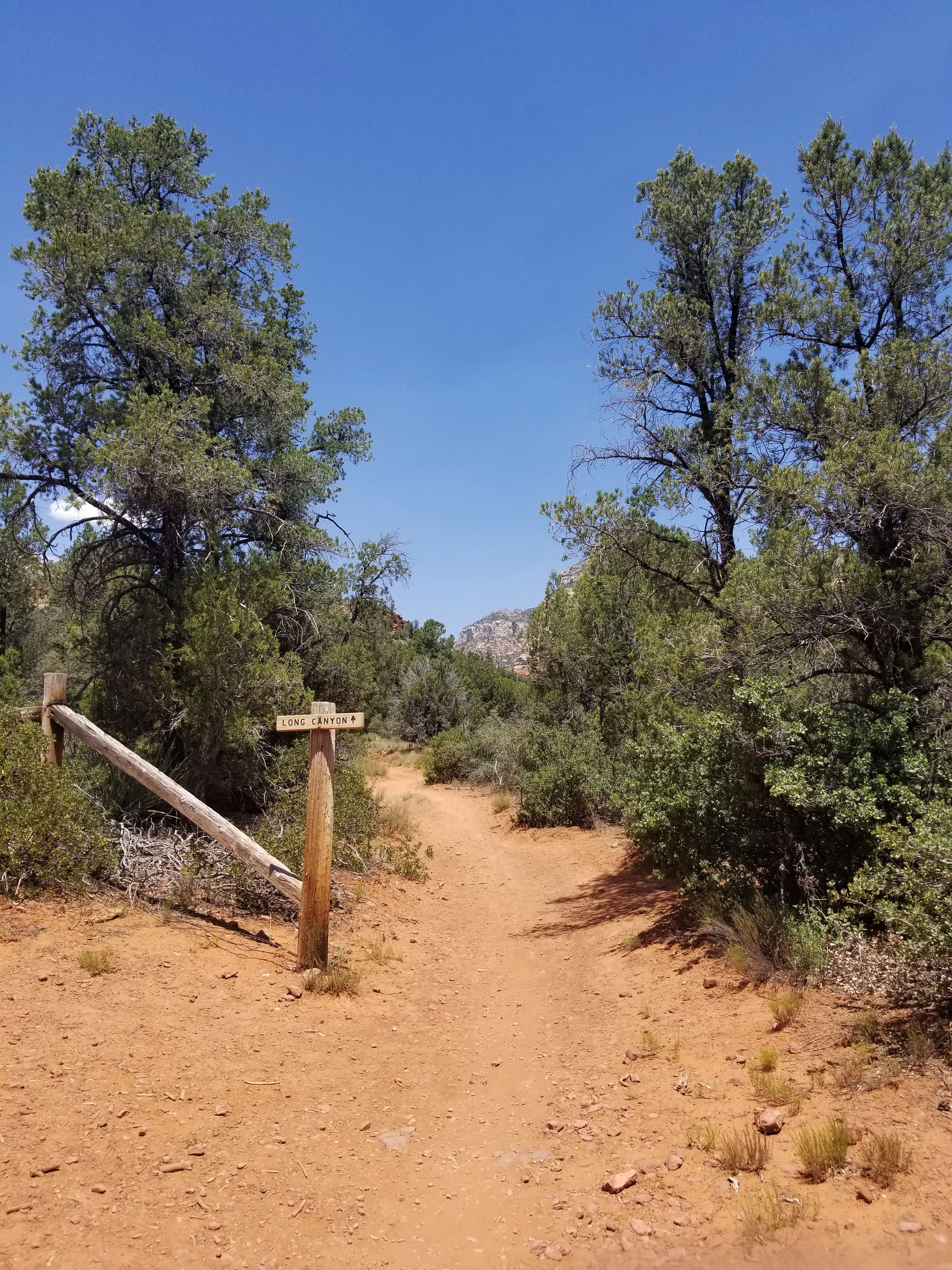 The trail was warm and open as we let out high desert with small to mid shrubs, plenty of cacti, and a few juniper in the distance, and red rocks all-around of course! We trekked on, only seeing a few people towards the trailhead and soon we were off on our own trekking the red dirt of Sedona canyons. What a beautiful place, you could see all the red and white sandstone rocks in the distance covered at the base by pine and juniper.
We trekked on further into the trail and soon the low brush gave way to taller trees and we found many traces of old creek beds as we followed the wandering trail deeper into the canyon. We only passed a few people as we trekked further. The further we pushed the more green and lush the woods around us became. We kept on trekking and soon found a nice brown sign that stated "End of Trail". I was thinking . . . not just yet, as we sat down and took a nice lunchbreak.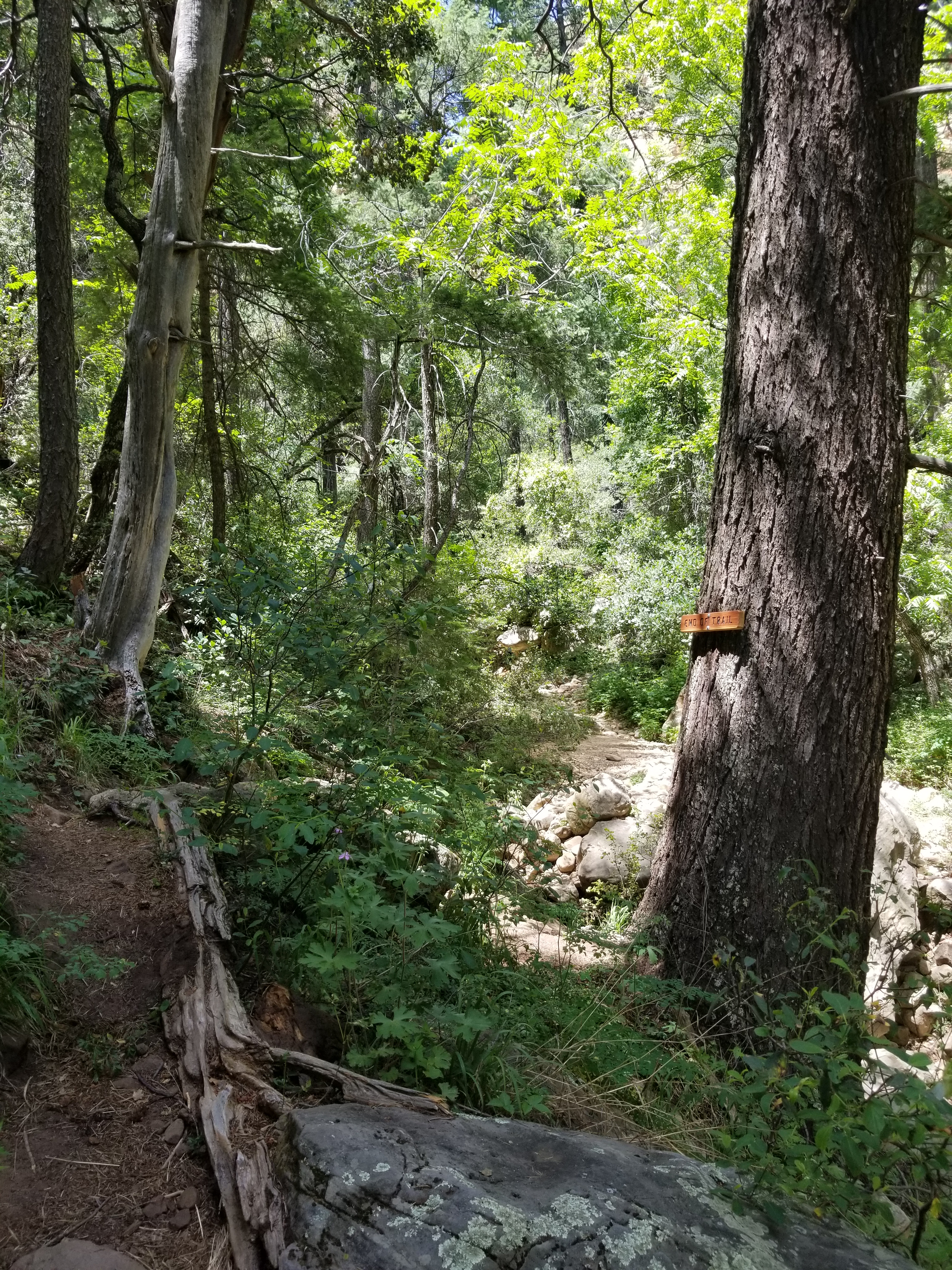 I checked the map and saw that it gained about 500 feet in a quarter mile, and I though, whelp that could be just a scramble or a rock climb . . . only one way to find out. Mike bridged the question "Do you guys want to head up the canyon and check it out?" Mike already knew where my head was, with a big grin on my face, and I think it was more to gage Meg's interest. She seemed keen on the idea and we blew past the brown sign heading up into the unknown.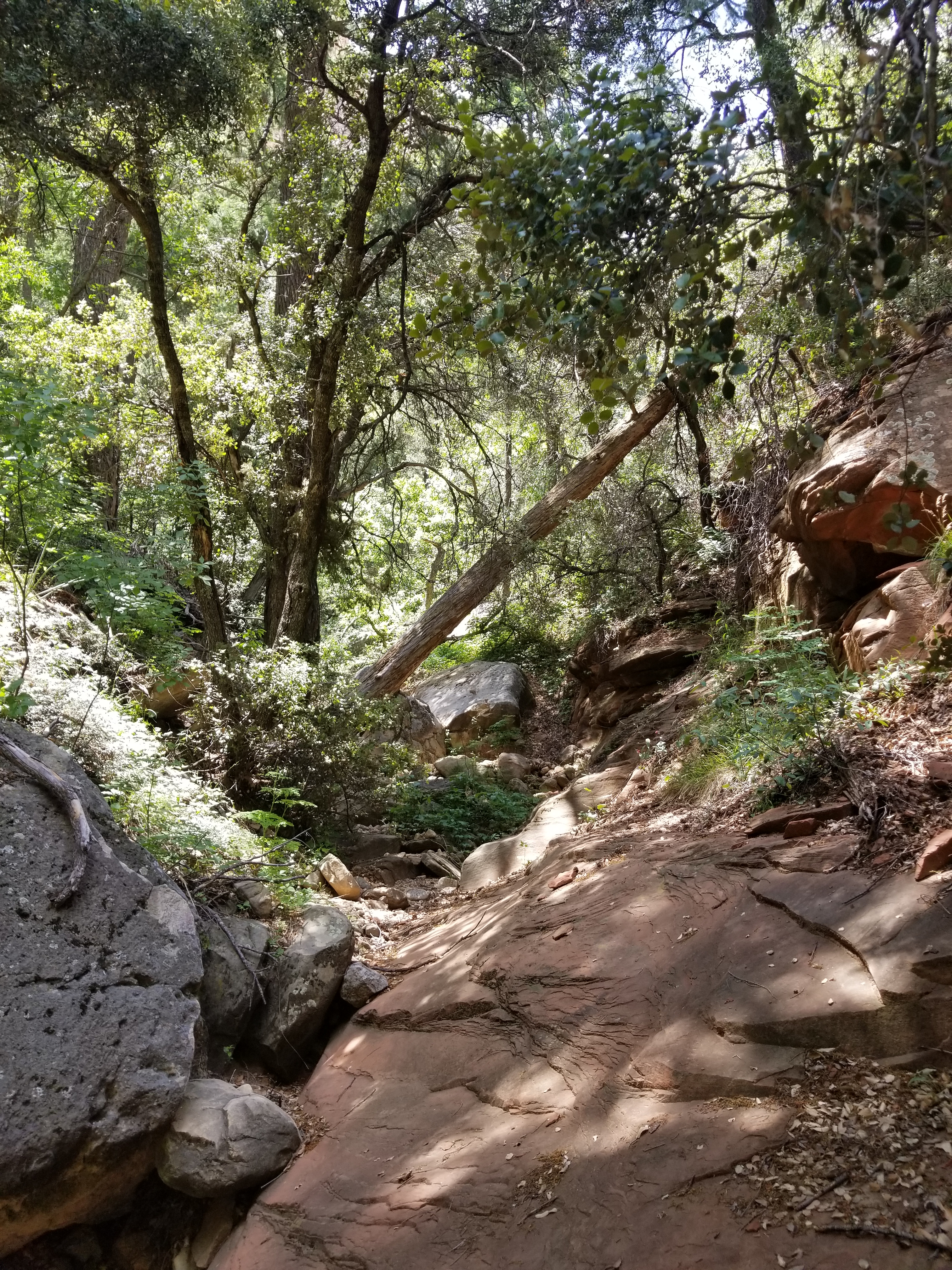 The canyon was trail-less as we ascended. One in a while we would see a random cairn, but for the most part, not much sign of others traveling here. It wasn't long before we came our first small obstacle: a short climb. I headed up first, and to my surprise Meg was on it without question soon pulling the lip and trekking on. "Alright!" I thought hopeful that we could all push up the canyon without turning back. We bushwhacked, rock hopped, and climbed our way further and further into the canyon. The weeds and thicket would become thicker and then all the sudden let up, giving way to easy trial, then back to thicket again.
We pressed further and further, until finally 600 vertical feet from our top-out we came to a dry fall. This is where it started getting fun! Mike searched for his own route to scout ahead, as I poked and prodded finding the chilliest route to ascend. The rocks were loose and the climb became pretty steep. Seeing that Meg didn't look super comfortable I pulled out a 25' purple 6mm cord form my pack (I brought it just in case). I tied one end around my waste and would climb until she was holding the end of the rope. At the end of the rope, I would lay down, grabbing onto the closest large boulder or tree creating a human anchor and she used the rope as a guideline to climb up to where I was. Pretty much like a poor man's climbing belay.
We ascended the canyon like this for some time overcoming some seriously steep, brush covered, chossy crumbing inclines. At one point we passed near a rattler that sounded off, and we traversed to the other side of the canyon giving it some room (we had better things to do than play with a snake). We kept ascending, taking obstacle after loose obstacle on. At the top of one scramble there were huge teetering boulders just waiting to be released. With all of us in a safe spot I kicked one sending the whole pile down the canyon yelling "ROCK!!!!" as I did. I figured this was best as to dismantle the potentially hazardous rock pile for the next adventurers to ascend the route. The rocks all soon came to a sliding halt and we pressed on.

We soon popped out of the canopy cover of the canyon and could see across beautiful Sedona. We were still 200 feet shy of standing on top of Secret Mountain, and the search for a clear path began. Eventually we skirted north, finding a nice shrub covered ramp that was the most affordable gain to the top. We took it, moving carefully as we did. Finally after some nice manzanita and pine tree bushwhacking, we reached the top and started looking for the Secret Mountain trail . . . . of course like any adventure . . . there was no trail.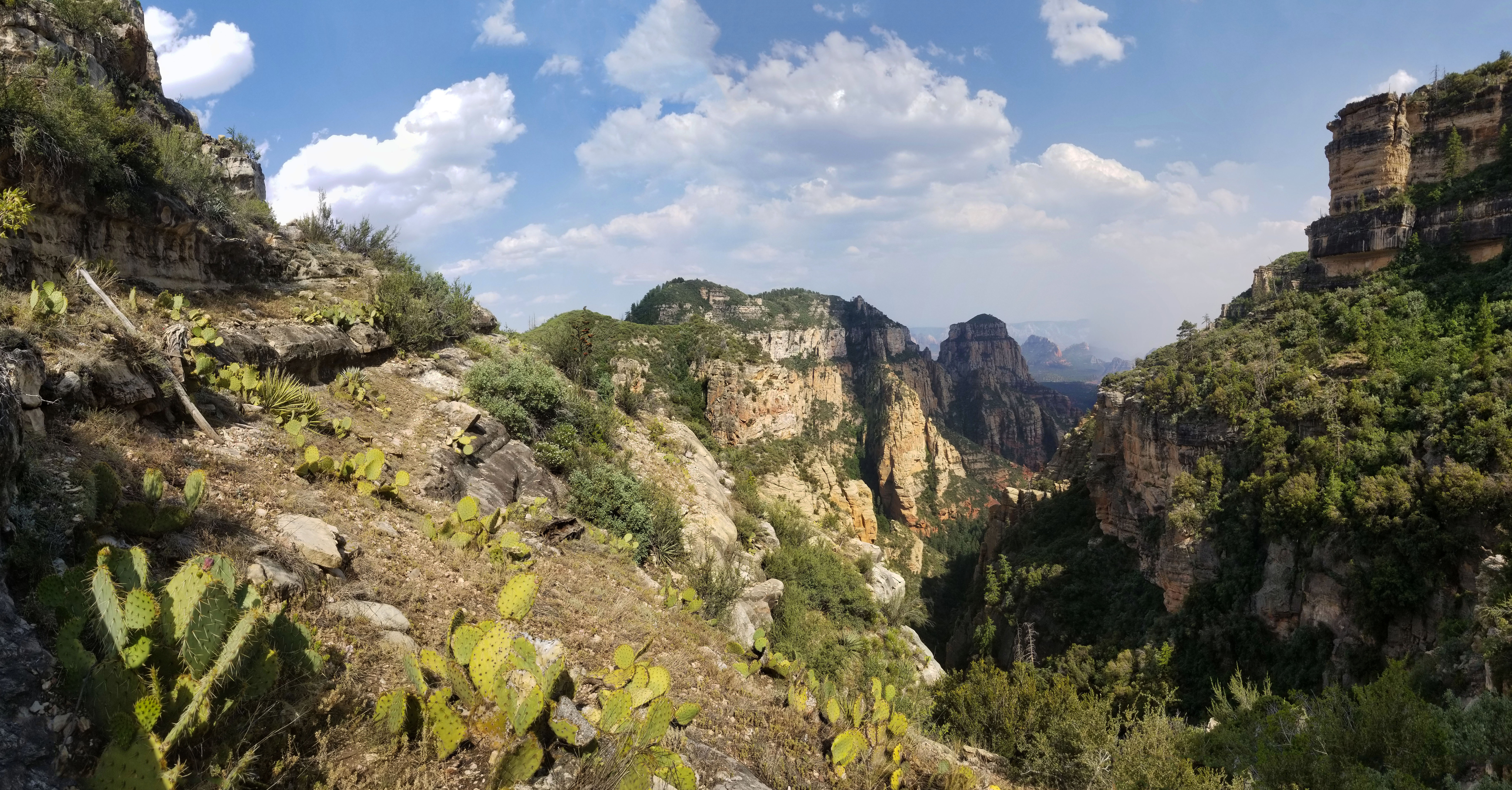 We kept walking in the direction where we trail should have been . . . still nothing. I was ready to turn and burn, the shortest distance back to the truck because I knew the route went. Mike on the other hand was still optimistic and said we should press a bit further before calling it. We trekked on, just another 5 minutes and like magic the trail appeared. A chunky, but nice footpath bringing us all the way across Secret Mountain to the top of Loy Canyon were we would walk out.
It was a beautiful descent, incredible views across Sedona, through the cool pines, and switchbacks of Loy. After 10 miles we reached the mouth of the canyon to a trailhead where our friend Adrian soon arrived to pick us up and bring us back to base camp. Another awesome adventure, safely executed with good people in a beautiful place. Get out and make adventure dreams a reality!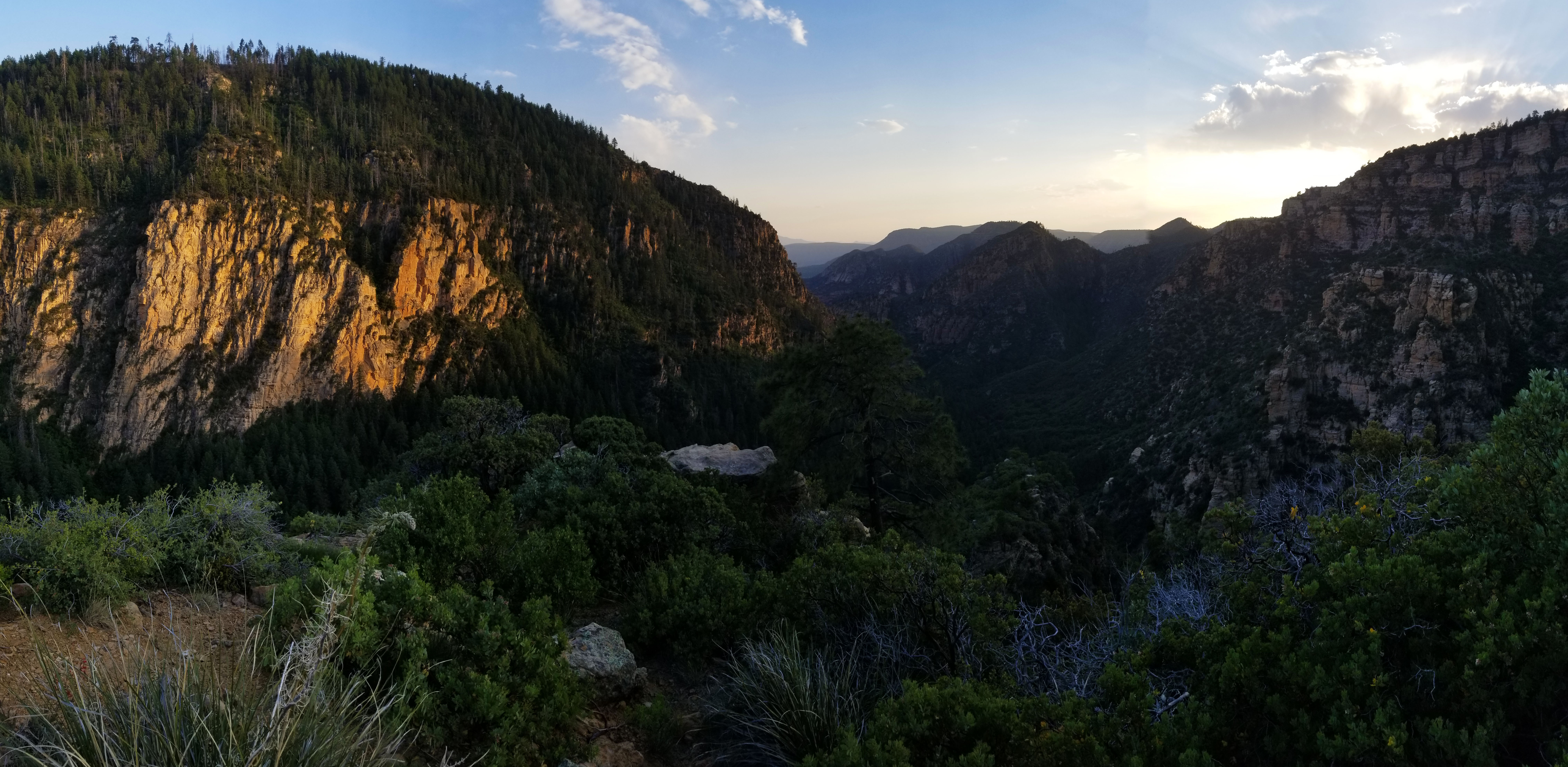 HIKE INFO:
Long Canyon: https://hikearizona.com/decoder.php?ZTN=70
Long to Secret Mountain to Loy Canyon connector: https://hikearizona.com/map.php?GPS=37280
HIKE STATS:
Weather: Hi 80s, Low 50s, Sunny
Water: 3 liters
Food: PB&J, Gummy Worms, Apple, Cutie Orange, 2 protein bars, 2 granola bars, 1 Cliff builder bar, bag of salt and vinegar chips
Time: 10 hours
Distance: 14 miles
Accumulated Gain: 500 feet
GEAR:
The Don Camelback backpack (3 liter bladder)
SPOT Tracker
60ft of 6mm accessory cord
CLOTHING:
Cotton Handkerchief
Flatbill Hat
Wool shirt
Nike Shorts
Merrell Mid Moab Hiking Boots
Darn Tough Medium Wool Sox
Arcteryx Atom hoody